Whether you hastily put up your Christmas tree like us the day after Thanksgiving, or you plan on waiting till the holiday is a bit closer, I think I can speak for almost anyone when I say that decorating a tree is a magical few moments. Even if you forgo a smattering of random childhood ornaments for sparkling ones in a themed color scheme, there's something very festive and happy about the project. It means the season is FINALLY here and that kid in you inevitably peeks out for at least a couple of moments.
Well we let our inner child out in FULL force last week when we dusted off the old ornament box. On Monday, I showed you this quick sneak peek of our finished tree…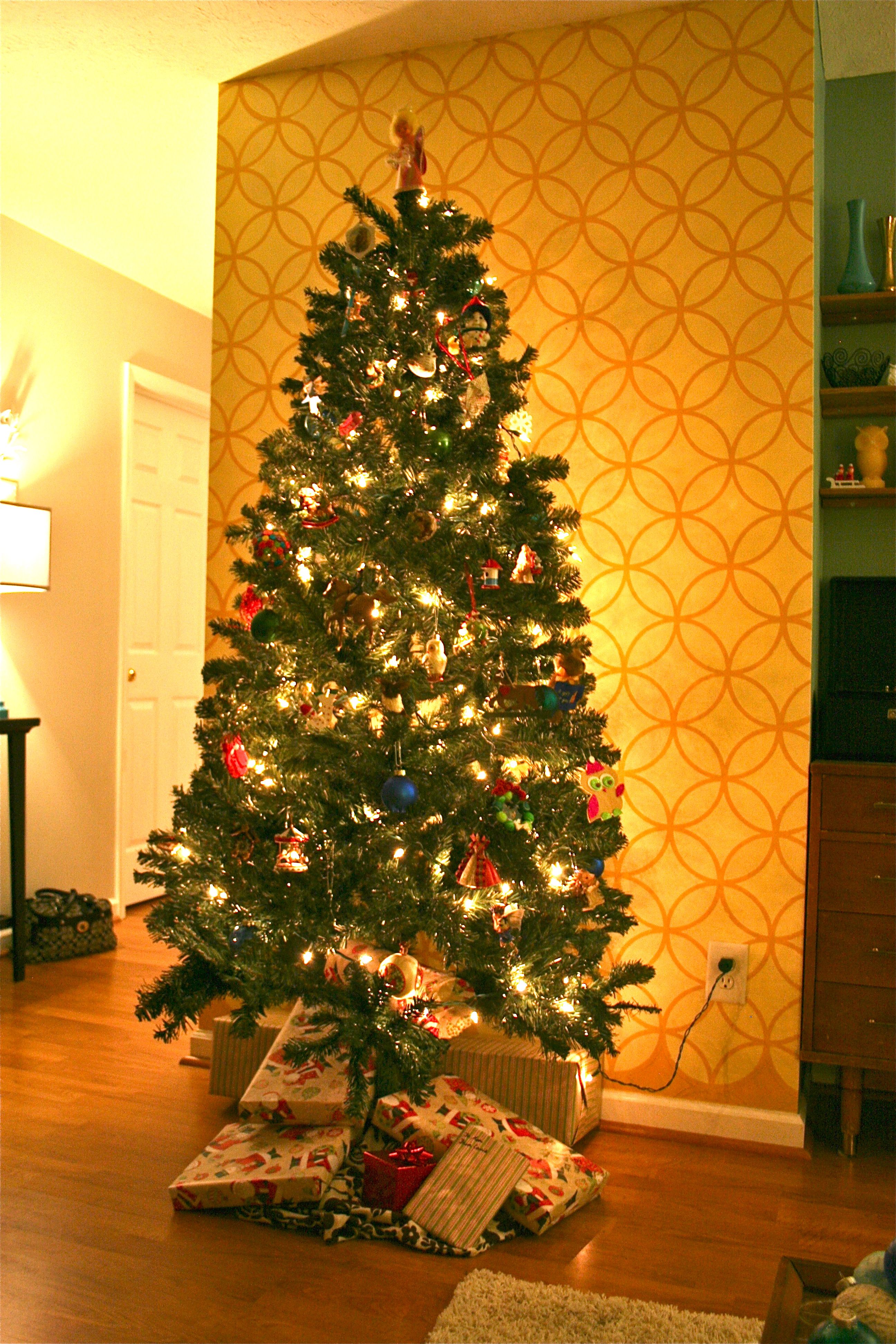 But before there was a tree, there was a blank space in the living room…I had John help me move the trunk upstairs that usually sits in this spot to make room for our artificial tree. Yessssss…That's right – We have a fake tree. But I kind of LIKE that! I am very attached to the little 7-foot tree that has seen my last three Christmases.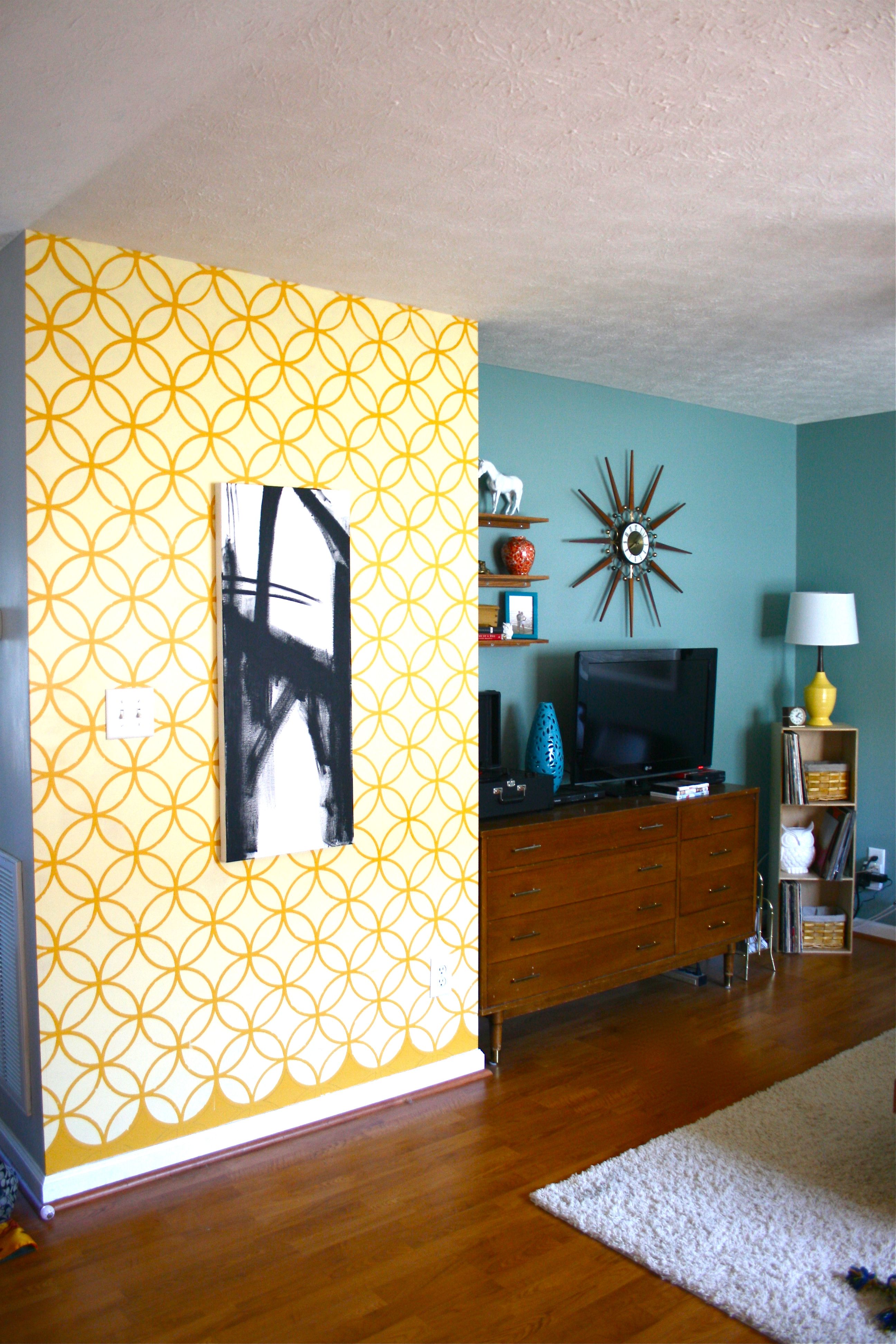 I LOVE how simple my (now OUR) tree is to assemble. All we had to do was attach the three sections by sliding the poles into place and then spend a few minutes fluffing the wire branches.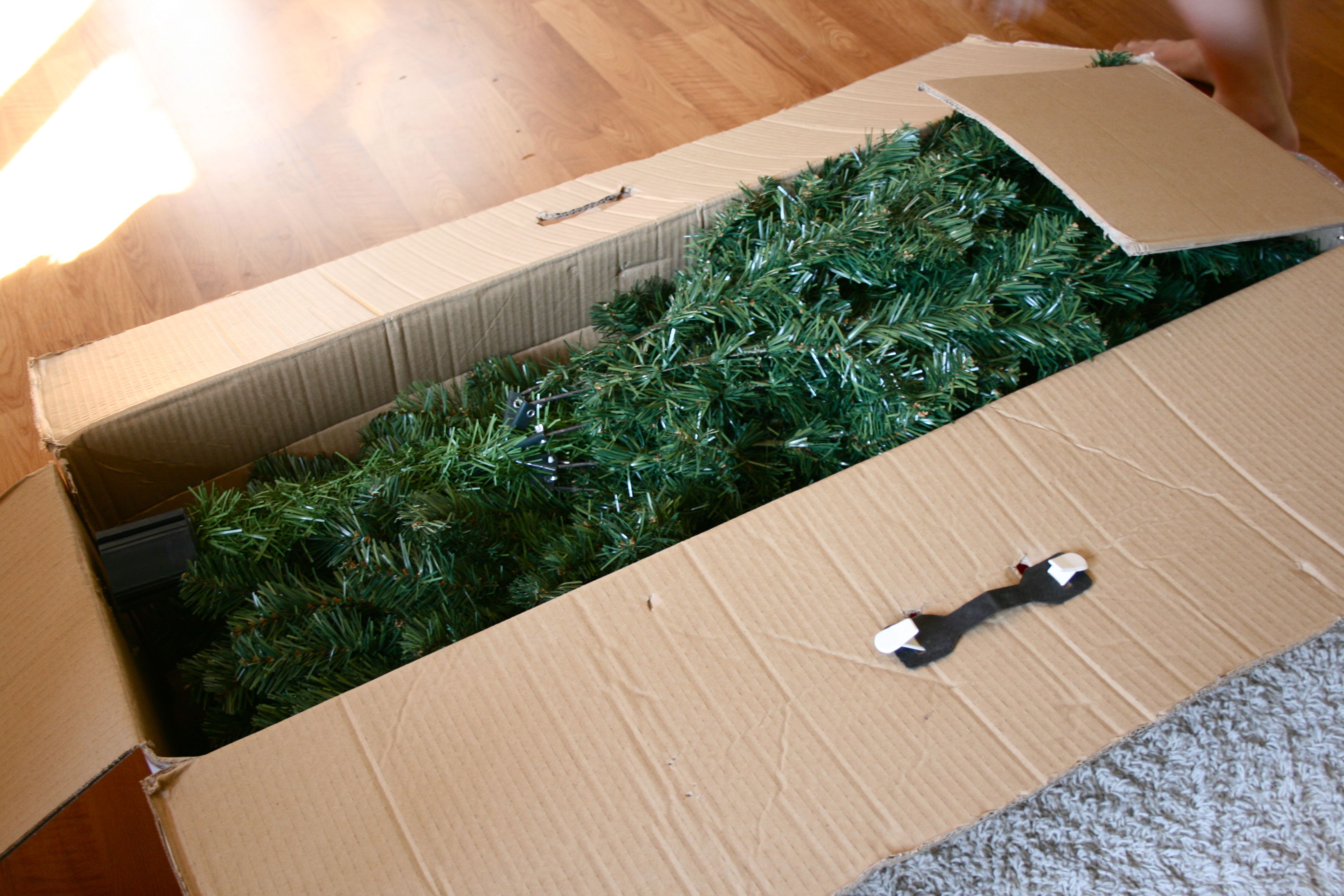 Here's John (in his completely appropriate zombie t-shirt, an after-Halloween-clearance purchase from Wal Mart) putting the top piece in place!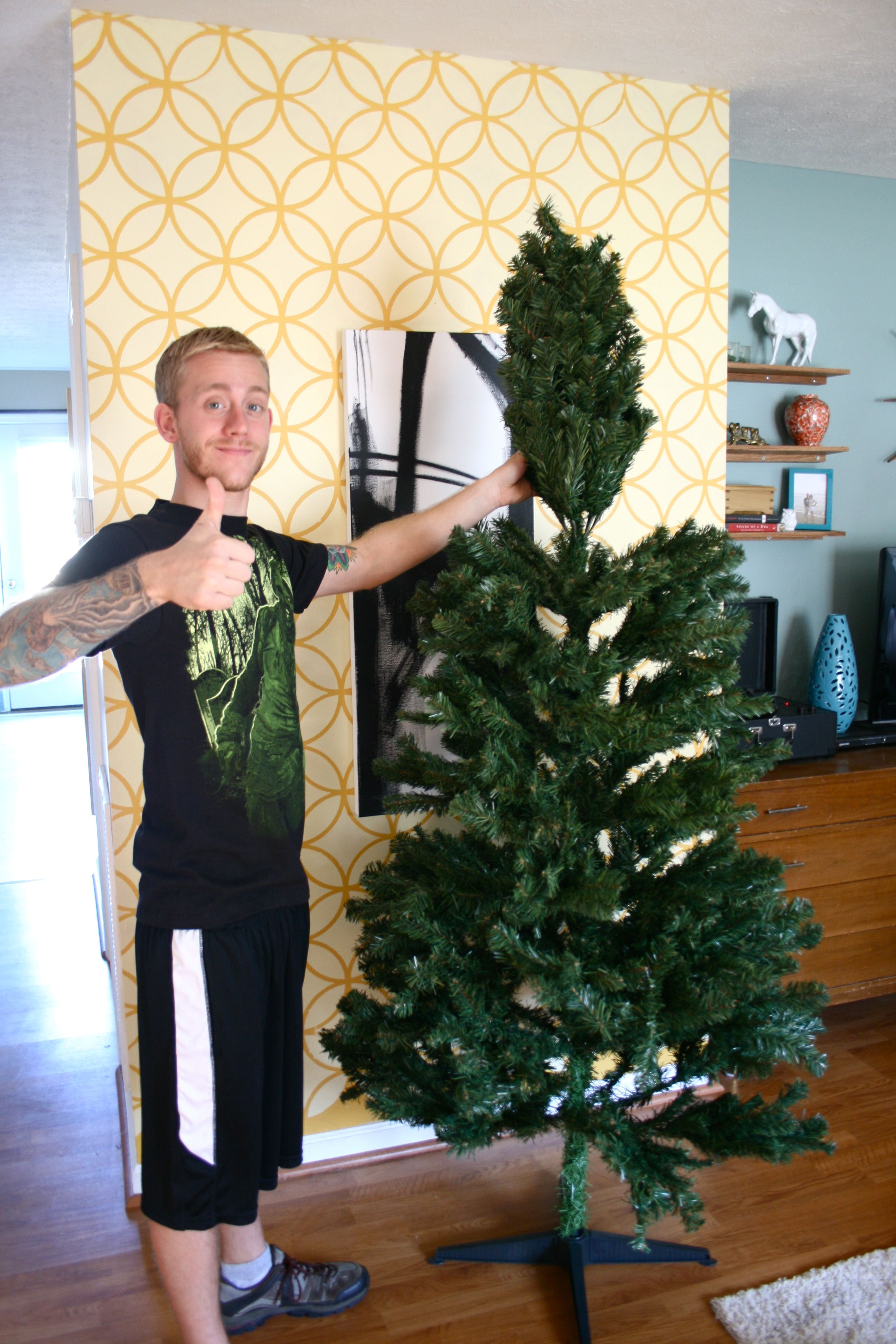 Five minutes later, we were fluffed and lit and ready for ornaments!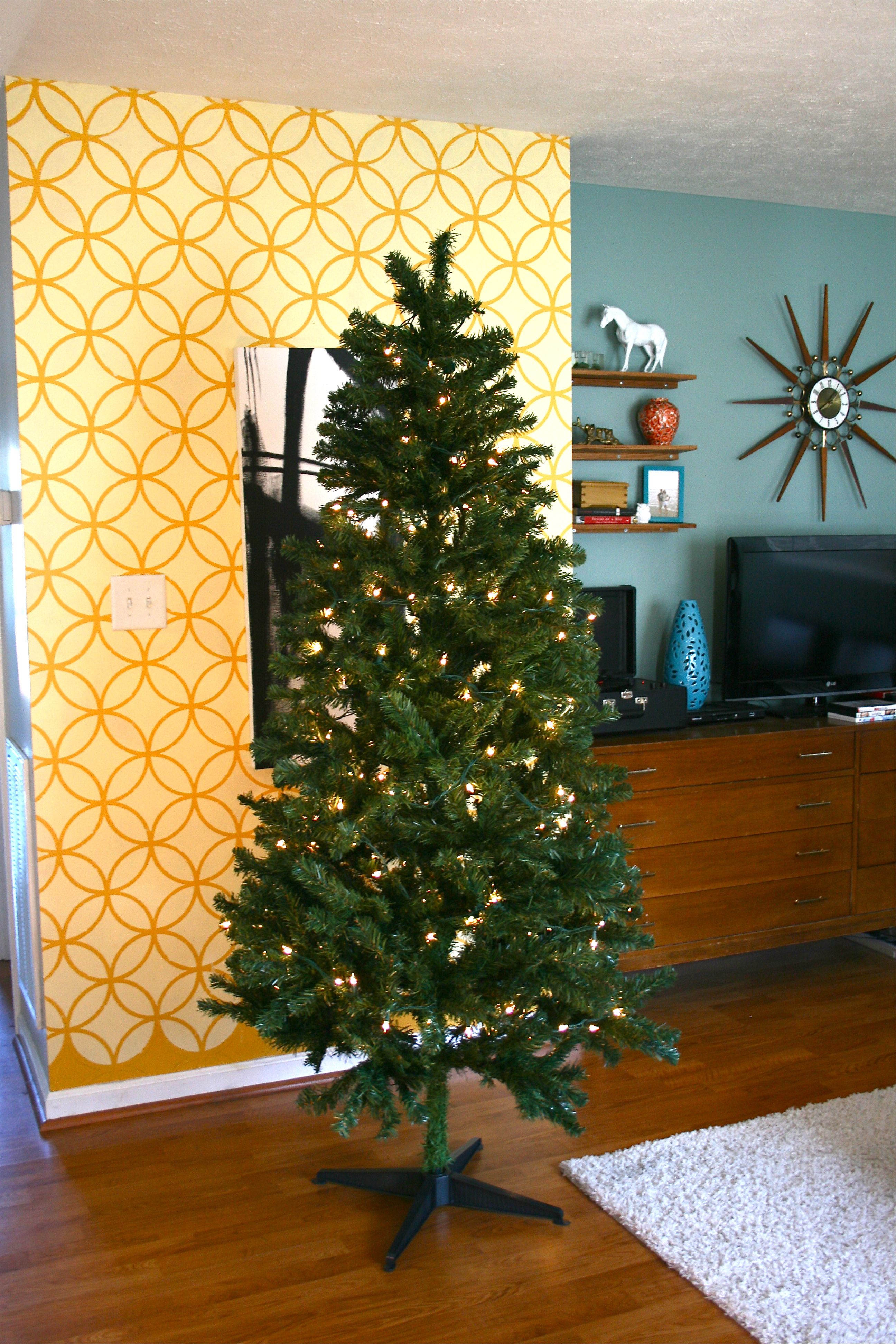 I am the type of Christmas decorator who uses my childhood ornaments. Although nothing matches and there is definitely no semblance of a color scheme, I just love the memories that come back to me when I go through the boxes. Most are in some form of disrepair, but I love each and every one. Here's the Schwan's man box that my dad labeled "Caroline Xmas Ornaments" that I never could toss for updated Tupperware. (Fun Fact: my real name is Caroline)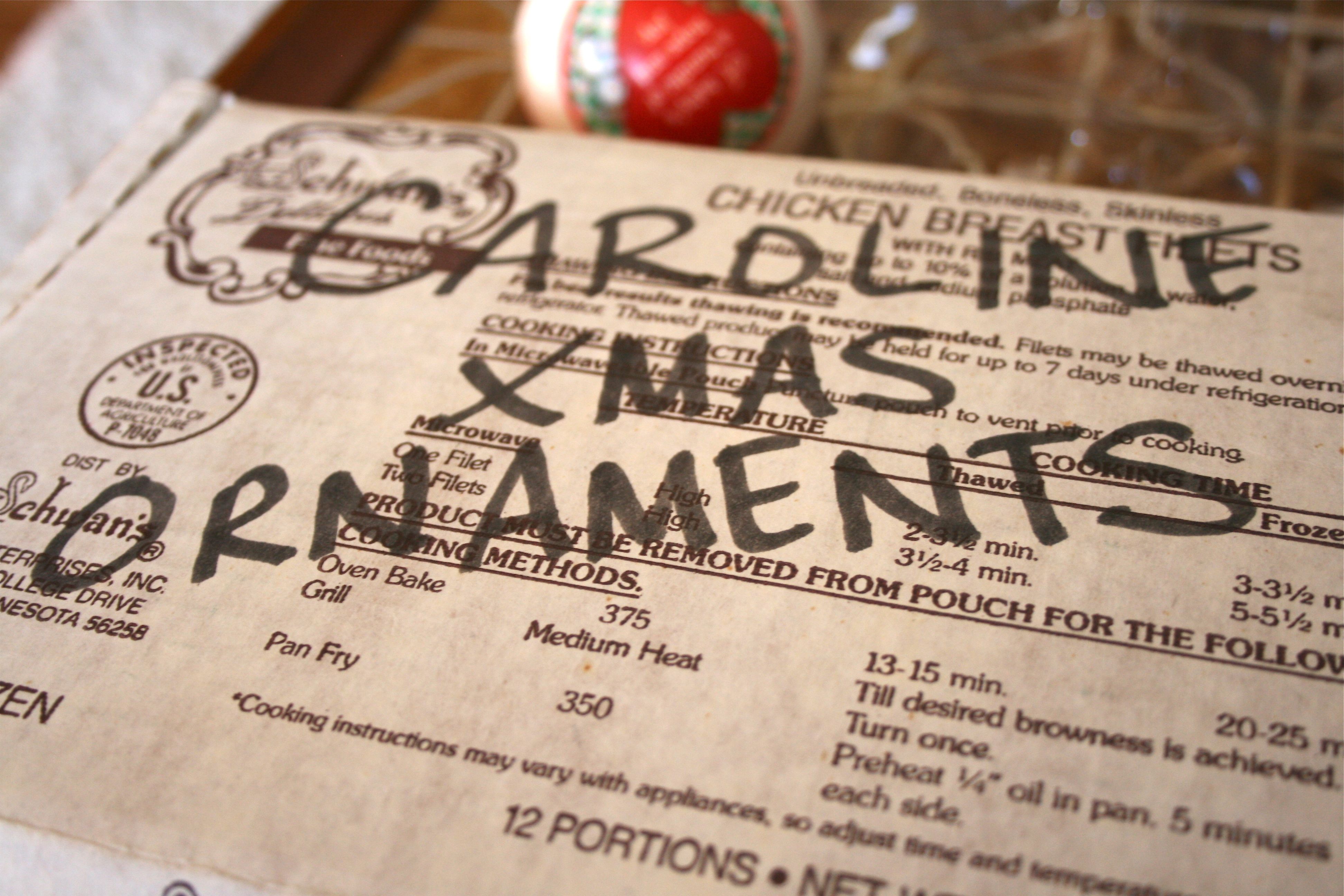 And behold! My crazy collection of ornaments, some of which are upwards of 25 years of age!!
I thought it might be fun to give you all a little behind-the-scenes story on some of my favorites. When my sister and were kids and Christmas time rolled around, we each had a small table-top Christmas tree in our bedrooms. This is when the Schwan's man ornament boxes with our names on them were born and we started our very own collections…All December long, she and I would play with the little characters on our trees as though they were dolls. Everyone had a name and a love interest and their "lives" occupied our time for hours.
Although all the names except for a select few are forgotten, the excitement is still there to this day when we get to pull them out and hang them on our tree.
This one of two teddy bear lovebirds was so much fun to play with – I remember sliding them on their little ice skates on any surface from windows to carpet. Hard to believe that they are 19 years old…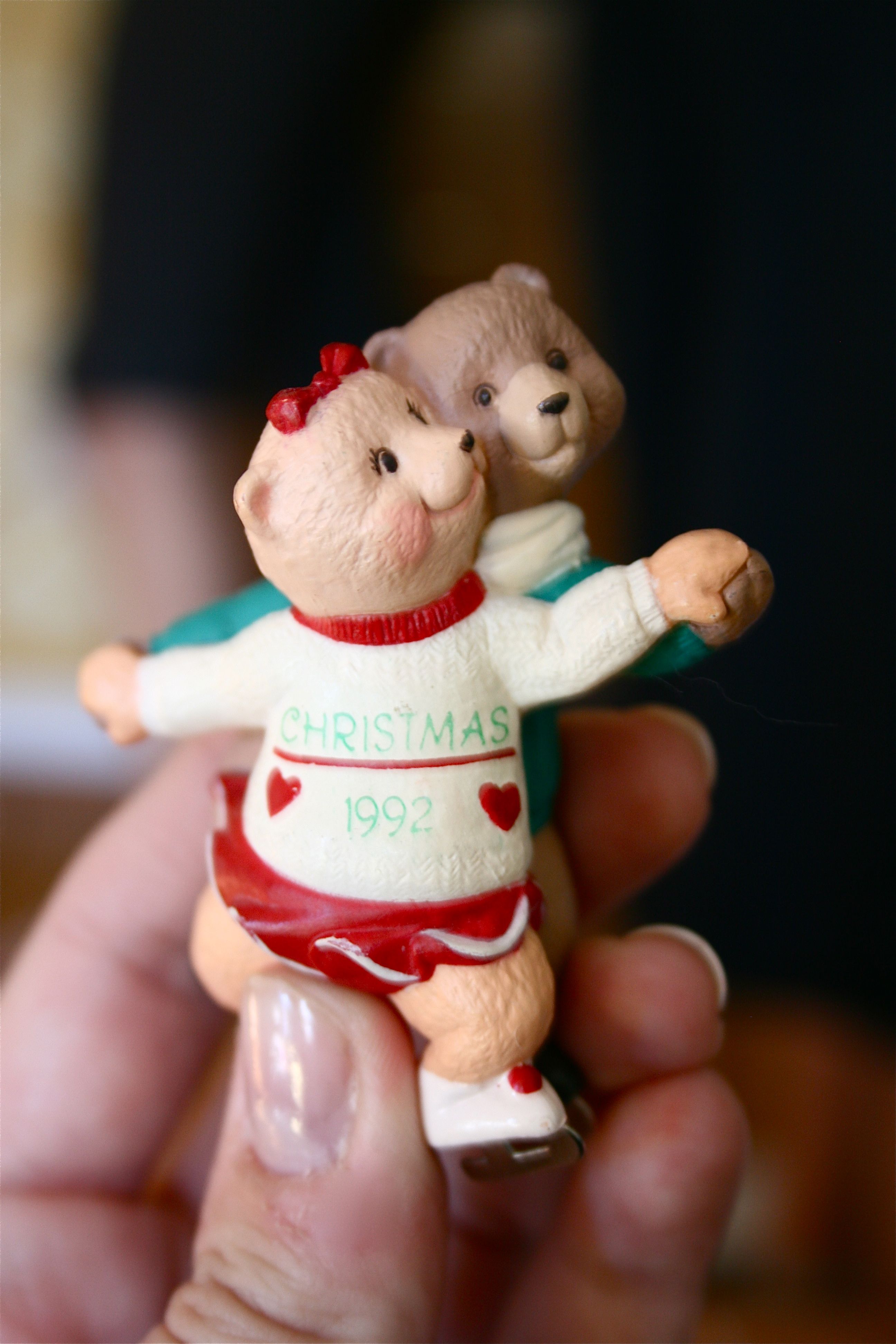 This little guy is MUCH newer – Obviously, since it's of Wall-E who graced the big screen only a few years ago. But he's from a good friend from college, so the sweet memory is still there despite it's young age.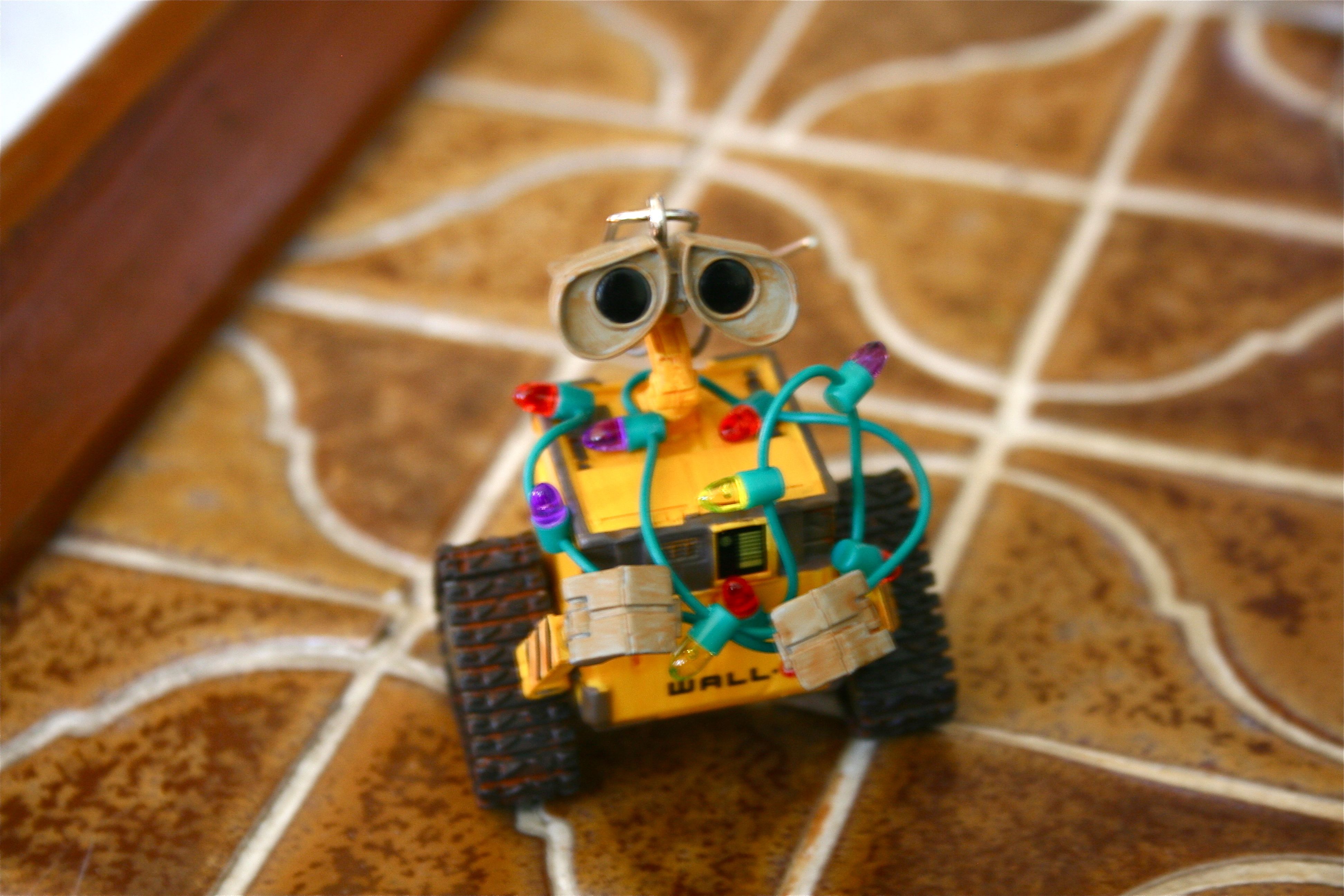 Here's another recent addition to the ornament clan – John's family gave him this one of Rocky the dog just last year.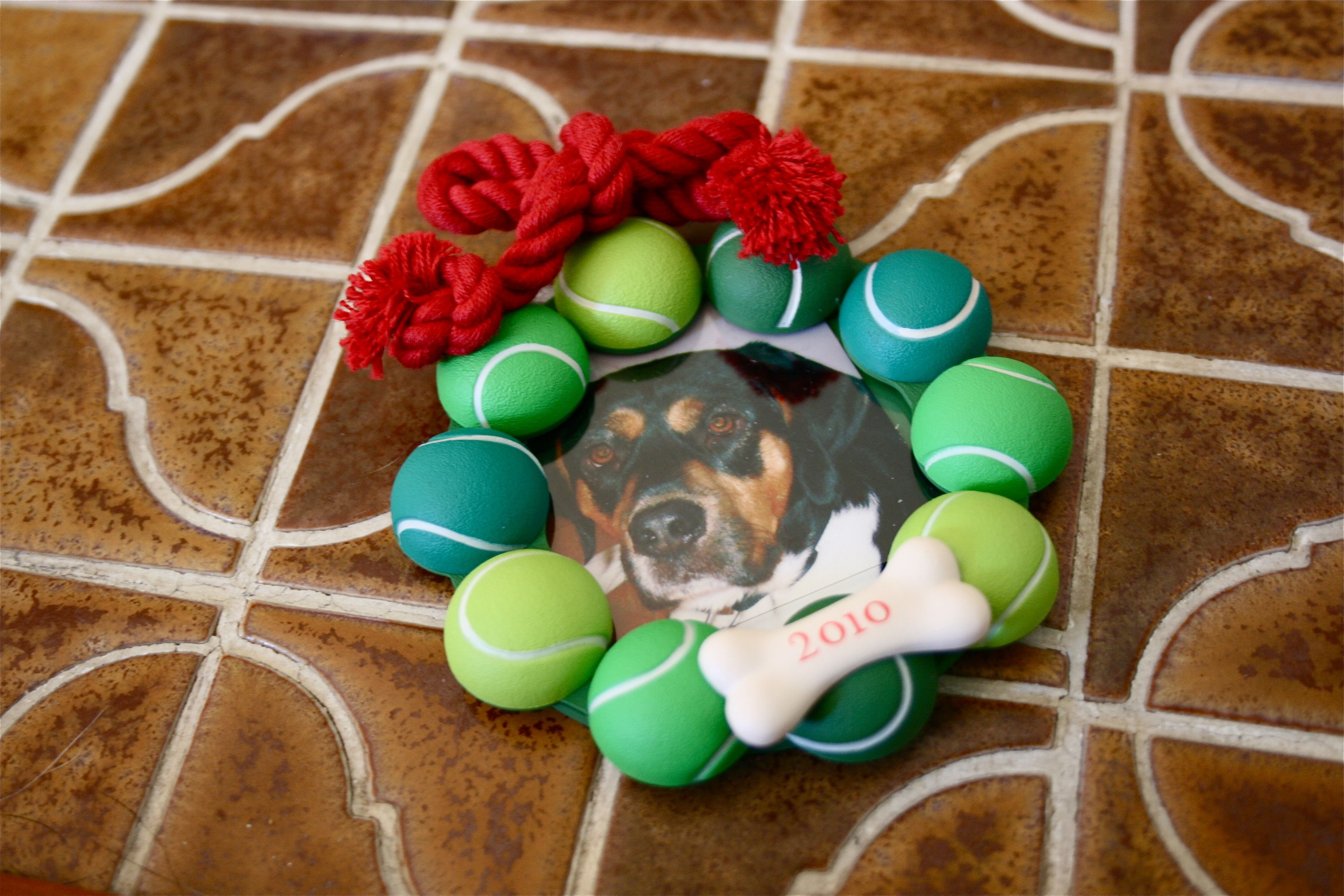 This is an oldy – We love animals in our family…I counted once and the Williams family has been the proud owners of 27 pets throughout the course of my and my sister's childhoods/adulthoods. So we have lots of pet-related ornaments. Not sure what the year is on this doggie-with-a-kitty-in-his-basket ornament but I think it's from the 90's.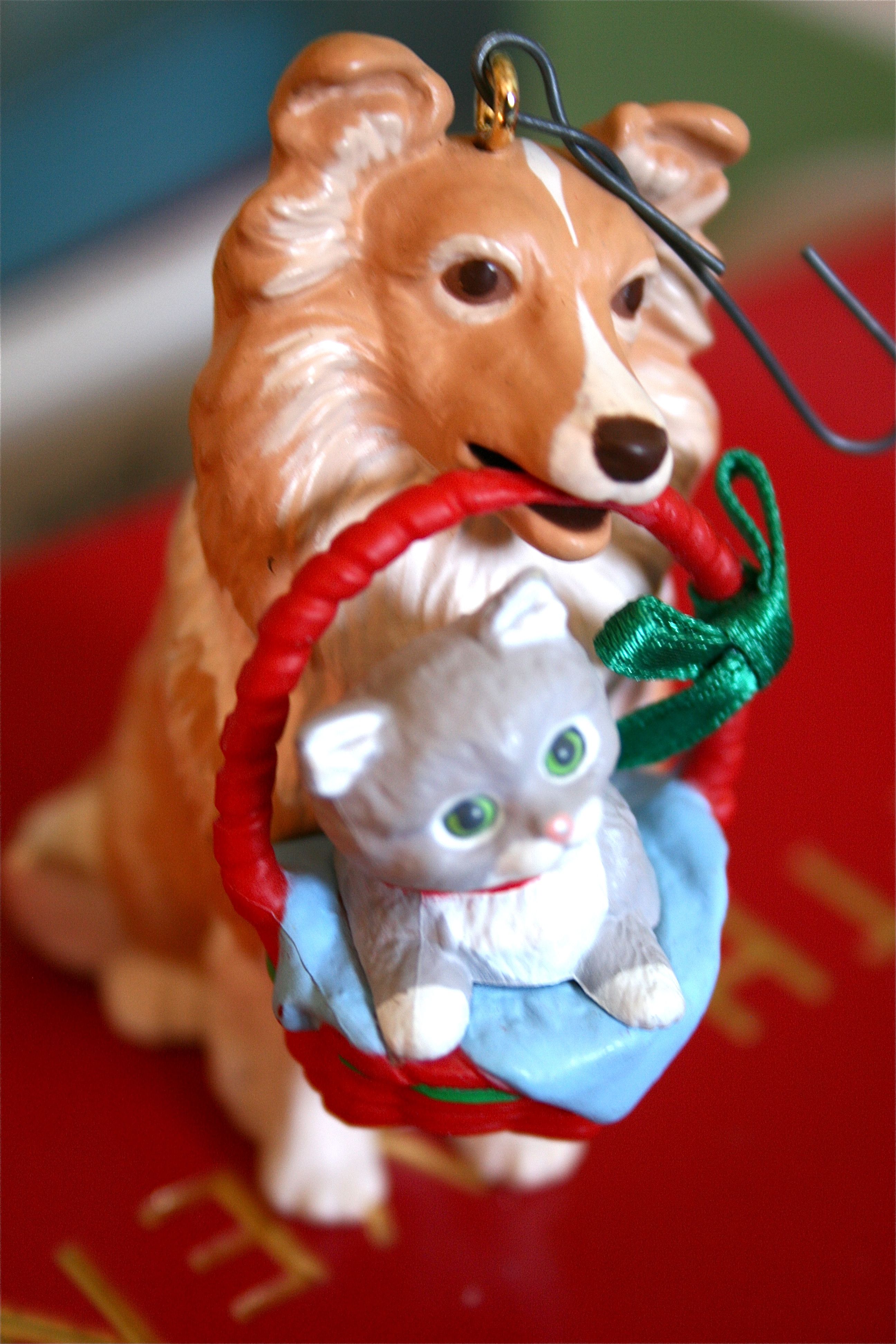 I was REALLY excited as a young girl to add this holiday special edition Barbie ornament to our collection – She became the queen, ruling over the other ornaments for many years 🙂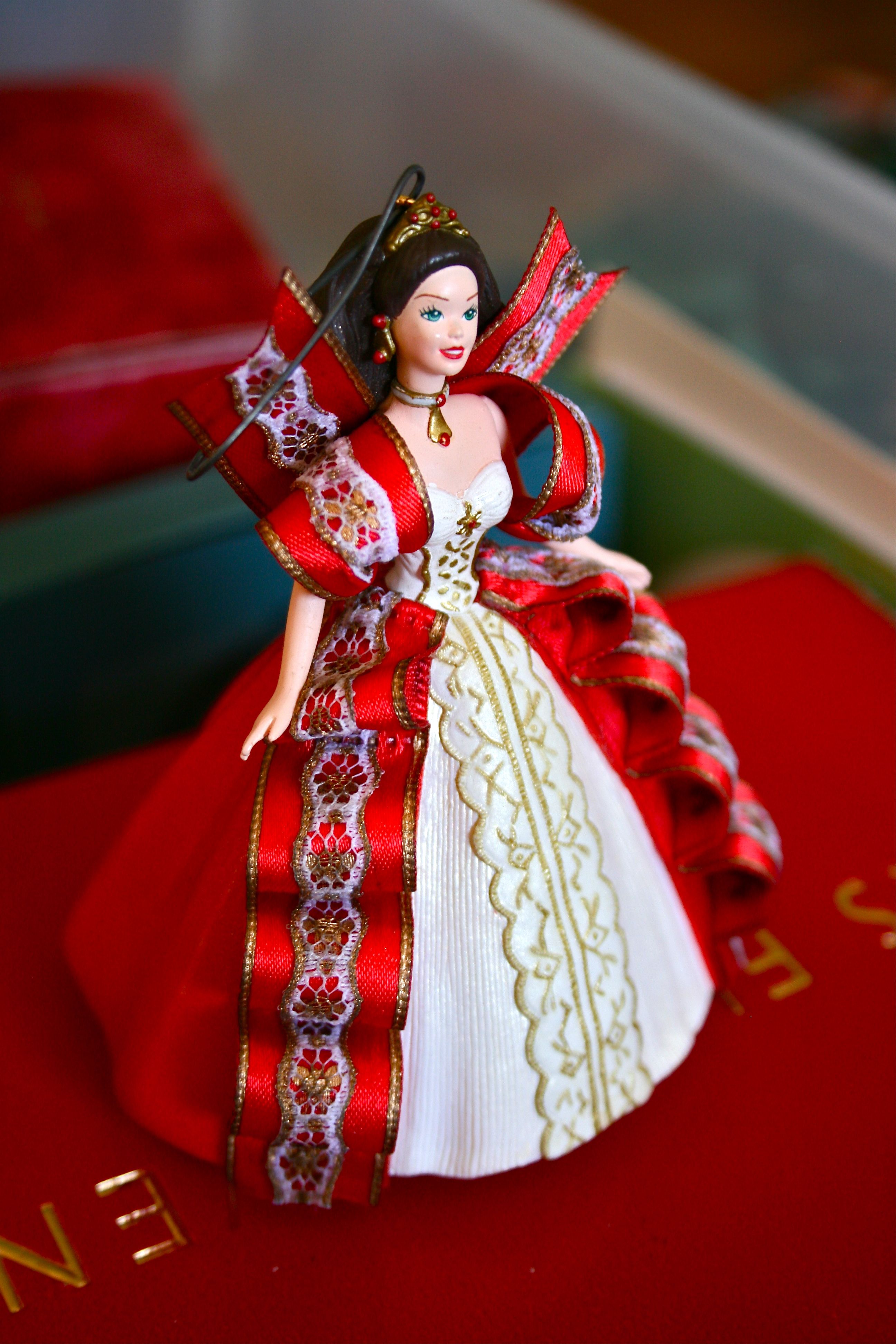 But there was ONE ornament that will always be my favorite – Meet Holly…She is a heavy porcelain cat ornament, dressed in a blue coat with a sprig of holly in her muff. She was always my favorite ornament to play with. Just the fact that she's still around and in mint condition despite her delicate/breakable frame is testament to a child's love for her.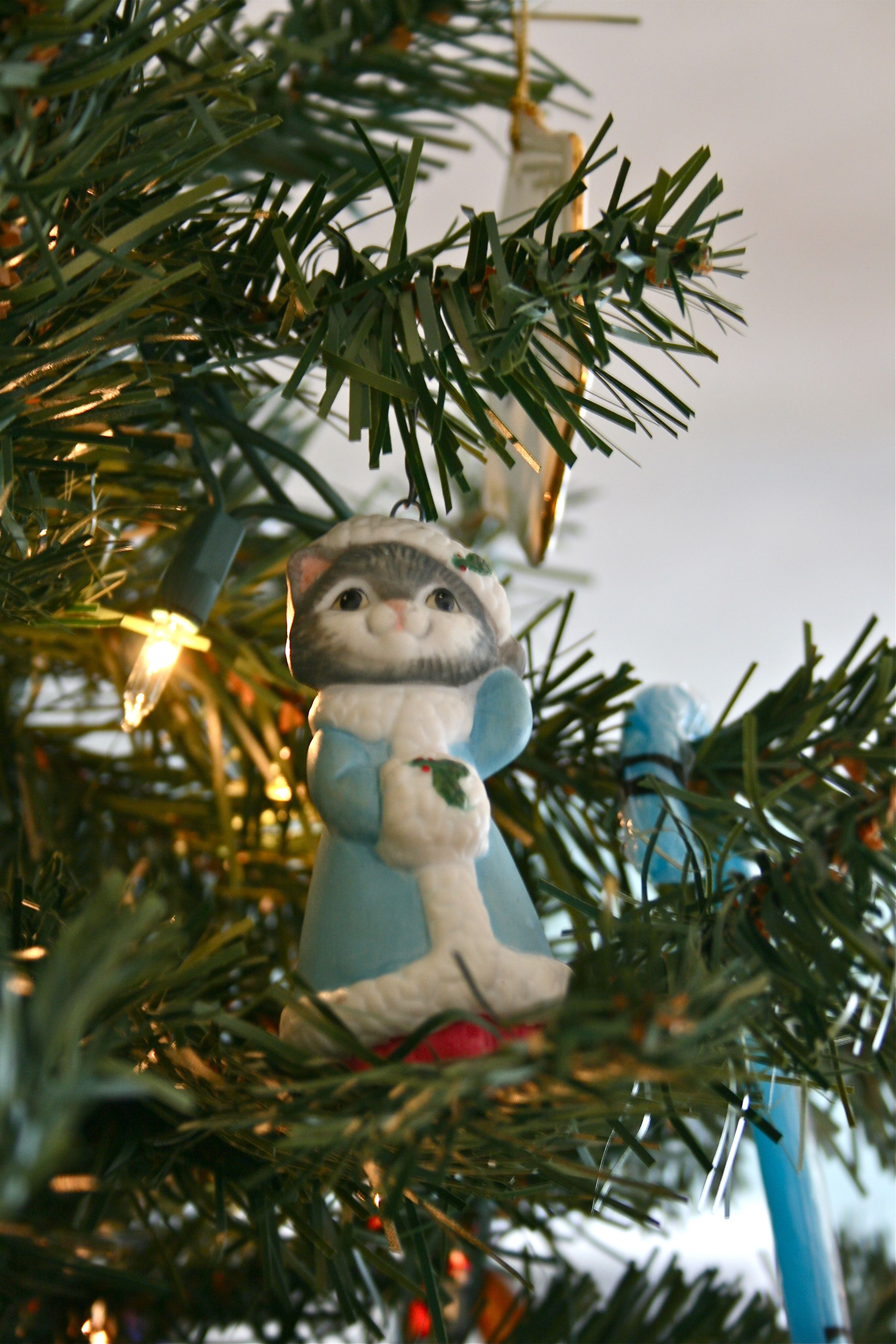 Lastly, here is our angel. This is the first Christmas for John and I, so he's seeing all of these little treasures for the first time. He was into it and went along with thingsup until the moment I unveiled our precious angel – To which he replied "That's hideous." From an outsiders perspective, I can see how her messy yellow hair, crooked, bent wings and odd painted face would be a little unappealing…But years of having her top my tree have helped me look past all of that.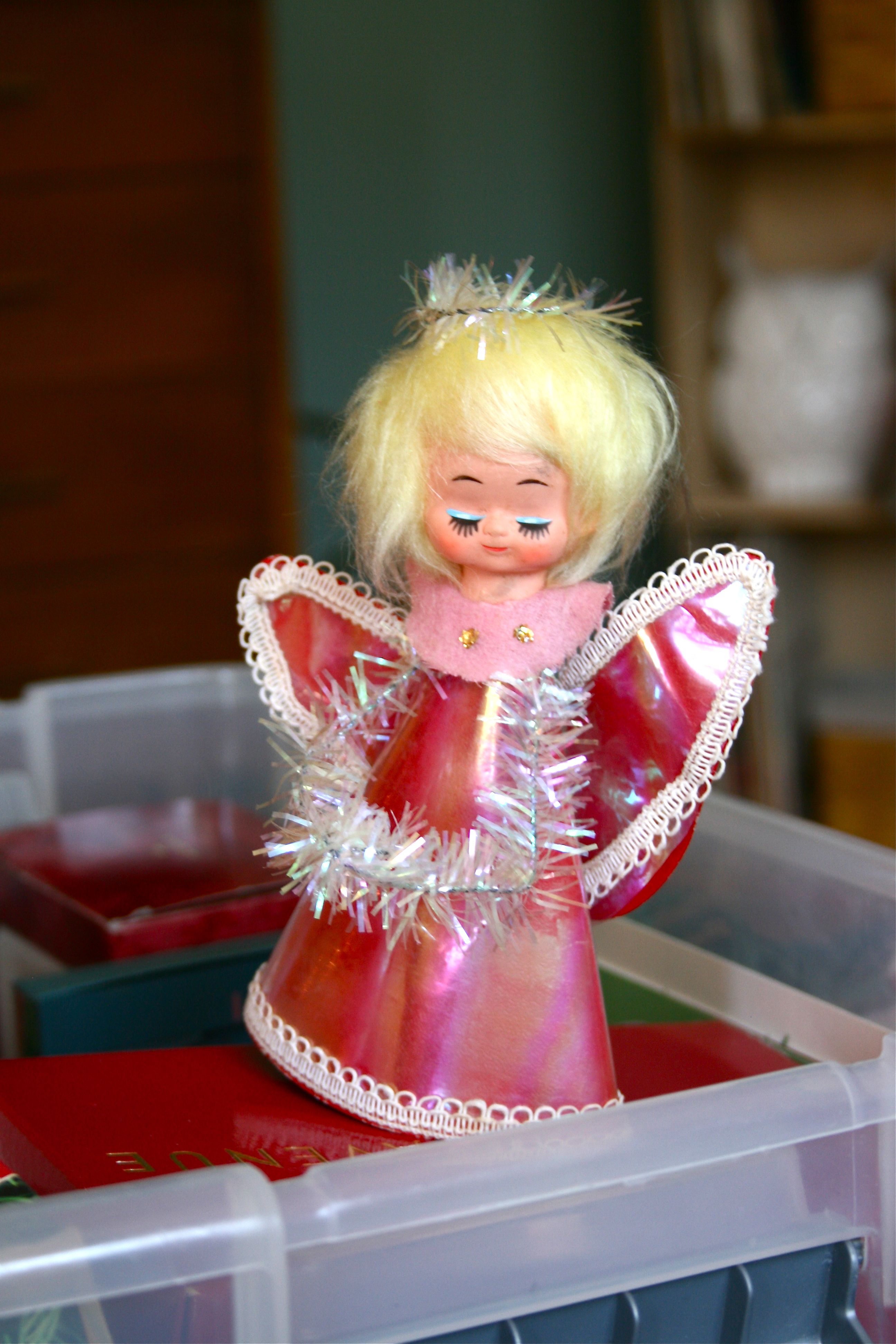 After a little coaxing and once we explained and reiterated JUST HOW IMPORTANT the job of topping the tree with her little pink form was, John finally came around. My sister and I forfeited the moment to him and he proudly did the job justice…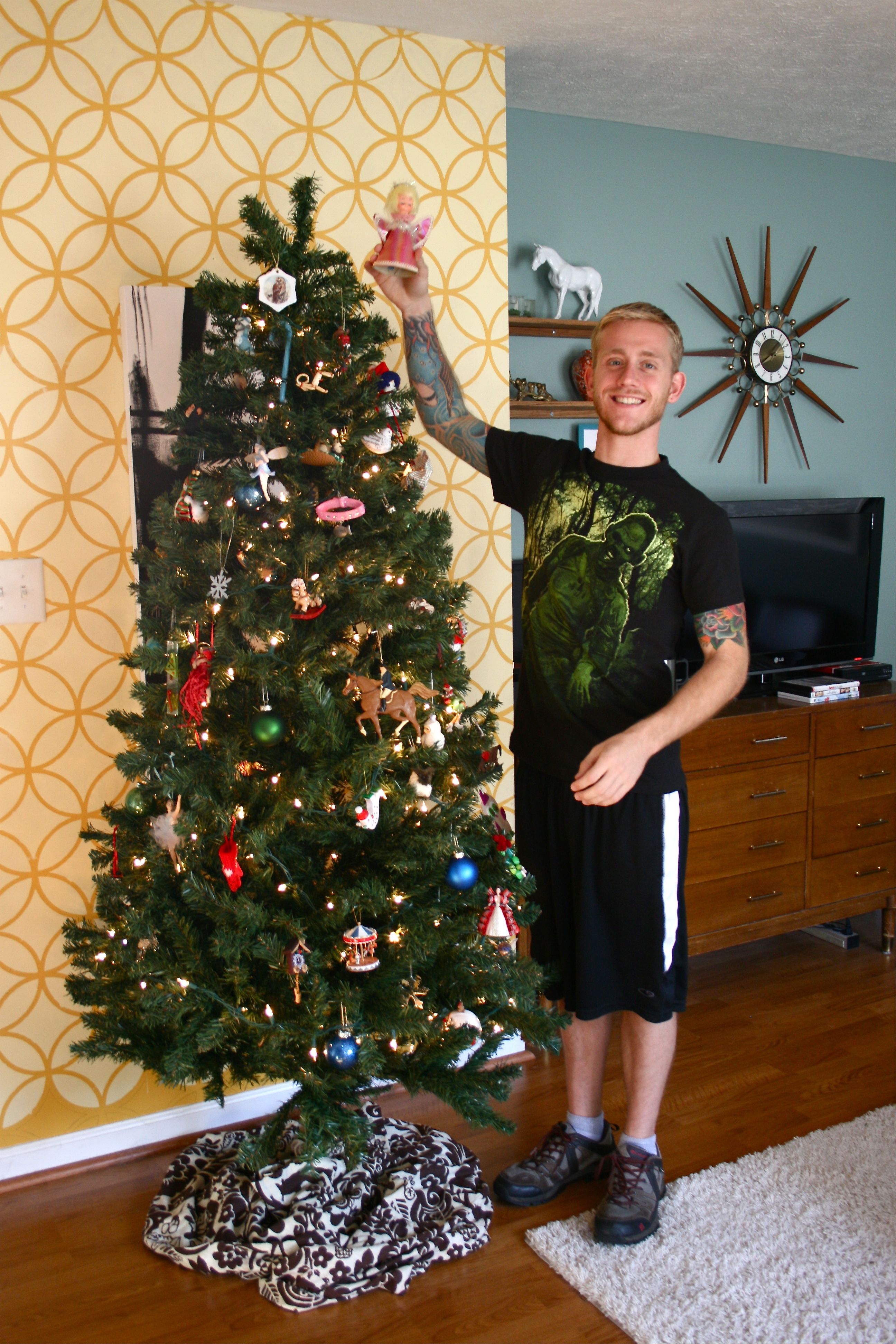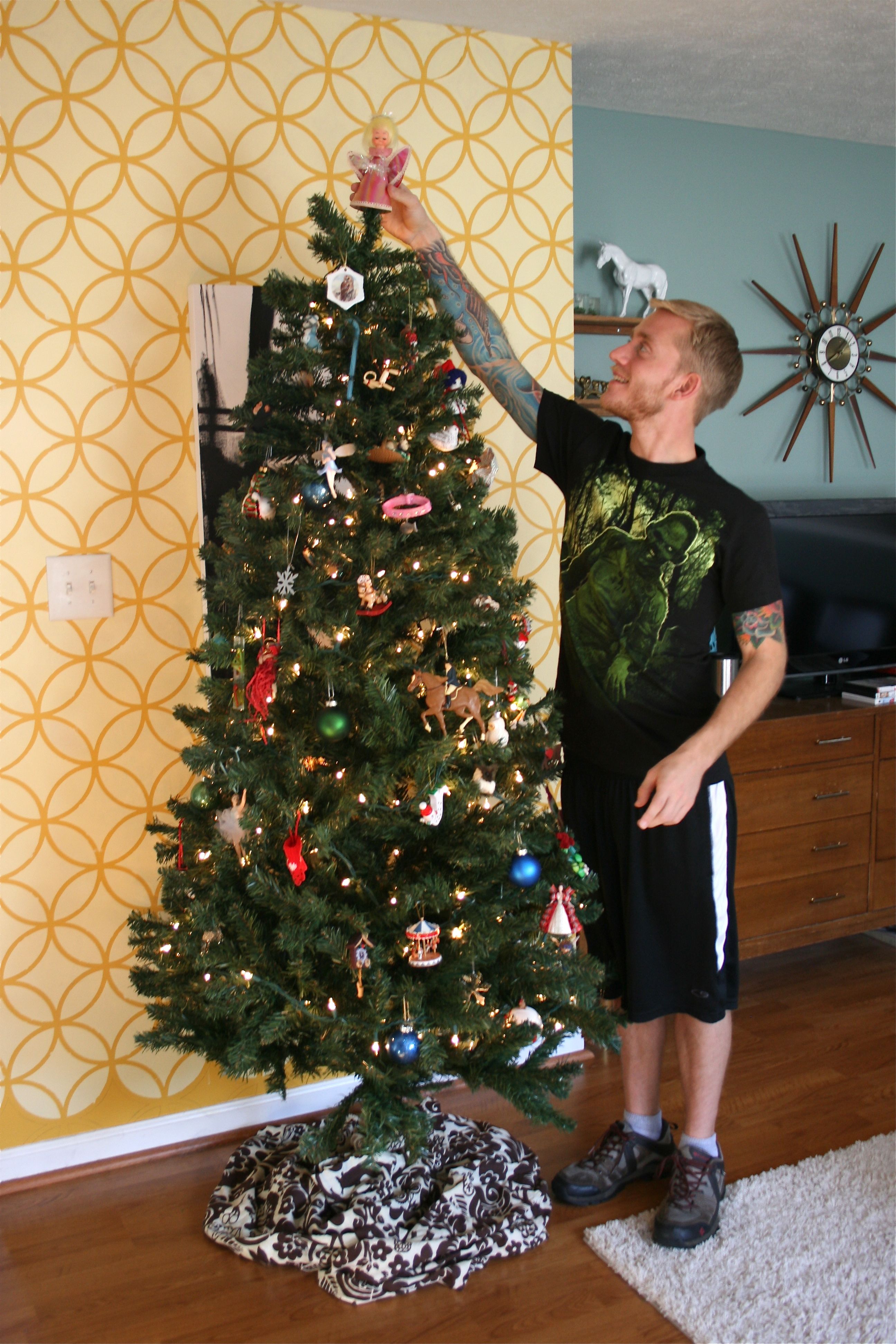 Now the cats and dog can spend the next month wreaking havoc on our beautiful tree with their errant tails and curious pawing. Here's Luna already getting curious with the lower branches…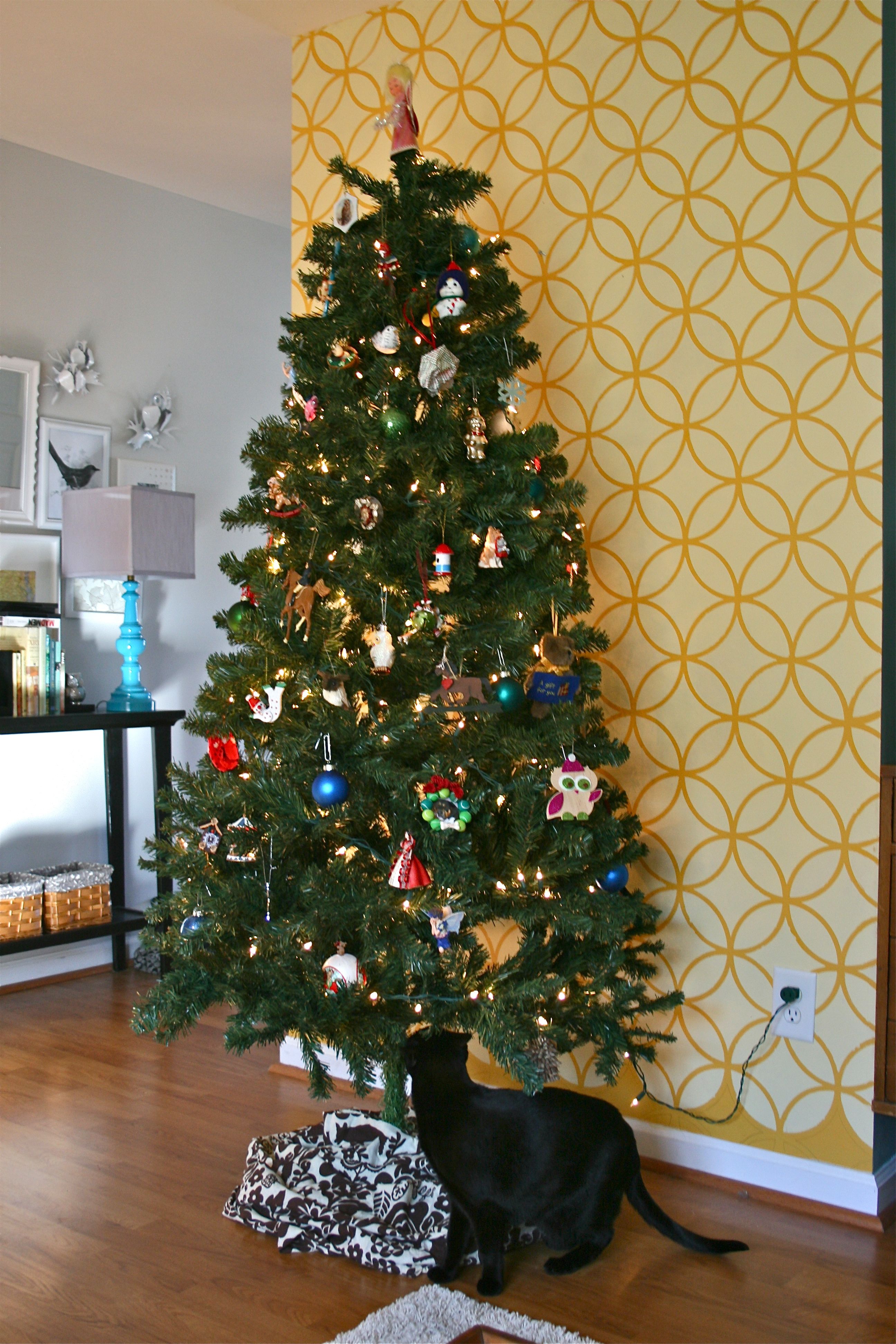 Unfortunately, with the trunk gone now everyone can see my unfinished stenciling on the yellow wall…Guess I should get that done while it's free of furniture ::sigh::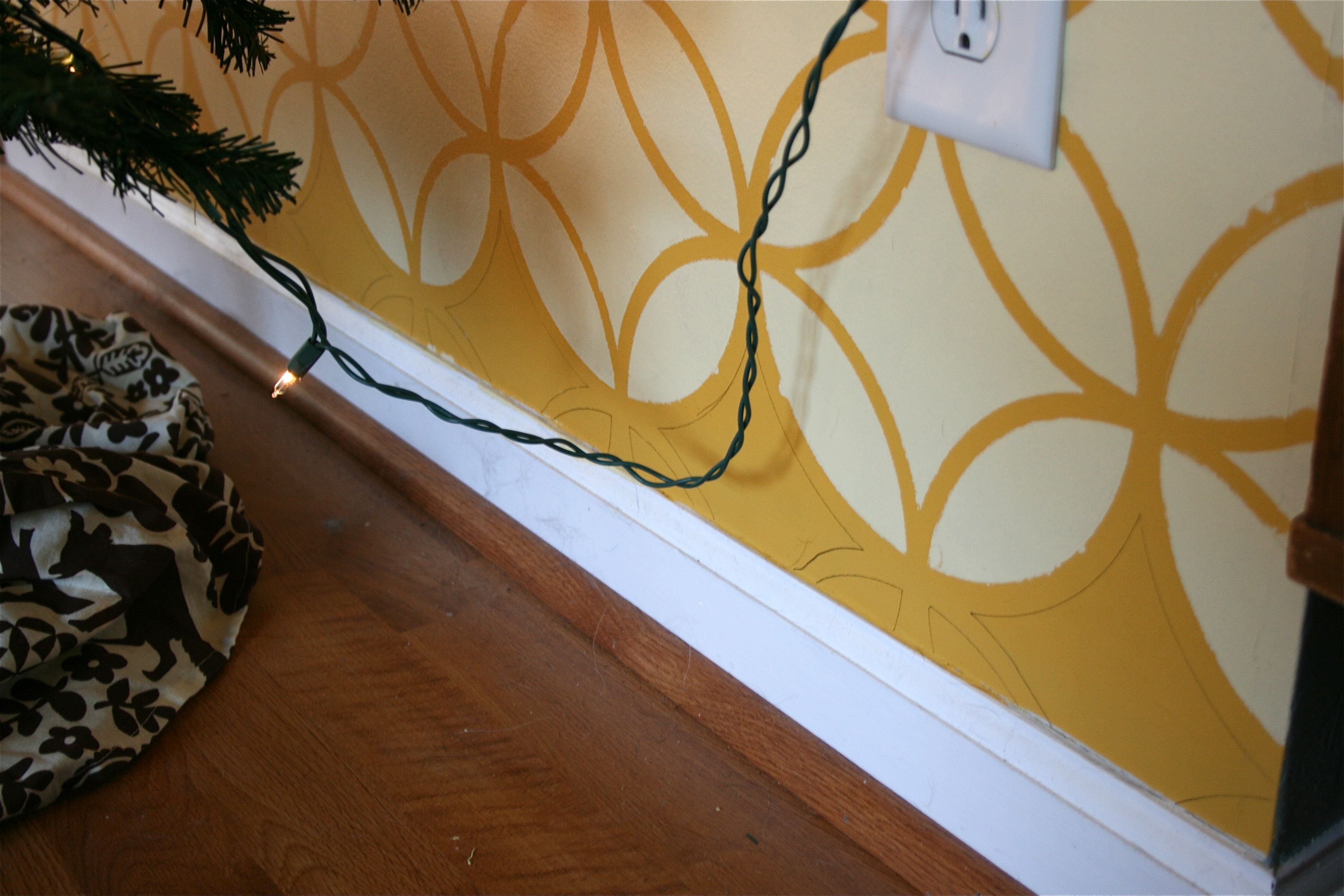 Merry Christmas!!!