Hoot hoot! Guess what came home with me after our latest thrift store outing. Here's a hint – It's something that rhymes with "dowel"…
So here's the story. John and I went to our favorite second-hand estate store and got down to business scoping out the week's wares. We had discussed playing a little game where the two of us separate, dig through the piles and come back together with a little something in hand. The budget was $5 each and whoever had the coolest treasure won (although what we were supposed to have "won" I'm not sure). I thought seeing our two random cheapo treasures displayed in the house would be a nice memory from the trip.
However, we were diverted by something sparkly catching my eye and our collective $10 (or more like $8.40 after John haggled a bit) went to something just for me – Is my guy awesome or what?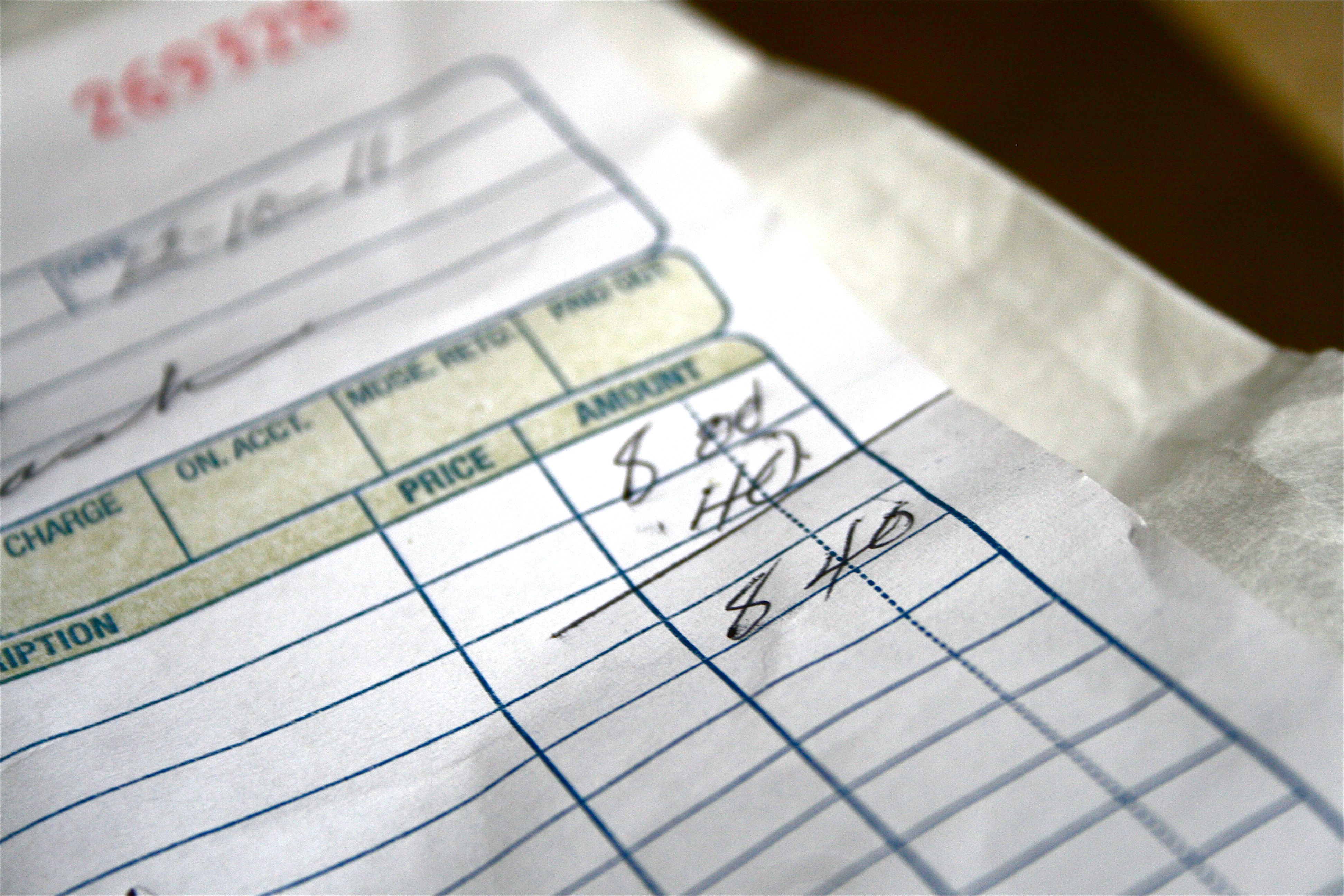 Meet my newest owl – You may remember that I am a bit infatuated obsessed with hoots of any kind (see all about that craziness here). So this little bird was welcomed with open arms into our home.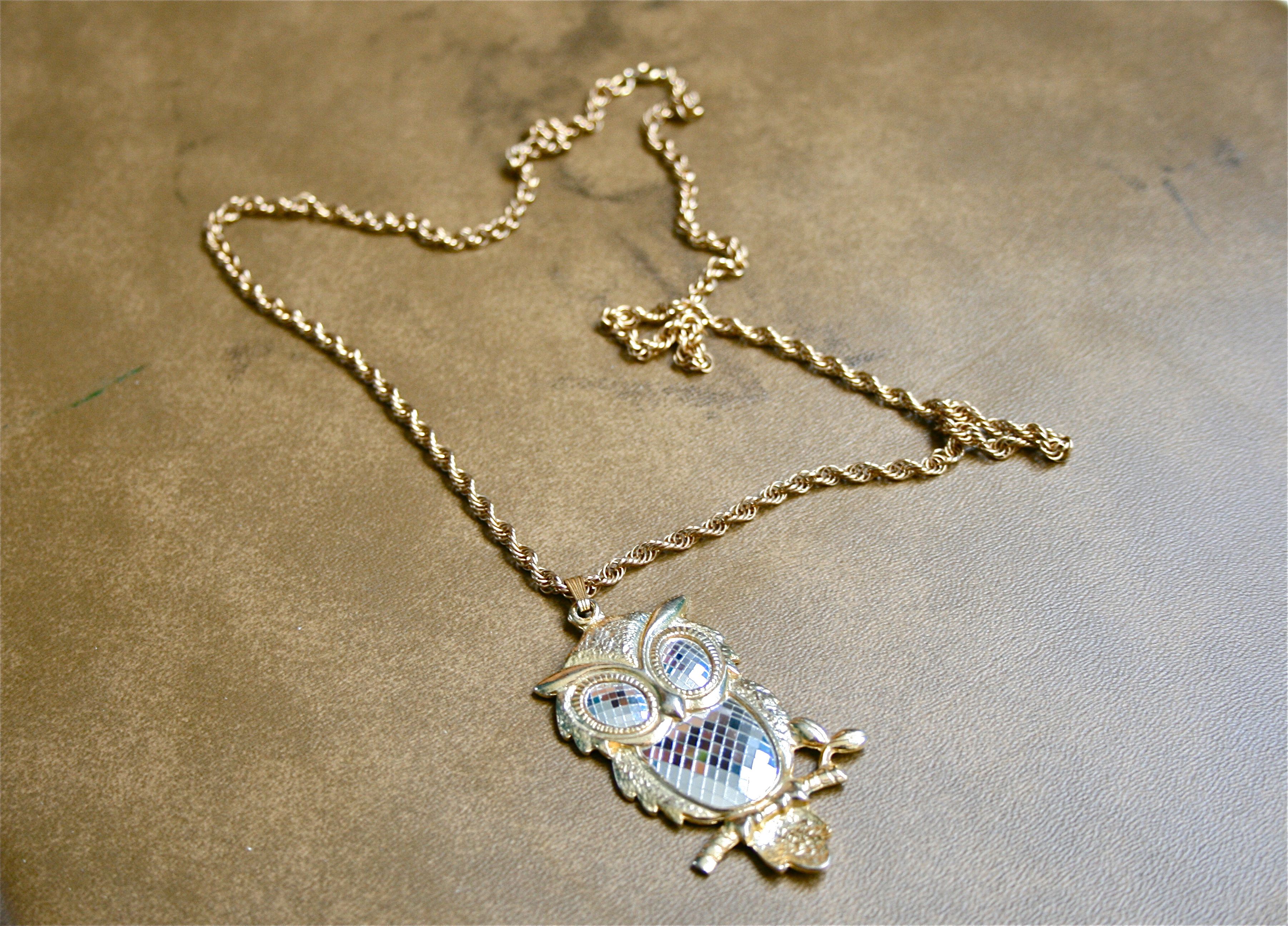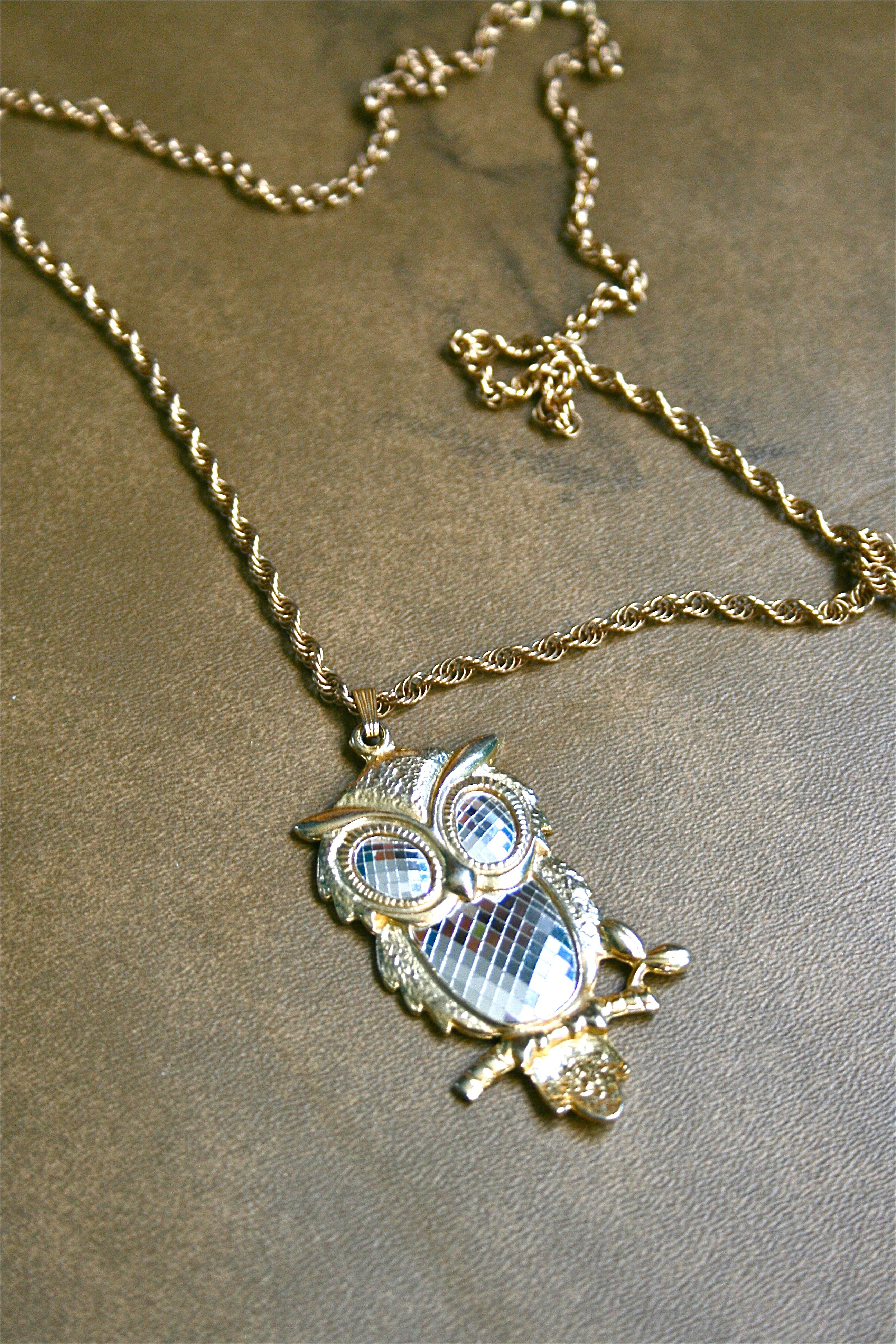 I've really been drawn to metallic things lately and even a little gold, which is different for me. So this little guy with his shiny yellow border and silver belly and eyes was too lovely to ignore. Yeah, it's a little '80s-tastic with the disco ball look, but I don't care. He had me at "shimmer."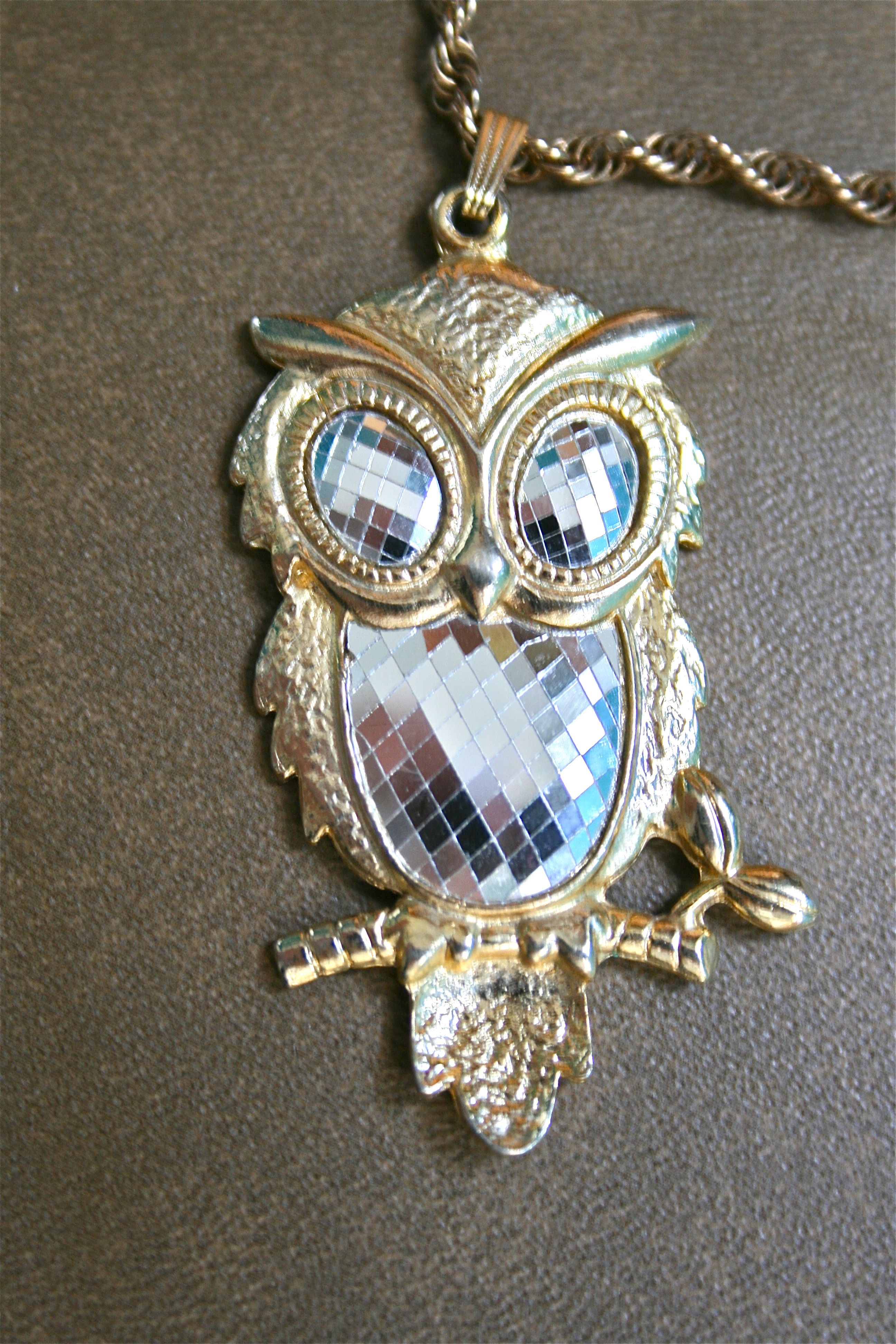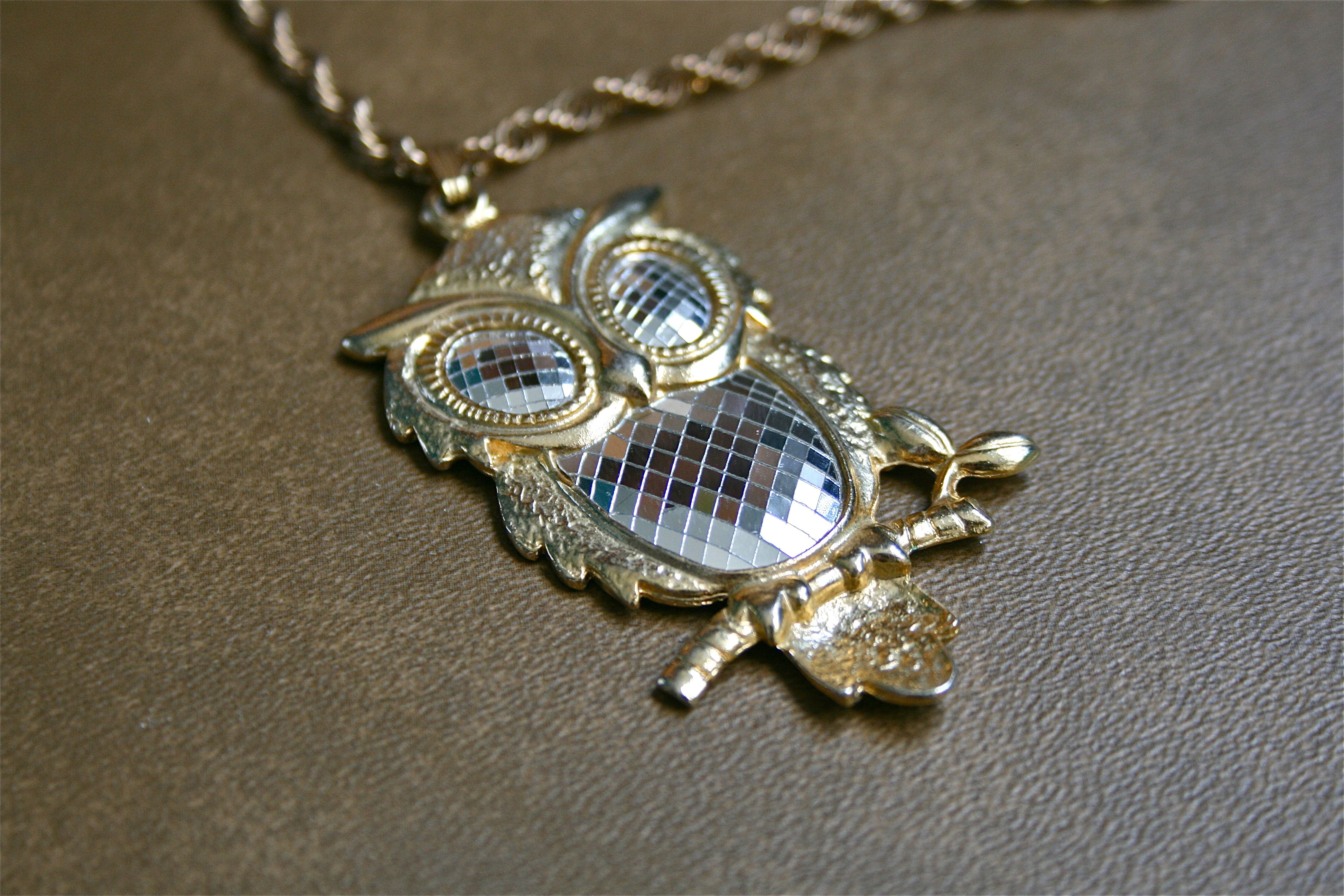 This purchase is actually all thanks for my friend, Megan (you may remember her from this post of yore) – We ended up running into her while we were wandering through the warehouse. She was so excited because she had just come from the warehouse up the street where she bought some jewelry (at a negotiated discount – Go, Megan!). Then she mentioned how she had wanted to text me because there was a beautiful owl "with my name on it" – Of course I made a beeline for the store and John pointed a shiny new toy out to me lying there on the velvet-topped counter. Not entirely sure if this is the one Megan was referring to (there was also an owl pin), but I love him and have already worn him twice.
What have you guys thrifted lately?
P.S. Did anyone happen to notice a couple of cosmetic changes made to DG-DIY? Welp, I finally got around to updating the blah solid-colored teal background to a silvery pattern (told you I've been into metallics lately!), and I also switched up the font so it's not quite so bubbly – I'm hoping it's a little easier to read. I'd love your thoughts and suggestions. What's a blog worth if its readers aren't happy anyway? Anything new you'd like to see? I'm also working on updating the pages – The house tour has FINALLY been updated and I am working on a room-by-room project gallery as well. Stay tuned!
UPDATE: Just published our brand new project gallery!! Check out a FULL list of all our room-by-room projects here.