A miracle occurred over the weekend. I finally got some decent pictures of our scatter-brained and constantly pitter-pattering "kids." There's barely a moment of stillness for these little animals. But behold! The magic of three close-to-crisp photo moments: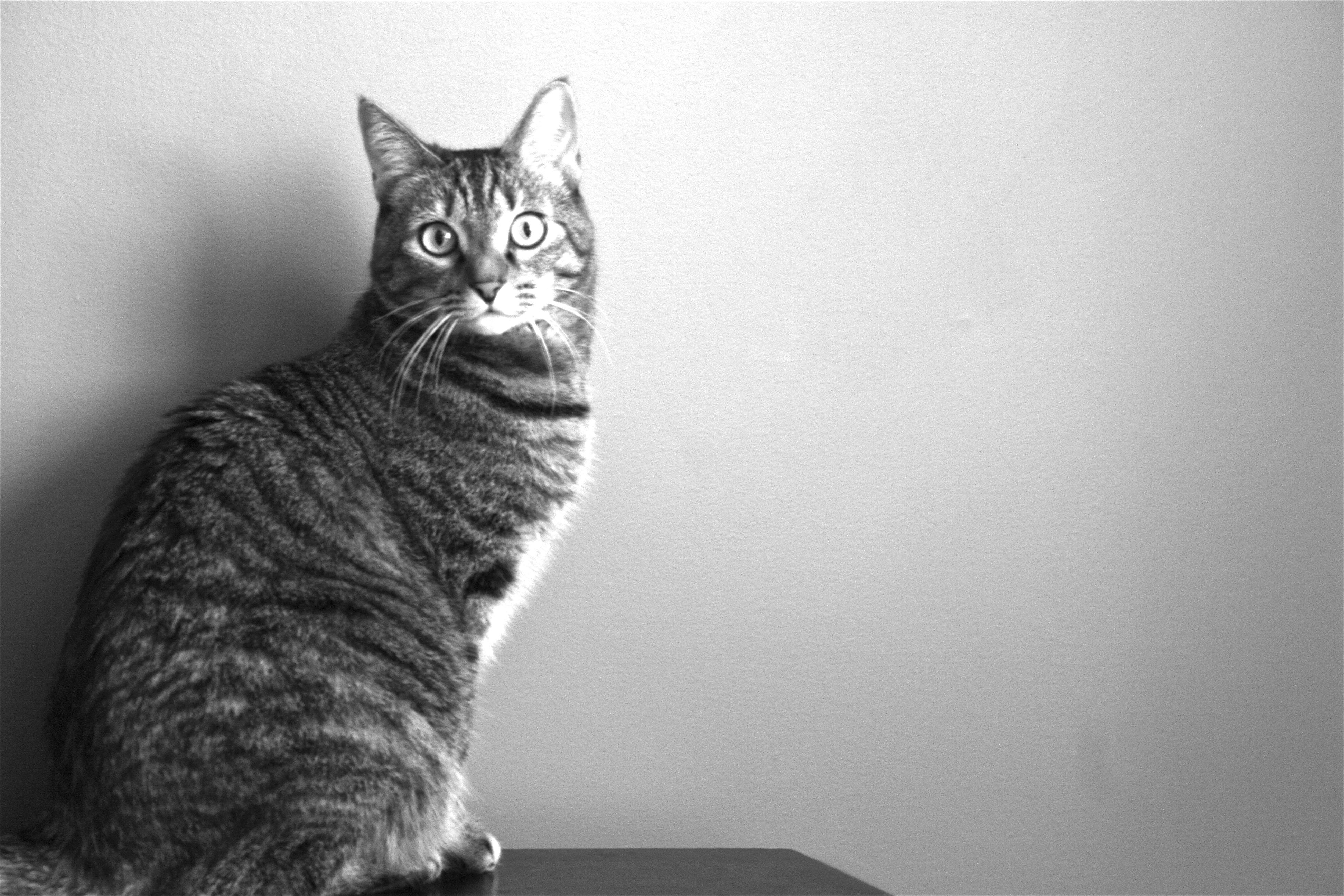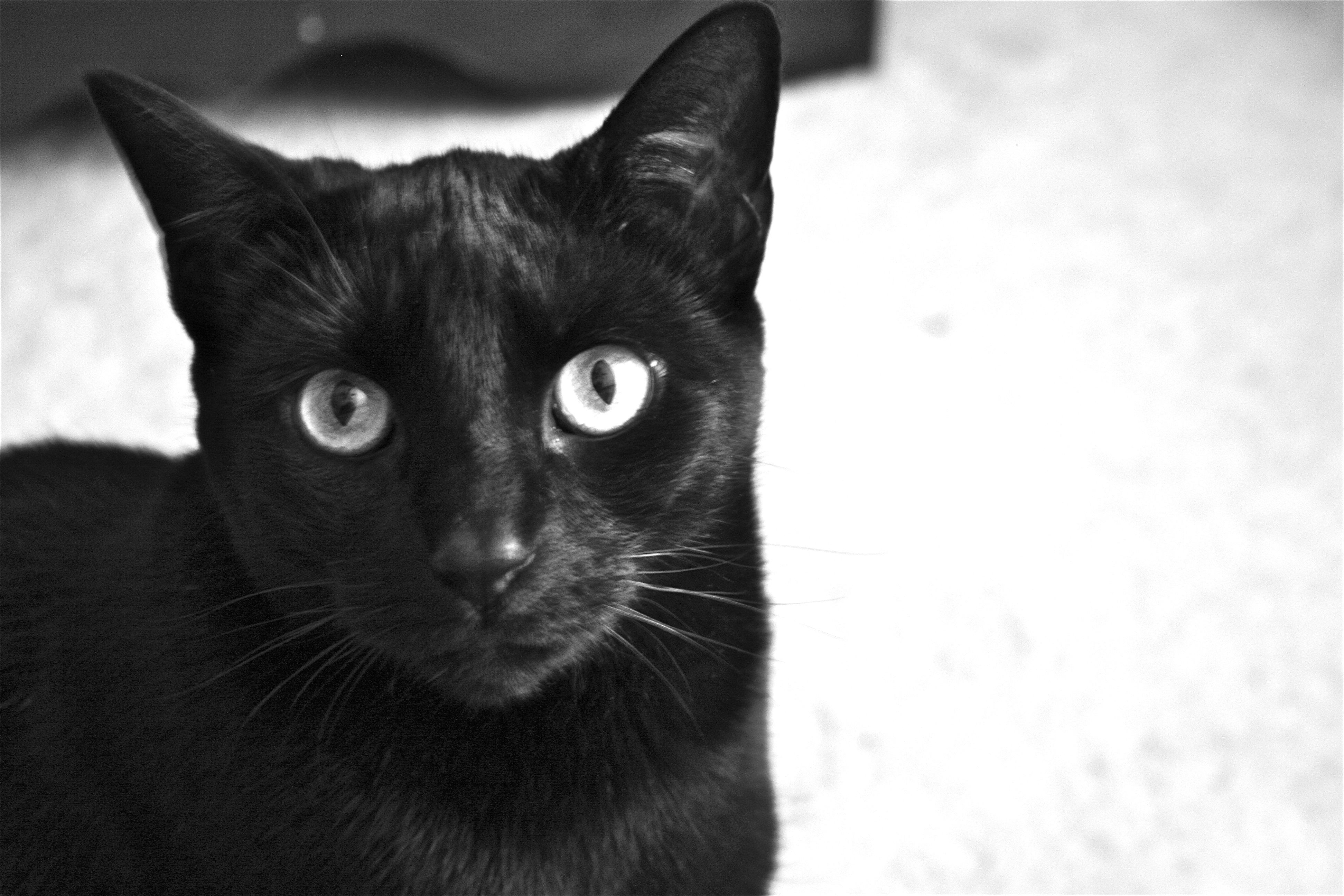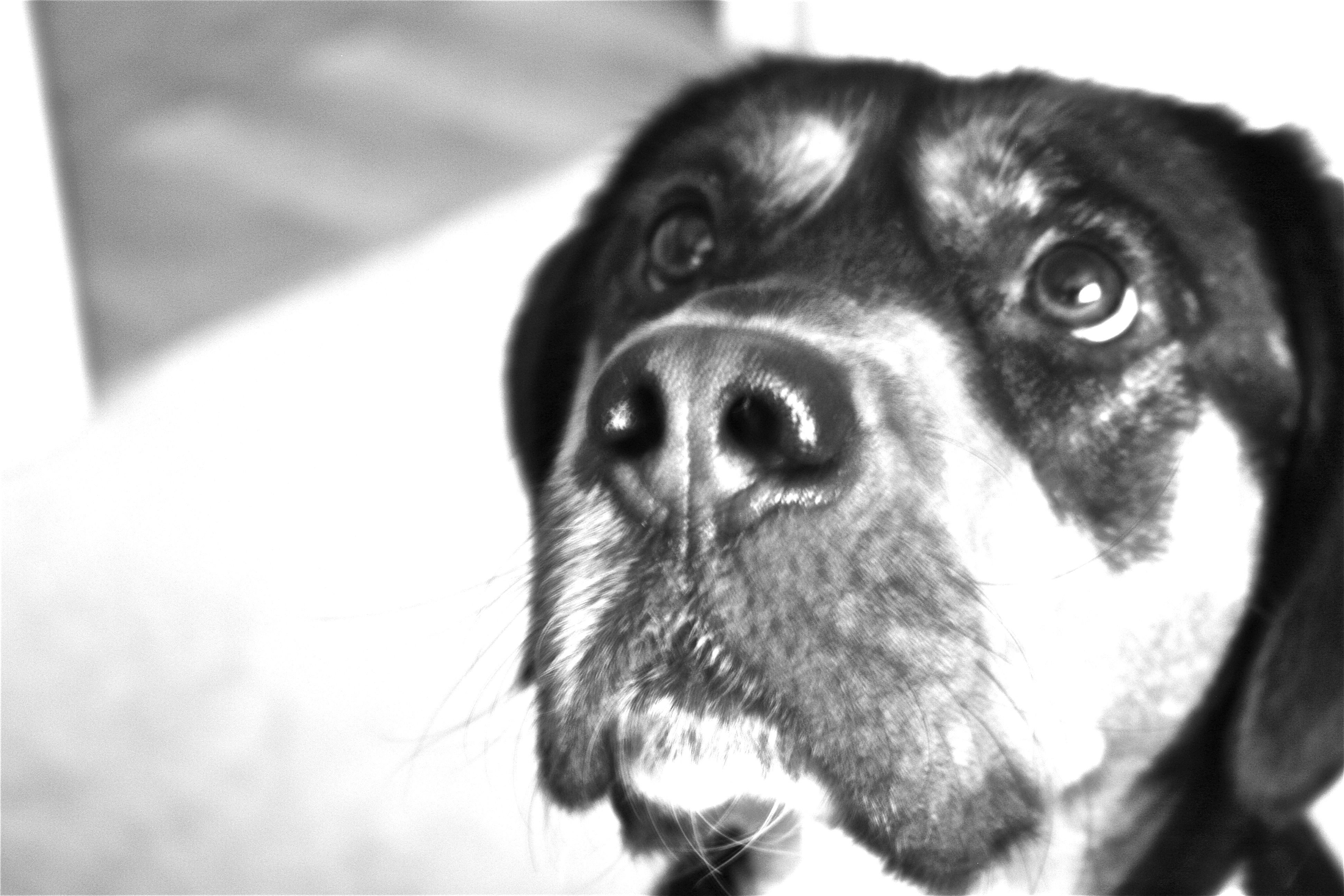 I was inspired by this pet photo project I came across on a blog I've recently fallen in love with – POSSIBLY more on that project in the future.
But speaking of the "kids," they inspired this week's Pinspiration feature. For whatever reason, Rocky the dog has been acting out a bit lately – Accidents here and there, eating out of the sink with us just in the other room (yes, our dog can jump up on the counters – P.S. he's a medium-sized, 40 lb. hound dog). It was not a good situation. We essentially had to re-house-train him and that was not fun. After a little online research, I discovered that crate training could be a huge plus for ALL of us in this situation. So I borrowed one from my parents (they have three labs) and Rocky has since been "cured" of his badness.
The other part of our training regimen is rewards in the form of treats for good behavior and outdoor bathroom usage. Having a bag of dog treats in the laundry room for us to grab from a couple of times a day was okay…But then I got to thinking and, after perusing Pinterest, I knew I wanted to change something: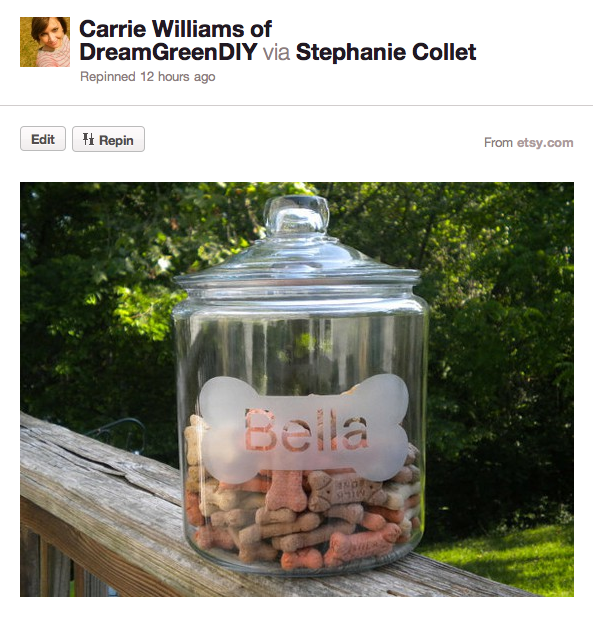 Source: Somewhere on Etsy – Although it looks like the original pinned link broke…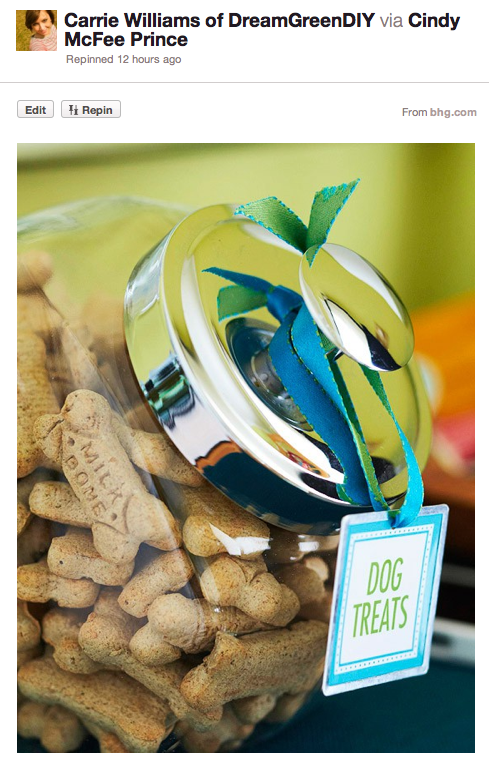 Source: Better Homes and Gardens
Come on now. TELL me dog treats don't look so much fancier inside pretty glass jars!!! Although I love the smooth finish and frosted pet name on the first one, I found a jar that is just perfect for our home and style.
Meet our newest thrift store treasure – The dog treat jar: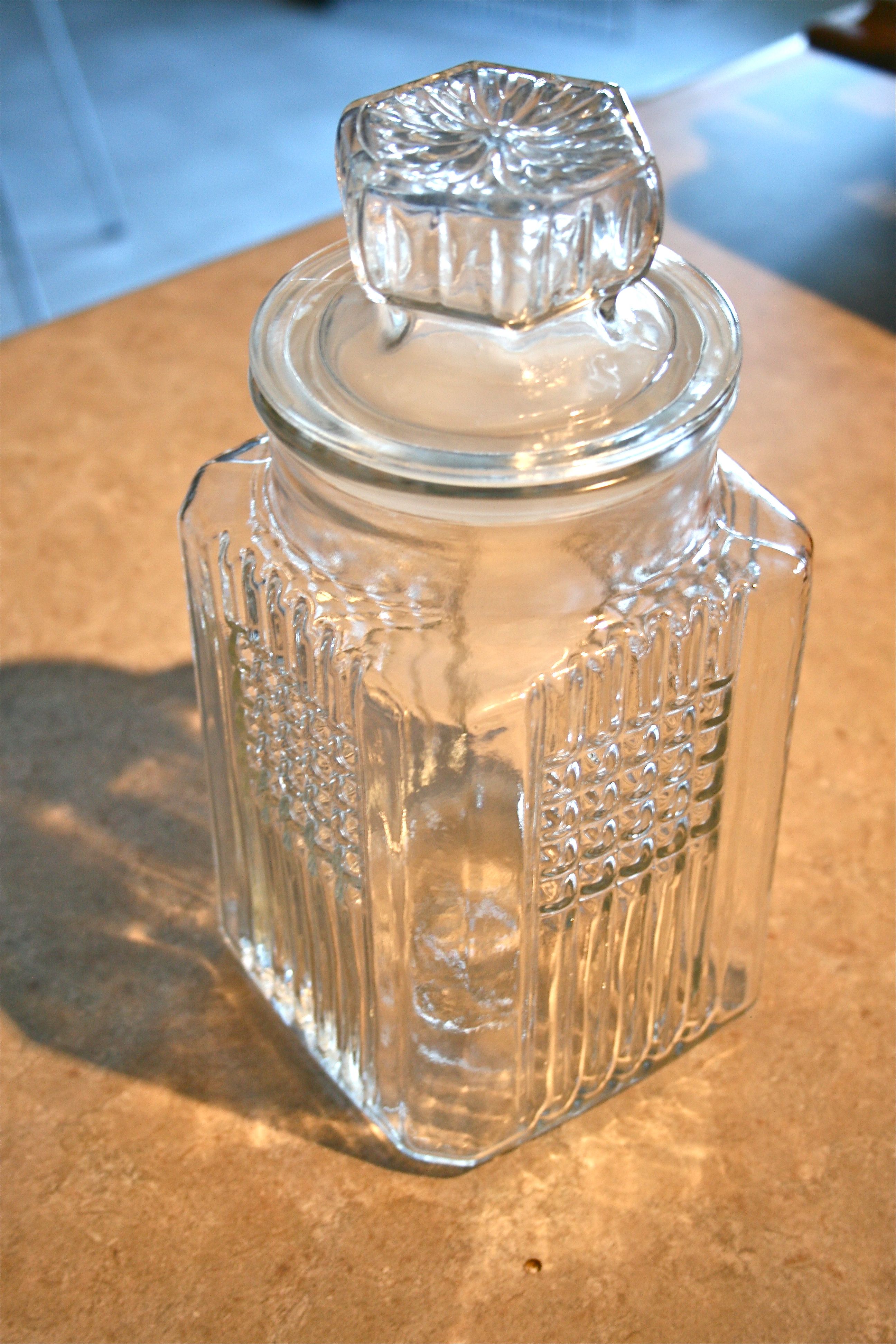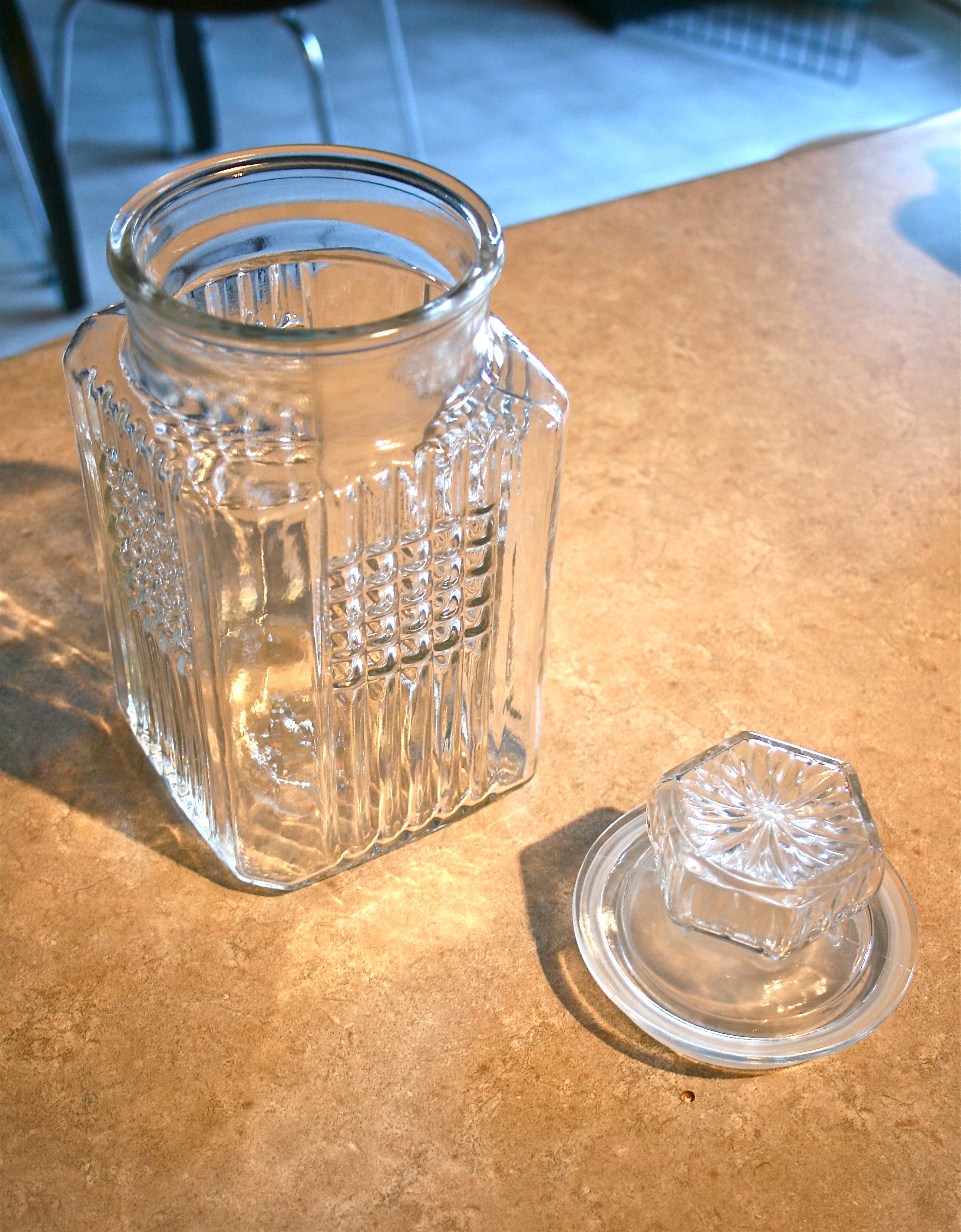 It only cost $5 and is just BEAUTIFUL! At least we think so. It's got this great squared Art Deco etching in the glass and is pretty roomy, standing about 8 inches tall. The top, which fits snuggly into the neck of the jar, keeps treats fresh and tasty.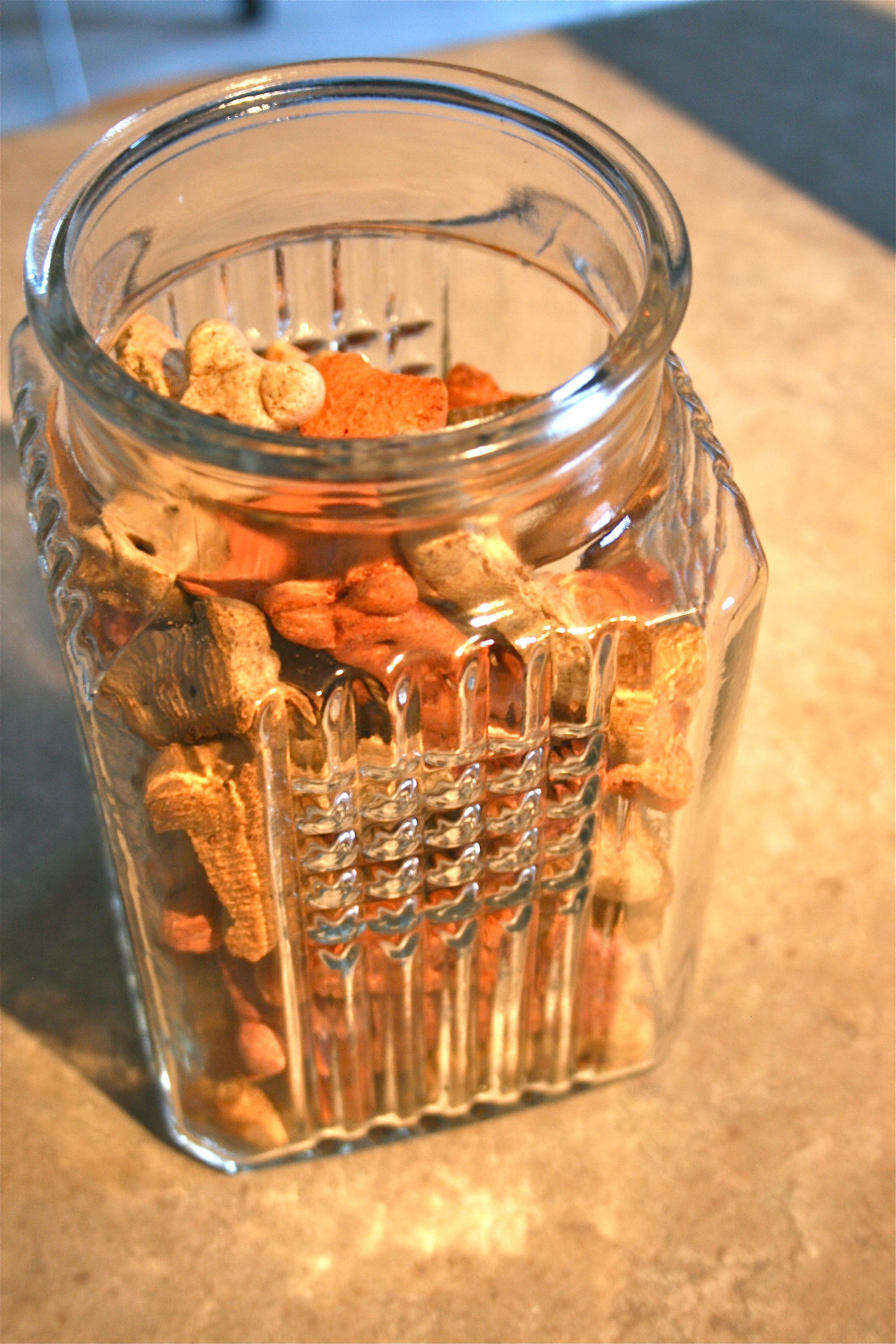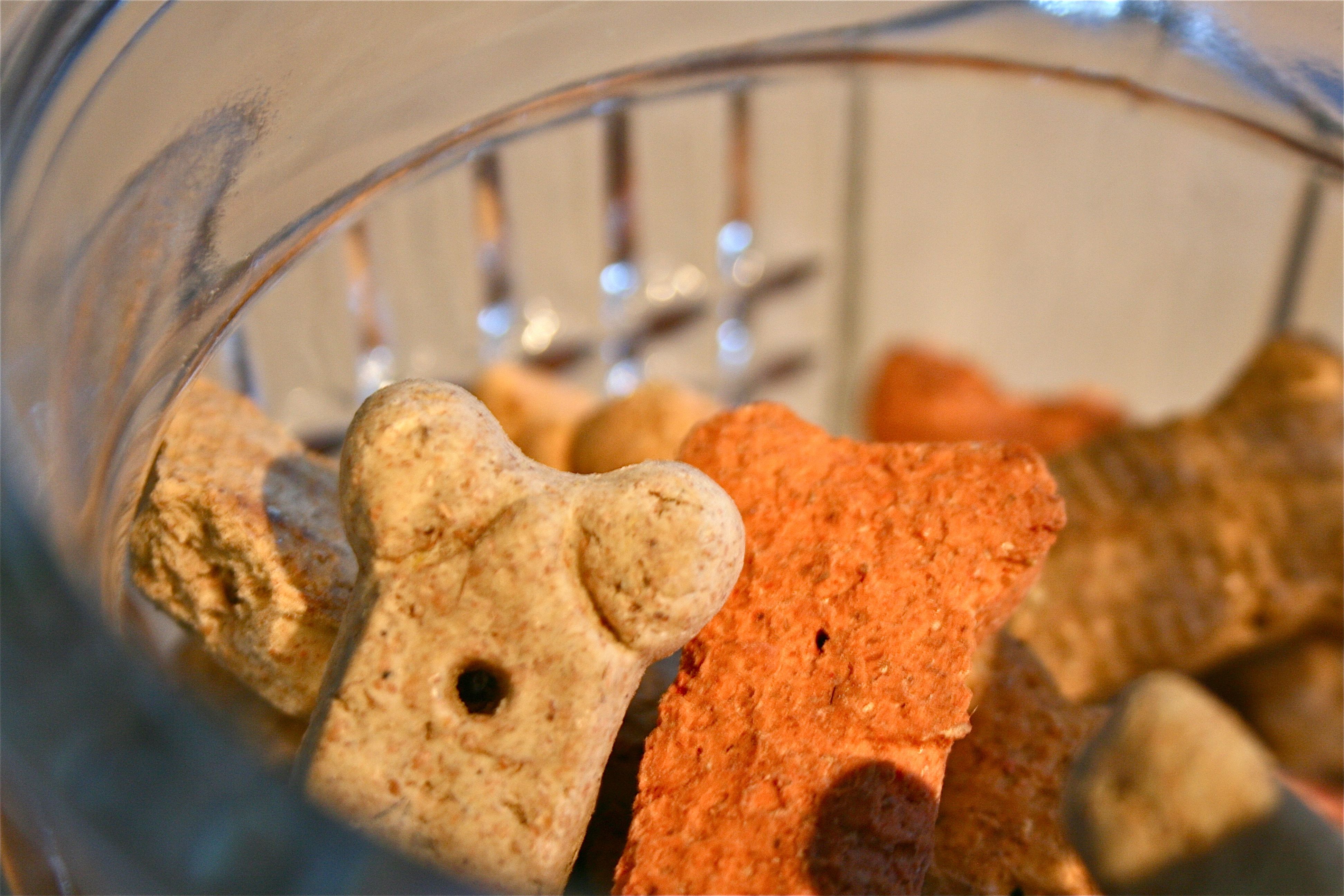 Oh and here's a quick "Before" (with the new crate visible in the background!):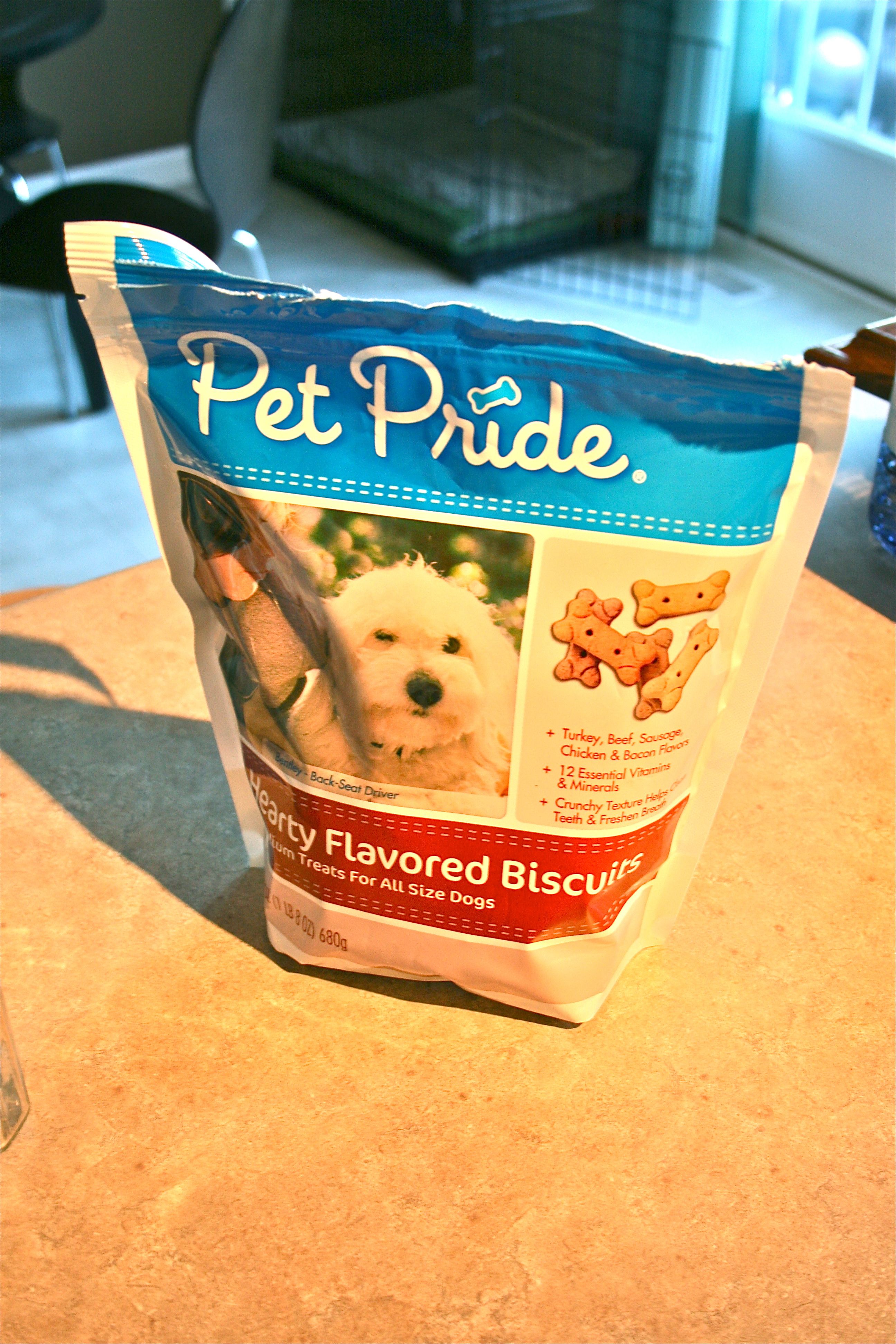 And now "After!"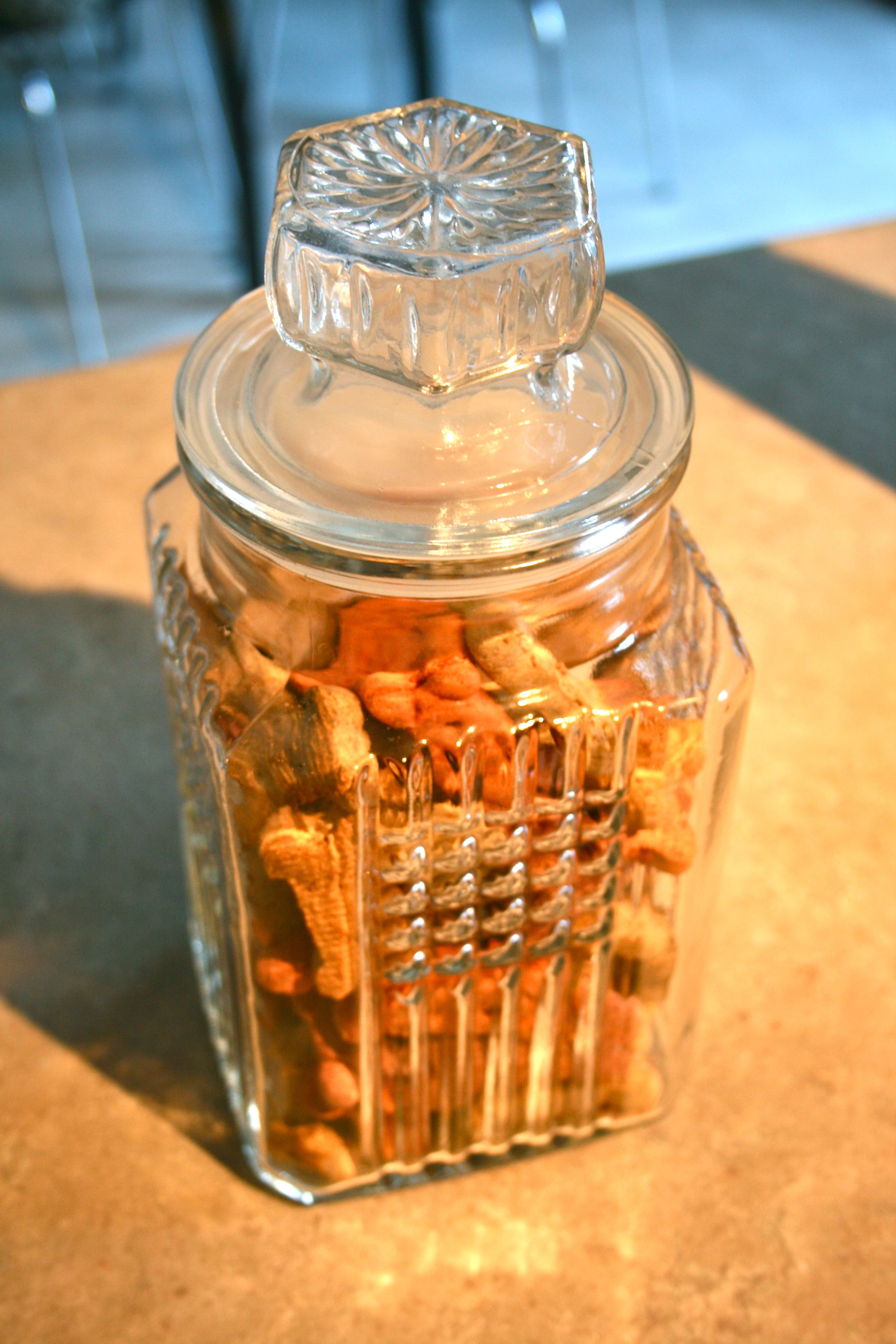 It took a little convincing for John to see my logic, but I think he's come around to our pretty little antique jar o'treats. I'm super excited to have something pretty to look at every time I take the dog out. Plus after we revamped our dog treat container, its location was upgraded as well from the laundry room to the kitchen counter – I think it makes the surface look pretty shnazzy!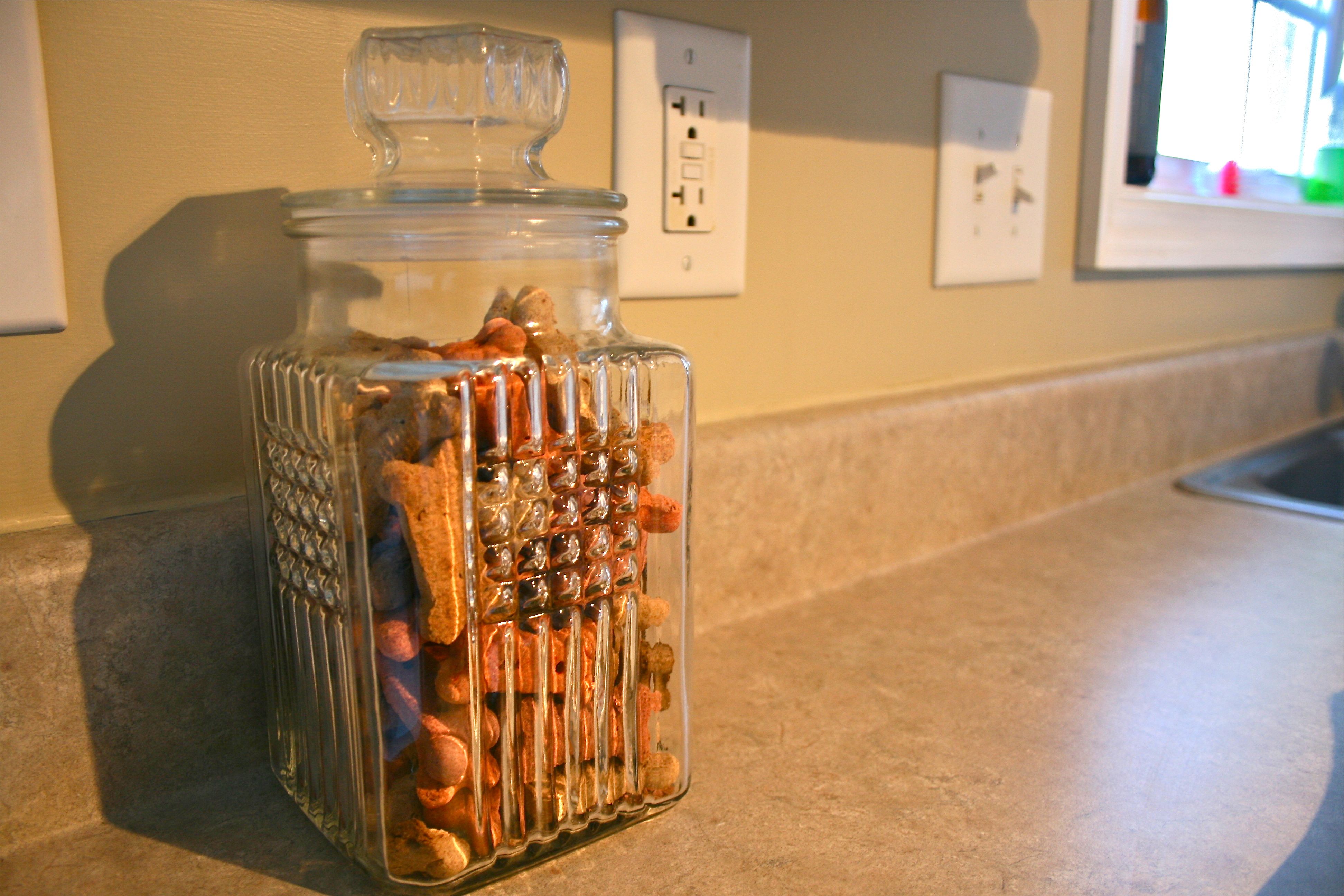 What do you think? Do you guys have any other creative ways to store your pet's treats? Oh the things we do for our "kids"…
P.S. In case you missed out on a couple of announcements last week, we FINALLY updated our house tour, added a room-by-room project gallery and also added a brand new Etsy shop called "Your Thirft Store SCORE!" We are slowly but surely adding more thrifted treasures to the store's inventory, so check back soon if you don't see your favorite item. Enjoy!