This giveaway is officially closed. Keep scrolling to see if you're the winner!!
This post was brought to you in partnership with The Home Depot and ScotchBlue™ Painter's Tape.
Even though we are well out of school by this point, there's still something really special about the summer season. But without the luxury of an OFFICIAL break from responsibility as adults, we have to put forth a conscious effort to make those summer time memories more than just wishful thinking. So John and I agreed to a special pact starting last Friday that we would do something summery every single day. Today's project is the perfect kick off to that promise!
I am also proud to be partnering with ScotchBlue™ Painter's Tape and The Home Depot on this simple DIY project as part of their Ready, Set, Paint event and blog hop, featuring tons of fun DIY summer painting projects by some super talented fellow bloggers. We're talking updated patio furniture, a GORGEOUS Ikea hack, a dip dyed wooden bench and much more. See all of the fun links at the end of this post.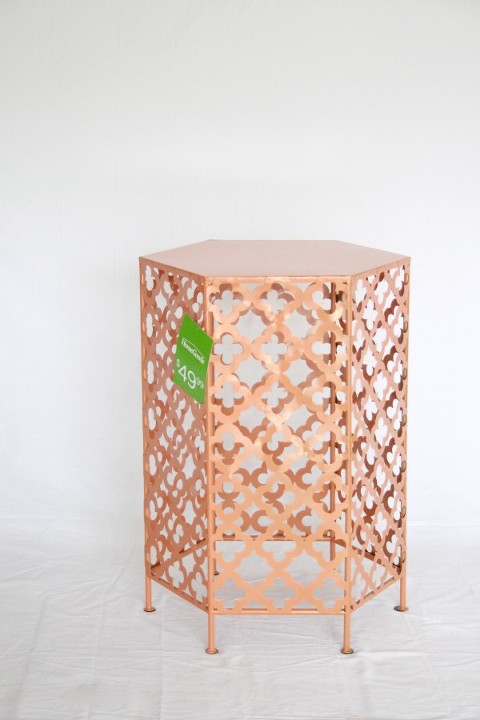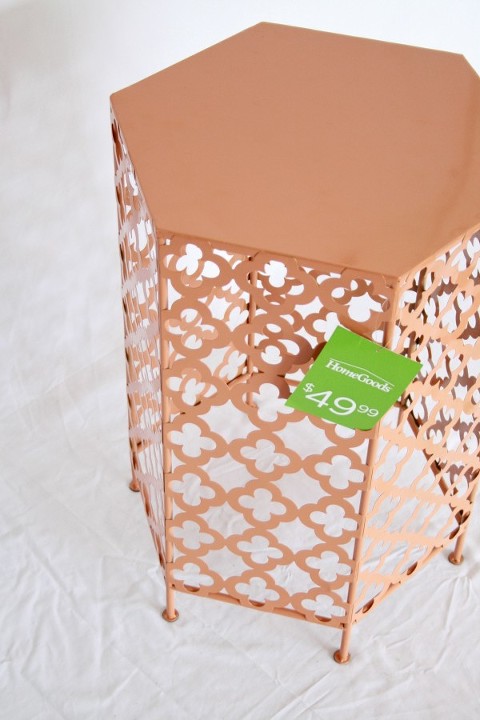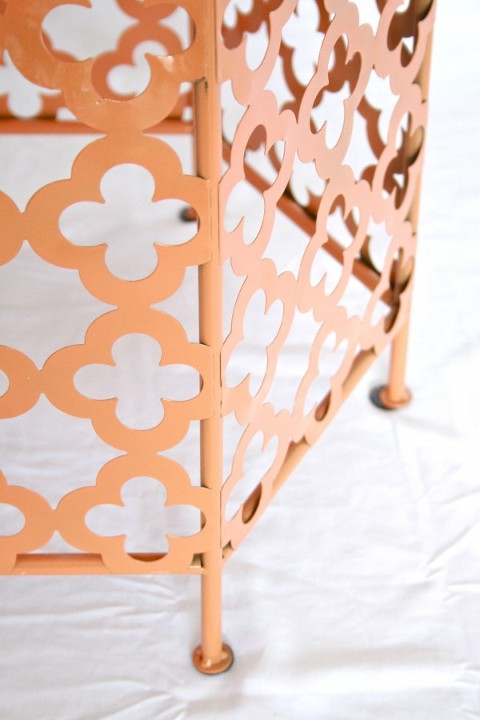 So let's start with the inspiration for this project. I've been teasing you guys with a certain HomeGoods purchase for what feels like months. As soon as I saw this metal Moroccan style table in the store, I knew that it was "the one." The scroll work around the sides of the piece was really interesting, and the vibrant orange color really caught my eye. Plus, the smooth flat table top seemed perfectly suited to summer time game playing on the back porch. But why stop with a place to rest our game boards when I could turn it INTO a game board?
Enter ScotchBlue™ Painter's Tape. When approached to participate in the Ready, Set, Paint  event, I knew just what to pitch to the team. Believe it or not though, I had never actually used ScotchBlue tape before. As you know, I tend to be a bit impatient when I actually start working on my projects and usually grab for the nearest material in our closets – namely cheapo masking tape that we already have on hand.
Well let me tell you (and this is my honest feedback…) I have been missing out!! There's a reason why this stuff has made such a name for itself – I've never used anything like it, and sufficiently feel like a dud for not giving it a try until now.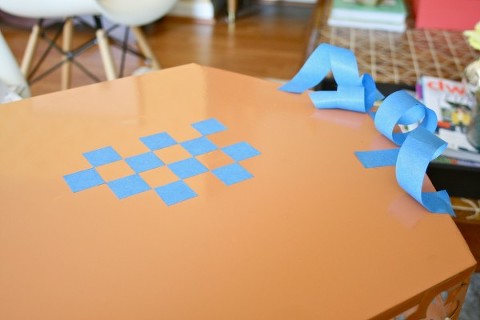 To begin making my game table, I grabbed my supplies (table, painter's tape, ruler, straight edge, pencil, scissors) and parked myself in front of the TV. This project is just a TINY bit tedious, so it's good to have something on in the background to keep you occupied/entertained.
Since my little HomeGoods table isn't big (it's only about two feet wide) I knew my gaming squares couldn't be very big either. So I intentionally chose the 1 inch painter's tape so that I could cut out 1×1 inch squares. To measure, I unrolled a length of tape right on the tabletop itself and, using a ruler and pencil, marked every inch. Then I grabbed my straight edge (i.e. a Dwell Magazine subscription postcard) and turned my little tick marks into nice straight lines to use as guides for cutting.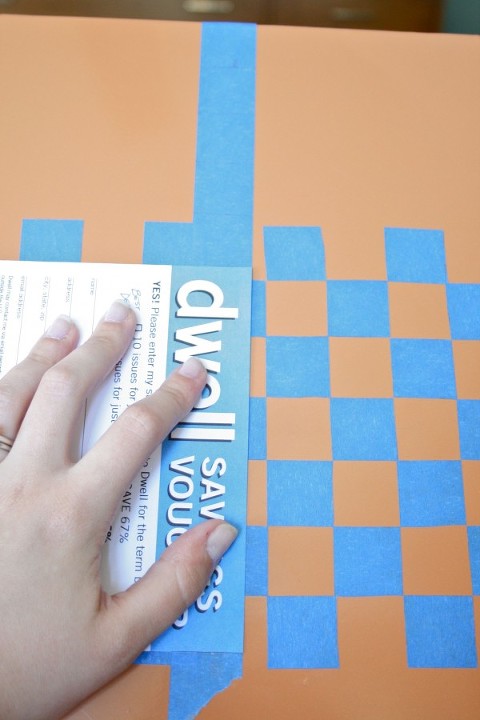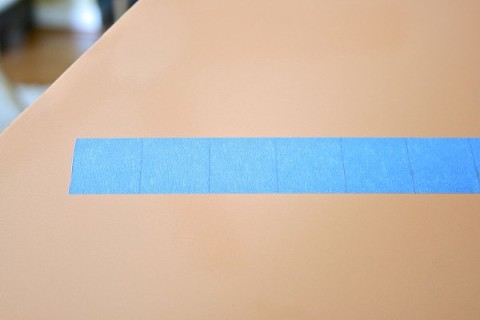 Once my lines were traced, I cut out the squares one by one and stuck them to the side of the game table. This process went on until I had a nice collection ready for placing. Then I carefully laid them in a checkerboard pattern on the tabletop. I didn't have any qualms about sticking and re-sticking the painter's tape, because it turned out to be really resilient, holding its adhesive after several placements.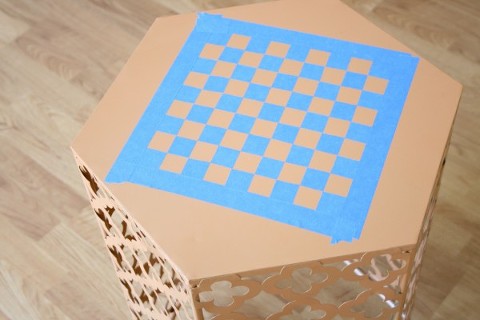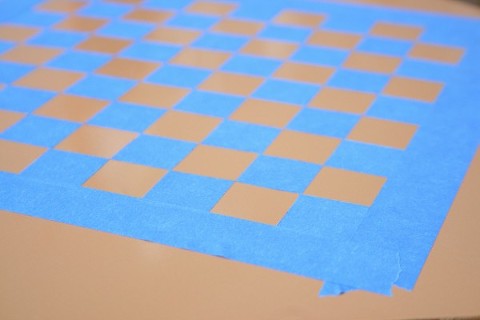 Once I was finished with the design, I carefully lined the edges with four long lengths of tape, and then masked the rest of the table to prepare it for painting using none other than a handful of trash bags. Doesn't look very fancy, but it definitely got the job done. And we have since reused all of the trash bags just by turning the painted sides outside in, so don't worry about wasting any materials if you try this at home.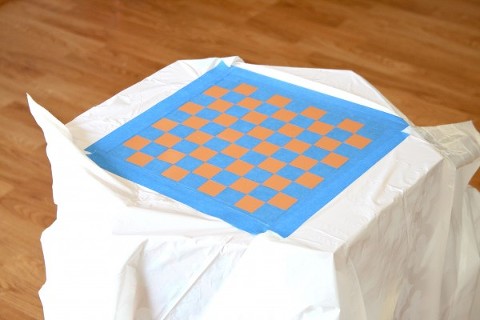 Next up – The paint. I used a can of Valspar white paint that we already had in the garage, one with a nice flat paint+primer finish. I had initially debated using a color for the checkerboard pattern – something like blue, or even hot pink – but eventually decided on a clean white since I didn't want it to compete with the orange table itself.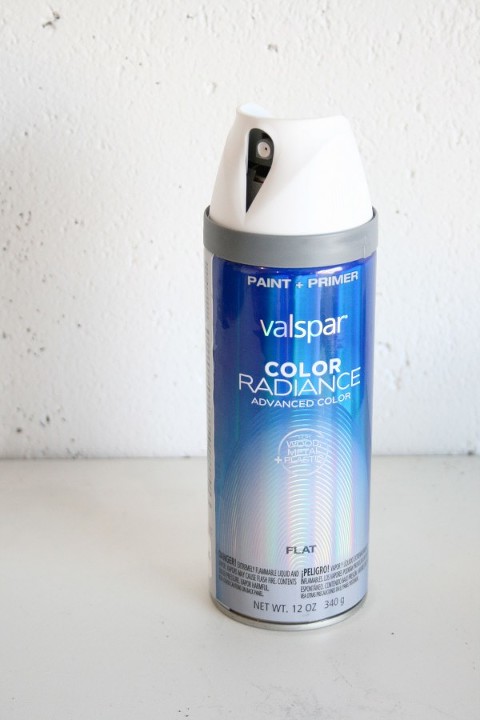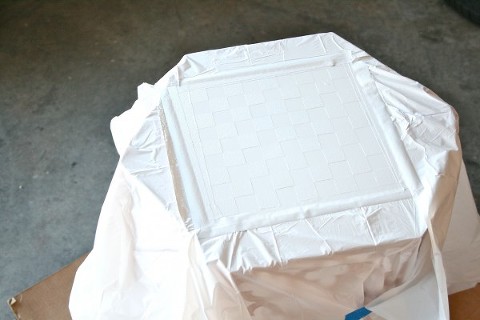 A few thin and even coats later, I let the table dry for a few hours and then removed the trash bags and painter's tape, happily revealing a perfectly crisp pattern underneath. The tape was super easy to remove too – Just a little pull at the corner and the pieces came right off without harming the surface of the table whatsoever. Although the pile of used tape below looks nasty, I'd swear that I could have moved it right over to another table and reused every last bit. I am a convert, for sure.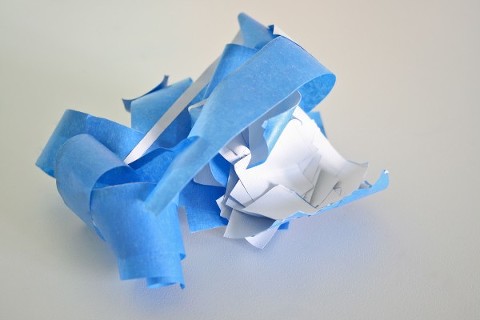 Before calling this project "Done," I gave the table top 2 thin and even coats of a clear, glossy sealant just to make sure my paint wouldn't chip off in the long run. I also managed a quick DIY game piece project on the side. To make those, I bought two packs of 1/2 inch wooden button plugs at our local craft store for $3 total and spray painted one set a soft mint color and the other gray. They came out exactly as I'd hoped and fit nicely within my custom checkerboard.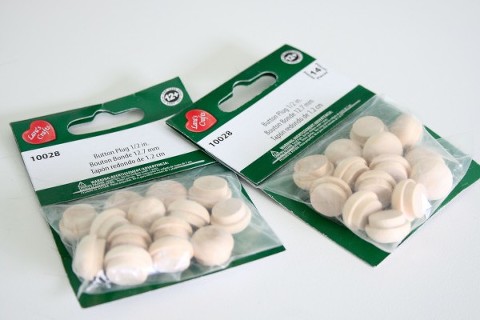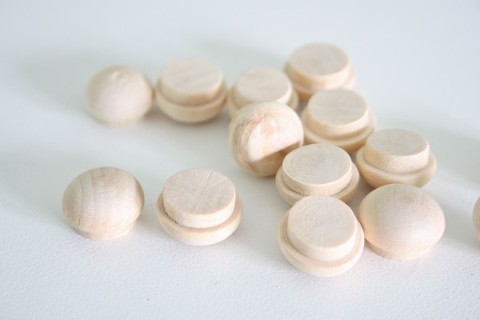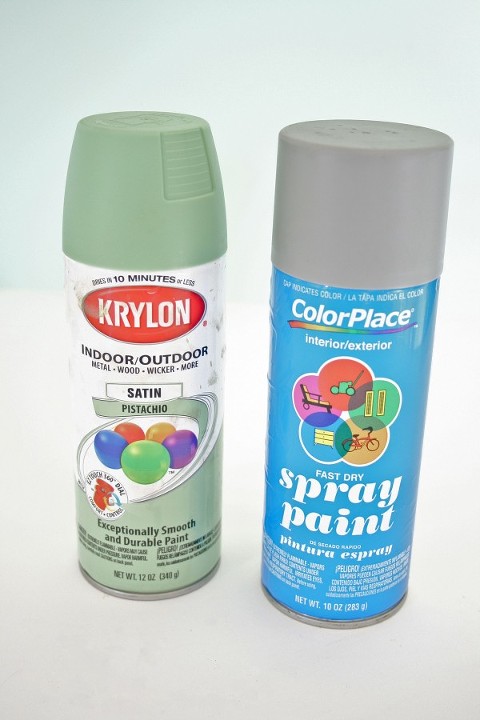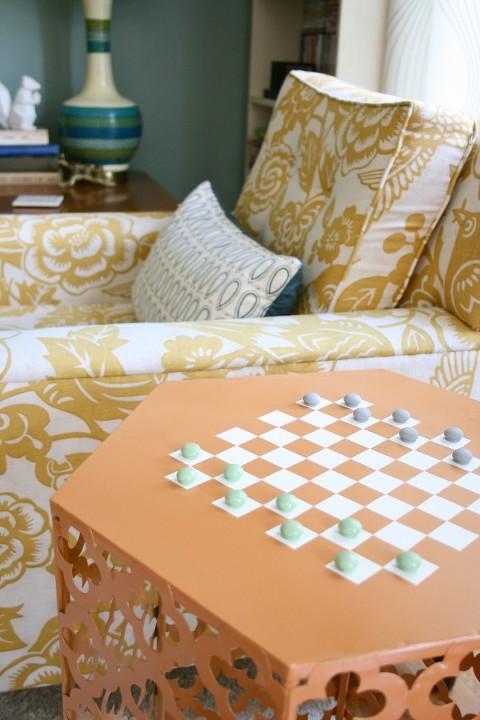 We've had a blast playing a game or two after dinner each night. Although it lives in our living room, the size of the table makes it a cinch to grab and take out to the back porch if we're having particularly nice weather any given evening. This was a really affordable and simple project, and one that I know will come in super handy throughout the entire season.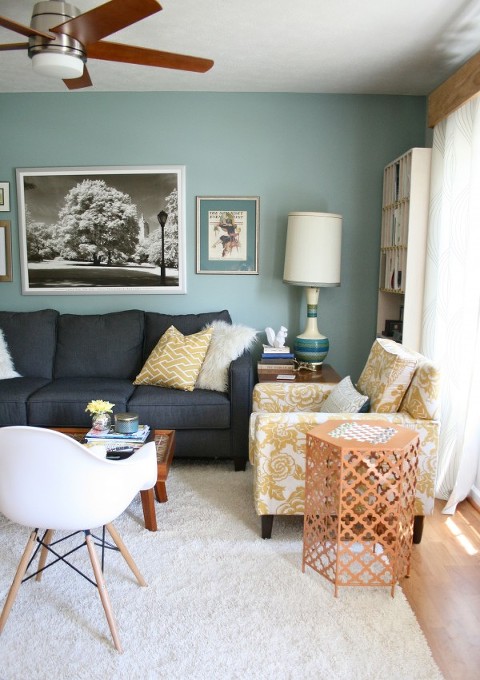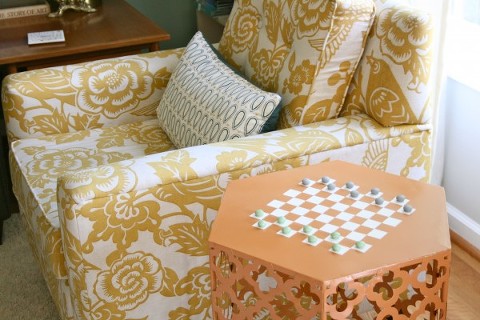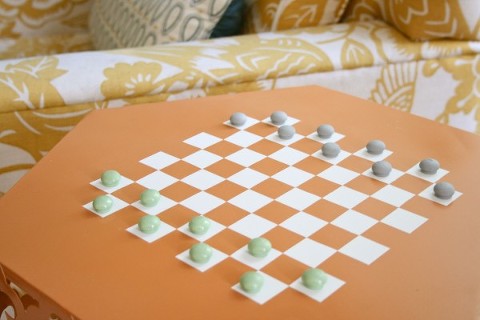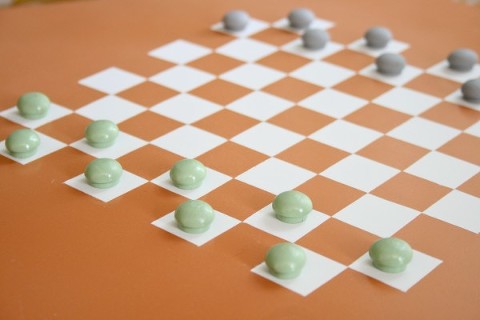 Now for the fun part for YOU guys. The Home Depot has generously offered to give away one $75 Home Depot Gift Card to one of my lovely, crafty readers!

To Enter:
Leave a comment with a link to your favorite summer DIY or paint project – Could be one of your own, or something you found on your favorite blog, website or on Pinterest. The winning commenter will be chosen via Random.org at the end of the day Thursday, June 27th, and I will announce the winner on Friday, June 28th. (U.S. residents only)
And if you were inspired by today's post, be sure to visit with all of the other fantastic bloggers in the Ready, Set, Paint Blog Hop:
Centsational Girl – Textured Panel Dresser Makeover
Thrifty and Chic Framed Stencil Wall 
The Design Confidential DIY Concrete Color Block Painted Tables 
Sand & Sisal Faux Etched Glass
The Girl Creative Summer Chalkboard
PB & J Stories Dipped Effect Outdoor Bench and Front Patio Makeover 
In My Own Style How to Paint Outdoor Furniture
Making this Home Embellish with a Paint Border
Rustic Bench Gets Modern Moroccan-Inspired Makeover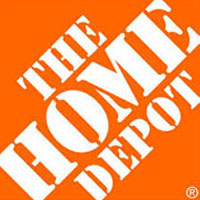 Want even MORE DIY summer paint project inspiration? Check out the ScotchBlue™ Painter's Tape Pinterest Page, The Home Depot Pinterest Page, ScotchBlue™ Painter's Tape's Facebook Page and The Home Depot's Facebook Page.
***************************************************************************************
GIVEAWAY UPDATE: Congratulations to Mami2jcn!!

Mami2jcn, I will be emailing you shortly with details on your Home Depot gift card.
Thanks to everyone for participating – I really enjoyed hearing all of your summer crafting plans.
You've successfully inspired me, and THEN some!!