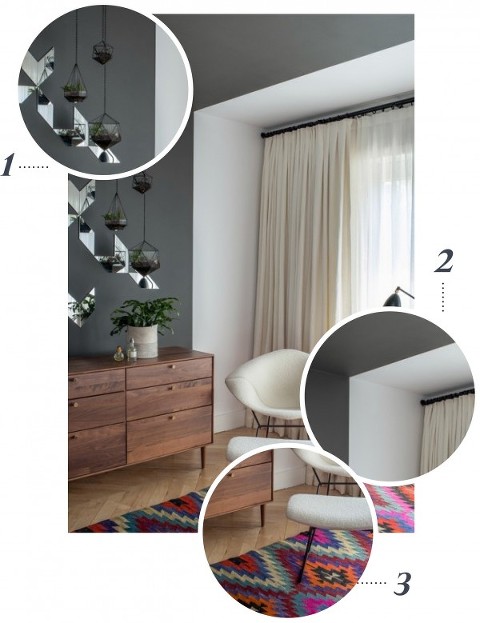 Source: Design*Sponge
Believe it or not, I have this weird sort of relationship with Design*Sponge. Some days I'm obsessed, while other times I just feel like it's a little overwhelming. Most of the blogs I read only update once a day (if that), so keeping up with a blog that posts MULTIPLE times a day throws me off a bit. That said, there's no denying the wealth of resources and inspiration offered by Grace's site. Case in point, today's "All in the details" room… (P.S. Does anyone else feel that way about D*S?)
1…If you click over to the full article on this home – by the way, I highly recommend it – you'll find out that the prism like mirrors seen here on the wall are actually meant to mimic the shape and silhouette of the glass terrariums suspended from the ceiling. What a cool way to incorporate repetition, all while using a pretty inexpensive material – glass.
2…Although this corner is only a small sampling of the space, the gray swath of wall that you see here is limited just to the center of the room with the white acting as bookends. On the opposite side of the room, the width of the dark gray matches perfectly with that of the bed frame, turning this paint technique into something like a modern canopy. Pretty neat idea for someone who can't afford a full blown canopy install.
3…I've been really into graphic, world-traveler-esque rugs lately. There's something about that hand-woven pattern that draws me in every time. Unfortunately the cost associated with that "hand-woven pattern" usually puts it out of reach for me financially…Still keeping my eye out for that perfect thrift store version.
What are your favorite details?
For past "All in the Details" features, click here.