It's so funny how quickly my "features calendar" (placed between quotes because I hardly call my scrawled notes professional) goes out the window. Before I left for vacation in May, I was suuuuuper sluggish with things around the house, but now my creativity is on hyper drive. I can hardly keep up with myself and I've got SO many fun things to share with you throughout the summer. More giveaways, several new collaborations and DIYs that you can easily throw together yourself this season.
But I digress…Suffice it to say, I had something else planned for today, but I couldn't help but share the 50-odd photos (broken into 2 posts) that I managed to snap over the weekend at a very special event.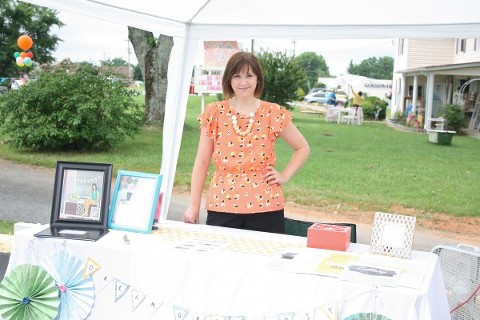 As I mentioned quickly last Friday, I was asked to take part in a local Summer Block Party, hosted by my friends at Curtains, Blinds and Bath in Lynchburg. The purpose of the event was first of all to raise money for the victims of the destructive tornadoes last month in Oklahoma, but the event also served to bring together a number of local businesses within a small block. It was an absolute blast to see the neighborhood come out and support Gleaning for the World (the charity accepting the donations) and our small town businesses.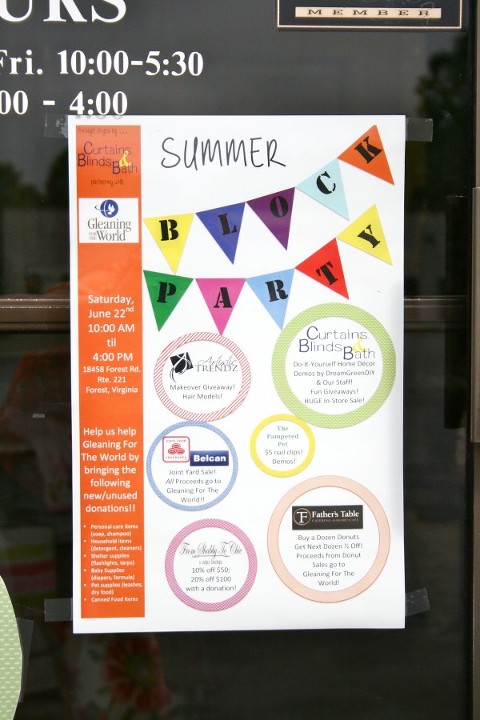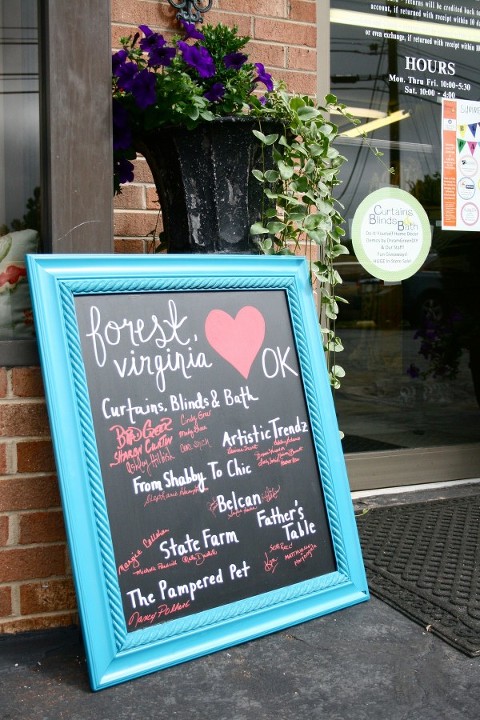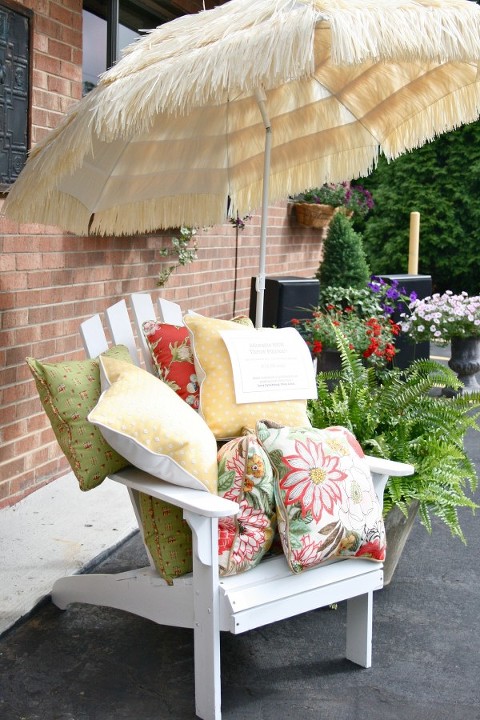 The other fabulous piece to this puzzle was the store wide sale at Curtains, Blinds and Bath. We're talking FABULOUS deals across the board – I commend myself for my restraint, in fact. The two photos below show a tea towel and pillow cover display that sat right behind my booth. The tea towels were on sale for only $5 apiece and the pillow covers were $10. Given their proximity to my pattern loving hands, it's a miracle they didn't ALL come home with me. I did pick out two of the tea towels though (the ones you see towards the top in the coral and mustard floral).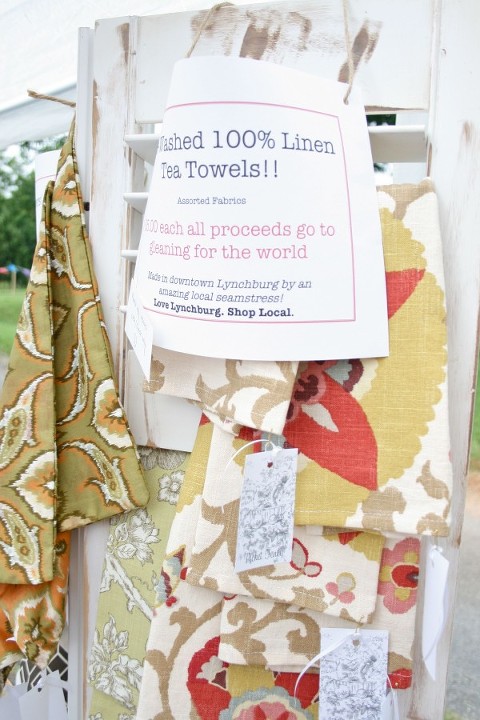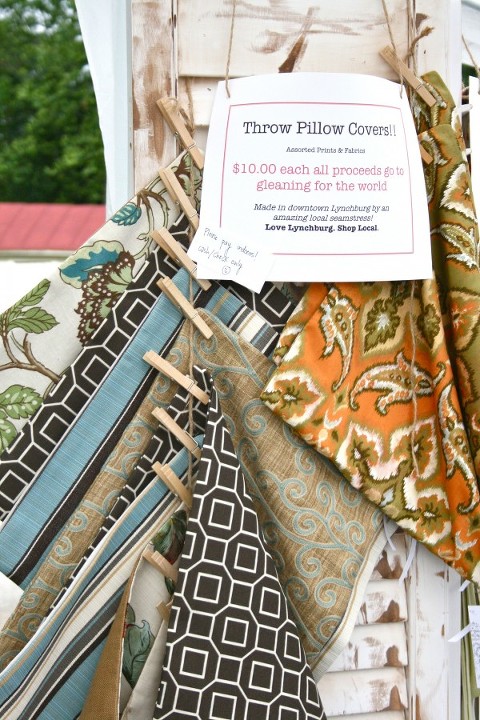 But about my booth…When my friends Cori and Ashley, designers at Curtains, Blinds and Bath, were putting this event together, they reached out to me to see if I would be interested in coming up with some kind of demo to showcase and get visitors involved. I immediately accepted their invitation and suggested a paper pinwheel demonstration – It's a pretty simple craft to do and just about anyone can do it. Plans were made, supplies were purchased and I showed up bright and early this past Saturday morning to set up shop.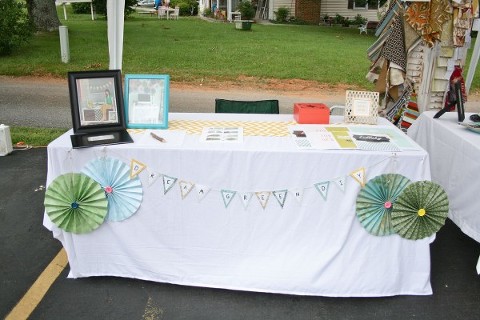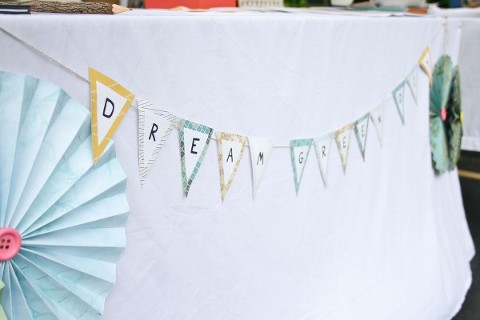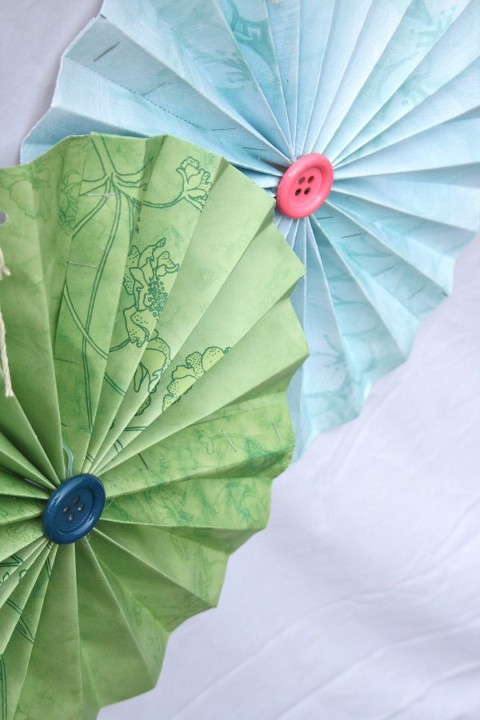 She may not be the most polished display table you've ever seen, but I was so proud to have it all come together – chevron runner, homemade pendant banner, white sheet and all. Although I felt just a TINY bit silly including it, I was encouraged to bring along a framed copy of my BHG feature – I hate to admit it, but it was so much fun to hear all of the incredible support and enthusiasm from folks who noticed it. Beside that, I also set up a framed photo of the pinwheel install in my studio so that people could see what they could do with their own pinwheels, and a photo book that I made of my other blog projects just in case people wanted more inspiration.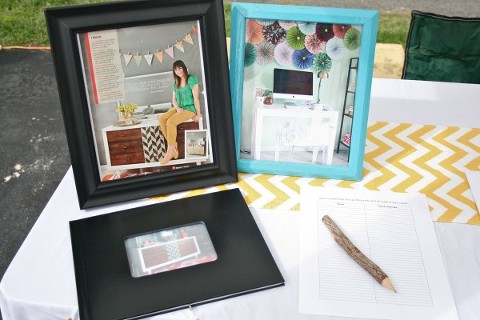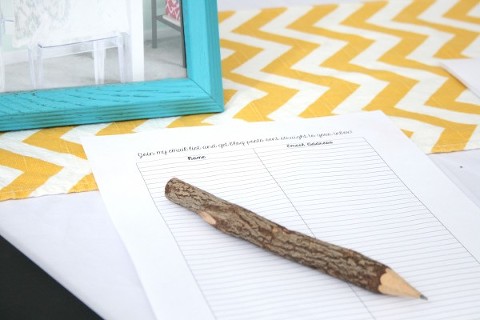 I had a handful of paper pinwheel tutorial worksheets printed and, at the very last minute, I added the remainder of my fine art print collection (still for sale on Etsy if you're interested).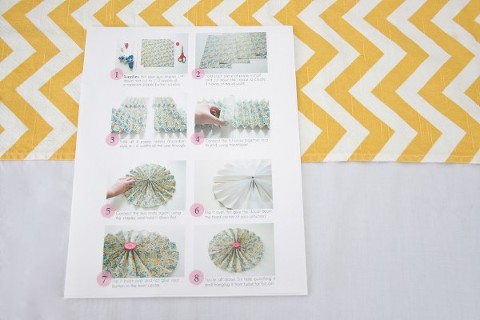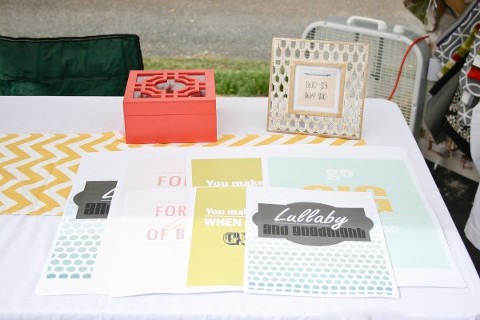 The main focus of this event was to support a great cause, but I couldn't help but enjoy every minute that I got to spend with my friends. Ashley, Cori and I are sort of like kindred spirits when it comes to our interests and hobbies. We each have our own aesthetic (Ashley's a little rustic, I'm a little retro and Cori's a little refined) but when the three of us get together, it's impossible to stop the flow of creativity and ideas. So we had an absolute blast that day exploiting our crafty sides – Me with my pinwheel demos, and them with their stenciled napkin demo (more on their project Friday).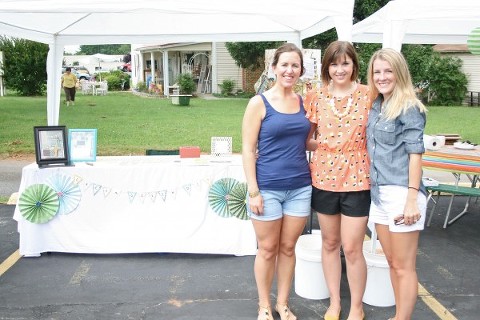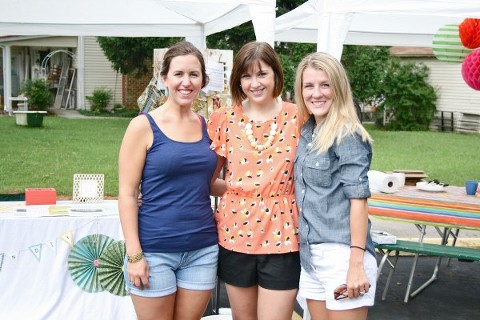 These two lovely ladies also happened to be my very first pinwheel customers, followed closely by Cori's husband, Doug, and her A-D-O-R-A-B-L-E grandmother. I think we fed off of her excitement and enthusiasm for the entire rest of the day.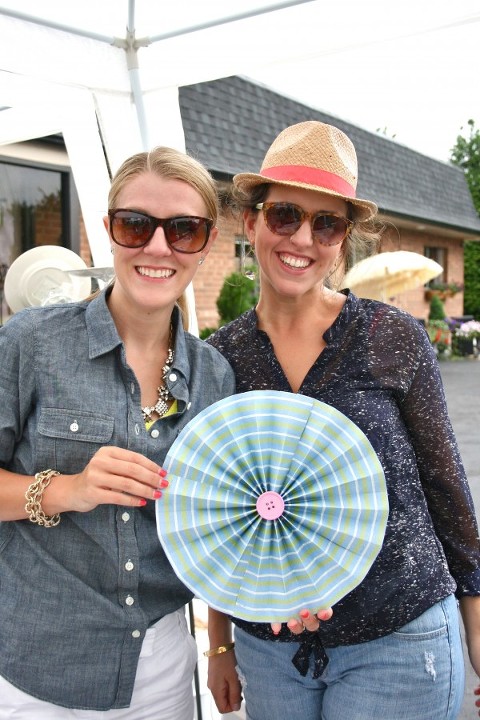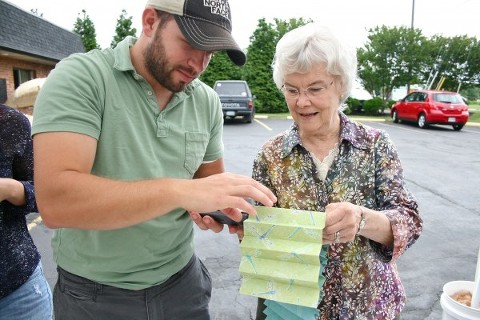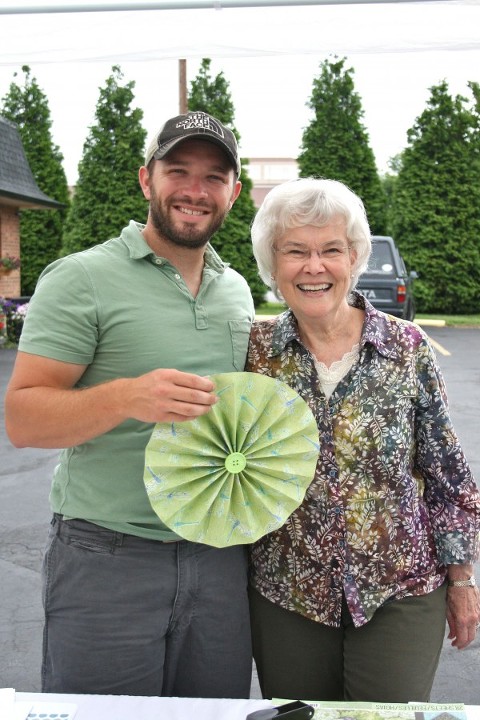 During our break for lunch, the three of us (plus a very patient Doug) hopped over to From Shabby to Chic, one of the several businesses involved in the Block Party. As I've come to expect, the gorgeous vintage wares had me wishing that I had a second home to decorate.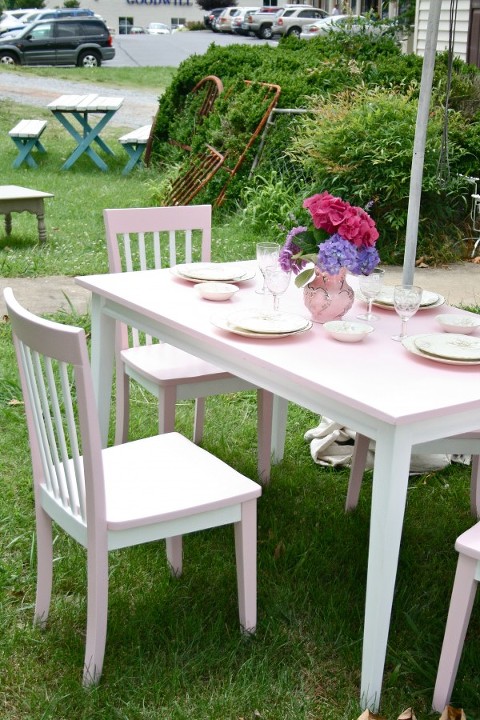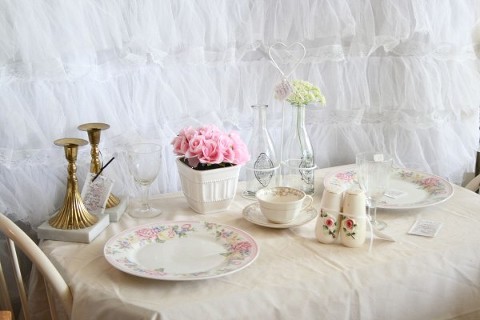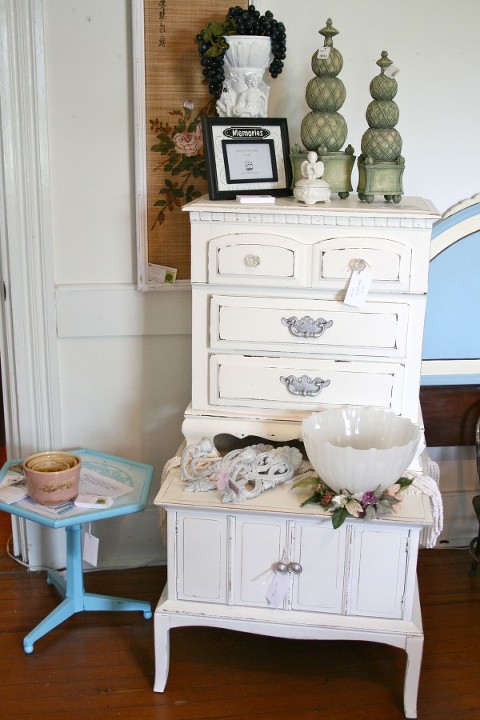 Then? Well…There may or may not have been a moment with 3 girls and 3 very cute kittens. As you can imagine, there was a lot of giggling and squealing going on at this point. We'll never forgive you, Doug, for not letting Cori have her orange tabby!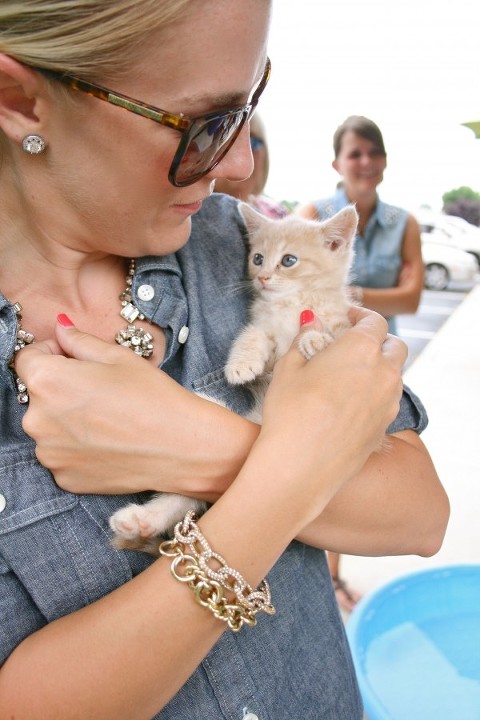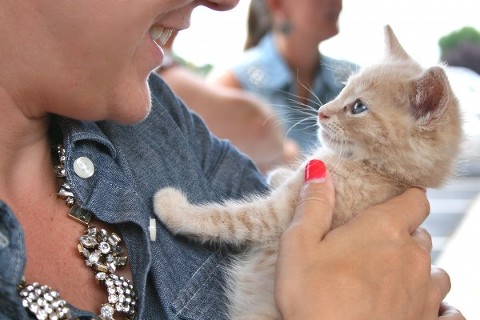 Check back on Friday for a super simple DIY project and just a little more about this fun event – We're already planning some big things for next year. We hope you'll join us!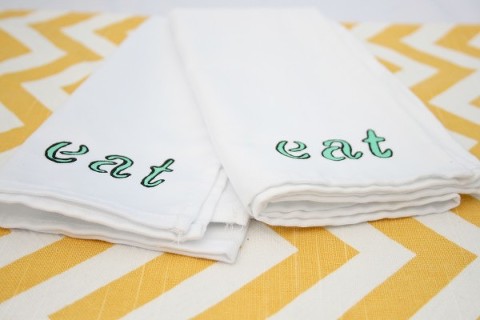 P.S. Just another reminder that the giveaway is still going strong – Enter your name now for a chance to win a $75 Home Depot gift card. Imagine the possibilities with that chunk of change! I know I am…