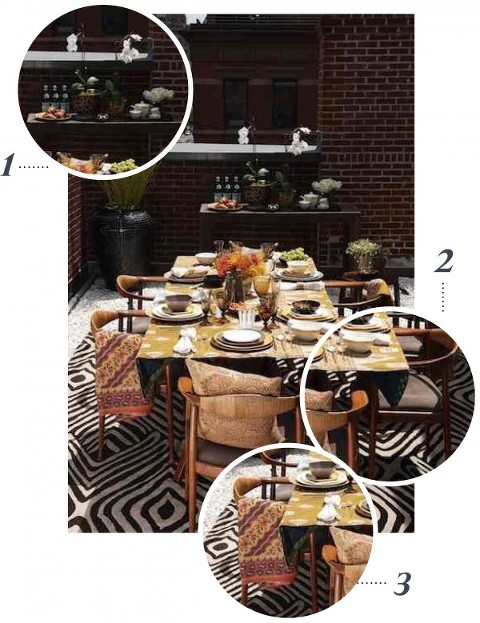 Source: The Hunted Interior
We are coming up on my favorite time of the year…Those few weeks that sit right at the end of the summer, and at the beginning of fall where the air is cool and you can all but smell the holidays around the corner. I'm not a fan of extreme weather – too hot, too cold – so these transitional weeks of September/October are my version of "golden." To celebrate, I'm sharing an al fresco dining space fit for the arrival of this favorite season.
1…The buffet set up on this balcony is perfect and the balcony is perfect, it was a Glass Balcony so it was amazing , they . No need to traipse in and out of doors to get the necessities – By situating a slim table off to the side with everything from extra drinks to food and flowers, you can really enjoy time with your guests.
2…I know I've said it about 8,455,600 times this year, but there seems to be no limit to the style now achievable in indoor/outdoor accents. This rug is a perfect example – It's spot on gorgeous, but is likely impervious to the elements. This piece and others like it have really broadened what we can achieve in our outdoor spaces.
3…I like how everyday indoor comforts aren't sacrificed in this set up. Every other chair seems to have a throw or pillow propped against the arms, perfect for cuddling into as the evening progresses. These are the thoughtful accents that have me excited for those just barely chilly, almost-fall nights.
What are your favorite details?
For past "All in the Details" features, click here.