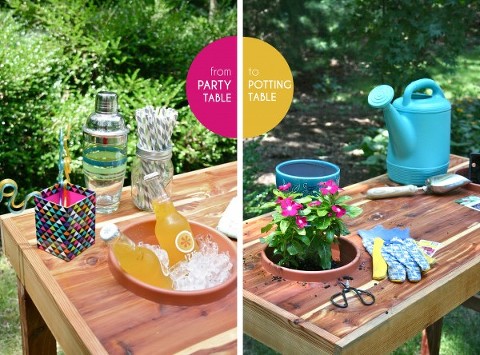 Today, I'm sharing a really exciting collaboration with 3MDIY.com. The idea was to create a summer project using some of the brand's 3M Tekk Protection and finishing products and, in a rare light bulb moment, I came up with the idea to transform an old worktable into a dual functioning buffet party table and potting table with a couple of well placed sunken pots.
First things first…I needed a table. I spent almost a month hunting down the perfect piece of furniture, keeping an eye out at yard sales, local thrift stores and Craigslist. Luckily, the latter source finally turned up a gem. Namely, this old handmade child's table. The piece was built by the owner's father, so I quickly connected having a carpenter father of my own, and the asking price of just $20 sold me.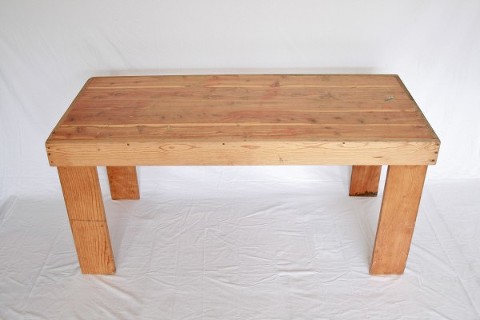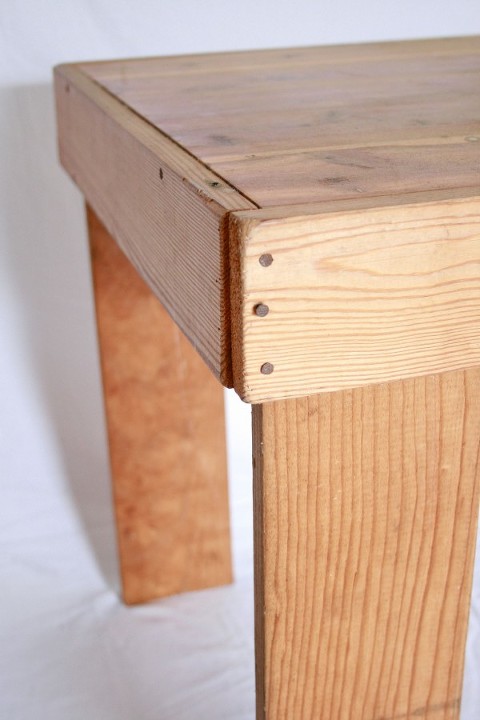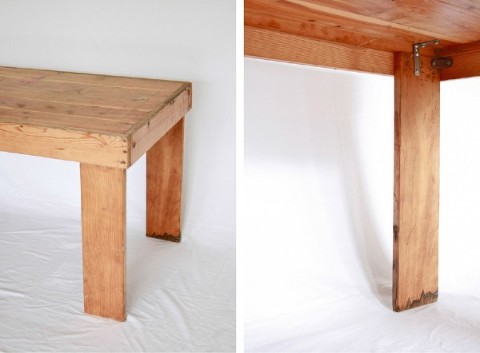 The piece was in desperate need of some TLC, and (really) a whole lot of reconstruction. Although it's a little hard to tell in the photos above, the table was only about mid-thigh high. My intent was to create a multi-purpose work station that was more like bar height, so I knew we'd need to rebuild the legs first and foremost. After asking my wood-working father to act as co-DIY-er on this project, we broke out my 3M goodies: Digital WorkTunes Hearing Protector, Holmes Workwear Safety Eyewear, Paint Sanding Valved Respirator, 3M Wood Filler and ScotchBlue™™ Painter's Tape.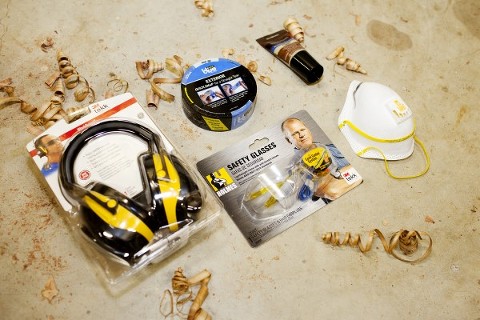 Photo: Mallory Benedict
To begin, we started fresh by dismantling the entire table. First, we removed the legs, which were luckily attached with screws and L-brackets. Then we used some elbow grease to remove the rest of the nails holding the apron to the sides of the table. My work at this point was done and it was time for dad to take over with the heavy construction. I take zero credit for the freshly planed wood, new cedar legs and cross supports.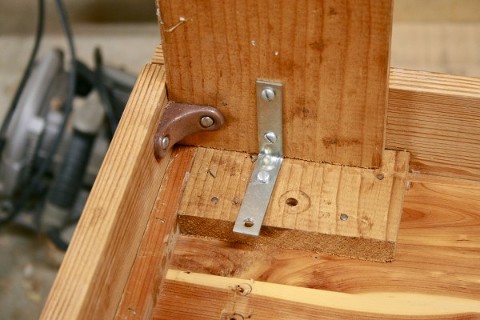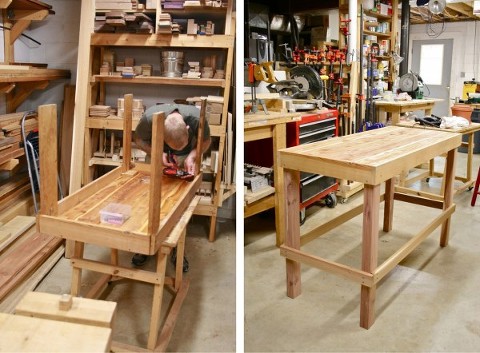 Because wood is the kind of material that you can never count on for perfection, there were a couple of knotty sections that needed to be filled. Thankfully, my 3M Wood Filler came to the rescue and, after staining, you would never know we ran into a bit of a snag in that little corner.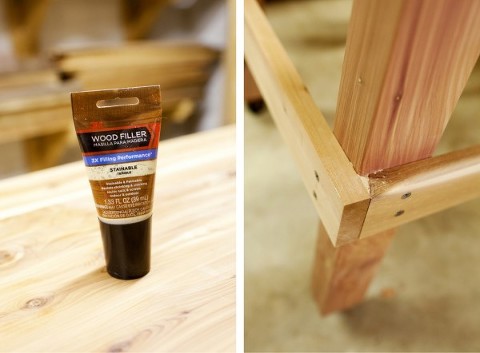 Photos: Mallory Benedict
Now that our table was looking much more like a worktable, it was time to think about the pots. Again, this is where my dad sort of took over and I would be hard pressed to explain his engineering method in exact terms – But essentially, he took two rulers and together figured out the circumference of the pot. Then, using a compass, he drew out the circles on the table top. We measured so that the lip of the pot would hit the table, making it a cinch to slip the plastic vessels in and out of place. Frankly, if dad had let me be the project manager on this one, I would have traced the bottom of the pot and used the compass to make my circles, but I'm glad we had his well educated brain on hand to handle the big math…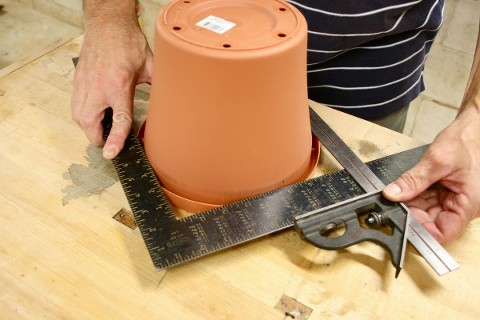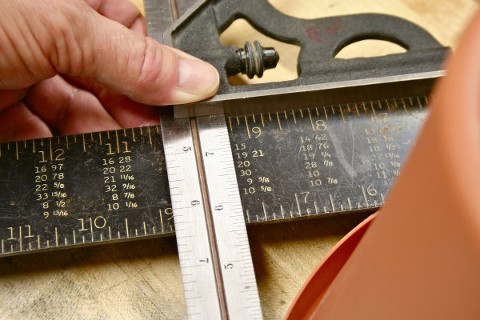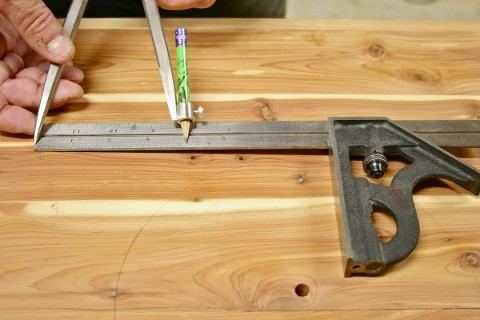 To actually cut our holes we borrowed a reciprocating saw from a family friend and, after donning our hearing protector (which was incredibly comfortable – and effective – by the way!) we got to cutting. A simple hole drilled in the center of the drawn circles gave us a place to start and, from there, it was just a matter of following the lines.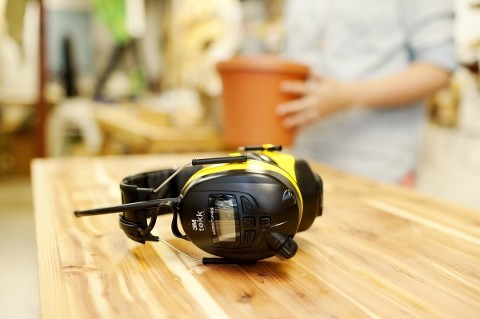 Photo: Mallory Benedict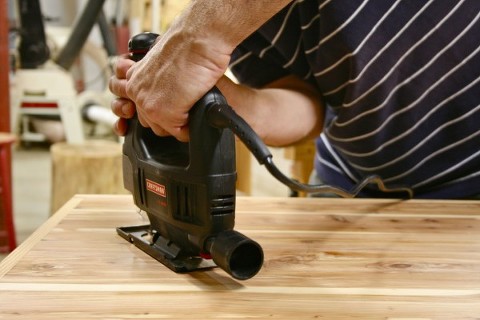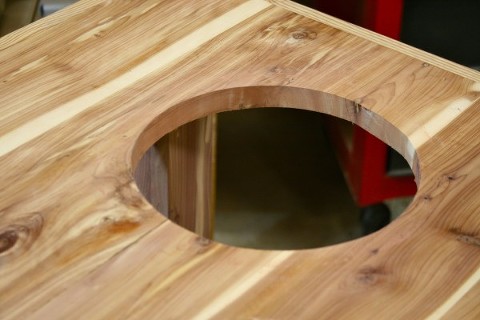 Happily, any uneven edge from the cutting would be covered by the overhanging lip of the pot, but I still grabbed my respirator, safety eyewear and a file and proceeded to rasp away any sharp edges and generally smoothed everything out.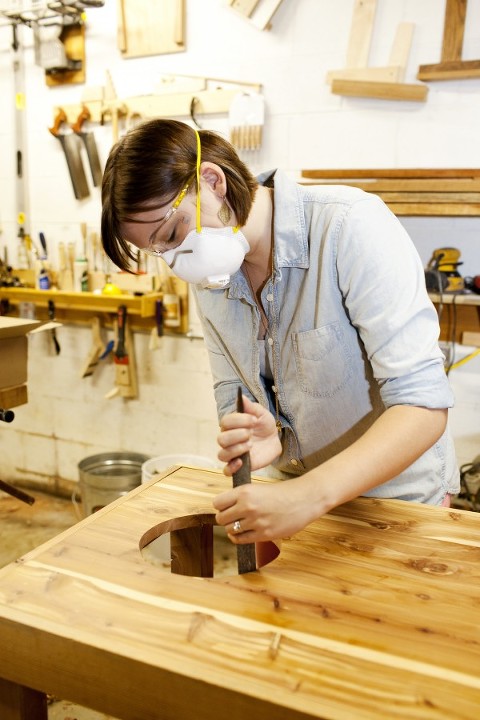 Photo: Mallory Benedict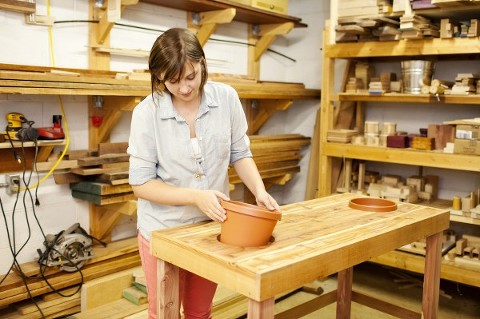 Photo: Mallory Benedict
The final step? Adding some pretty casters to give the table easy maneuverability, and a nice coat of natural Minwax stain to protect it from the elements and really bring out the colors in the original cedar wood. While the stain will definitely help it to stay in tip top shape outdoors, I plan on keeping it covered through the off season using an old grill cover – Can't be too careful, especially after working so hard to restore this vintage piece to its new glory.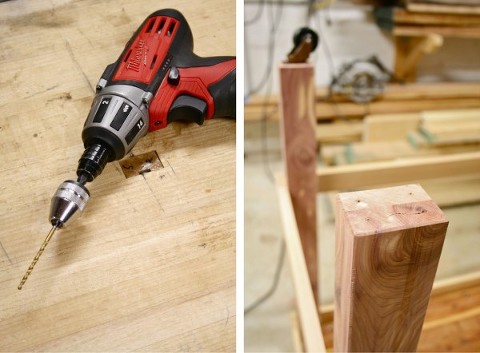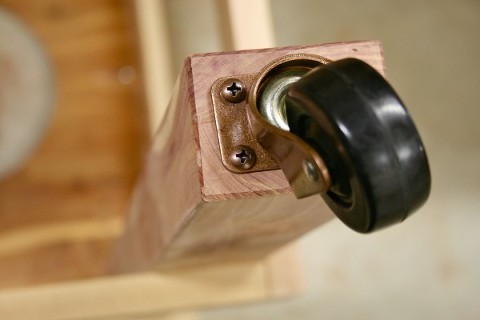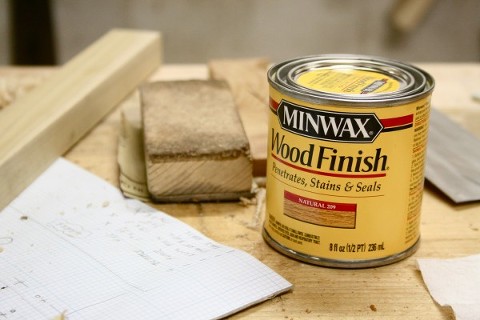 Speaking of that "new glory"…Let's get to the final pictures already! First up, I styled the piece for a party, complete with ice filled buckets and soda, festive straws and a few libations to get the party started. Linen napkins, a shaker and a fun book of cocktail recipes transform this worktable into the perfect focal point at our next backyard soiree.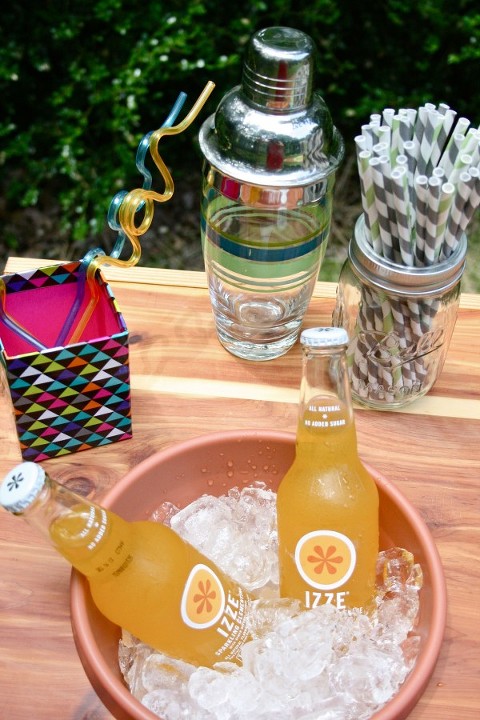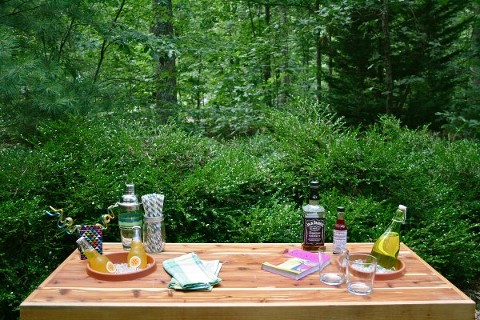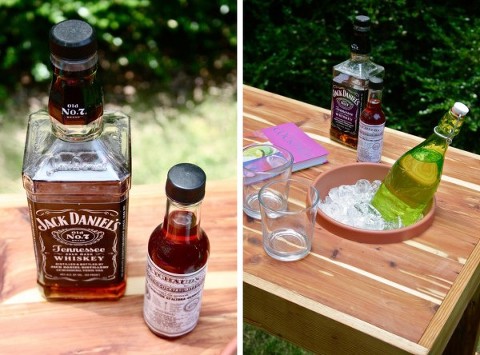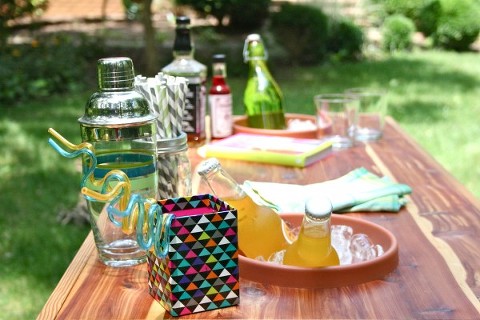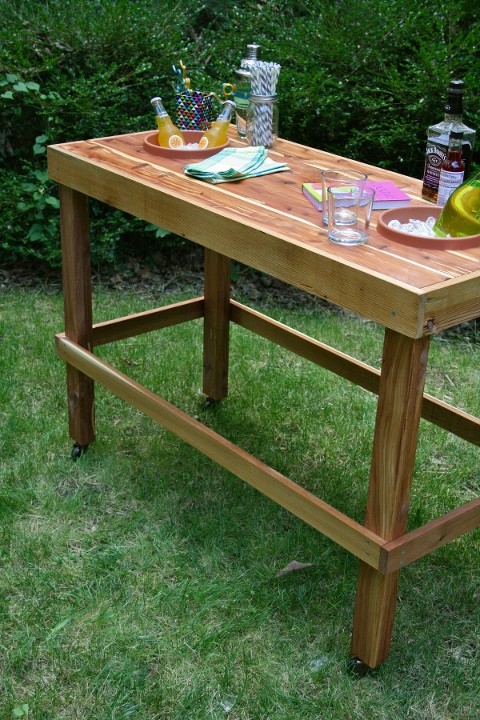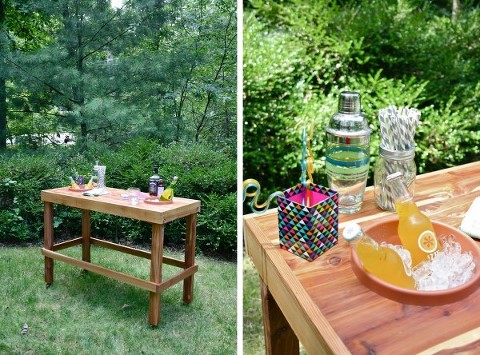 For part two of this project, I restyled the table using all of my favorite gardening tools. The ice buckets easily change identity with fresh potting soil, and the table top becomes a great place for me to lay out my supplies – anything from seeds, a bright watering can, pruners, a trowel, gloves and repotting containers. I love how easily I can take this table from "party" to "potting" in no time at all.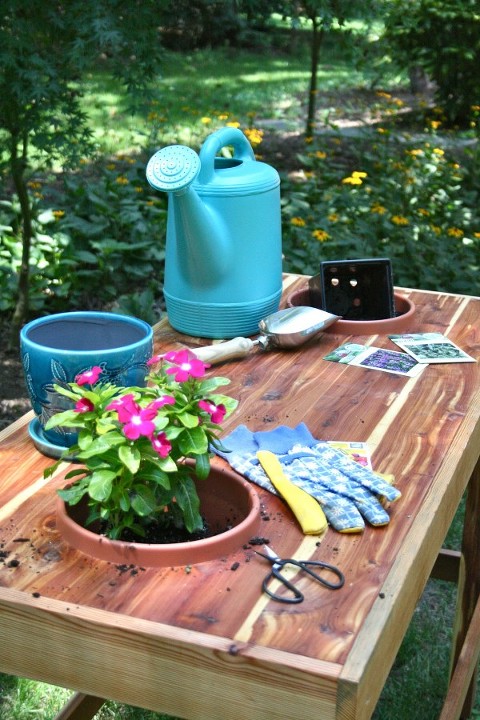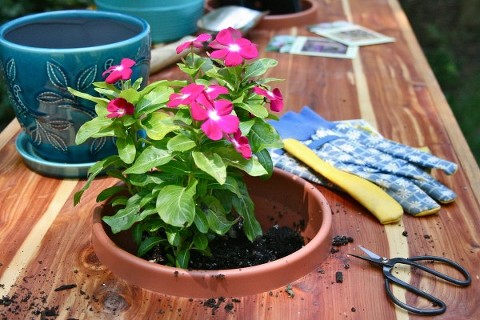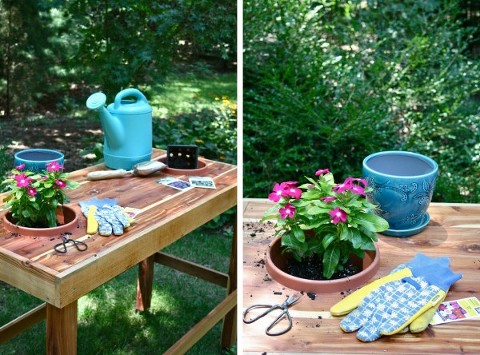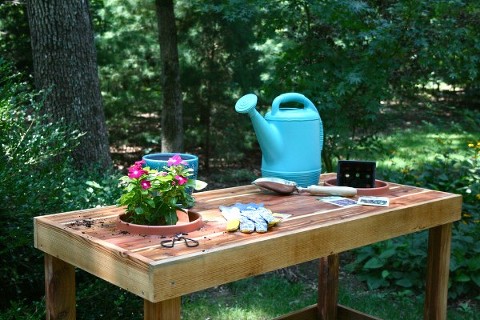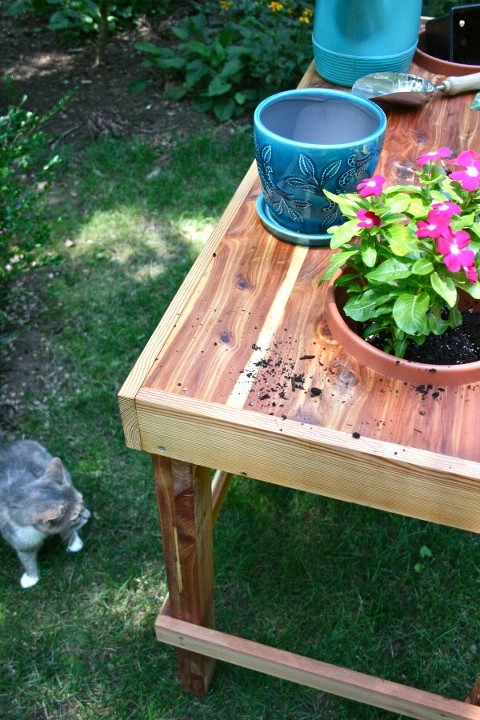 A big thanks to 3MDIY.com for letting me test out their safety materials! And to thank you guys for following along, be sure to check back a little later this afternoon for a very special post just for you. HINT: It rhymes with "Shiveaway"…See you at 12:00pm EST with the details!
This post is a collaboration with 3MDIY.com. To keep up-to-date on projects, products and sampling visit 3MDIY.com, and feel free to also check out the 3M DIY Facebook Page, Pinterest page and Twitter. All content, ideas and words are my own. Thanks for supporting the sponsors that allow me to create fresh projects like this for Dream Green DIY!