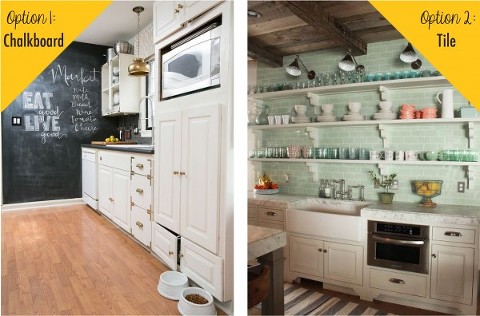 I'm torn, guys. After we refinished our kitchen cabinets in a new espresso color, I kind of cheaped out on the nonexistent backsplash and just painted it a fresh mint color (you can see the professional portraits of the finished product in our house tour). I love the contrast of the soft pastel against the rich brown cabinets, but it still feels like I need to upgrade. What to do…
Option 1: I've seen several savvy homeowners really transform the look and feel of their kitchen space with chalkboard paint. Whether it's simply the backsplash area or an entire wall, like today's inspiration image, this writable surface just makes sense in a space that begs note taking (ex. recipes, grocery lists, to-do's). It's casual, it's a tad rustic and, my favorite, it's customizable.
Option 2: And yet, I honestly don't think that anything can truly beat a sleek tiled backsplash. First and foremost, it's more durable than paint ever could be, and it comes in any shape and color under the sun. I just don't know if I have the guts to tackle the slightly labor intensive project. This girl can dream though…
So you've got the options. Now make your choice!
[poll id="7″]