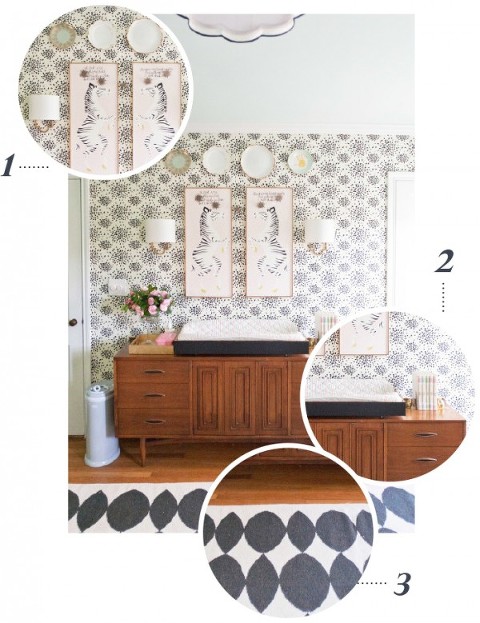 Source: Lay Baby Lay
Don't worry, mom – I don't have anything to "tell" you. Well, other than how much I adore this space – nursery or not! Lose the changing pad and the diaper genie, and this could easily be a corner in a well established and mature adult home. Although, truth be told, I'm definitely swooning over how Joni, of Lay Baby Lay, styled her daughter's first bedroom…
1…I may be drooling over the dresser (which I'll talk about in a sec), but the focal point of this room is clearly the wallpaper. It's a graphic print, but the neutral color scheme will make it a lasting touch that could easily stay current for years to come.
2…Yup. That dresser just made my Thursday a little bit better. The perfect mid-century shape, tone and hardware make this a piece I would have pounced on in a hot minute. And can we please just talk about how fabulous it is that we can now turn regular old dressers into baby changing tables? Joni offers some great advice on that here.
3…One more thing before I leave you for the day – That rug! What makes it so perfect is that it mimics the spotted black and white wallpaper, just on a much larger scale. What a great way to bring it all together…
What are your favorite details?
For past "All in the Details" features, click here.
P.S. If you haven't entered yet, click through to get all the details on my Pretty Smitten giveaway!