Today, I am overjoyed to launch my new brand Carrie Waller Creative. This is the beginning of an entirely new phase for me, working as my own boss, learning my way as an entrepreneur one day at a time. Since I've been hinting at this new career path here on the blog over the last couple of weeks, I thought I'd finally share the details behind my adventure.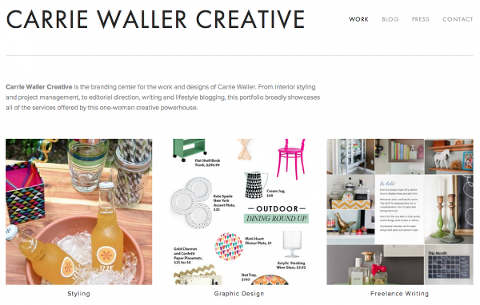 When I first entertained the idea of taking the leap into full-time freelance, I had a heart to heart with myself about my broad range of interests. From interior design and graphics, to commissioned artwork and writing, it felt like I did just about everything a person could do creatively. Earlier this year, I decided that it was just too much to do professionally and immediately hit a wall. I didn't want to focus on just one thing! That wasn't me! Lacking any kind of confidence, I effectively gave up on the idea.
Then about six months later, with a little more graphic design experience to my name, I decided to give it another go. What also made this second time different was the fact that my perspective had changed on the idea of narrowing my focus. The idea of Carrie Waller Design was born, a one-stop-shop for clients looking to design a fresh start in their home or their business. It was good. I was excited. But then a late night brainstorm session with myself uncovered the branding for Carrie Waller Creative. It was definitely that moment that I officially hit the ground running, sprinting, leaping. It was as though the clouds (or should I say indecision and insecurity) parted, and I was given a glimpse of what life as an entrepreneur could be like. Nothing was off limits for me and my career – I could design, write, style to my hearts content under this new name.
And that moment of clarity has brought me to today's big announcement and the launch of my new brand and portfolio. I am officially open for business, and can't wait to work with new clients, whether to perfect their homes, add to their editorial content or to expand their business's graphic design. Amongst the variety of opportunity this brand provides me, I wanted to explain the "Big Three" I plan to offer under Carrie Waller Creative.

Styling
I am beyond excited to offer interior design and styling assistance. The one point I want to be sure to emphasis here though is the fact that I don't necessarily consider myself the average interior designer. Although I can, and will for some clients, my goal isn't simply to draw up a plan and work to create a cohesive color palette for any particular room. I'm excited to throw on my paint clothes and get right in there with my clients – screwdriver, hammer and tape measure in hand. I realize that the hardest part for some people is just getting started on home projects, so I'd love to get involved from the beginning planning stages to the final reveal. As I've mentioned in passing, I am working on finishing up work on my first interior styling project. I can't wait to share the hard work my client and I have put into this DIY kitchen renovation, complete with open shelving, crafty storage solutions and paint/fabric/hardware choices. Get ready for a week-long reveal next month!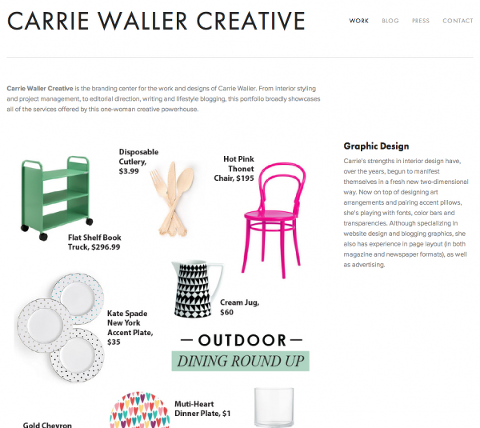 Graphic Design
Within the past couple of years, I have discovered this insatiable passion for typography and color relationships in digital design. Graphics are suddenly my favorite midday relaxation activity, and I feel like now is the perfect time to turn that passion into a business. Whether someone is looking to revamp their blog (we're talking full site designs, right on down to one-time feature graphics) or aim to revitalize their business's ad campaign, I'm ready to make those visions a reality – Although a tad cheesy, I truly couldn't be more excited about this sector of CWC!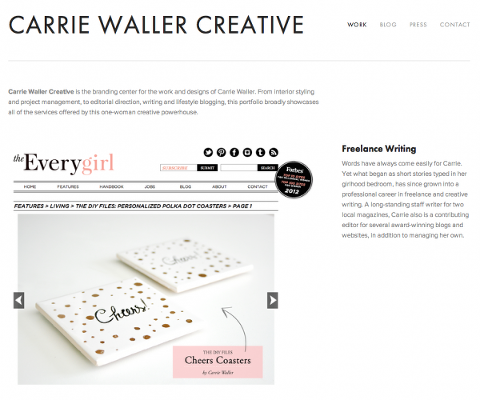 Freelance Writing
I've been writing for as long as I can remember. That fact is one of the main reasons why I started this blog back in 2011 in the first place, but it has since become one of the defining characteristics of my career. Although I really can't choose a "favorite," per se, of all the endeavors to fall under Carrie Waller Creative, writing is one that I see myself doing for the rest of my life. Guest contributing, freelance magazine writing, copy editing – All of these things fall under this special sector of Carrie Waller Creative. I can't wait to see what the future holds here.
As always, I NEED to reiterate how incredibly thankful I am for all of you, my readers. Without your support over the years, I would not be where I am today. So I hope you'll take a moment to realize just how much a part of this exciting new endeavor you are.
To thank you for your support, I'm offering 15% off my services for new clients now through October 16th – Just be sure to mention coupon code CWC15. That's one full month to take advantage of introductory pricing to prepare your home and business for the holidays! Shoot me a message and we can talk specifics about your project – I can't wait to get started!