THIS GIVEAWAY IS OFFICIALLY CLOSED.
KEEP SCROLLING TO SEE IF YOU'RE THE WINNER!!
Boy, do I have a treat for you guys this Wednesday morning…Literally! I have the distinct pleasure of introducing you to "Gourmet French Macarons," a cookbook by none other than the fabulously creative Mindy Cone, of Creative Juice. It's especially poignant for me to share this project with you today because I finally get to meet Mindy in person tomorrow at the Better Homes and Gardens Stylemaker Workshop and Party in NYC. I am on my way via train as you read this and can't wait to gush with Mindy about her incredible new book. Speaking of…
About the book
The hardback beauty is filled with 75 break-the-mold ideas that put a refreshing spin on the classic French cookie (my words, not the publisher's!!)
Includes recipes, techniques, styling ideas and decorating tips
Comes with a CD loaded with printable templates to make piping shapes a piece of cake – or cookie (sorry…I had to)
You are no longer confined to the conventional circular silhouette – Now make apples, pumpkins, ghosts, flowers, cupcakes and more!
Gourmet French Macarons from TK Productions on Vimeo.
Written and photographed by Mindy, this book is one that you could easily curl up with on the couch, mug of hot chocolate in hand. I got entirely lost in the photos and recipes, and dog-earred what felt like every page. If you are looking for your first macaron book (speaking from experience), then this is it.
Want a teaser? See below for the first recipe that I tried from the cookbook, and I'm flabbergasted/proud to say that it was a delicious (albeit lopsided) success! Definitely download the free printable linked to beneath the title – It made things worlds and away easier in the end…And for a grams to tablespoons calculator, click here.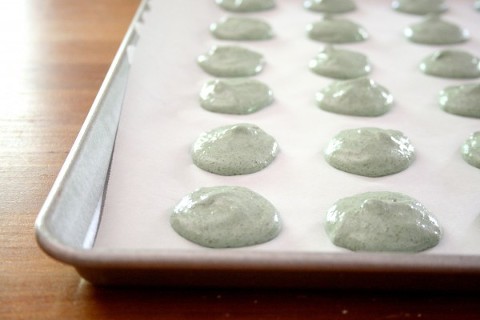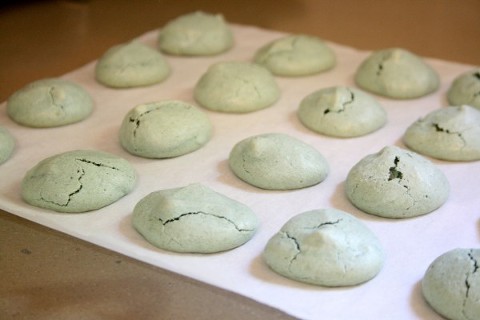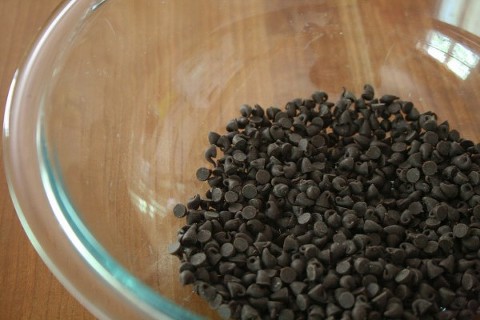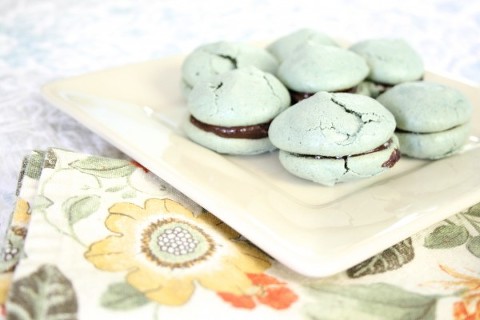 Chocolate French Macarons
(Free 1.5 in circle template download for this recipe)
Makes 2 dozen sandwiched macaron cookies
100g of egg whites aged at room temperature
Pinch of Cream of tartar
35g of superfine sugar
110g of Almond flour
200g of Powdered Sugar
10g cocoa powder
Measure out all ingredients using a gram scale
Prepare the baking sheets by lining them with a silicone mat or parchment paper. Slide a printed 1½ inch template sheet underneath and set aside. Prepare piping bag to be filled and set aside.
Sift powdered sugar, almond mixture and cocoa powder together two or three times through a sieve and set aside.
Place the egg whites in a large bowl or in stand mixer with wire whisk attachment. Whisk on low until egg whites become foamy. Add the pinch of cream of tartar. Continue to whisk until soft peaks form. Slowly add in the superfine sugar. Once all of the sugar is incorporated, scrape down the sides with a spatula.
Turn your mixer on medium-high and continue to whisk until you reach a stiff meringue. If adding liquid or gel food dye, do so toward the end of whisking – I used a combination of blue and yellow food coloring to achieve a minty green color.
Sift 1/3 of the almond flour, powdered sugar and cocoa powder mixture through the sieve and into the meringue. Fold the dry mixture into the meringue. Repeat with the remaining mixture. Once all of the dry ingredients are incorporated, the batter will be thick and have a dull shine. Continue to fold. As you do so, the batter will loosen. Stop folding when the batter has a glossy sheen, a "lava-like" consistency and falls in a ribbon like manner off the spatula.
Transfer the batter into a large pastry bag fitted with a round tip and pipe 1½ inch rounds on the parchment paper following the template.
When all of the rounds are piped on the parchment, rap the sheet pans evenly on your work surface a few times. Remove templates from below your parchment paper carefully. Let the batter rest at room temperature for 20-40 minutes.
Pre-heat oven to 350 degrees. Reduce temperature to 300 degrees and bake one sheet at a time for 12 minutes, rotating the pan half way through.
Remove from oven and allow to cool.
Match up similar size shells into pairs and sandwich with filling.
Chocolate Ganache Filling
100 g (3.5 oz) chocolate (mini chocolate chips speed up the process)
1½ Tbsp. heavy cream
Place chocolate in a heat proof bowl.
Boil cream and pour over chocolate.
Stir until all the chocolate has melted and texture is smooth. If the cream is not able to melt all the chocolate, place bowl in microwave. Heat for 20 seconds on low power. Remove and stir. Repeat until chocolate is fully melted.
When warm, pipe onto macaron shells.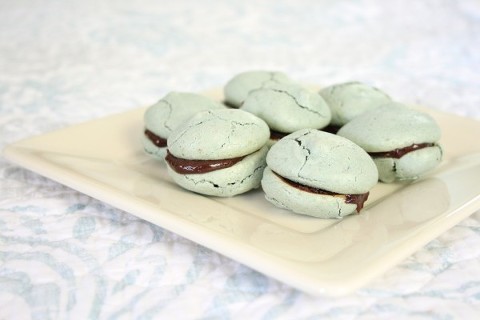 One last thing before you head off to the kitchen to try that recipe out yourself…Mindy and her team are graciously giving away an e-book version of the cookbook to one of my creative readers! Simply use the Rafflecopter app below to enter your name in the drawing, which ends next Wednesday the 25th at midnight. This one is open to readers worldwide!
Connect with Creative Juice:
Facebook | Pinterest | Instagram | Twitter | Blog
***************************************************************************************
GIVEAWAY UPDATE: Congratulations to Josefine G.!!
Josefine, I will be emailing you shortly
with details on your new cookbook. Thanks to
everyone for participating!!