Today is the day I've been anxiously waiting for ever since getting the official invite back in July. As you read this, I'm finding my seat, awaiting intros to start at 10:05 sharp at this years Better Homes and Gardens Stylemaker Workshop and Party. I can't wait to share all of the incredible details next week – We're talking round table discussions with BHG editors, tips from the team on how to pitch to magazines, plus all the networking opportunities I could ever dream of with some of my favorite bloggers. But before I gush your ear entirely off, I am over the moon to have Shelby, of Honeysuckle, here to chat about her beautiful Etsy shop. I'm sure you'll be coveting her vintage treasures in no time – I know I am!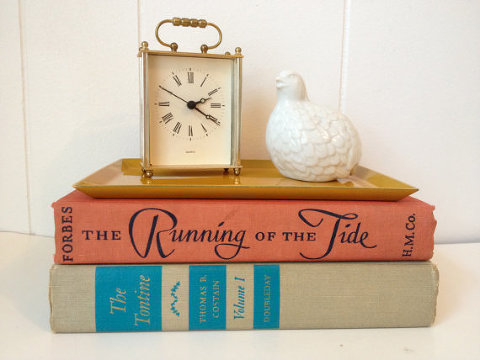 When did you start your Etsy shop? What made you decide to sell vintage finds?
My shop was born out of my love for thrifting/yard saling/estate sale scouring and my natural inclination towards vintage items. And it was prompted by my husband's un-love for my cool finds taking up space until I found room for them in our house. I had tossed around the idea of opening an Etsy shop, and finally one day after an especially good thrift haul, he said, "You cannot bring anything else into this house unless you're really going to open that shop." So, Honeysuckle Finds opened its virtual doors in September of 2011. I didn't realize just how much joy it would bring me to send unique items to people all across the globe.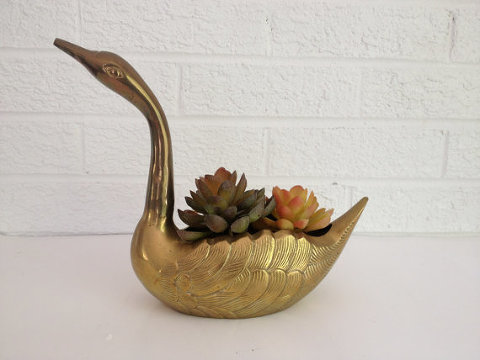 What are your favorite places to shop for second-hand pieces?
In Lynchburg, we're lucky enough to have lots of thrift stores! Four Goodwills (five if you count Madison Heights, which I do), the DAV Thrift Store, the Salvation Army and several other small second-hand or consignment shops. But my absolute favorite place to shop for second-hand pieces is at yard sales.
Because of Virginia's mild weather, yard sale season starts in April and goes strong all the way into September (and sometimes even October!). I like to go treasure hunting at yard sales the most because you can get the best deals and most people are happy to bargain with you!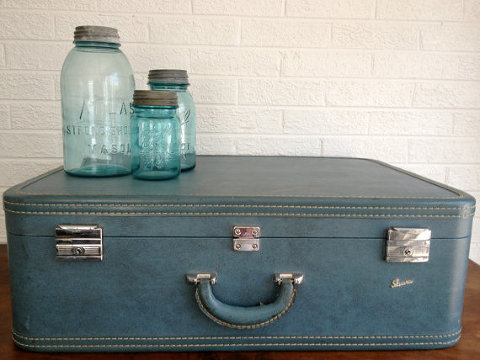 What's the story behind your shop name, Honeysuckle?
After my husband and I got married, we moved into our first home, a townhome, at 24 Honeysuckle Court. It was there that I started to blog about DIY projects and home decorating and so I titled my blog, Honeysuckle, after the street we lived on. It was the first home I got to call mine and where I spread my decorating wings.
So when I opened my shop, I thought it only natural to have my shop name follow suit, as most of my items were home decor related. I called it Honeysuckle Finds. Later, when I started expanding my shop to include my graphic design, I parred it down to just Honeysuckle ("thehoneysuckleshop" on Etsy). Basically, the word Honeysuckle feels like home to me.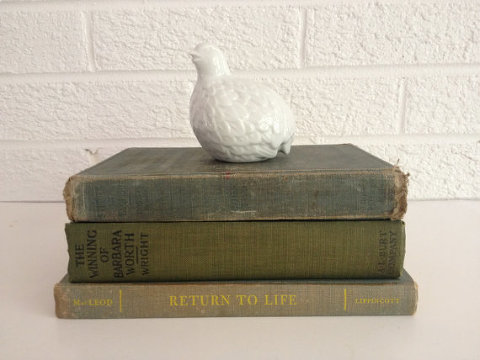 The photography on your site is gorgeous! What camera do you use? What are your top 3 tips for photographing sale items?
Thank you! I have a Canon XSi DSLR that I taught myself to use by reading the manual front to back. Twice. So, I try to use that mostly. I say "try" because with a one-year-old running around my house, sometimes convenience wins out and I'll use my iPhone if I need to list just a few items. But really, the most important aspect to taking good pictures is lighting.
Which leads me to my #1 tip for photographing sale items: natural light. Do not use your flash! I wait until the afternoon sun is perfect in my mudroom and I make sure the window is behind me and the object is in front of me getting lots of nice, natural light. It makes for the prettiest pictures, and shows people the true colors of items.
Tip #2: Use a white background. It brings focus to the item for sale and makes it easy to see with a crisp, clean look. If you don't have a white tabletop or wall, don't worry! You can use a large white poster board to cover a flat surface or wall. Tip #3: Staging. Items look most appealing when they are staged nicely. People can picture how they would look in their own homes or decorated with other items. I don't always take the time to stage my items, but when I do, I'm much happier with the photo.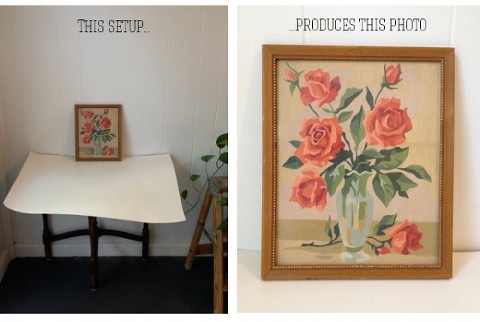 Do you have any suggestions for wanna-be treasure hunters? How do you find your great deals?
Know what you're looking for – whether that be vintage or not! A treasure to me is anything you're looking for that you can find at a great deal! My friend and I used to laugh because we would go yard saling on the same day and both come back claiming we hit the jackpot, but our jackpots were totally different! If you're into vintage items or want to be, do your research. Learn about what styles and characteristics make an item vintage and find out about the iconic items of different eras.
If you're wanting to become a treasure-hunter, my best advise is: go often. And don't be discouraged if you come home empty handed the first couple of times. Thrift stores get new items daily, and yard sales will happen again the next weekend. If you keep going you're bound to find something really great from time to time. If you're looking for something specific, try scouring Craigslist or eBay. The Craigslist Pro app will save your search terms and send you alerts when items pop up for sale!
Thanks for sharing all of your expert treasure hunting advice with us, Shelby! To keep up with her always-changing vintage inventory, check out her shop here.