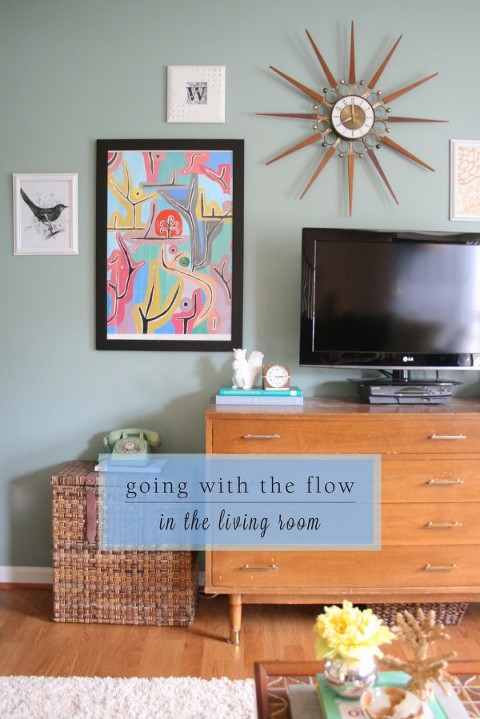 Truth be told, there are very few things in our home that have stayed the same since I moved in. I am constantly switching things around, whether its furniture, art or little arrangements of our favorite thrifted display items. But the television stand was one of the few things that had stayed where we first plopped it – namely, inside the little wall nook in our living room beside the stenciled wall. For whatever reason though, I suddenly had the inspiration to move things around. Big time.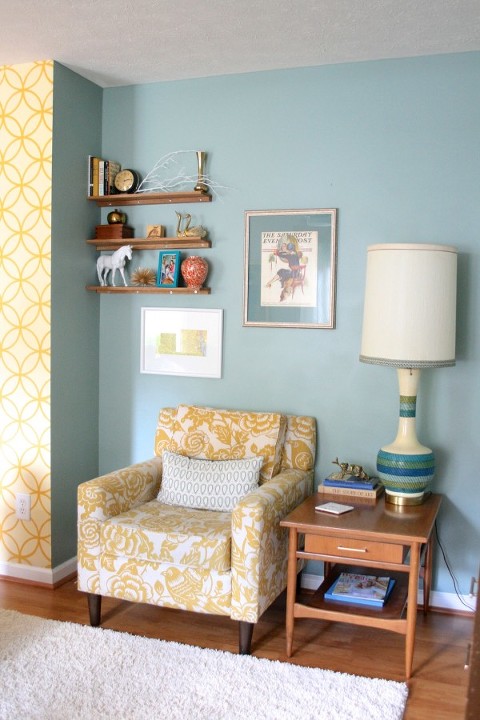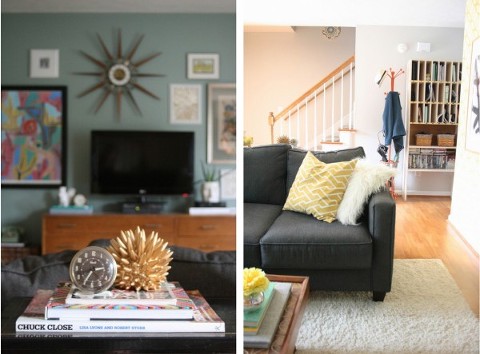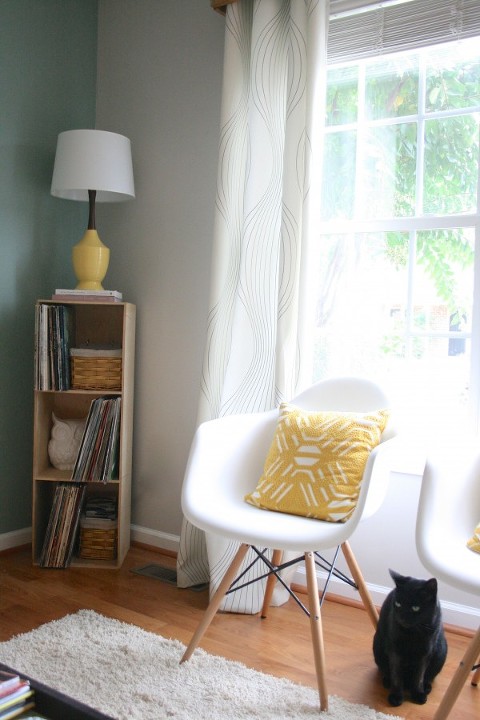 Instead of having the entertainment center in the nook, I dragged it out to the long wall in the space, putting our bright yellow accent chair in its place beneath our DIYed oak shelves. With a few new pieces of art to fill the blank space left by the TV, it really started to feel as though it has always been that way. To orient you even further, the TV stand took the place of the couch, and the couch was pulled out to face it. You can get a better sense of how things were before by glancing through our home tour, although its likely that this still won't make much sense. It can be so hard to explain these things through the "inter-webs," as opposed to a good ole fashioned in-person tour.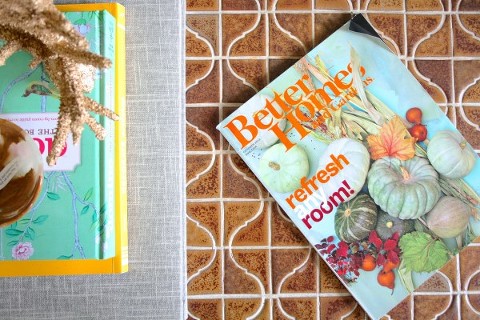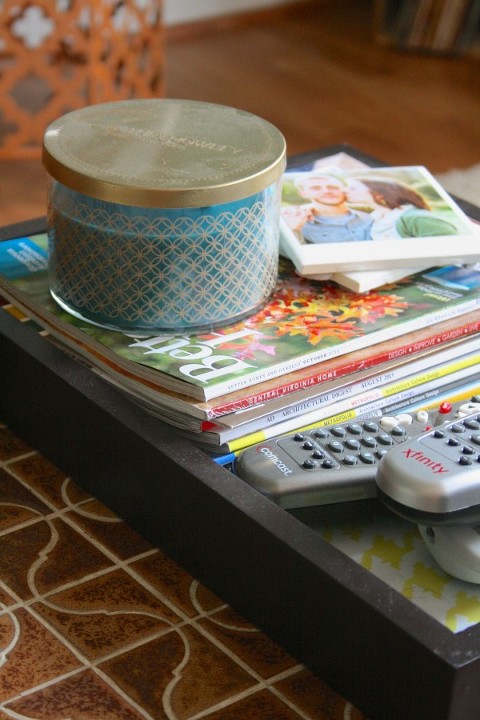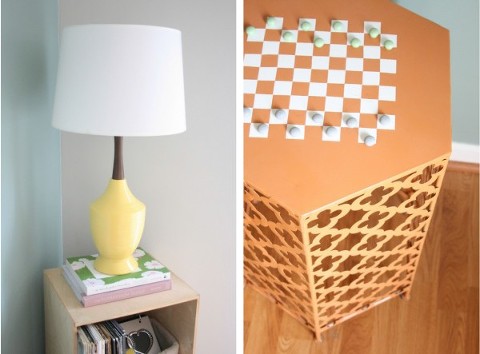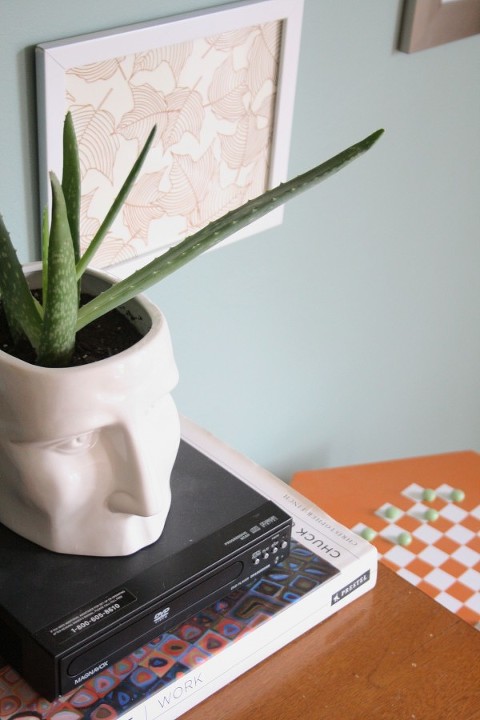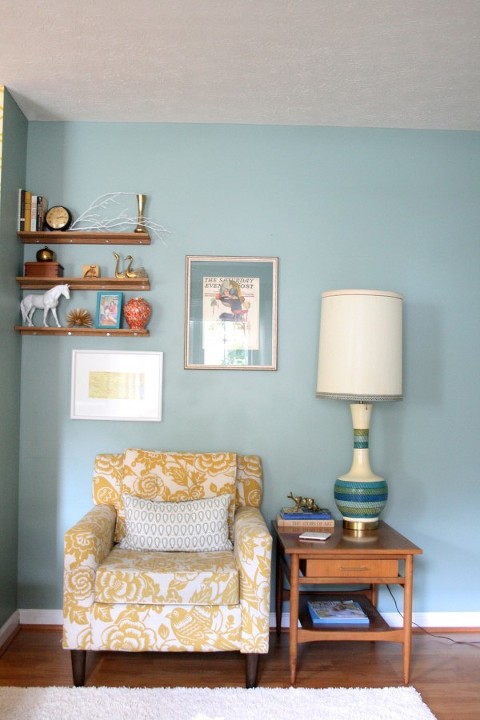 Although the new arrangement is a bit harder to photograph, it feels sooooooo nice in the physical world. The seating calls for much easier conversation and just generally feels more cozy and warm. We find ourselves gravitating to the couch for after dinner coffee far more often than we used to.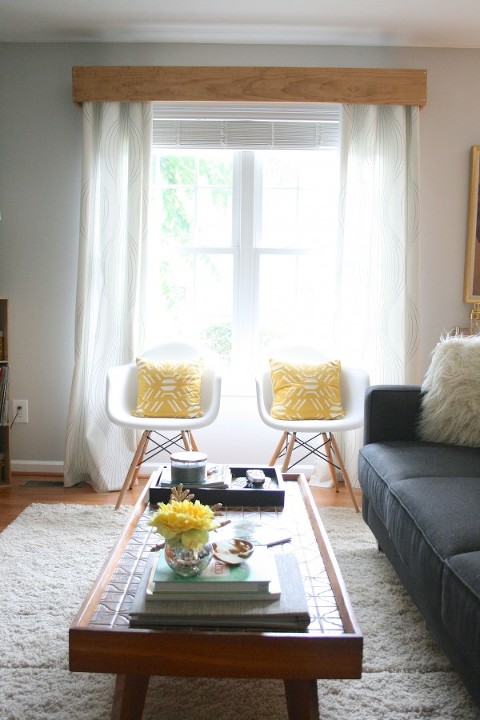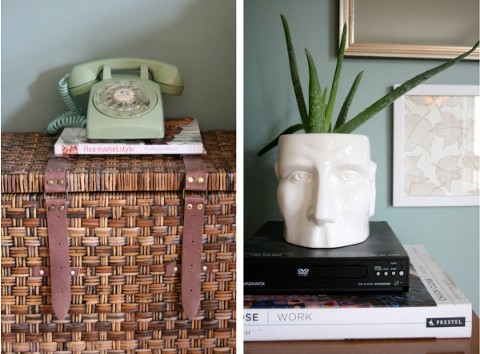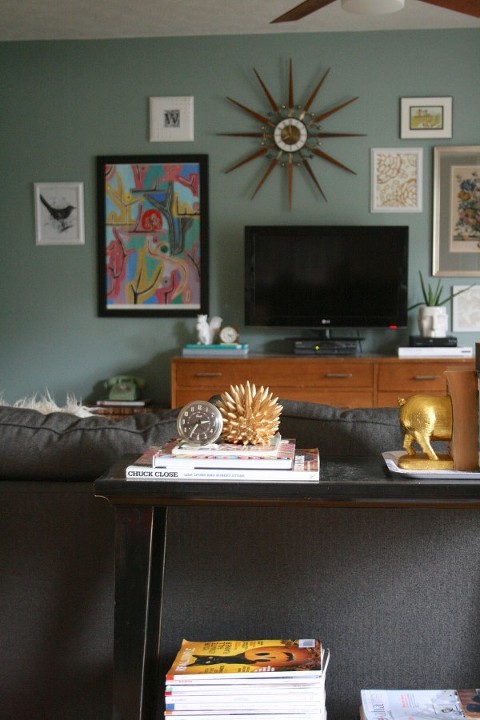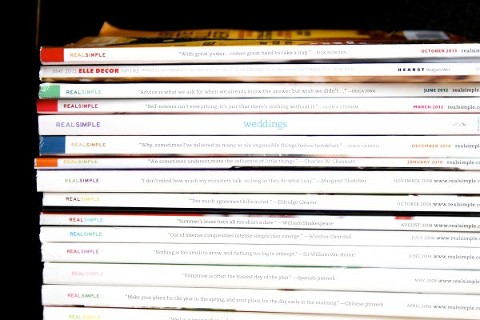 It has also been a bit of fun to play around with the styling of the space in its new silhouette. I added new gold pig bookends snagged from CB2 while we were in New York, as well as a tray from H&M's new home line (a gift from the BHG Stylemaker Workshop). The gold urchin is from Target a couple of seasons ago, and the vintage clock is from a local antique store.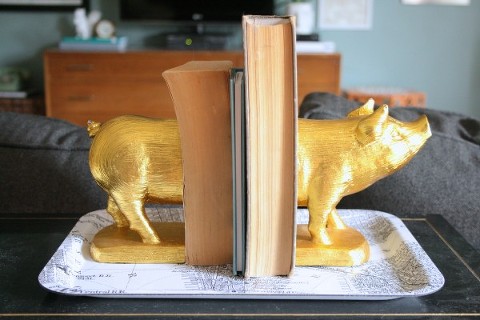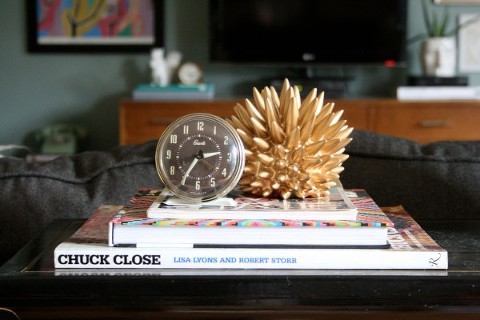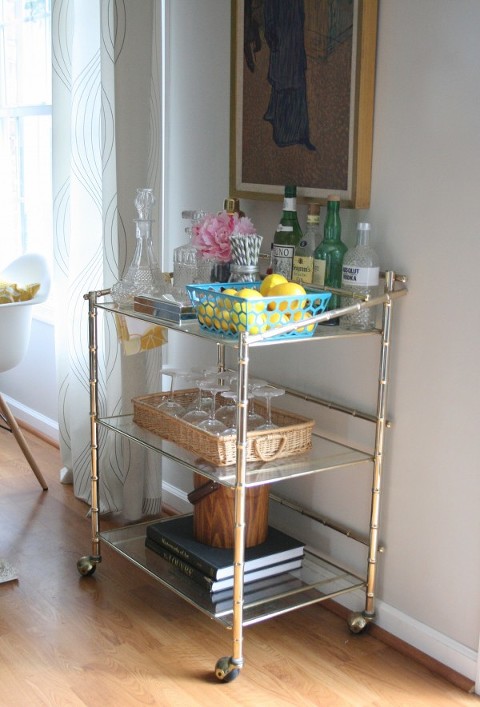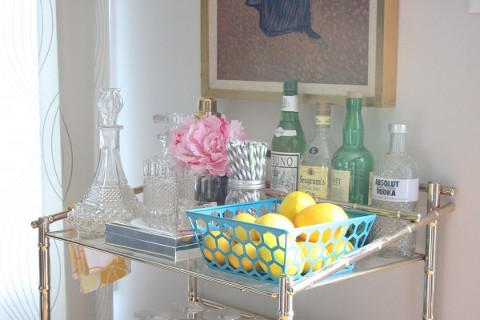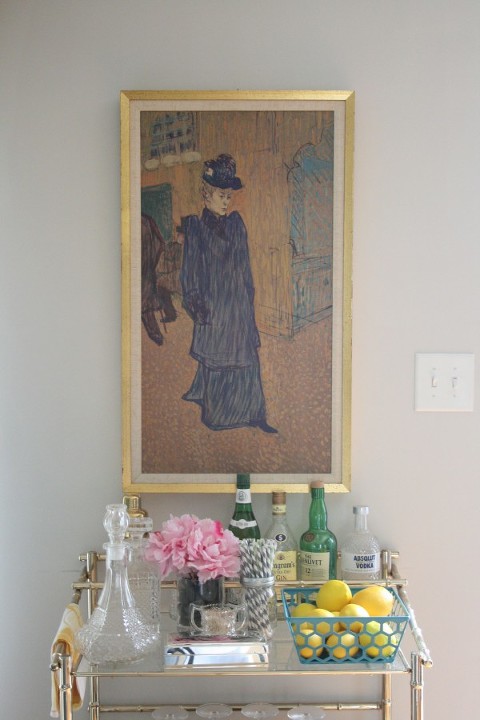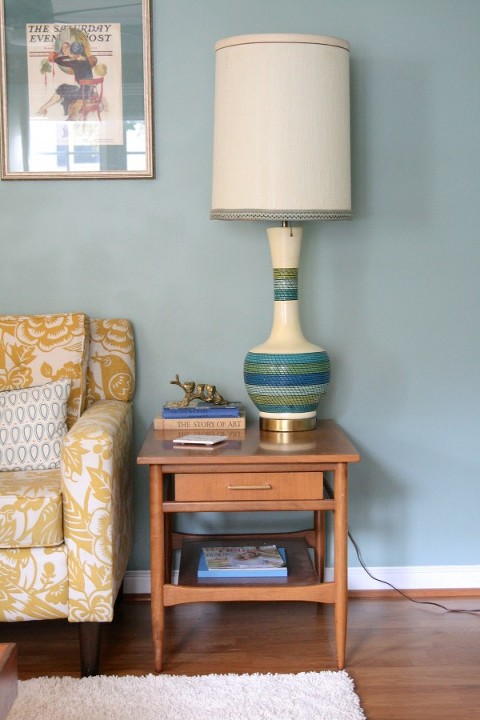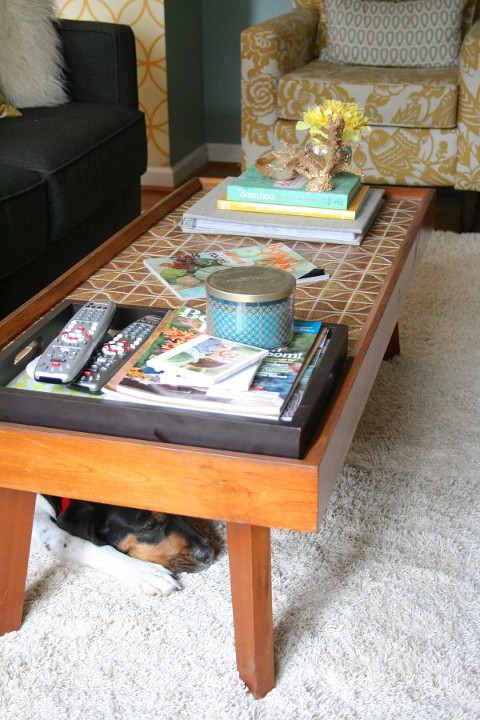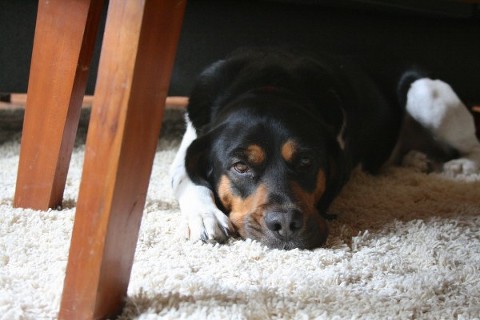 Rocky the dog clearly is enjoying the new look. Of course, I think he liked it just fine the way it was before too. But who's keeping track.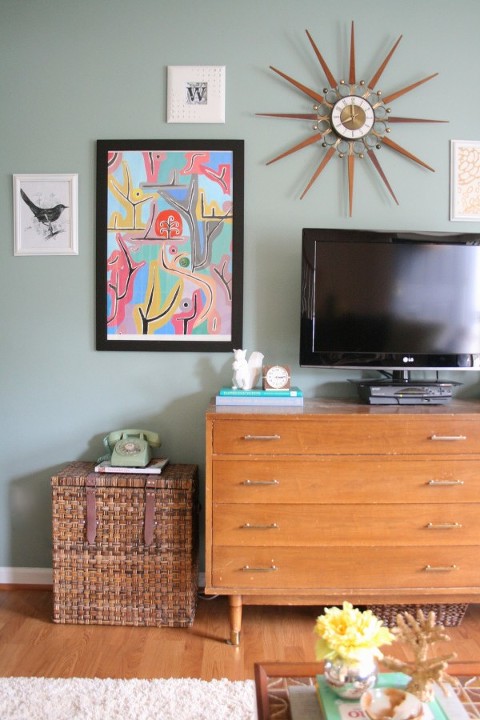 P.S. There's still time to enter for a chance to win one roll of wallpaper from Wallpaper Direct! If you missed it, feel free to click through to see how I used my favorite pattern to dress up an old dresser from my bachelorette days.