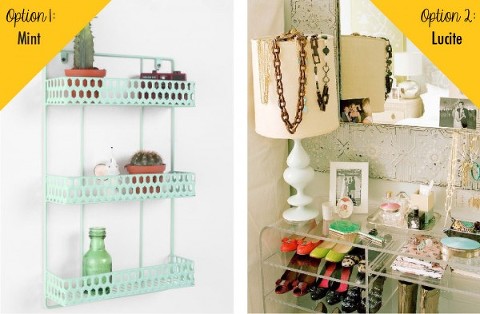 Today's edition of "Options" is the ultimate personal stump. I don't know which to choose and, frankly, would happily welcome either (or both!) of these finishes into my home. The question is…Which shelving unit would you pick? Would you go mint, or lucite?
OPTION 1:
This fresh slightly-blue-slightly-green-wholly-PERFECT shelving unit (which is on sale for just $34, by the way) has completely stolen my heart. This trendy color has become so iconic in home decor trends that its dangerously close to becoming neutral. Its got personality, but doesn't necessarily steal the show – a hard combo to master.
OPTION 2:
Lucite, too, is a neutral, but packs a good bit of pizazz – perhaps even more than its minty counterpart. Distinctly vintage and also a bit glam with that see through sheen, lucite is definitely a more classic option if you're trying to find a way to distinguish it from Option 1.
At any rate, I wonder…
[poll id="13″]