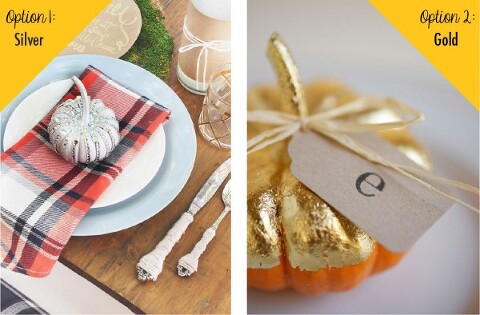 I have an exciting post lined up for Friday, so "The Options" is coming at you early this week! And what better time then now to bring up the fact that we are well into my favorite season of all time? Fall just can't be beat in my opinion – Layers, boots, scarves, warm mugs of cocoa or coffee, bonfires…And, of course, pumpkins! There are so many different ways to decorate these funny orange guords, but I'm breaking it down between my favorite metallic finishes to keep things simple.
OPTION 1:
I'd wager a bet that you don't often see silver pumpkins. I've seen matte black chalkboard pumpkins, white ones, stenciled ones and even blue ones, but silver seems to read a bit more "Christmas" to me. That said, I'm totally down for a bright and shimmery silver pumpkin any day this fall – especially one embellished with jewels!
OPTION 2:
On the other hand, gold pumpkins are perfectly appropriate for the current season. That rich, warm finish practically screams "Fall," and is definitely my personal favorite version to see on people's front stoops.
But how about you?
[poll id="16″]