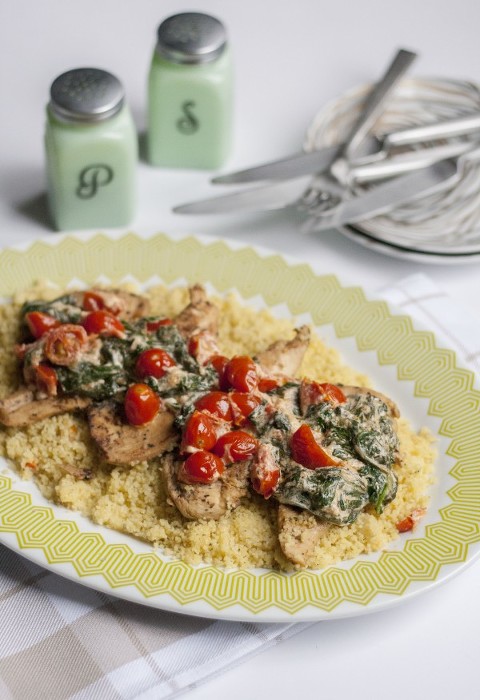 Although I'm not much of a cook (John took over that role after we moved in together – by choice, I might add!), I had a hankering to recreate one of my favorite dishes out. Juicy, moist chicken, served over couscous and topped with a gooey, goat cheese, tomato and spinach mixture. De-licious. Luckily, the dish was pretty simple to whip up on my own, so I thought I'd share the recipe.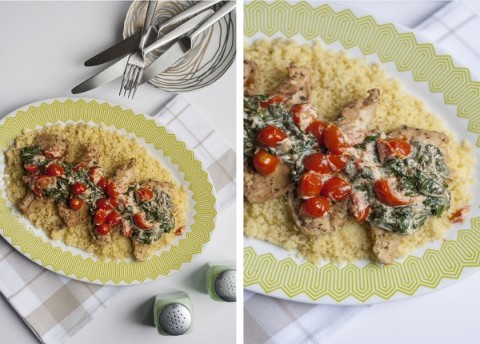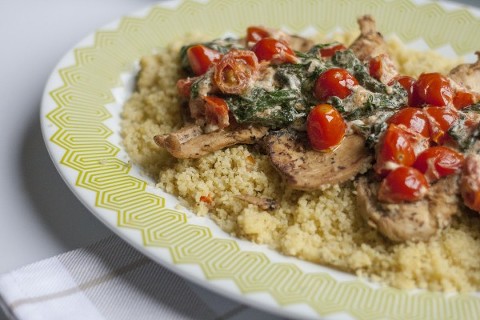 Despite the fact that this meal was just for John and me, I couldn't help but dress it up a bit, and my hand immediately went for my Happy Chic by Jonathan Adler serving platter (snagged on sale from JCPenney!). That pattern is just too good to be true and, happily, goes well with the rest of our white dishes. Test this dish out for yourself using the simple, practically fool-proof recipe below.
Baked Chicken with Goat Cheese, Tomatoes & Spinach
Ingredients:
Package of boneless, skinless chicken breasts
Handful of cherry tomatoes, sliced in half
4 cups of spinach
1/2 cup of crumbled goat cheese
1 clove garlic, minced
1 tsp. olive oil
Box of couscous
Italian seasoning, to taste
.
Directions:
Heat the olive oil in a saute pan on medium heat. When sizzling, add the garlic and chicken, then sprinkle with Italian seasoning. Allow to cook through and brown on both sides, then remove to a plate. Turn the heat down to medium/low and add the spinach and tomatoes. Stir frequently and, when the spinach is wilted, add the goat cheese. Continue to stir until the cheese is melted.
Meanwhile, cook the couscous according to package instructions. Spoon on to your serving platter. Add the chicken over the couscous and then spoon the spinach, tomato and cheese mixture on top. Enjoy!
This post is a collaboration with JCPenney. All ideas, words and opinions are my own. Thanks for supporting the sponsors that allow me to create fresh, authentic content like this on Dream Green DIY!