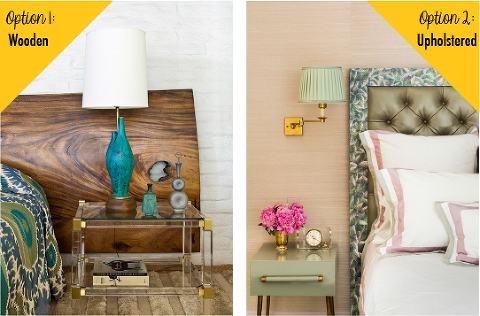 Although I've been dying to change up our bed situation, we happen to have a pretty fabulous frame that will probably last us forever – both structurally and style-wise. That said, I can't help but dream of alternatives…
OPTION 1:
Wood is one of those sensational materials that has a pattern all its own. No two pieces will be the same, and the imperfections tend to make them even better. Although you might think the piece above would cost thousands, you can likely get the same look by contacting your local wood supplier for cast off pieces that builders don't have any interest in.
OPTION 2:
Upholstered headboards, while on the complete opposite end of the spectrum, are just as chic. Full of pattern, full of customized, one-of-a-kind character, I can't help but covet a tufted piece of my own – the perfect crowning touch to a well appointed bed. I have a great guy that does custom upholstery in Orange County – so I'm torn about which option I should go with.
[poll id="32″]