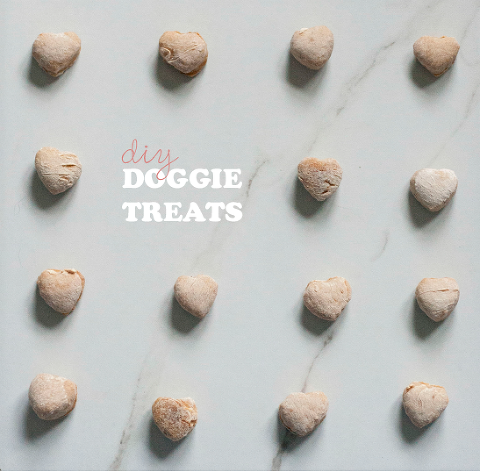 It's no secret that I'm a bit of a pet fanatic. With four (yes FOUR!) to our name, you could say that we are just a little obsessed with our furry brood, and they are just a little spoiled (as you can see here). So when DogVacay got in touch to share a list of favorite homemade doggie treats, you had to know that I'd test at least one of them for our "little man."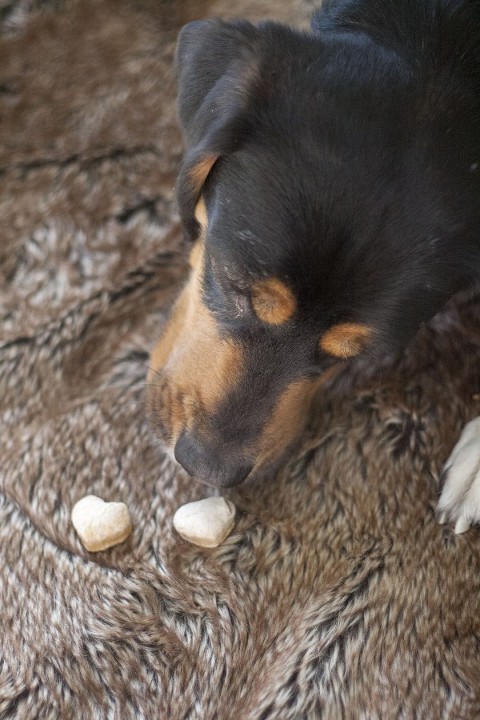 Thanks to quite a bit of help from the baking pro in our family (i.e. "mom") who stopped by for moral support, the treats were stirred, baked and cooled in no time. As for the verdict? Rocky considered them a resounding success, not minding one bit that he had to gobble up an extra handful of heart-shaped treats so that I could get juuuuuust the right shot. The pictures say it all…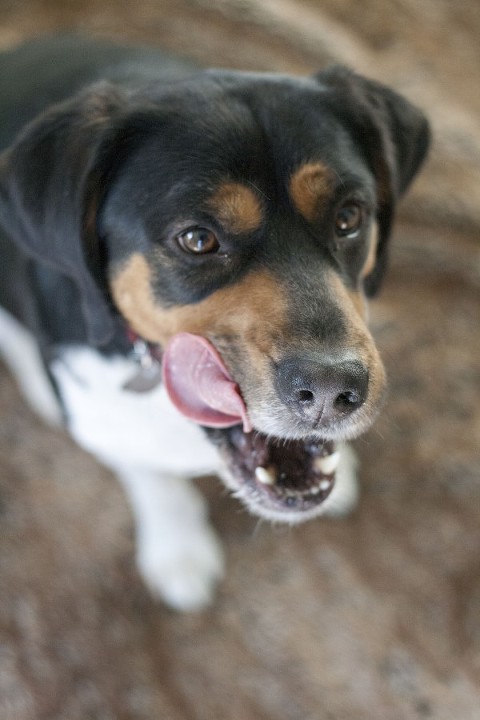 As for which recipe we chose to experiment with? Ultimately, it came down to Brie's Banana and Honey Dog Treats for two reasons. One, because they sounded pretty darn tasty to me as a human (in case that wasn't clear), and two, because we already had all of the ingredients on hand. Try it out for yourself using the recipe below!
Brie's Banana and Honey Dog Treats
Ingredients:
2 cups water
2 bananas, mashed
2 tablespoons honey
1 teaspoon vanilla extract
1 egg
4 1/2 cups whole wheat flour
1 teaspoon baking powder
Preheat oven to 350 degrees F (175 degrees C).
Lightly grease 2 large baking sheets.
Combine water, mashed bananas, honey, vanilla and egg in a large bowl.
Stir in whole-wheat flour and baking powder.
Beat dough with an electric mixer on medium speed until ingredients are thoroughly combined, 1 to 2 minutes.
Turn dough onto a floured surface and knead until no longer sticky, 5 to 8 minutes.
Roll out dough to 1/4-inch thickness and cut into mini shapes with your favorite cookie cutter (I used a heart, for obvious reasons!).
Place dough shapes on prepared baking sheets.
Bake in preheated oven until cookies are lightly browned, about 20 minutes.
Turn off the oven and leave cookies until thoroughly dry and crisp, 30 to 40 more minutes.
Remove baking sheets from oven and allow cookies to cool on pans for 10 minutes. Transfer cookies to wire rack to fully cool.
This post is a collaboration with DogVacay (although free of compensation/perks!). All ideas, words and opinions are my own. Thanks for supporting the sponsors that encourage me to create fresh, authentic content like this on Dream Green DIY!