If you haven't heard, my family and I (sans John, who has to work) are headed to the beach for the week starting tomorrow! I'm elated by the idea of hours spent pool- and beach-side, which consequently has me dreaming of creating our own outdoor oasis here at home. These thoughts are only compounded by my recent introduction to Hayneedle, with which I am hopelessly head over heels (or should I say, head over sandals) in love. From loungers and poufs, to outdoor rugs and lighting, I'm making my list and checking it twice in prep for late-summer sales.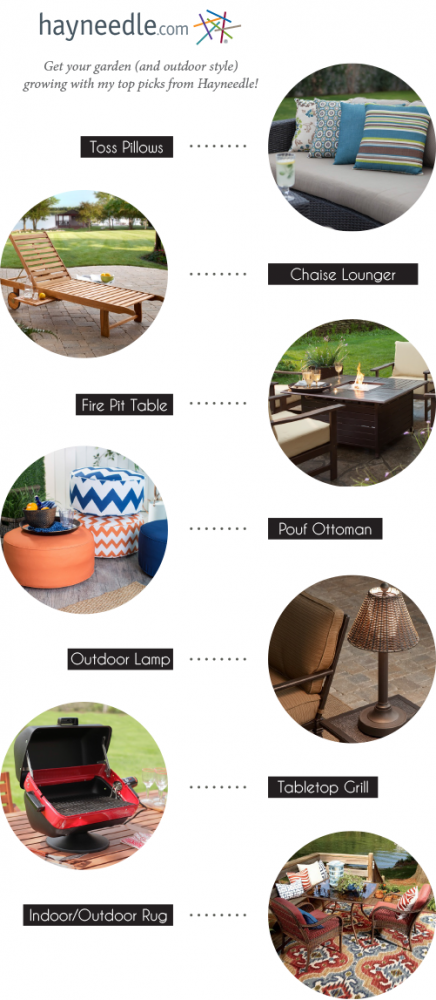 Toss Pillows | Chaise Lounger | Fire Pit Table | Pouf Ottoman
Outdoor Lamp | Tabletop Grill | Indoor/Outdoor Rug
Happily, you guys have the chance to get in on the goods early—BEFORE summer gets really underway. Hayneedle is hosting a fabulous Great Outdoor Giveaway where participants can vote on their favorite outdoor space (Small Spaces vs. Poolside vs. Entertaining). The Hayneedle team will then choose one person who will ultimately win their favorite space. Sound unreal to you? Click here for the larger-than-life details.
Oh, and before I jet set off on our adventure, I wanted to take a hot second to say happy Mother's Day weekend to all of you mommies out there!! You ladies deserve a special day devoted to you EVERY weekend. Cheers!
P.S. Don't forget to enter a Terrarium Kit via Longfield Gardens!! Enter here.