In case you haven't found that blissful moment of peace and quiet, perfect for kicking up your feet and diving into the latest issue of Better Homes and Gardens, allow me to point you to one feature that I'm extra excited to share with you. As you may know, I'm a copy writer and creative consultant for Artfully Walls, and one of our most recent projects has been an exclusive collection of art curated in partnership with Better Homes and Gardens editors. We were thrilled to see the gallery finally unveiled in the November issue of BHG, and thought it fully warranted a bit of extended love.
To celebrate the launch, the AW editors and I sent each of the six pieces in the collection to a handful of our favorite stylish bloggers, all with this challenge—restyle the art in a new and fresh way, and then spill all those styling secrets!

I started off the campaign with a quick master bedroom rearrange and bed frame switch. Using my existing Artfully Walls gallery collection as a jumping off point, I added in my new Negba print to create an avant garde headboard of sorts. I'm never one to shy away from color, so the extra dose of pattern and texture is a welcome sight as I bustle around the room throughout the day.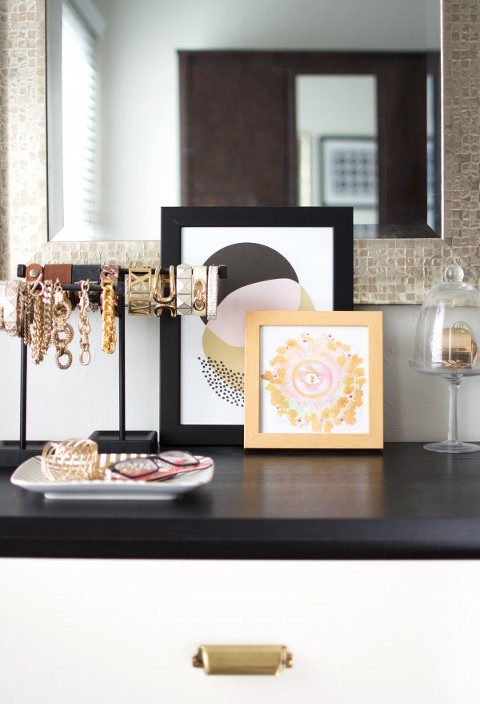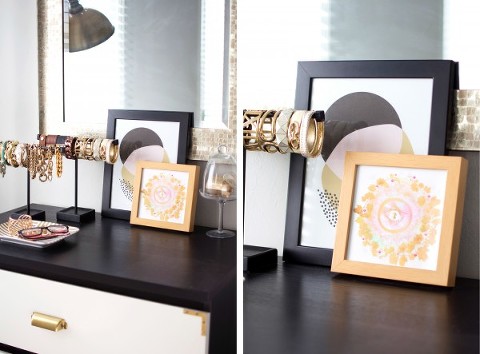 Next up, we sent Amy Kim, of Homey Oh My!, the Golden Field print, by Mira Amir. Amy thought well beyond the wall for her challenge, choosing instead to lean the framed artwork against the mirror above her dresser.

This is a great solution for those of you who live in rentals or for those who don't like to settle for a permanent art arrangement (guilty!). Amy's tip offers tons of versatility when it comes to styling, and allows you to skip that dreaded wall patching step later on down the road.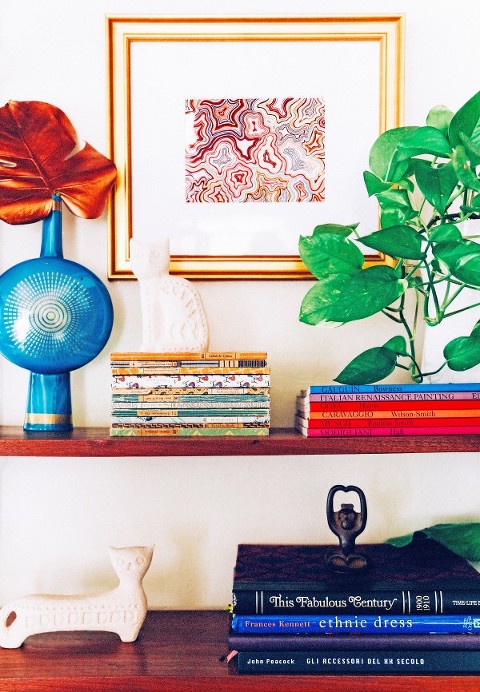 We also looped decor extraordinaire Justina Blakeney into the mix, knowing full well that she would nail this challenge—and she did! Justina chose to incorporate her framed Sedona – molten piece, a print by Khristian A. Howell, directly into the styling of her bookshelves.

By layering the art right in with her favorite books, artifacts and a bit of greenery, too, she effectively filled a difficult blank space in the vignette, and added an extra dose of personality to the overall look of the nook.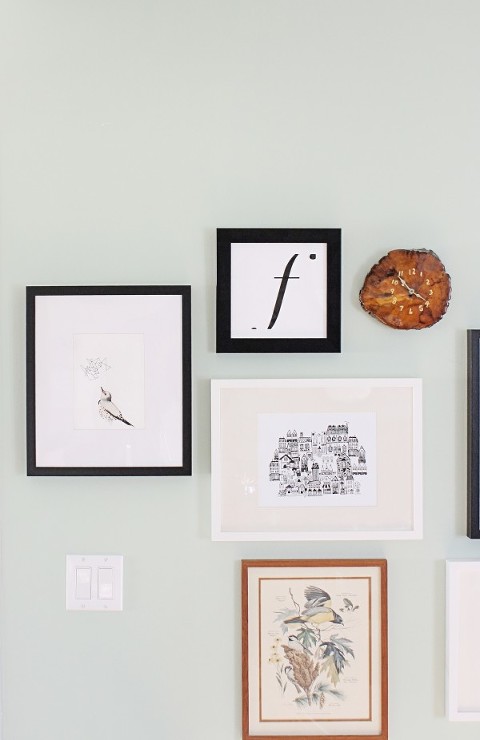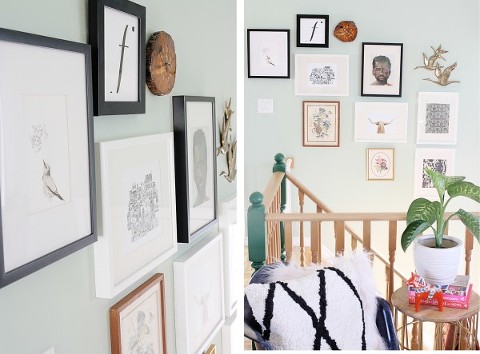 As a bonafide fan girl of Lidy Dipert (blogger and designer behind Hello Lidy), I was particularly excited to see how she would incorporate her Northern Flicker print. With a burgeoning thrifted fine art collection on her hands, Lidy didn't have any trouble creating a gorgeous stair stepped gallery climbing alongside the staircase in her home.
By incorporating different sized art in a multitude of frames alongside a few sculptural pieces, she brought lots of interest and appeal to an often overlooked area of the home. Grab a behind the scenes peek at the making of Lidy's gallery wall here.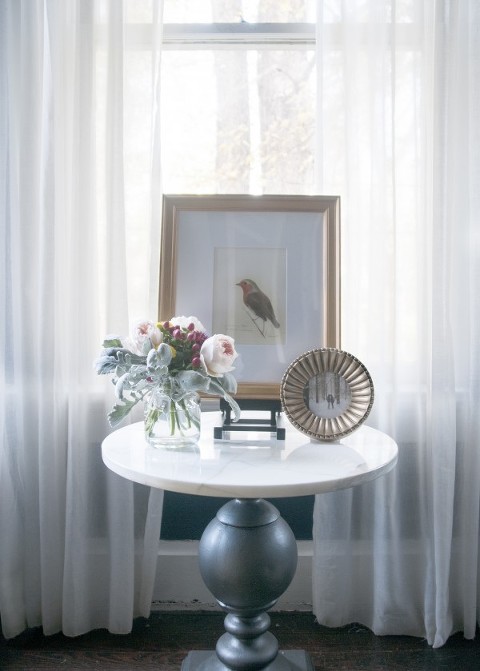 Want another creative way to bypass the classic art of art hanging? In lieu of a hammer and nail, take a cue from designer Erin Souder, of House of Earnest, and break out a tabletop stand to prop your art into whatever situation you choose.

Erin's European Robin print looks gorgeous styled alongside a vase of fresh blooms and a simple framed photo—and all it took was an artist's easel to make her vision come to life. The most clever part about this trick is that you can style your art in ways you never could before when limited by drywall space—like your favorite window!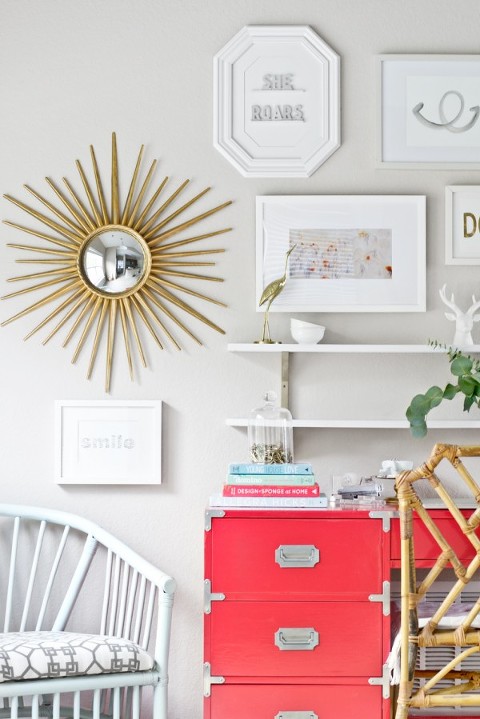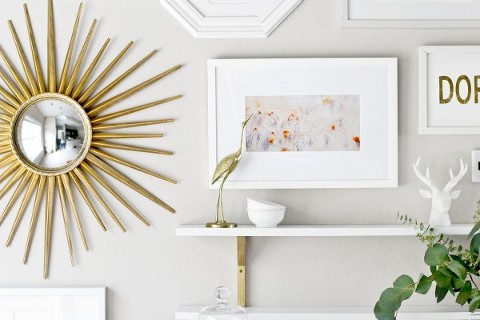 For Sarah M. Dorsey, blogger and creative director behind Sarah M. Dorsey Designs, the secret lies in the pieces you choose to surround your art with. She incorporated a variety of white-framed art around her BHG-approved print, Birds by Carmela Weiss, as well as a set of wall-mounted shelves so that our piqued interest carries through—from art to vignette.

To give her gallery collection that 3D appeal, Sarah picked out a few thoughtful accessories to draw the eye in and keep us intrigued. The look is altogether casual, homey and ultimately spot on. Click through to Sarah's blog for a behind the scenes look at how her collection came together, plus a step by step tutorial on that gorgeous poppy red desk.
A big thanks to Better Homes and Gardens and Artfully Walls for bringing this beautiful collection to life, and to each of our bloggers for knocking it out of the park with their unique styling tips and tricks. Got some artful ideas of your own? Do tell!