A reader recently submitted the following questions to me via email and I thought that they might be questions others would be interested in hearing the answers to—and so this post was born. If they happen to spark any new thoughts, by all means, feel free to start a conversation in the comments! And a big shout out goes to Mallory Benedict for the photos in this post.

I actually use both platforms—one to operate the blog (ProPhoto—and WordPress, of course) and the other (Squarespace) to run my digital portfolio for Carrie Waller Creative. Both are incredibly user-friendly, but I'm much more heavily immersed in ProPhoto/WordPress since my blog updates almost daily. Which reminds me that my portfolio is heavily out of date…But I digress. Although I know several people who operate their entire blog out of Squarespace, I tend to appreciate all of the extra bells and whistles that come with ProPhoto/Wordpress.

The magical link between my freelance roles is a complete immersion in all things creative. Whether I'm naming products for Lulu & Georgia or creating features for Glitter Guide, it's all about thinking outside of the box and pushing myself and my thinking to the next level, which is why I think it works as well as it does. Each role feeds off of the next one because the content creation and idea generation is constant. It's a beautiful, beautiful roller coaster of colors, light bulb moments and word-smithing. To say that I love my job is a gross understatement.
In terms of securing said freelance positions, these actually all happened organically! I was referred to Career Contessa through a friend, approached by Artfully Walls through my blog to do copy writing, etc. It all comes down to three avenues: by referral, by brands directly approaching me through my portfolio or blog, or by a personal pitch made by myself for roles that I feel particularly passionate about.

I actually don't deal much with ads. Maybe I should, but it's the one thing that has never really been part of my priority list because I just don't seem to have the time to manage it. The only exceptions are affiliate links. Although I haven't had a chance to add them back since relaunching the new site design, the banner ads that you used to see along the sidebar were all affiliate ads run through a site called ShareASale. I've had a great experience with them thus far, and get to personally choose all of the ads that I publish.

I've tried Feedly in the past, but it never really stuck for me. Instead, I have a sort of silly/rudimentary process. If I want to start following a blog, then I click and drag the URL to my Safari Favorites bar, then I file all of my favorite blogs away in a Favorites Bar folder that I've created and called "Daily Blog Reads." Whenever I want to catch up, I can either click the drop-down and choose a particular blog from the list, or I can hold the Apple key on my keyboard and click on the folder, which then opens all of the individual blogs into separate tabs. It may not work for everyone, but it does the trick for me.

I made the decision mid-way through last year to only work with brands who allow me to use my own photos. Barring the odd wish list or Pinterest roundup, I live by the philosophy that you guys want to see and read authentic reviews, and if I can't physically feel or experience a product that I'm sharing on behalf of a brand, I don't feel like I can truly be authentic. I also am a control freak when it comes to original content. I want 99.9% of Dream Green DIY to be my own work, and I'm proud to say that I've been able to hold up my end of that bargain—now to work on getting more sleep…

I think the thing to really focus on before hammering down the doors of your favorite brands (although I am TOTALLY guilty of doing that), is to instead focus on the content that you're creating. While it may seem a little roundabout, brands are going to make a split decision whether or not to work with you based on what they see on your website and how engaged you are with your followers. I've learned that organic collaboration happens (and happens much faster!) when you focus on creating above and beyond content, photos and graphics. When brands see what awesome results they can get from you, they will come to you!
That said, I have definitely been compelled to reach out myself a time or two with a thoughtful cold email or tweet. It all comes down to a personalized—yet concise—introduction that quickly explains who you are, what you can offer and why your idea deserves their attention. My last piece(s) of advice? Learn from my early-on mistakes—always address the person by name and check your spelling!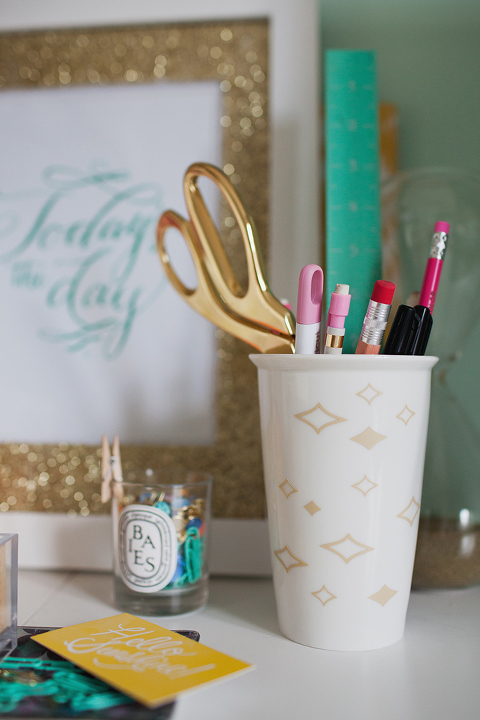 Yup! Photoshop is where I do all of my graphic design (with the exception of InDesign for a few working templates). I learned everything I know through a combination of on-the-job work at the newspaper way back in the day, self exploration and through Blogshop. If other bloggers or designers would like to offer their alternatives to the Adobe suite, please feel free to do so in the comments!

While I wish the answer to this was a little more organized, I have to admit the opposite. My various freelance jobs/duties all fall onto my calendar on an as-needed basis and are sorted by deadline. For example, one week could be dominated by a project assignment from eHow, whereas another could be all about a particular template overhaul for Career Contessa.
To keep track of it all and to manage my editorial calendar, I use two apps: (1) Google docs and calendars, which sync between my computers and iPhone, and (2) the Todoist app on my phone. I recently started building out and editing the coming week's posts for both Dream Green DIY and Career Contessa on Fridays, which has allowed me to enjoy my weekends again—there's no better feeling!
You can read more about my personal journey and progression as a blogger (coming up on four years this March!) over on Career Contessa.
(photos courtesy Mallory Benedict)