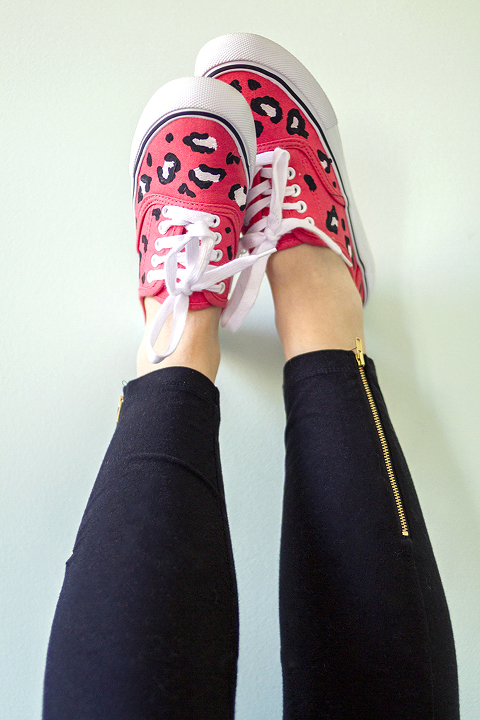 Fashion is definitely not something that I would consider a strength of mine. I tend to be way behind on the trends in this arena and my closet is a hot mess (albeit a color-coded one). Yet, every now and then, I'll fixate on a certain fashion-oriented must-have and won't rest until I've found the perfect way to get my fix.
My latest need? Leopard print shoes. I searched high and low for a pair that fit my frugal budget, but after coming up with nada, I decided to put my crafting skills to the test. Here's how you can, too!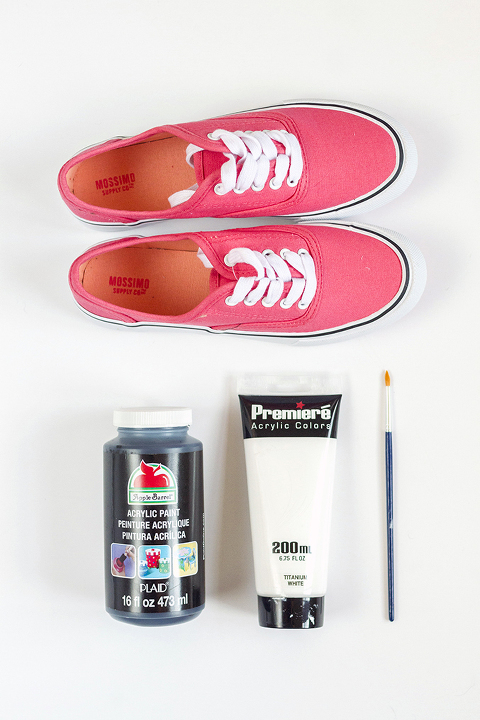 Plain canvas sneakers or slip-ons (mine came from Target for $16.99)
Black acrylic craft paint
White acrylic craft paint
Detail paint brush
Plastic painter's tray
The first thing I do whenever I'm working on an artistic project like this is to pull up an inspiration image. A quick Google image search of "leopard print" brought up all sorts of options, and after analyzing the general shape of the print, I eventually deduced that the pattern is just an uneven white dot—really, no more than a blob—with an equally haphazard black blobby outline, for lack of better language.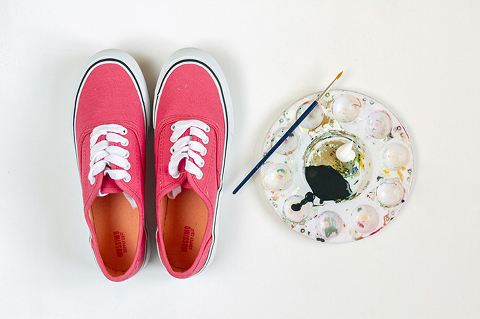 So, I dipped my paint brush into white acrylic craft paint and added white dots all over the canvas shoes, taking care to give the shapes a nice, clean edge—ragged brushstrokes would have ruined the effect a bit. Then, I let the white dots dry for about 30 minutes, and went back with black paint, this time to add outlines. Some white dots were lined 3/4 of the way with black, whereas other dots got two black outlines, one on each opposite end. It was totally random and, as I found out, sort of tough to mess up.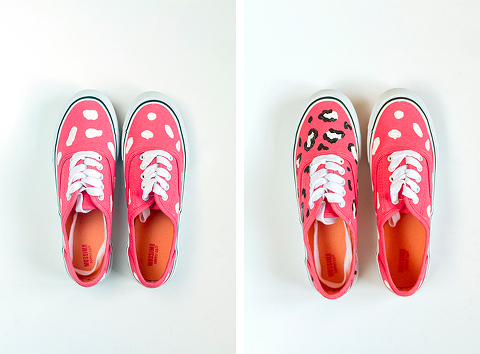 To finish, I added smaller, pure black "blobs" in between the white dots where there seemed to be too much empty space. I let the black paint dry for 30 minutes, and then went back over it with a second coat just to be sure that none of the white paint showed through—and that was it.
The best part is that, once dry, acrylic paint is waterproof, so there's no need to worry about sealing it. Now, I have the perfect pair of one-of-a-kind printed shoes that fit my cheapo budget and my spontaneous need for style. How's that for walking on the wild side? (sorry, I had to)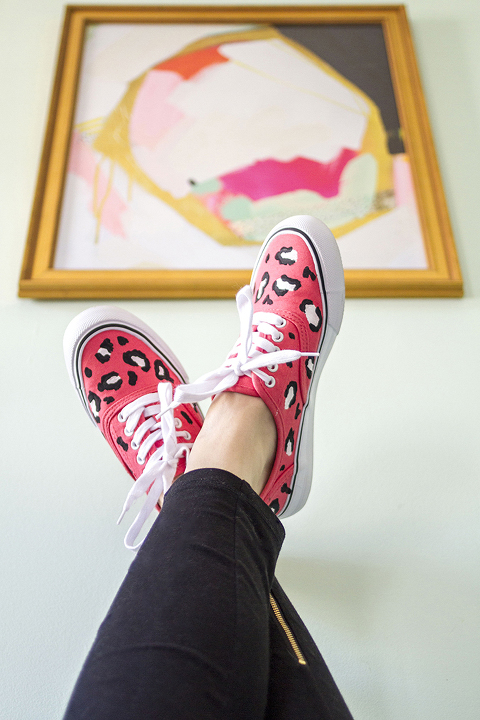 In case you want to try a different look, check out my DIY painted polka dot sneakers, inspired by Kate Spade New York.