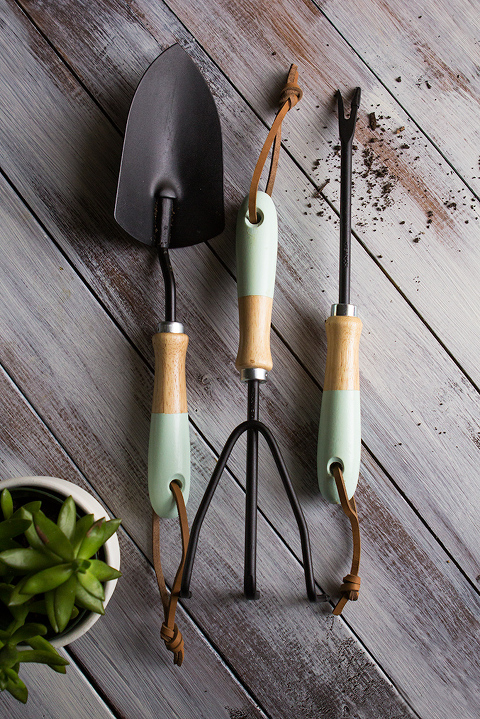 Hello! I'm Sarah and I'm the graphic designer turned crafty maker behind the DIY and lifestyle blog Sarah Hearts. While Carrie is away, I'm sharing one of my favorite DIY projects to-date—my paint-dipped garden tools. I think everything looks better with a little splash of color and I just love how a fresh coat of paint can transform an object.
If you're planning on planting a garden this summer, here's how to make your green thumb a little more chic. And if you don't have a green thumb, these also would make the perfect gift for your bestie who does. Just tie them up with pretty ribbon and gift them with a couple of her favorite plotted plants. You can check Garden Aware for more useful gardening tips.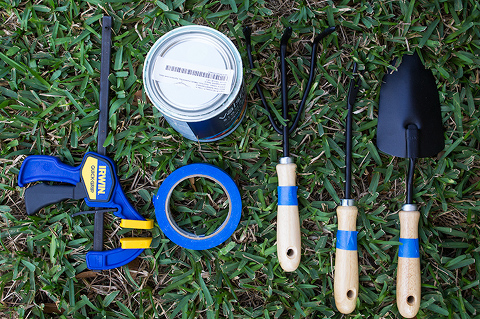 Garden tools with wooden handles (I purchased mine for $4 each at Lowes)
Painter's tape
Paint (I used Valspar's Pantone paint in Bay, which was leftover from painting the inside of our open hall closet)
Cardboard box
Quick grips, one for each tool
Paper towels
OPTIONAL: flat leather cord for hanging the tools, 18″ piece per handle (similar)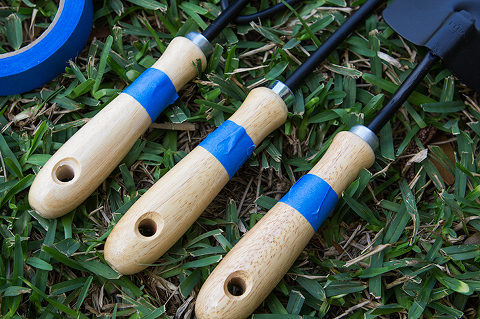 Start by masking off the top portion of the wood handles with the painter's tape. Since the handles are curved, just make sure the bottom edge of the tape is straight and smooth. The top edge of the tape will be slightly wrinkled.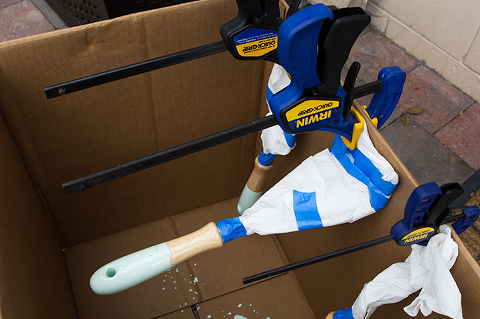 Dip the paint handles in the can of paint. Allow them to drip for several seconds before carefully hanging them on the edge of a large cardboard box with the quick grips. Make sure the wood handles are not touching the box. After about 15 to 20 minutes, carefully remove the tape. If you wait to remove the tape once the paint is completely dry (like I did) it's more likely to peel off and not leave a clean edge (as you can see in the photo below). Then allow the paint to dry completely over night.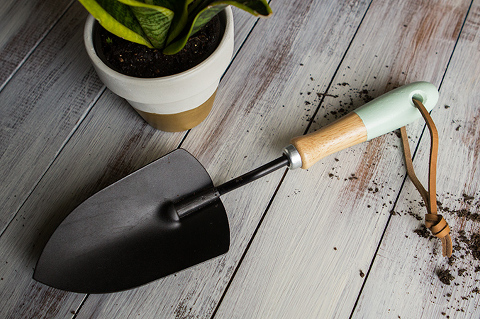 To prevent the paint from chipping, I recommend spraying the wood handles with polyurethane or acrylic spray. Before you do this, cover the metal parts with paper towels and painter's tape to prevent that part from being sprayed. Then, spray one light coat all over the wooden handles. Let that dry for two hours, then apply a second coat and allow them to dry completely overnight in a well-ventilated area. Then they're ready to be used!
Pair these with your favorite herb plant and some clay stamped garden markers for a unique spring gift!
Optional: If you'd like, you can finish them with some leather cord like I did. Cut the leather cord into 18″ piece, thread through the hole in the handle, and tie in a knot. Trim the ends so they are even.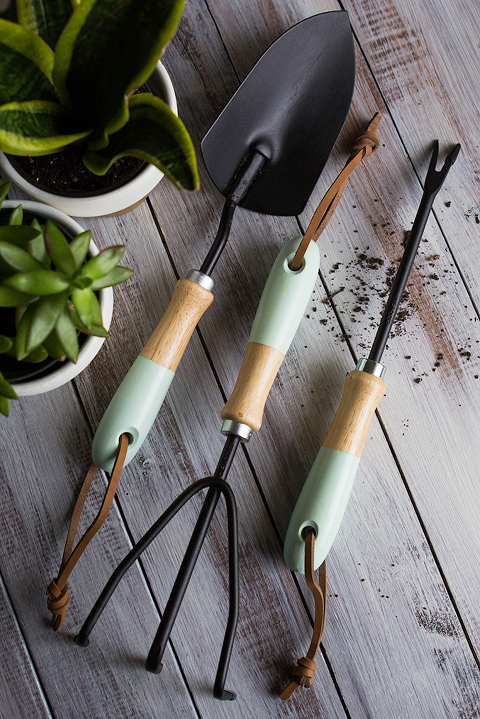 For more of Sarah's DIY crafts and projects, click through to Sarah Hearts.
(project originally published on Sarah Hearts)