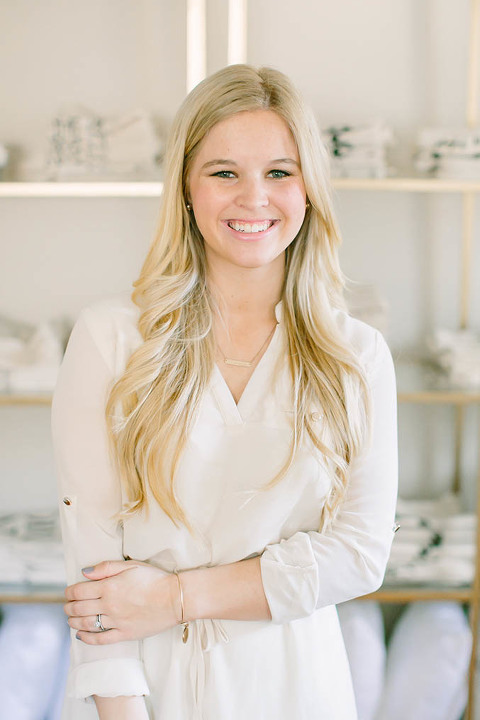 I'm so thrilled to be welcoming Alyssa Thiel, Founder of Parris Chic Boutique, to the blog today for my Etsy Spotlight series. And I'm even more thrilled to finally meet Alyssa in person next week at the La Petite Bloom workshop in Charlotte, North Carolina! This designer and calligraphy artist has a downright beautiful story to tell about how her Etsy shop and brand came to be, and you can read it (plus snag her tips and tricks for marketing and photographing your own handmade goodies) below.

When did you start your Etsy shop?
I started my business back in 2012 right after my husband and I got married. The shop started on a whim after DIYing absolutely everything in our first apartment—from the furniture, to the décor and (you guessed it) the pillows! With every new craft I made for our new home, my husband encouraged me to start selling pieces. And that, my friends, is how Parris Chic Boutique was born!
Is there a story behind the shop name Parris Chic Boutique?
The name was just something I came up with that was special to me. 'Parris' with two 'r's (has nothing to do with the city!) was my maiden name. I loved that last name growing up, and wasn't ready to get rid of it altogether, so I named my shop after it. I knew I wanted it to be a boutique and Parris Chic Boutique just seemed to roll right off the tongue.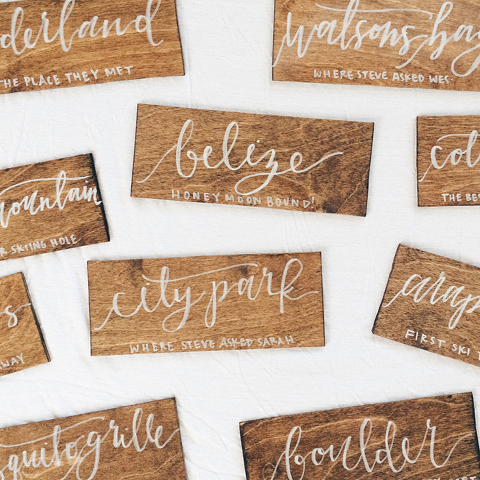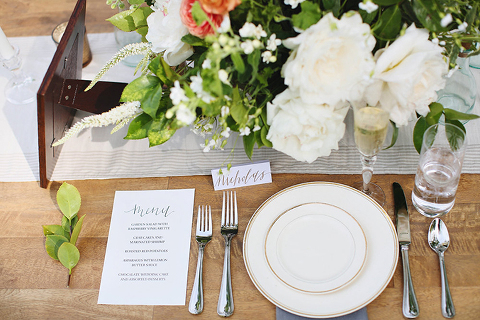 What lead you to start dabbling in handmade home décor? When did your designs begin to take off?
Moving into my first place, I fell in love with interior design and spent most of my days pinning away pretty home décor. It was only fitting that I started making and selling things that inspire me and products that reflect what I am passionate about. When I started the Etsy shop, I couldn't have dreamed it would become what it is today! I honestly thought it would just be a hobby that I would spend my free time working on. I think it was a good mix of the time of year that I opened my shop, and also the one-of-a-kind personalized items I was selling. Whatever it was, things started to take off right away and I quickly realized that if I dedicated the time, I could turn this hobby into a business.
After focusing on my shop as a full-time business, the brand really started to form and the entire aesthetic of my home décor products dramatically changed. For the first year, I had been using generic computer-generated fonts to design my pillows, until one day I decided I wanted more. I needed something that represented me and my message as a shop on a more personal level. Soon I found my love for calligraphy and all things hand-lettered, and before I knew it, my shop was revamped with items that were one hundred percent handmade from the very beginning. It became a much better representation of the look and feel I wanted for my products: a combination of home, love, celebration and everything in between. I have put my heart and soul into my personal business and the entire shop has become a true passion of mine. I realized very early on that I would get the most out of my business by creating original work that is true to myself and letting the things I love shine through.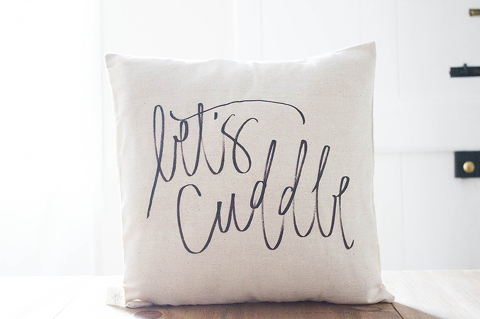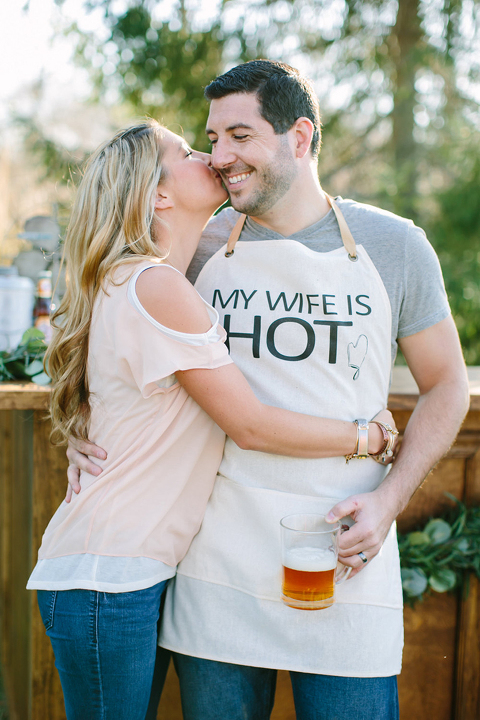 The photography on your site is gorgeous! If you don't mind spilling the beans, could you tell us about your process for planning and setting up a product photoshoot?
Aw, thank you! I have found good photos do wonders for selling my products. My customers want to see stunning visuals that inspire them to decorate their own home. In planning product photo shoots, I try to bring the items to life and tell the story behind the products. For example, creating a large scale cozy environment even if I just want to get a good shot of a pillow or two on the couch. Showing the items in a real life situation is always the best.
What are your top three tips for photographing sale items?
Don't try to do it all on your own! Find a photographer who is passionate about your brand and who can help you see the vision of not only your photoshoot, but the growth of your business.
Natural light is your best friend. We've had to postpone product shoots for days and weeks because the sun wasn't shining the right way or the light just wasn't there. Don't try to substitute the natural light with anything fake. Trust me, your products will look best in the real deal! Even if this means staging your entire set up around the biggest window in your home or studio to get that light (guilty!).
Don't just photograph your product—tell a story! No matter what you sell, you are trying to sell a lifestyle or a design style to your customers. They want to see the big picture, not just a boring snapshot of your product with a boring white background. Those photos are important for listing items, but when it comes to advertising and showing off photos to represent your brand, think big picture. Personally, at PCB we want to convey a style of cozy comfort while celebrating love. To do this, we deck out a sofa in pretty pillows, but use people and tons of comfy throw blankets to get the point across.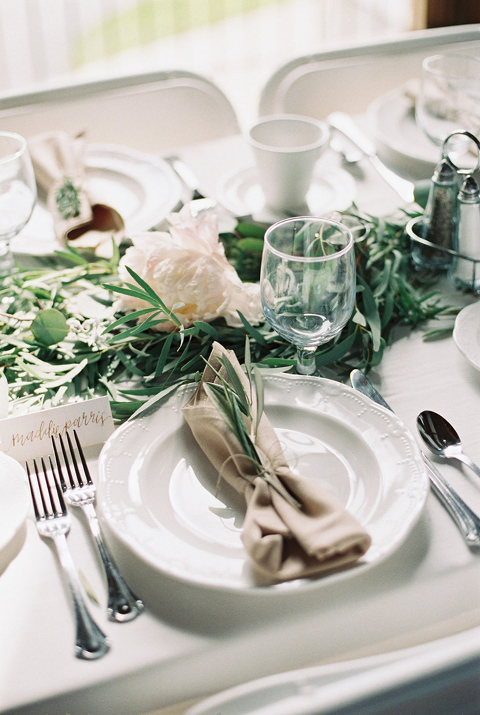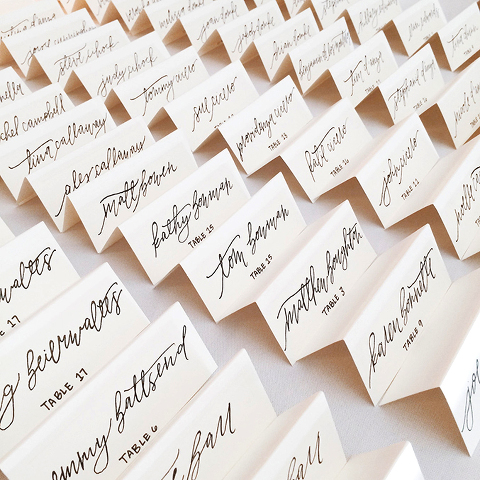 As a small business owner, what are your strategies for marketing? How do you get the word out about your products?
Besides the obvious answers (hello Instagram and Pinterest!), collaborating with other talented business owners and creatives has been my favorite way to market my products. I love sending items to fun bloggers or being part of big group events and giveaways. Naturally, I am inspired by others in the creative world, so it is that much more fun when we can put our powers together and collaborate on something amazing!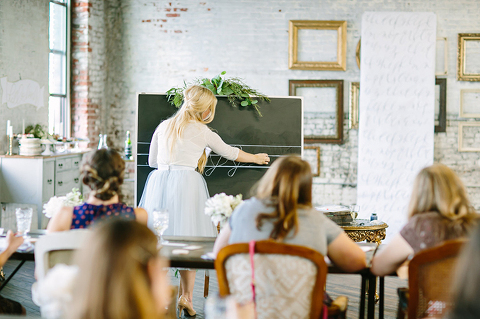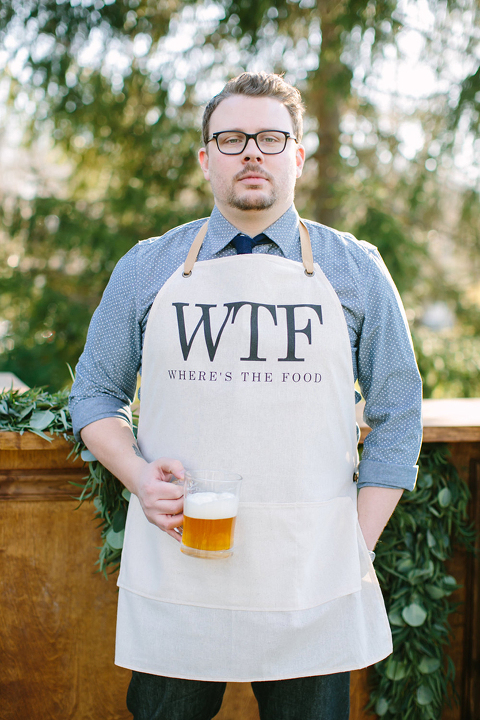 What do you wish you had known before starting out as an Etsy seller? What's your biggest takeaway, and what piece of advice would you offer to new sellers?
I've learned there is so much more to owning a business than creating and selling pretty things. There are so many foreign components of business that I had to learn (and am still learning) along the way to run and own a successful boutique. The best advice I ever received was to "get help!" and I'm so grateful I learned quickly to not go at this whole thing alone—owning a shop is hard work! Hiring people who are passionate about watching your business grow alongside you is so crucial. I'm now able to focus on the parts of the brand that I truly love and find joy in, rather than getting caught up in the mundane. This way, I am able to keep things fresh and exciting for our customers!
Photos by Love & Light Photographs
P.S. Today's the last day to enter to win my spa gift package in collaboration with She Only Lives Once to honor of my 1,000th blog post! Details this way.