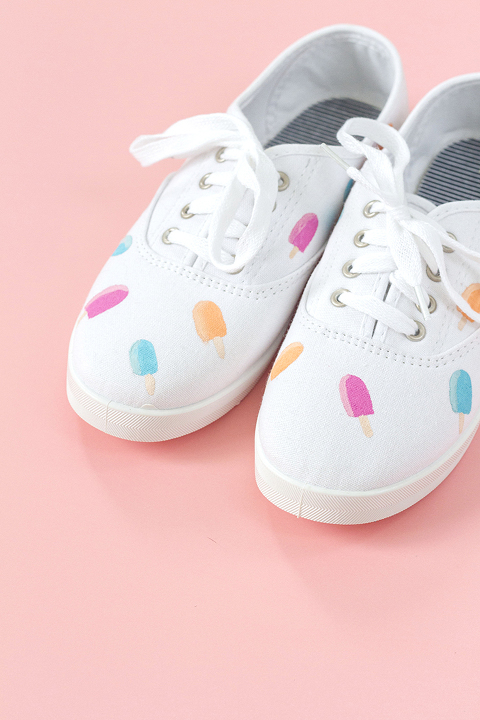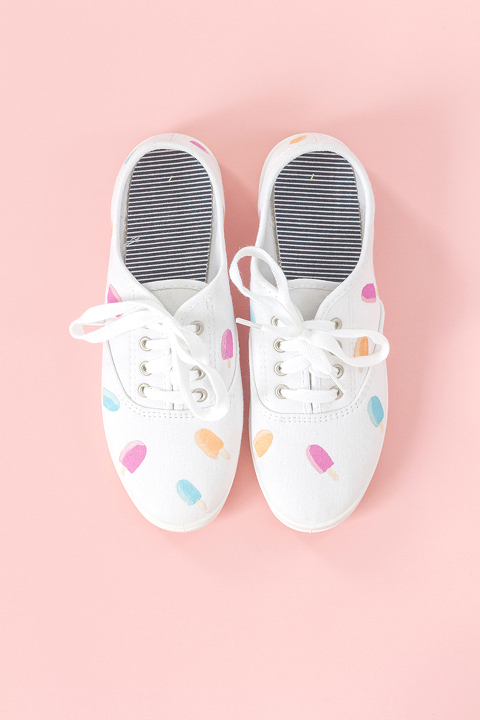 It's time for a brand new entry in my #shoesizediy campaign! If you're just joining us, this is my personal challenge to myself to add easy, recreate-able design to a simple pair of plain white canvas shoes using nothing but DecoArt multi-surface paint as my medium. To kick things off back in July, I made a pair of DIY ice cream sprinkle shoes in honor of National Ice Cream Month. This time around though? I'm keeping things in the same frozen treats category, but with a twist: DIY Hand Painted Popsicle Canvas Shoes.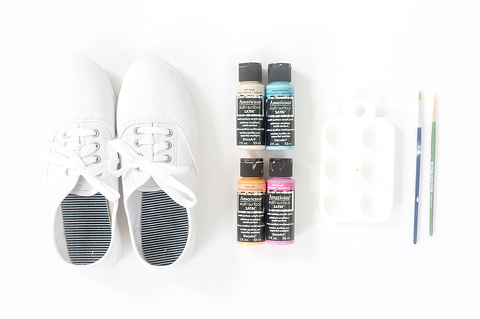 White canvas shoes (my secret $5 resource is Wal Mart)
Plastic paint tray
Round detail paint brushes, one small and one super small
DecoArt Americana Multi-Surface Paint in Peach Silk, Turquoise Waters, and Flamingo for the popsicles, and Buff Beige for the popsicle stick
The process for painting your own popsicles is quite simple using my three-part system. First, dip the larger of your paint brushes into the first of your three popsicle colors and paint it on your shoe in a tombstone-like shape (that's what John called them anyway while he was helping me photograph this project). For "Part Two" of the shape, dip your smaller round paint brush into the Buff Beige paint and drag it in a clean line down from the middle of your popsicle shape at the bottom to form the popsicle stick.

For the third and final part, mix the main popsicle color with a little bit of the Buff Beige in your plastic paint tray until it lightens up a shade or two, and then paint it in a long even stroke down the left side of your popsicle starting at the center of the top of the popsicle. This will create the illusion of a little highlight that adds dimension to your finished popsicle motif. A quick note: I achieved the best results when I waited for the main popsicle paint color to fully dry for one hour before moving on to add my highlight.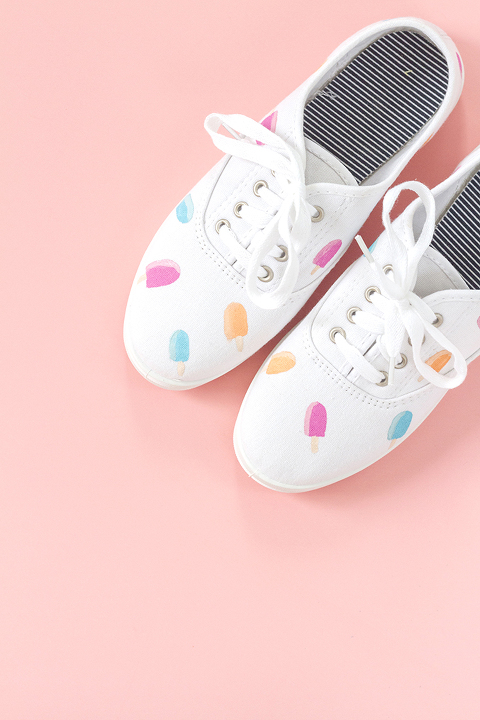 Repeat the steps across each of the shoes using all three popsicle colors, and then allow the shoes to dry overnight. Even though I still haven't kicked my phobia of popsicles to the curb (more on that here), at least now I have a pair of cute painted shoes to make me feel like I can enjoy the iconic treat heebie-jeebie-free.