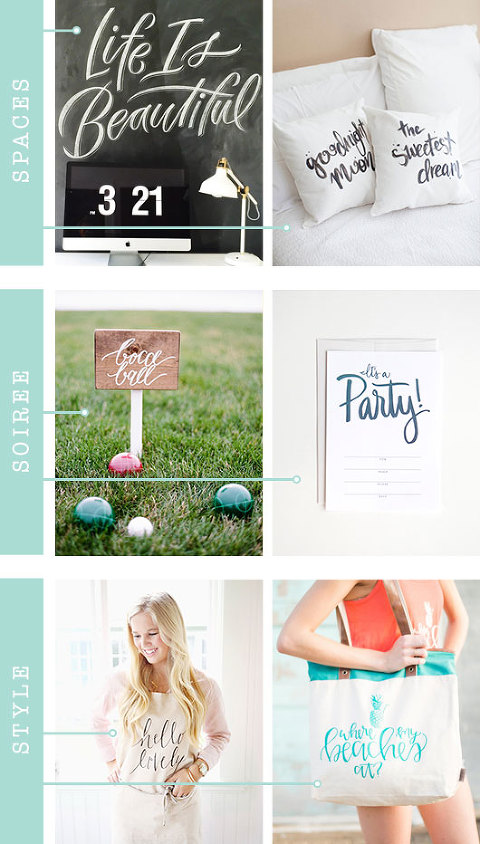 Spaces: Molly Jacques | SMP Living
Soirée: Laura Hooper Calligraphy (photo by Rebecca Yale Photography) | Leen Jean Studios
Style: Parris Chic Boutique | Chalk Full Of Love
Although hand-lettered designs have been all the rage the last couple of years, I think it's worth mentioning that calligraphy has really been around for as long as art itself has existed! Calligraphy has been a particular part of my life because my mom has done it for the local church and for friends and family ever since I can remember—things like wedding certificates and invitations. She has the loveliest handwriting, and while today's styles are a bit more free-handed and flowing, that doesn't change the nostalgia factor for me—calligraphy is just plain beautiful.
I've had the chance to connect with so many modern calligraphers in my time blogging, and many of them are represented above in today's Spaces + Soirée + Style collage. I've met in person with Kathleen (of Leen Jean Studios), Alyssa (of Parris Chic Boutique) and Laura Hooper, and all have been such inspirations for me. Despite the fact that I have, not one, but two calligraphy classes under my belt, I think I've still got a long way to go in learning the art myself. But my fingers and toes are crossed. It runs in my blood after all. Have you tried to learn?
Get more inspiration on Pinterest