UPDATE: Apologies for the radio silence guys and for the lack of blogging, but a pretty key piece to our pending move next week is still missing and I'm incredibly on edge. I just don't have the will to blog (or basically function) until I know what's going to happen. No matter what, I will be back with a new blog post on Wednesday. Until then, your happy thoughts and patience are most appreciated.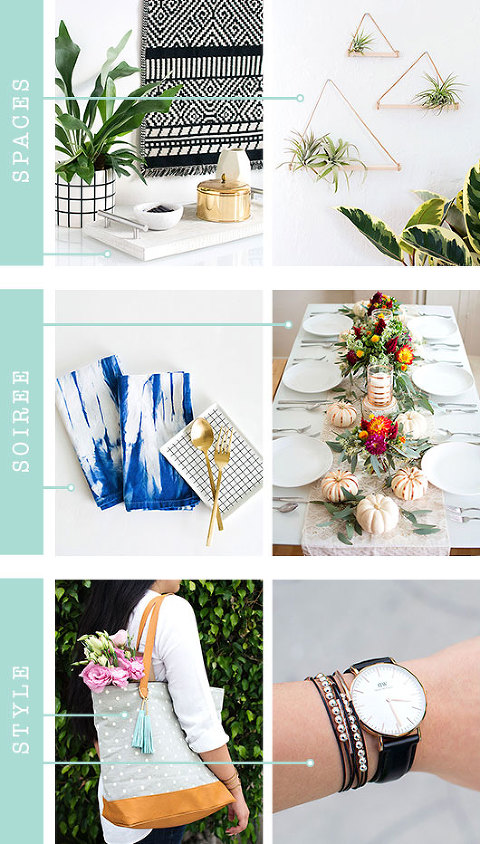 Spaces: DIY Concrete Tray | DIY Air Plant Hangers
Soirée: DIY Indigo Inkodye Napkins | Fall Tablescape
Style: DIY Suede Leather Tassels | DIY Multi-Strand Bracelet
I am just loving the extra excuse to brag on my favorite bloggers with this new format of my Spaces + Soirée + Style series. What do you think? Should I keep it going into October? I think I have to, if for no other reason than I have way too many favorites not to. Today, I'm sharing a peek into the perfectly branded space that my friend Amy has created with her blog, Homey Oh My! This incredibly talented crafter/stylist extraordinaire continually inspires me to embrace a clean-lined, classic lifestyle, and these six projects are the ones I can't wait to try out in our new house.
Are you already a big fan of Amy? Which is your favorite Homey Oh My! project?
P.S. I will be taking off a day early for the weekend to focus my energies on packing up the house. We have most of the odds and ends put away in cardboard and bubble wrap, but there always seems to be a lingering shelf or drawer that needs to be tucked away. Not to mention, I have about 8,000 nail holes to patch and paint…Please, oh please, send your happy vibes our way! I'll be forever grateful.