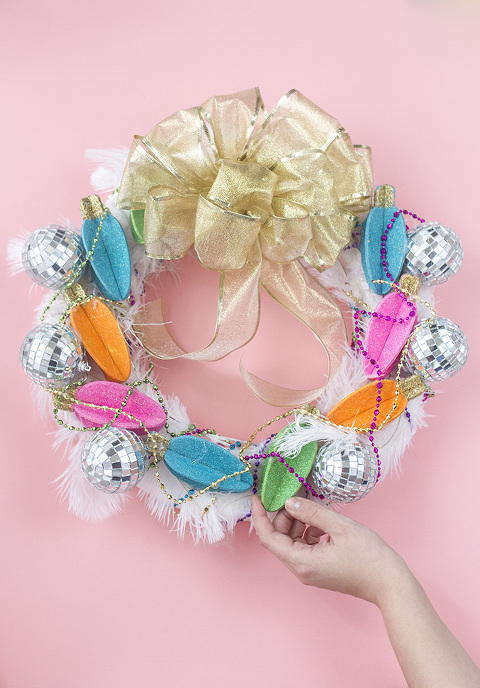 So, for this morning's tale, I invite you to grab a steamy cup of coffee and a pair of thick socks (or maybe your space heater if you're at work), and settle in for the slightly sordid story behind my 2015 DIY holiday wreath. It all started with an idea of a handmade Christmas wreath inspired by mid-century retro designs to match our new-to-us mid-century home.
In doing my research, I discovered that mid-century style wreaths are essentially just wildly colorful, ultra layered behemoths, typically mounted on foam—which, it should be noted, you can no longer see thanks to the piles and piles of ornaments and accents. This retro wreath found on Pinterest is a decent example of what I found. So, in partnership with Oriental Trading Company, I set out to put together a glamorous, over-the-top Christmas wreath. Catch the full story (including my mini panic moment) below!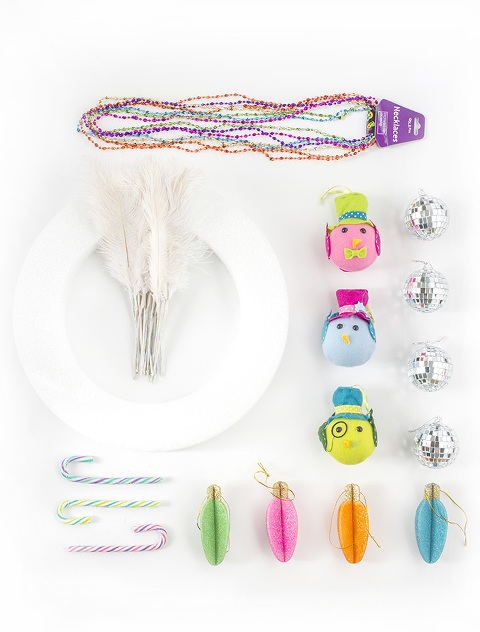 Hot glue gun
Scissors
Gold ribbon
Floral wire
Although I didn't end up using everything you see in that supply shot, I wanted to list it all out and link to everything in case something in particular caught your eye that you want to use in your own DIY Christmas wreath project. Aside from the ostrich feathers, nothing cost more than $10 (with most things around the $5 mark), so this one definitely won't break the bank.
So, to start, I laid out my White Foam Wreath and then grabbed my first White Ostrich Feather. I bent the metal "stem" of the feather in half and pushed it gently into the foam so that it lay flat against the front of the wreath. Then, I continued laying the feathers one by one in a layered pattern across the entire wreath so that they covered the foam completely.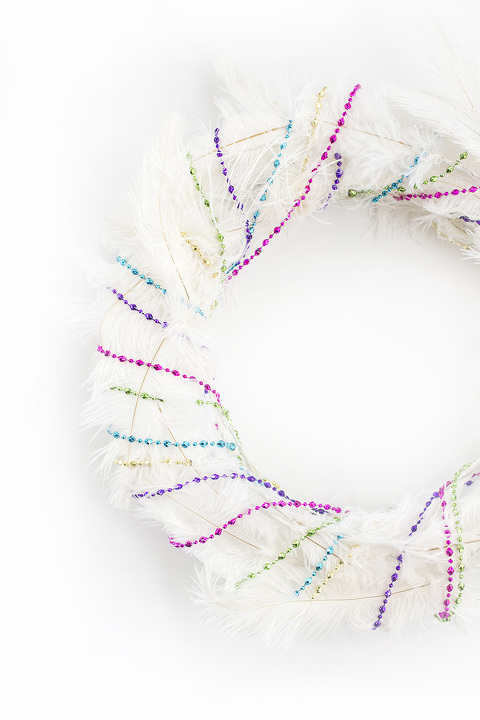 To keep the feathers in place (although everything actually felt pretty sturdy right off the bat just from pushing them down into the foam), I used the Small Diamond-Shaped Beads as a stand-in for traditional garland. I snipped the first necklace apart so that it became more like a rope, and then hot-glued one end in place on the back of the wreath. Then I wrapped it over and around the wreath multiple times until I came to the end, which I also hot-glued to the wreath. I repeated this pattern with more of the necklaces in different colors until the entire wreath was covered.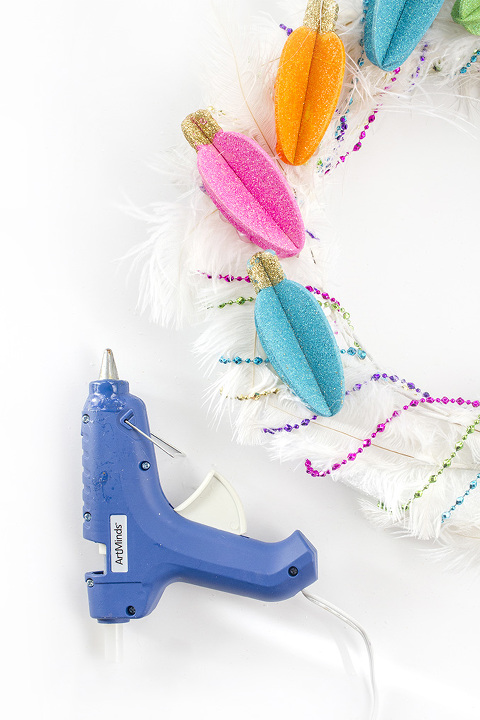 Next, I grabbed the Glittered Bulb Christmas Ornaments. First, I snipped off their string hangers since they weren't going on a tree, and then I hot-glued them in a cascading arrangement on the front of the wreath.
This was the point when I started to panic a little. I think I've mentioned that I've been in sort of a minimalist mode, so seeing all of this gregarious color was making me feel like maybe I was crossing an unspoken line. I actually set the entire project aside for an entire day so that I could have time to consider the direction for the piece.
In the end though, I decided to just go all in and proceeded to cover the rest of the wreath, first with a layer of hot-glued Silver Disco Ball Christmas Ornaments and then with a second layer of randomly laid beads. Finished with a giant gold bow, I was ready to call my creative creation done.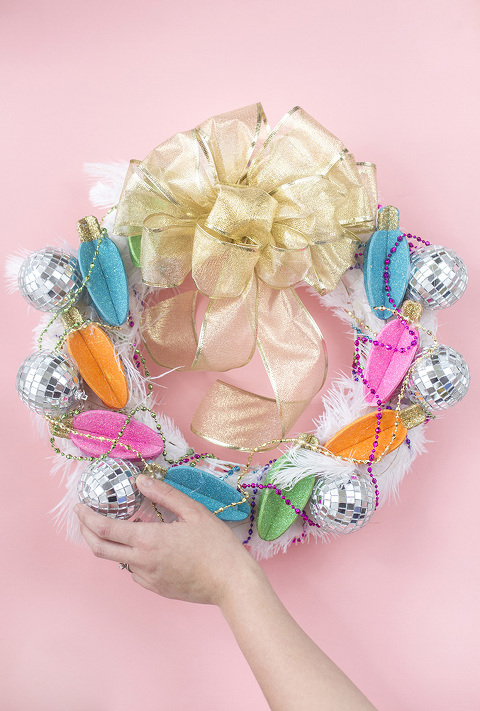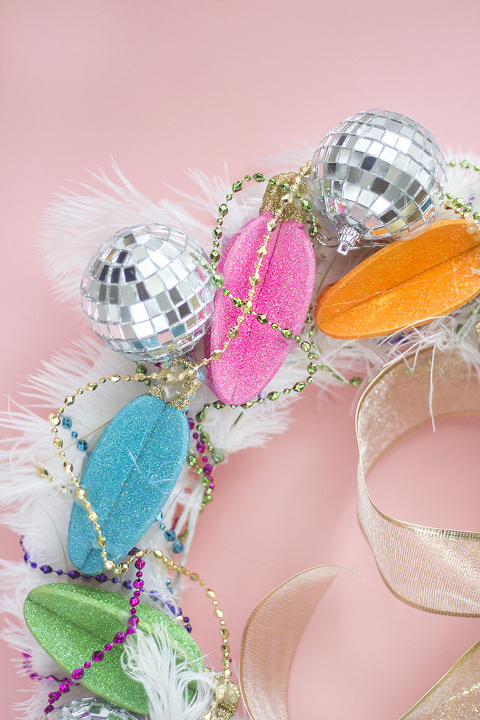 Although this DIY wreath truly has a personality all its own—what with all of that wild color and layers upon layers of texture—I'm so glad that I decided to take a chance and just keep at it. I love the finished product and feel like there may not be a more glamorous, more over-the-top Christmas wreath in all the land—but I may be biased.
The good news is that, if my final wreath is a little too much for you, you can easily reverse the clock and go with the prettier, more parred-back design from the beginning of the project. It's up to you! But now I'm curious to know…which would you choose?