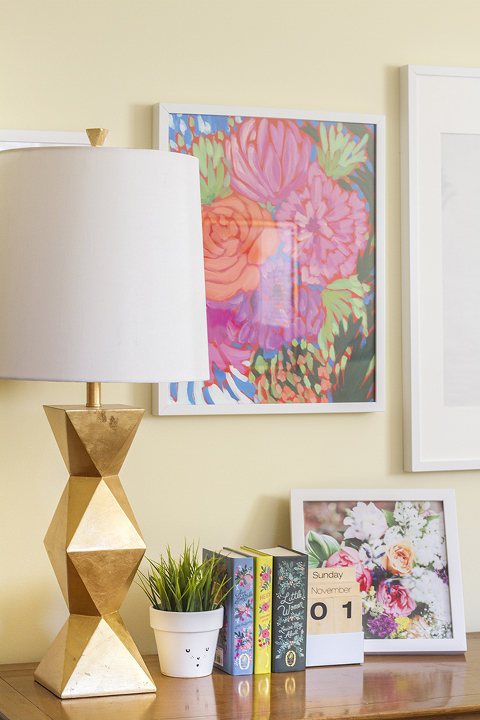 Now that Halloween has officially come and gone, I have absolutely no qualms about rushing full steam ahead toward the big holiday events of the year—i.e. Thanksgiving and Christmas. Okay. So, maybe I've already talked the occasions up enough to make you think I'm crazy, but don't think I mind that label for even one second. I'm in love, I'm in love, and I don't care who knows it! (if you get that reference, then we can be friends.)
To prep our new home for the impending wave of holiday guests, I turned my reno attention to the guest room and subsequently had the chance to test out the new Unstopables home fragrance line from the P&G family. A few thoughtful decorative touches, some functional additions, and light, fresh scents went a long way—in a short amount of time—in bringing our guest room to life. Although I still plan to do quite a bit to the space in "Phase Two" of our plans (think: white paint on the walls, new draperies, etc.), here's what we did to get things quickly whipped into shape—and what you can do, too.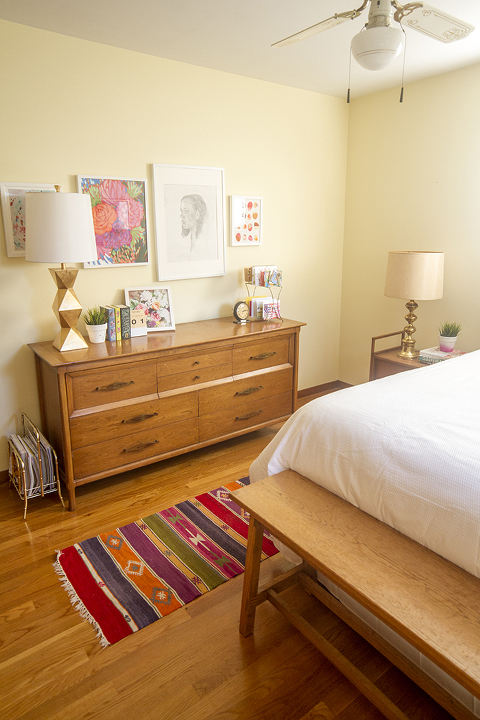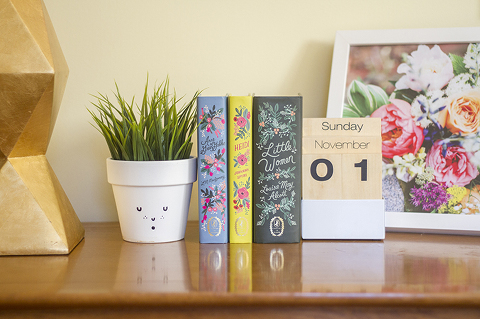 Add Forever Foliage
I've never been that proficient at keeping plants alive. John has all but banned me from purchasing new plants, because I kill just about everything that I get. Even cacti wither under my care. But I love, love, love the look of fresh flowers and greenery in a space. So, I've succumbed to the fact that I need to go faux.
IKEA has a pretty awesome range of near-lifelike fake grassy plants, so I pick up one or two almost every time I drop into the store. I set one up in the guest room by neatly plopping it into a white DIY face planter. I also recently had some flower photos printed as a means to bypass my black thumb, and so I propped one of those up on the guest room dresser, too.
Both "plants" are the perfect way to spoil our guests with something pretty to look at, without the extra time of doomed upkeep that live plants would have added to my daily routine.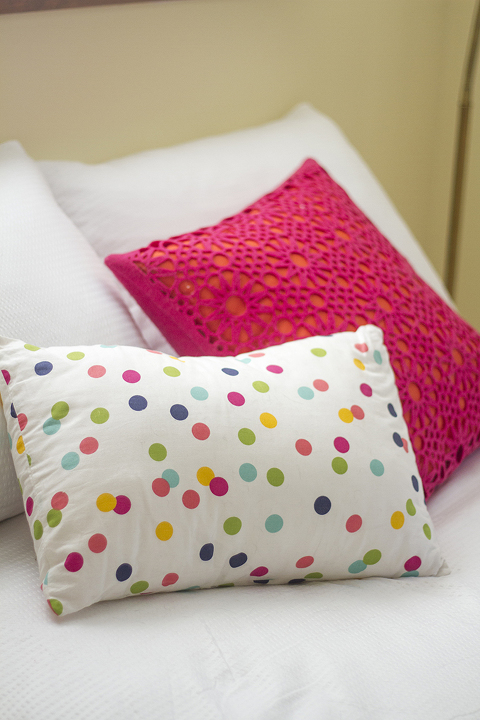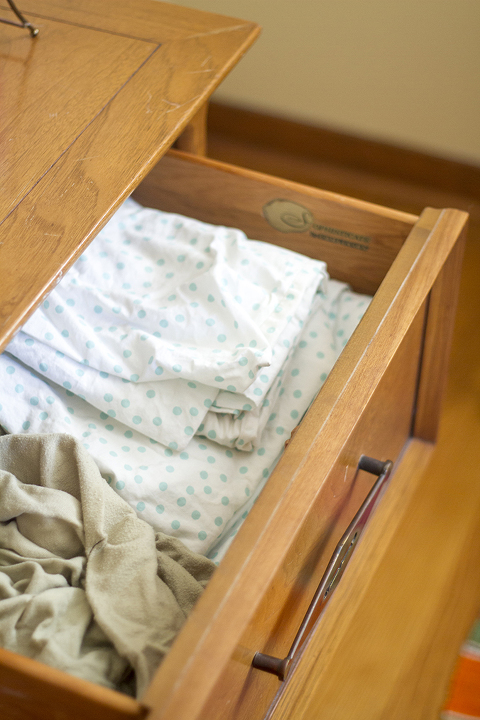 Have Guest Linens Within Reach
If you're wondering why we have a dresser in the guest room, the reason is twofold. First, we have too many dressers to our name, and I needed a place to put one. So, into the guest room it went. And second of all, we don't really have a very good closet for linens in the new house, so I now use this extra dresser as my dump-all place for freshly laundered linens.
Speaking of laundry, I have been using the new Downy Unstopables In-Wash Scent Booster for the last couple of weeks, and it has added so much "oomph" to my laundry routine. The "Lush" scent instantly perks up the guest room linens (and the sheets and spreads throughout the rest of the house, too) and I have a feeling that our holiday visitors will appreciate the lavender, cedar, and vanilla-infused aura of the space now overall. Did I also mention that it offers up to 12 weeks of scent enhancement out of storage? I love that it's such an easy new addition to our routine, with such a lasting and indulgent after-effect.
The point is, with the new dresser set up, guests can grab whatever they need—towels, pillowcases, etc.—without even having to leave their room.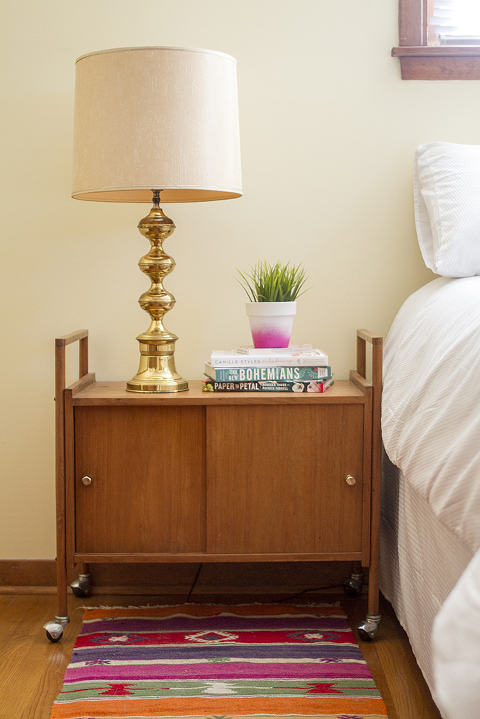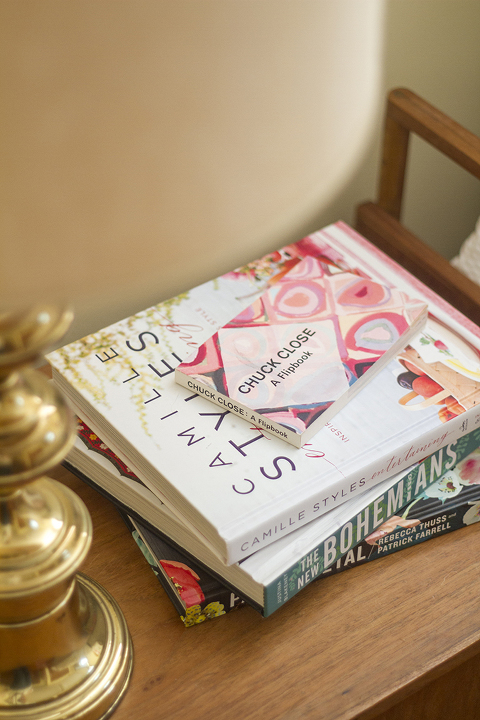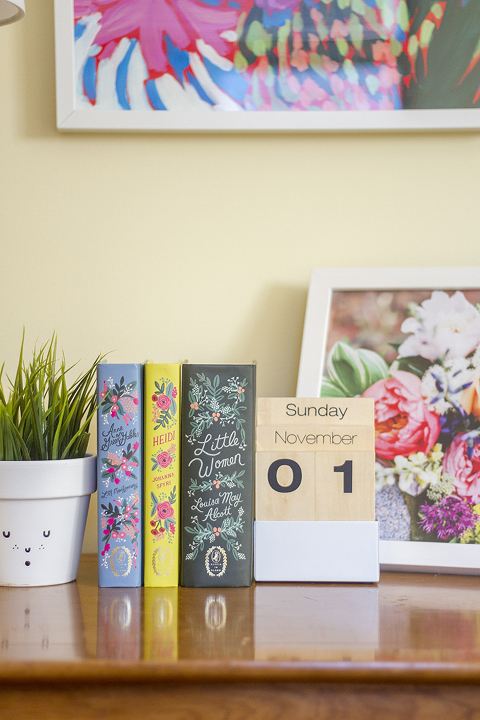 Have Reading Material Within Reach Too
It's such a simple little thing, but having extra reading materials lying around your guest room will allow visitors to pass the time in full relaxation mode. I have books stacked on the dresser, the rolling nightstand, and I even added a selection of periodicals to a magazine rack on the floor. Now, in case our family and friends need something to pass the time in the morning or before bed, they have their pick of books and magazines.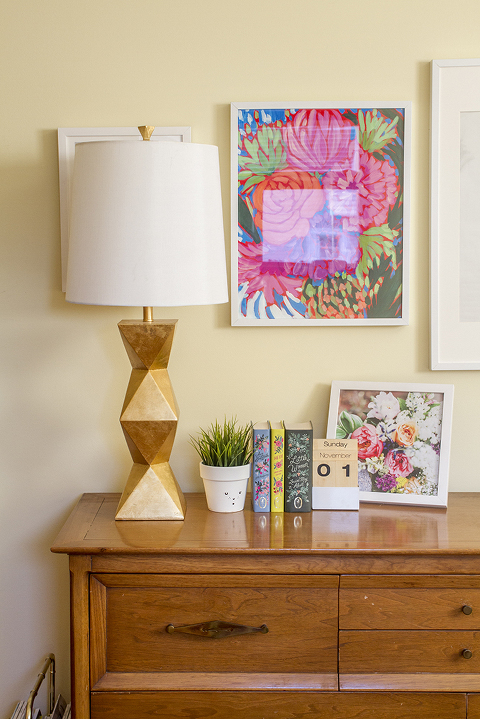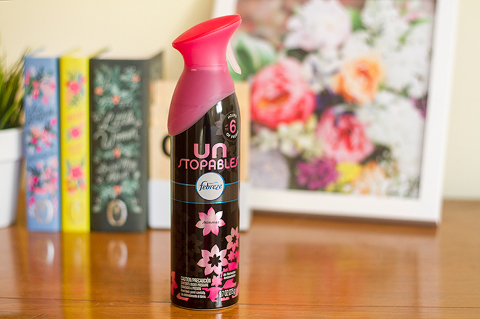 Musty Smell, Be Gone!
We moved into a home that was built in the 1960s, and although I knew enough to expect a few frustrations like dated electrical and ancient fixtures, one thing I didn't think about was the smell. Old homes smell, well…old! Even if you keep them immaculate and well ventilated like the sweet homeowners before us did, old houses come with a slightly musty smell.
I decided to combat the aroma with a OdorKlenz Odor Eliminator, and the effect was immediate. Happily, that "immediate" transformation lasted for six hours, so I now know that I can spritz some into the space right before afternoon family arrives, and that it will still smell sweet by the time everyone's ready to settle in for the night. The room now seems lived in and loved, and I made sure to tuck the bottle into the rolling nightstand in case guests want to give the room a little lift any given day.
How do you keep your guests happy during the holidays?