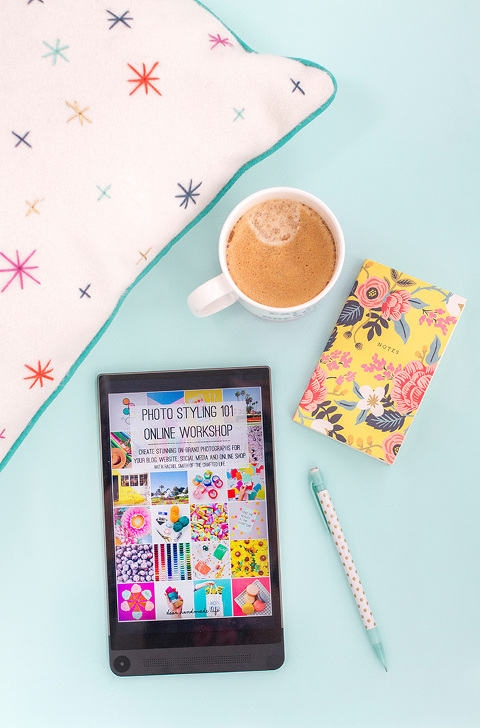 Are you the type of Instagram user who checks their feed at least once every hour (if not once every twenty minutes)? Do you take 12 photos of a cup of coffee just to get one decent enough to post to social media? Or do you agonize over the angle of a pencil or pair of scissors in the photography you take for your blog? I know I'm certainly guilty of all of these things, and if you are nodding your head, too, than I've got a tidbit for you. It's time to sign up for Photo Styling 101, an online (anytime) workshop from Rachel Smith, of The Crafted Life fame!
"By the time you finish this class, you'll be able to take everything you've learned and apply it to photos in all areas of your business. You'll be able to beef up your Etsy shop with jaw-dropping photos, increase your Instagram engagement, and execute a DIY project from start to finish."
I decided to start the new year off by taking the class, and can't help but sing its praises since I wrapped it up last week. So let's talk specifics. In the class, Rachel dives down deep explaining the concept of good styling and why it's an important step to take when setting up your photography—even if it's just a simple Instagram shot. She makes the process feel natural and super easy, which for those of us who often get overwhelmed by the prospect of actually styling a shot, is a real confidence-booster.
In her class, Rachel gives us her tried and true formula for nailing the shot every time (think: composition, lighting, background) and helps to take the guess work out of setting up photos for our social media feeds, online shops, and blogs.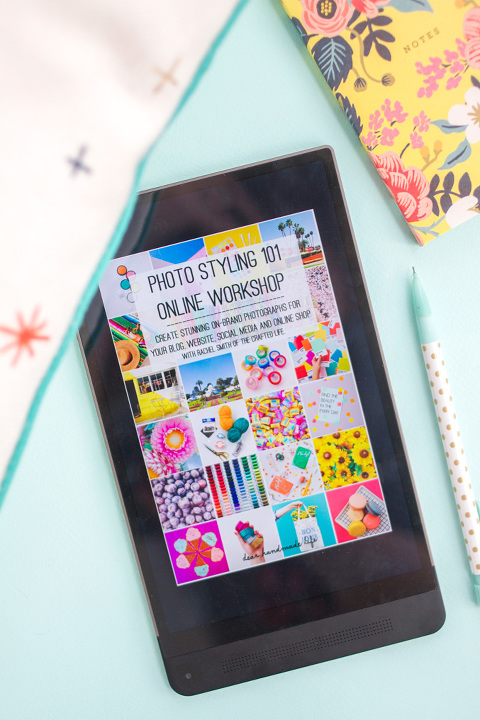 Rachel also details good lighting and how to get it, plus she offers downloadable worksheets and exercises (my favorite is the Prop Closet Inventory Download!) that are an awesome extension of the course and negate the need for lengthy note-taking in case that process overwhelms you.
One thing I decided to do while taking the course was download the worksheets and exercises while working my way through the chapters, and then I set them aside in a folder to revisit during another free afternoon. This offers me a chance to set aside more time for the hands-on portion of the class and will help to make sure I retain every bit of info.
You'll Learn:
How to communicate your brand through your photographs
What makes good styling and why it's important
How to compose a well-balanced photo and create social media-ready images
How to photograph a project, step-by-step
How to source and use props to enhance your photos
How to choose the perfect background for any project or product as well as how to create your own unique backgrounds
How to create a studio at home and on a budget
Basic editing and DSLR camera skills including choosing the right settings and lighting
How to take great photos with your iPhone
This course goes way beyond the surface of what it takes to snap a great photo, but the wealth of information is offered in such a way that you don't ever feel lost or overwhelmed. Rachel's tone—like on her blog, The Crafted Life—is hugely approachable and down to earth, and I feel like the photos and images she shares to get certain points across did just that in a simple and straightforward way.
Although I felt like I had an okay handle on my photography skills before taking the course, I still snagged a ton of awesome resources, tips, and tricks from Photo Styling 101. If you think this course might be for you, but aren't quite sure how it might influence your own skill set, feel free to shoot me an email with your questions and I can offer insight into how the course can directly impact the areas where you're searching for guidance!
Photo Styling 101: Create stunning on-brand photographs for your blog, website, social media and online shop from nicole stevenson on Vimeo.