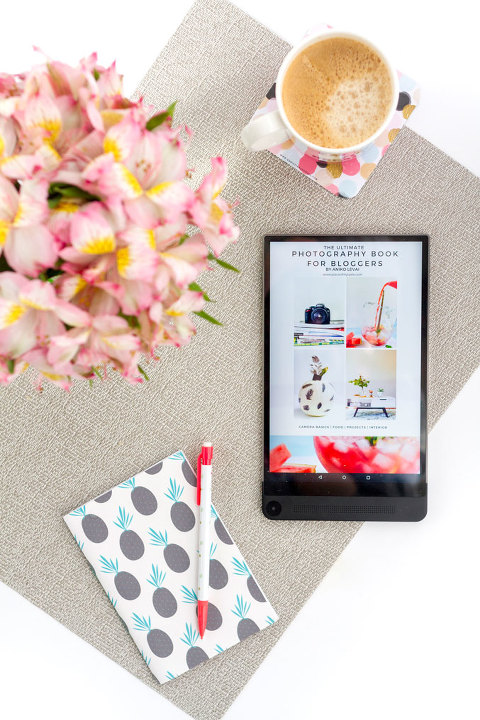 Earlier this week, John and I went out to dinner, and as is often the case, conversation drifted over to work and blogging. I admitted to him just how much I love the writing aspect of what I do, but how much I loathe the photography. Don't get my wrong! Seeing the results of my hard work makes it worth it, but it is tough to forget all of the hours of hard labor that go into each shot.
Long story short, to say that I'm a BIG, big fan of the new Ultimate Photography Book For Bloggers eBook from Place Of My Taste blogger, Aniko Levai, would be an understatement. The tips and tricks that I discovered in this step-by-step resource guide have already helped streamline my photography process, so let's talk details in case you're looking for a productivity boost when it comes to your own photo-taking routine. (HINT: Be sure to scroll to the end of the post for an exclusive giveaway and coupon code!)

WHO SHOULD READ IT
Although this book is largely geared toward bloggers, it could really be used by just about anyone looking to get a good handle on their camera. Aniko dives down deep into the mechanics of nailing the perfect shot, and explains how to shoot in both manual mode and aperture priority. And don't worry if this language is already making your head spin! She explains each piece one by one so that, even if you're a total beginner, you'll walk away with good information and insight into how to shoot just about any situation.
THE TAKEAWAY
As more and more people decide to take up photography for both leisure (Instagram!) and for business (bloggers, wedding photogs, professional stylists, etc.), there's greater demand for information. How can we teach ourselves to operate our DSLR camera without having to shell out tons of money on a semester-long course teaching the subject in depth? Well, this book is going to be key in getting over those first few hurdles in your journey to becoming a self-taught, amazing photographer—and the investment won't break the bank.
NOTE: In case you're looking for more photography resources like this one, be sure to check out Photo Styling 101 from my friend Rachel, of The Crafted Life. This richly inclusive online course goes into photography how-tos, plus how to style your projects and vignettes to perfection. It's a great complement to Aniko's ebook!

FAVORITE ASPECTS OF THE EBOOK
My favorite things about this ebook are the clickable resources and videos. Since I'm admittedly already a couple of years into learning how to operate a camera, I was a little worried that I wouldn't get as much out of the book as, say, a beginner would. But I loved researching Aniko's personal resources page, and am planning some new additions to my camera bag now having seen her haul.
The other great thing is that Aniko offers a full range of Lightroom how-to videos as part of the Master Package of the ebook, which was totally new to me. I use Adobe Camera Raw to edit my photos, but after watching Aniko's Lightroom tutorials, I'm considering a switch. This portion of the ebook was incredibly enlightening to me (pun intended), and I can't wait to put my new ideas into play in the coming months.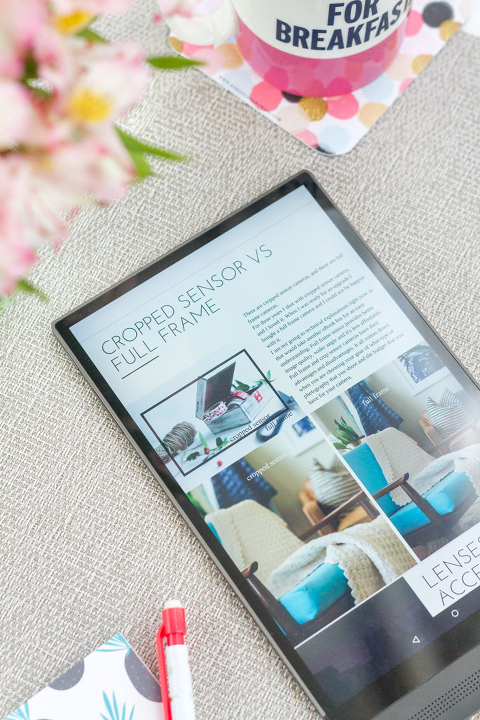 If you've read (or plan to read) the ebook, be sure to leave your own review in the comments! And don't forget to tag us in your social shares and use the hashtag #DGDonmycoffeetable for a chance to be featured.
GIVEAWAY TIME: Enter to win one Master Package of the ebook (a $59 value!) by clicking over to Instagram here. Simply follow Aniko and me on Instagram, and tag a friend in the comments of my photo whom you think would ALSO love this ebook (leave your comment here if you don't have Instagram and I will add you manually)! And in case you just can't wait, use code "DREAMGREENDIY" at check-out to snag $10 off the Master Package, now through 3/3. Good luck!