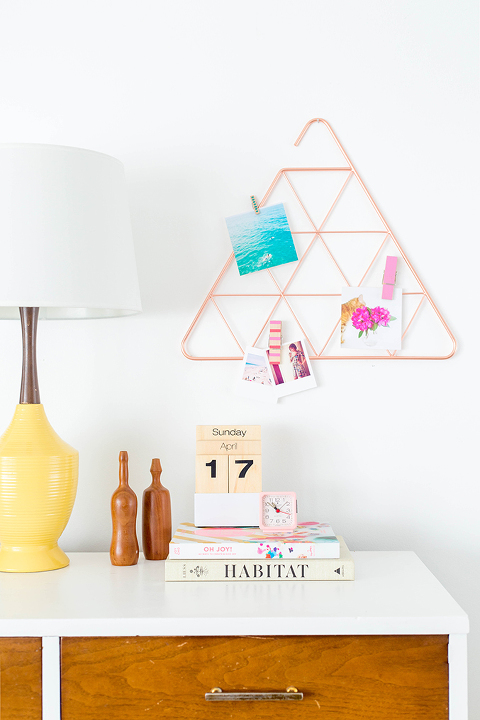 It's pretty easy for me to admit that I am a certifiable impulse purchaser. The only way for me to prevent unnecessary shopping is to literally stay out of stores altogether, and with tax season upon us, I've had to make that promise to myself a steadfast one.
But before we rolled into March, I enjoyed my typical free-for-all shopping routine, and subsequently came across this triangular scarf holder from Bed Bath & Beyond. As soon as I saw the cool copper finish and modern geometric shape, I knew that it had to come home with me. While driving home from the store, it occurred to me just how versatile this little $15 organizer really was, and today I'm sharing three of those alternative use ideas with you!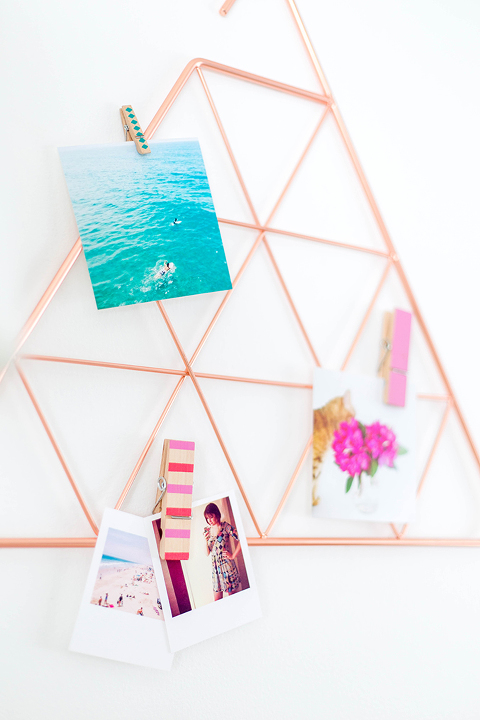 To Display Photos
Of the three display ideas, showing off photos is probably my favorite use for the scarf holder. The metallic finish is neutral enough not to compete with my Polaroid photos and Instagram prints, plus I love keeping those memories front and center. To copy the look, simply print your photos and then clip them right to the bars of the scarf organizer with paperclips or clothespins. This display idea also works for to-do lists and favorite notecards!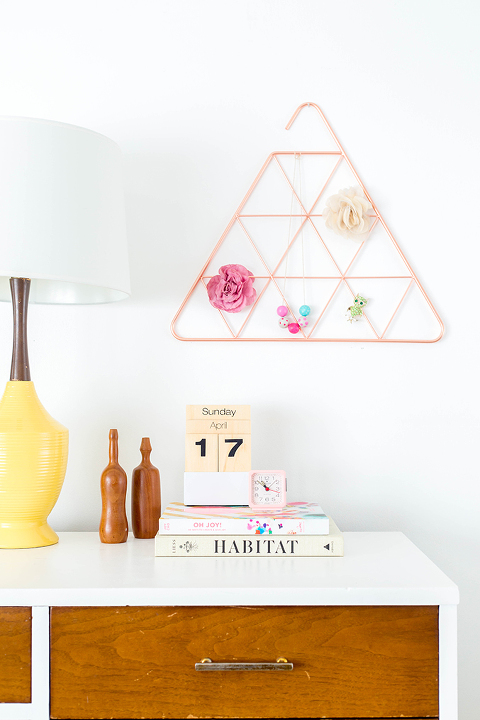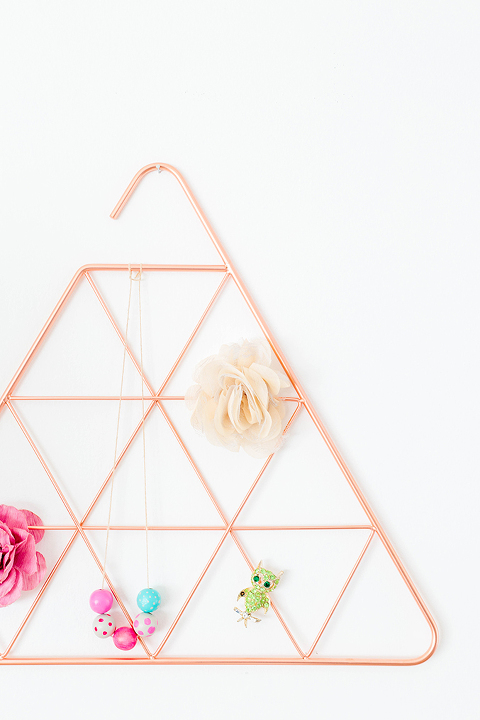 To Organize Pins and Brooches
As a member of the female gender, it's probably not surprising to hear that I have a pretty extensive collection of jewelry. But I also harbor a love for vintage pins and brooches, too. I found that, with the scarf holder, I can display all of my favorites simply by looping or pinning them right to the bars. See another example of the holder as a jewelry organizer, care of my friend Marlene who happens to have the same scarf holder!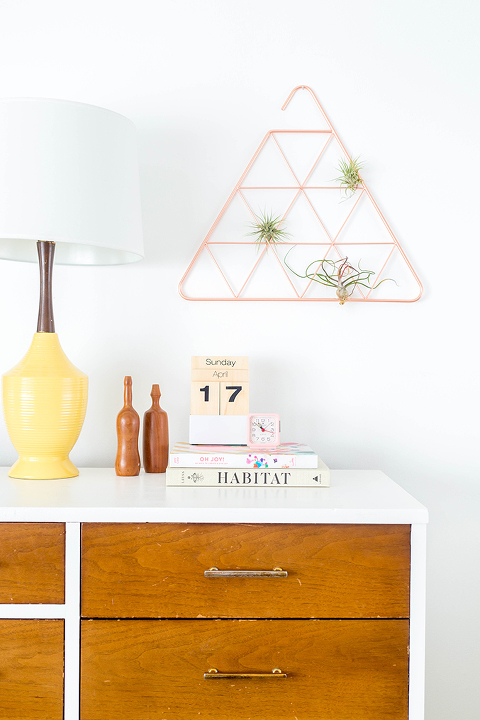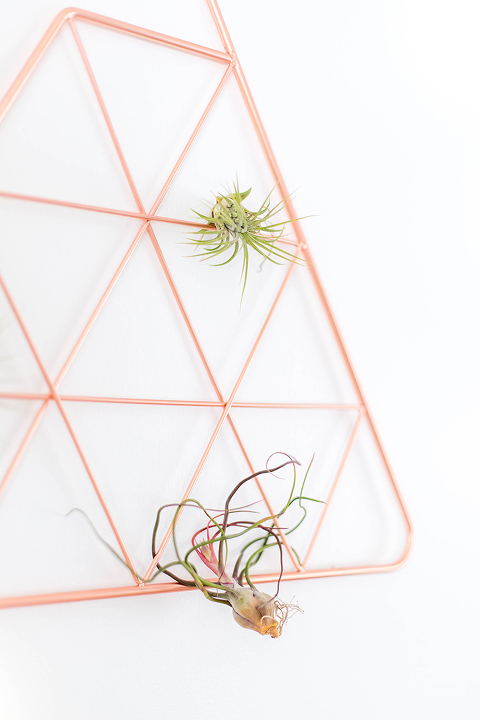 To Hang Air Plants
Although I lack a green thumb of any kind, I'm still desperate to master the art of air plant handling since I've heard that they are supposedly low maintenance. I love the idea of displaying my air plants on the scarf holder simply by looping the leaves behind the bars, or attaching them more permanently with a discrete length of wire. Maybe having them up and out in the open will remind me to water them once in a while…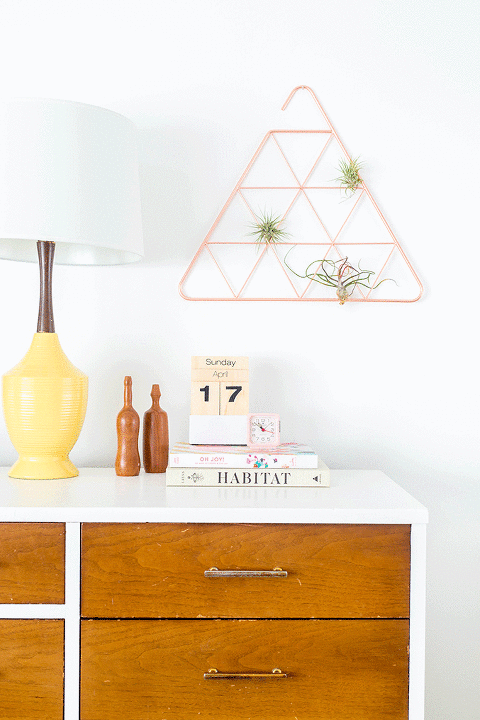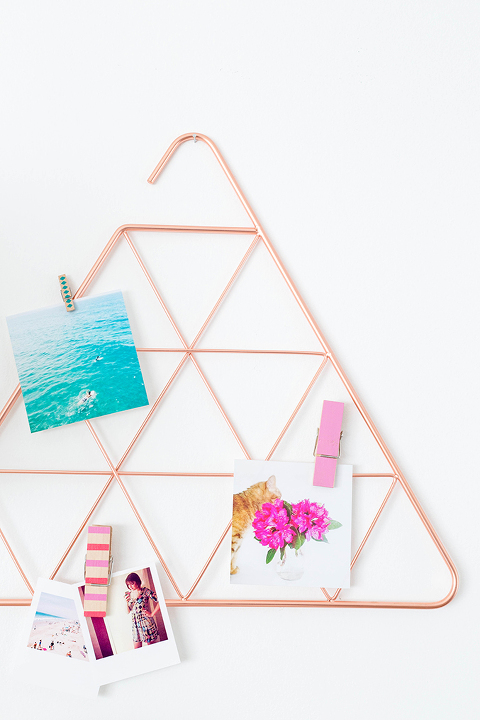 Oh, and don't worry—my desktop calendar intentionally shows the wrong date. Since I can never seem to remember to update it, I just leave it on my favorite date all year long: my birthday! Which of the three ways is your favorite use for this copper triangle scarf holder?