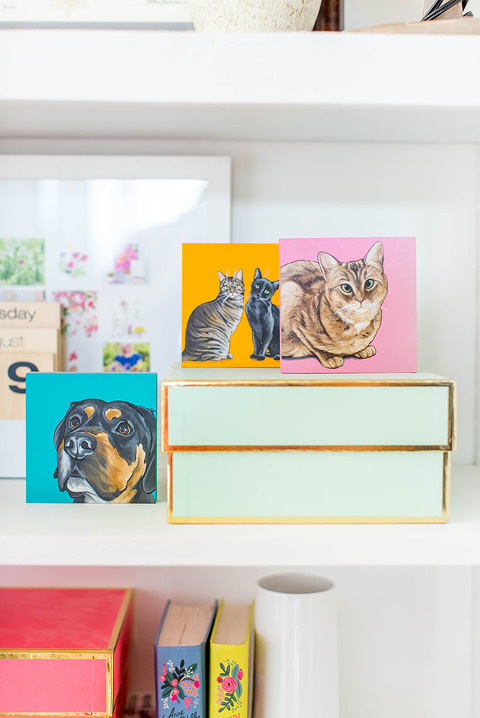 As a "mom" to four adopted pets, it's more than safe to say that I have a special fondness for rescued animals. I think I bring up the hypothetical idea of adopting more dogs and cats with John just about weekly, even though I know full well that our current pack is plenty. I just can't stop thinking about all the sweet, hilarious, and loyal pets out there who are waiting for their forever homes, and I would do just about anything to help them find their way to loving families.
So, when I heard that Petfinder—a website that allows you to find and adopt your next cat, dog, horse, bird, reptile, and so many other breeds—was celebrating their 20th anniversary, my ears immediately perked up! Last month, they launched their #MetOnPetfinder video and, if it reaches a million views by October 24, Petfinder will donate $200,000 to shelter and rescue members through 20 individual $10,000 grants. The video is already over 900,000 views, so we're really close to hitting the mark!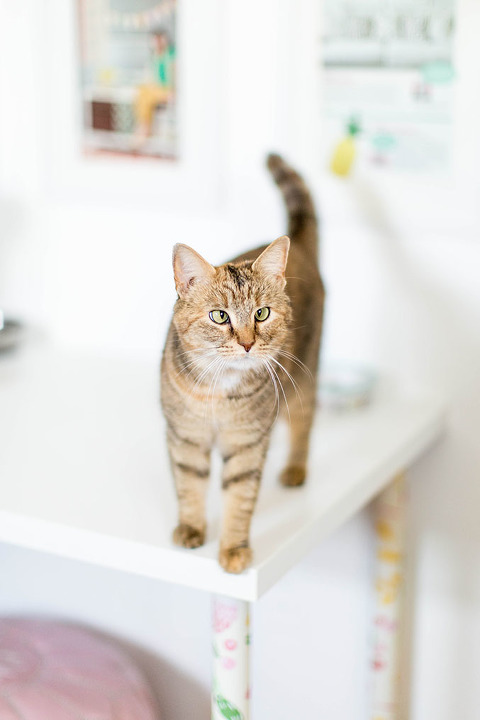 I'm actually typing this from my bed with our dog, Rocky, curled up at my feet and our cat, Tonks, running up and down the hallway with a toy mouse in her mouth. The other two are sleeping the morning away in the guest room. This 4-part group of animals brings 3 million tons of meaning to our lives, and I don't know what I'd do without them.
So, the idea that Petfinder is working to advocate for adoptable pets like ours makes me want to send them a giant bouquet of roses, take their entire team out for a steak dinner, and fly them off to Cancun for a week of much-deserved relaxation!
But since I can't do all of that, today, I wanted to gush just a little bit about the brand, and also share a quick cat hack project that has helped our own pack of cats and dogs live in harmony.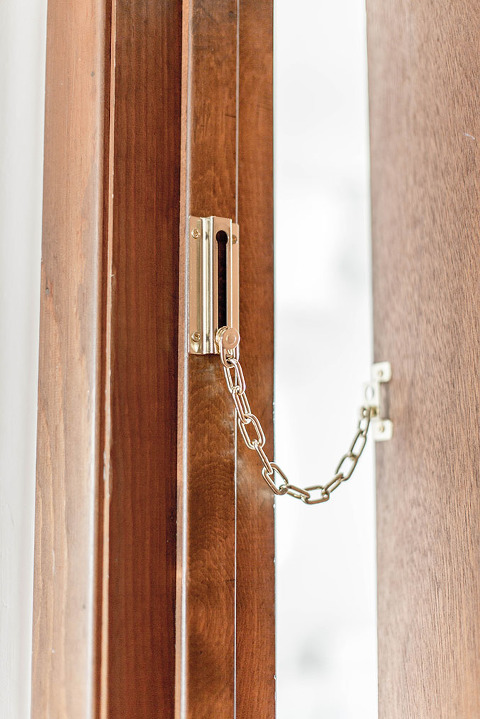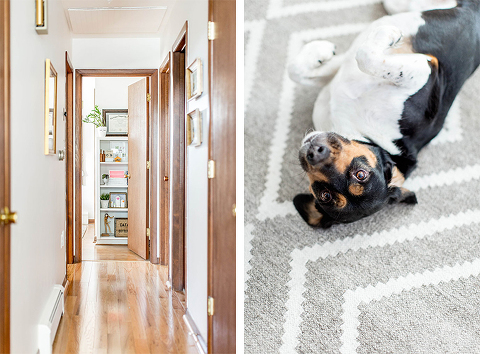 Here was the problem: I kept our three cats' food and water bowls on the floor of my office and their litter boxes in the room's little closet with the sliding doors cracked for easy entry. With everything on the floor and out in the open, Rocky was constantly getting into the food and litter (ew). The solution, of course, was to install a cat door, but since I didn't want to cut a permanent hole in the door, I decided to come up with something different.
The solution? A simple chain lock! I bought an inexpensive brass chain from the hardware store, and attached the piece of slide hardware to the door jamb a little above my eye level, and then screwed the chain end into the door at the same height.
The installation took all of two minutes, and now I can latch the door when we can't supervise and I can unlatch it when I'm working in my office. The chain keeps the door closed just enough so that Rocky can't get in, but the cats are able to nose their way in (or gently paw their way out) whenever they need to—Luna demonstrates the action in a quick .GIF below.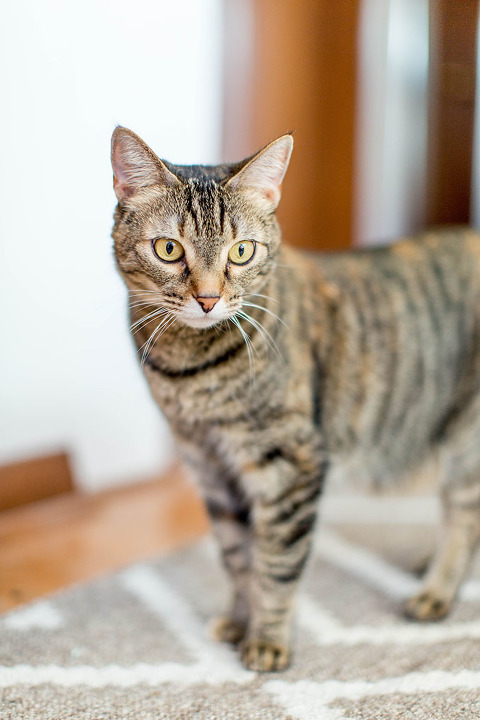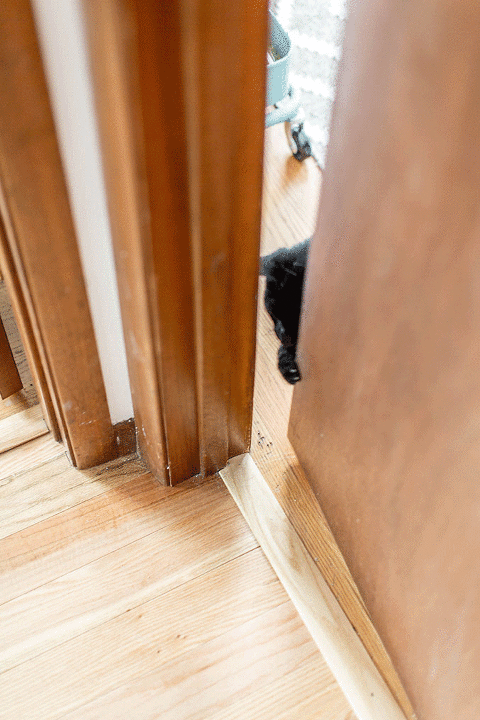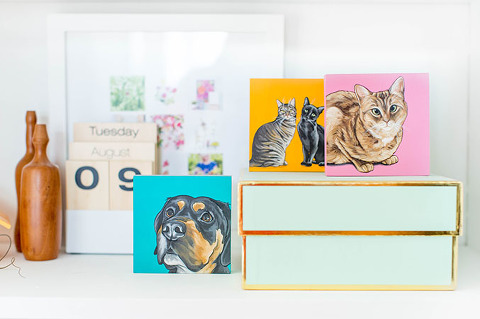 This DIY cat door is a simple solution for those of you who don't want to permanently alter your interior doors or if you live in a rental and aren't allowed to make any big modifications. To uninstall the chain lock, all you have to do is unscrew the hardware and fill the tiny holes with a patch compound or wood filler! Our pets are living in much better harmony now, and I can relax knowing that our pup isn't getting into anything that he shouldn't.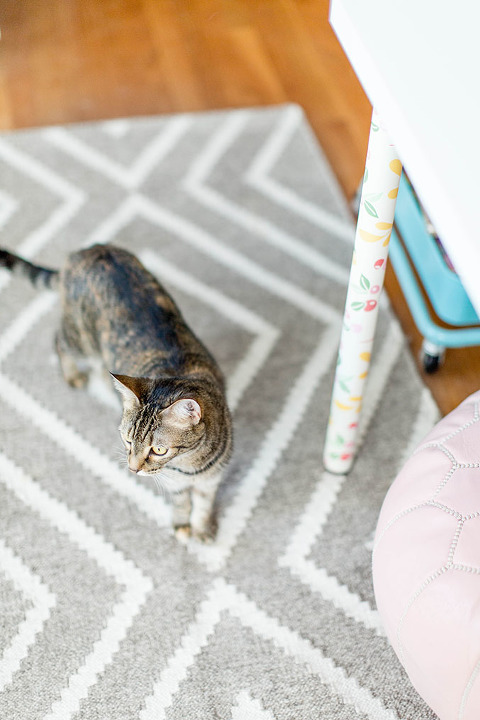 Petfinder and I believe that all adoptable pets can find the right forever home (DIY cat doors and all), and in case you feel the same way, we'd love for you to help spread the word! Hop over the video now and share it with your own friends and family with the hashtag #MetOnPetfinder so that we can get to that one million views mark!
Each click through and view is one step closer to allowing the 20 chosen shelter and rescue members to transform the lives of the adoptable pets who are in their care. If you're like me and can't actually adopt a pet today, this is our own little way of giving back—who's with me?!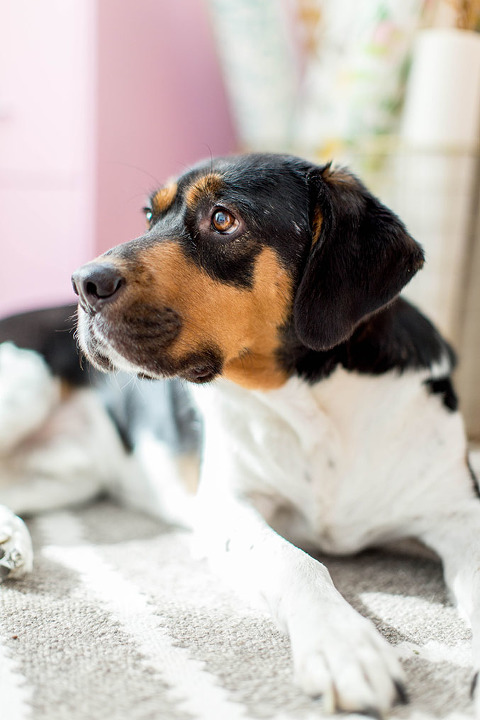 P.S. The colorful custom pet portraits that you see pictured in this post came from The Pet Shop—order your own here!