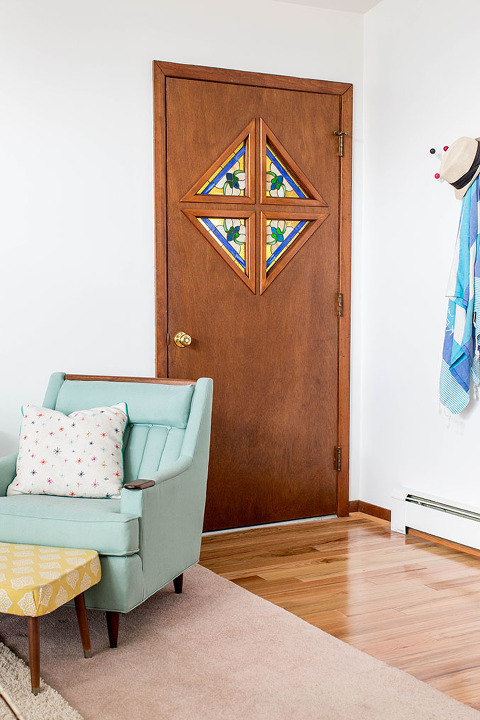 You guys know I'm all for a fun decorating project that gives me an excuse to shop for new and vintage accents, textiles, and (and on the very best of occasions) furniture. There's just something so thrilling about carefully choosing my items and layering them in a space to transform it into something completely new.
The same, unfortunately, can't be said for my attitude towards home maintenance projects. Things like replacing dated light fixtures or spackling and repainting a wall tend to wither away on my to-do list for months at a time because I have trouble mustering the energy to face what I consider to be pretty boring and arduous tasks.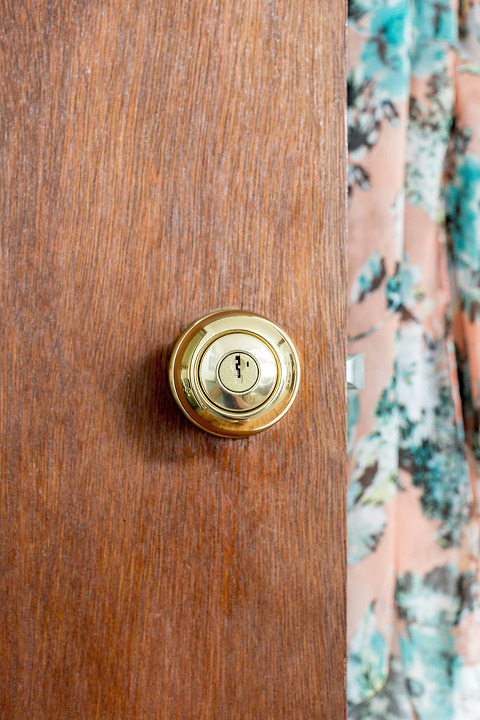 Take, for example, our exterior side door knobs. Many of you will probably cringe to hear it, but I never got around to changing the locks on our house after we moved in last October. So, we've been living in a house that an entire family of strangers probably could have easily gotten into! Thankfully, the previous homeowners seem like incredibly respectable and sweet people, but I still mentally kick myself for putting this necessary task off for 12 months. Having the locks changed—or better still, replacing the dated door knobs entirely—just wasn't high on my list of priorities because I figured the task would take hours.
But then the team behind Kwikset challenged me to take care of the project once and for all one Saturday afternoon, and I found out that replacing a door knob is neither time-consuming nor stressful. Read on to learn how to knock this line item off your own to-do list in under 10 minutes per knob!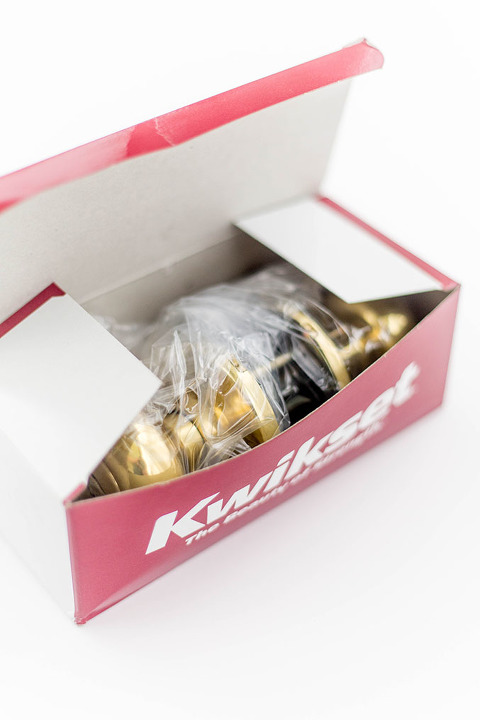 After browsing the inventory of knobs offered by Kwikset, we ultimately chose two of their Cove Entry Knobs—one for the side door leading from our carport, and another for the opposite side entry from the sunporch.
The pretty (but heavy-duty) brass knobs sport Kwikset's cool SmartKey® Re-key technology, which allows homeowners to re-key the lock to work with a new keycut themselves in seconds. We, of course, just used the keys that came with our knobs, but it's nice to know that we won't have to worry about calling in a pro to change the locks on our house if someone loses or misplaces a key, because we can do it ourselves! So smart.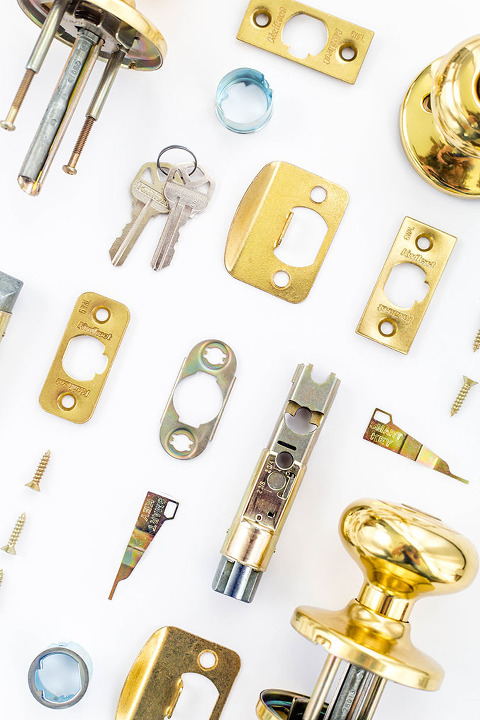 The 10-minute door knob replacement project starts like this. Lay out all of the parts that came in the box with your door knob on a flat work surface for easy retrieval. Open the paper instructions, and follow the step-by-step guide. Since all doors are different, I won't be able to walk you through the exact process for your particular knob replacement, but generally you'll move on from there by using an offset screwdriver and power drill driver to dismantle and remove the old door knob.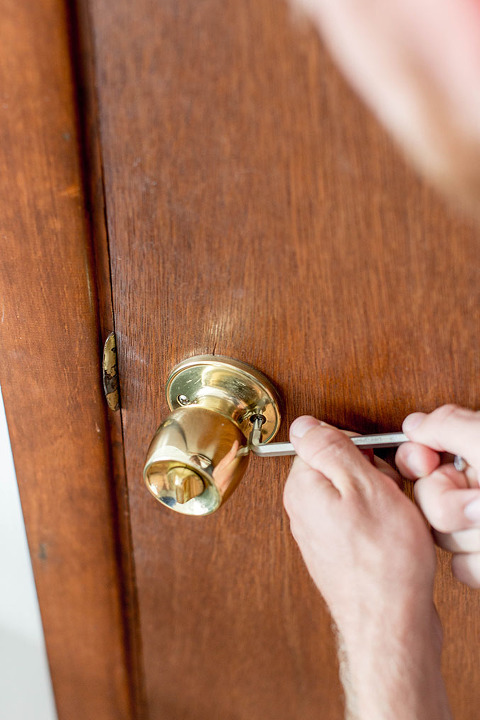 Set the old doorknob parts on a paper towel or piece of scrap cardboard if you can't reach the trash can right away since the parts will likely have years of sticky grease all over them that could stain your carpet or furniture if you lay them there.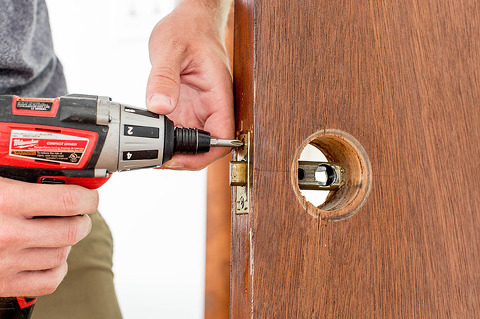 After removing and discarding the old knob, turn to the parts you previously laid out from your new knob's box, and follow the instructions when choosing your first parts to install.
The diagram of parts that you see below might seem a little intimidating, but, first of all, it's double the amount you'll need for one door since we re-knobbed two doors. Kwikset also gives you two different strike plate options depending on the door jam. Whatever we didn't use went into a plastic baggie labeled "Side Door Knobs" that we tucked away in our hardware box for future use in case we ever need them.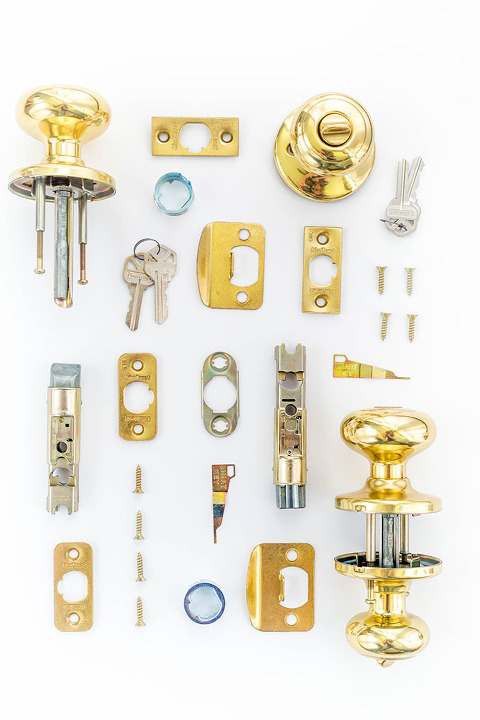 Ten minutes later, we had our new side door hardware replaced and ready to go, and our second door—the one leading into the carport—was actually done in half the time since we had the system down pat and our tools and parts all out and ready.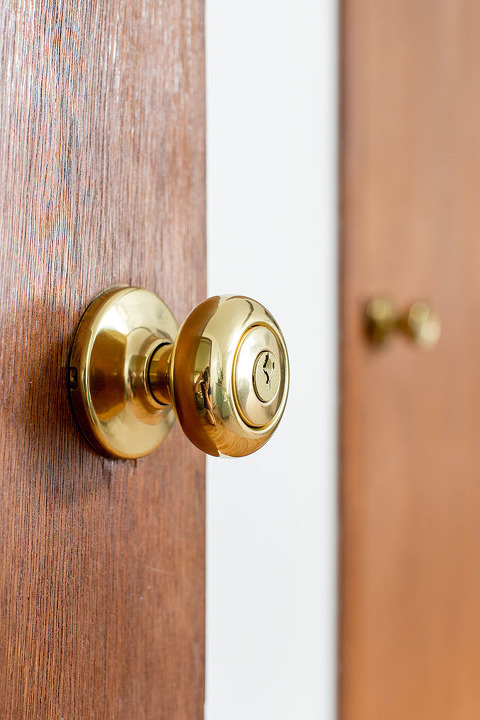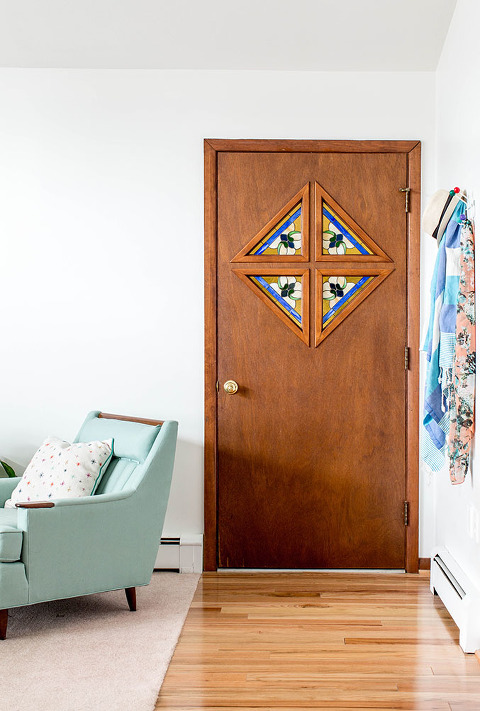 Now that it's done, I'm positively flabbergasted that I put this project off for so long since it took no more than 15 minutes one Saturday afternoon to complete. Our home seems much more secure now that we have our new Kwikset knobs in place, and they look pretty spiffy, too, thanks to that polished brass finish.
What home maintenance projects have you been putting off? Have you been delaying a knob switch of your own? If so, consider this your challenge to take care of the project once and for all this weekend because I think you'll be just as surprised by how quick and simple the process really can be.