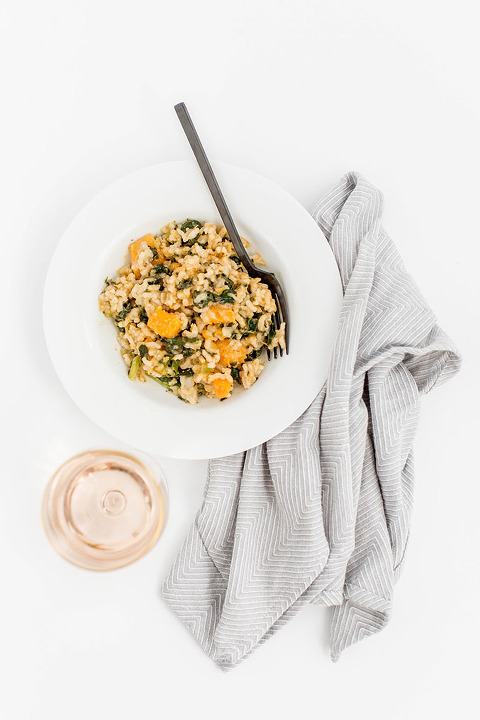 There is really so much that I love about this time of year, but one of my all-time favorite things is the food. I can't get enough of those extra savory dishes and the warm, cozy flavors of fall. From pumpkin and cinnamon, to flaky pot pie crust, there's just so much to look forward to at dinner time this season.
I've probably mentioned it before but John is actually the main cook in our kitchen. He recently served up a version of this Butternut Squash Kale Risotto that he adapted from Naive Cook Cooks, and I asked him to share his slightly altered recipe here on the blog this morning because it was too good not to share with the world. Since I'm eating meat again (surprise, surprise, my vegetarianism only lasted five months), we decided to add chicken to give it a little more heft, and John also jazzed up the spices a bit in honor of fall. Scroll on for more photos and the full recipe.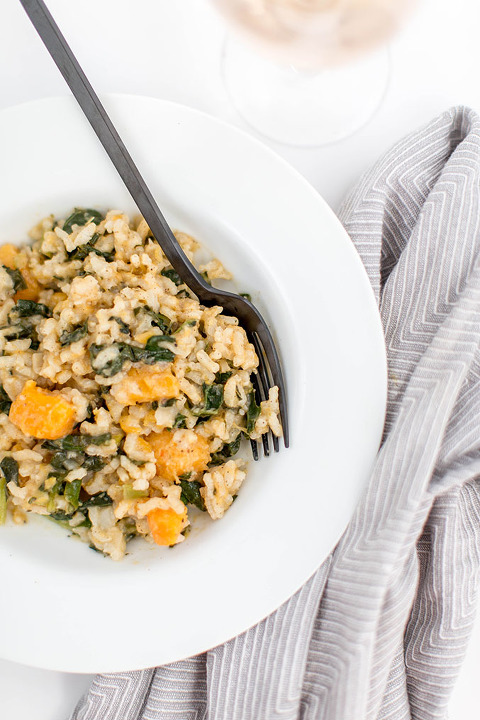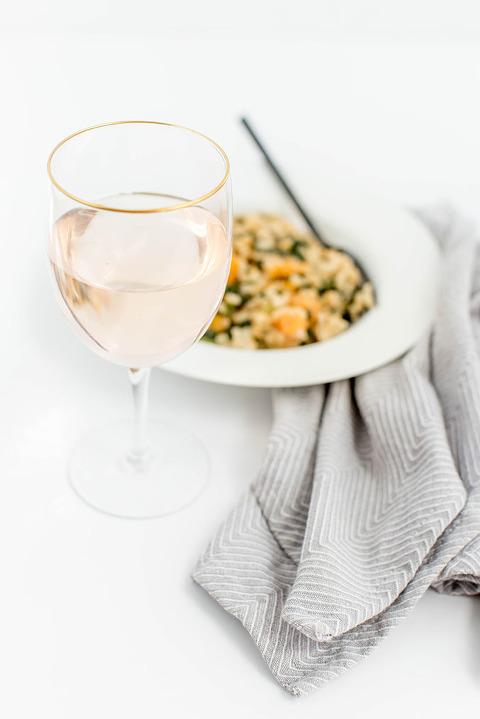 Chicken Risotto With Kale & Butternut Squash
INGREDIENTS:
1.5 lbs chicken breast
2-3 cups butternut squash, chopped
1 tbsp extra virgin olive oil
1 cup kale, finely chopped
4 garlic cloves, minced
1 cup arborio rice
½ cup onion, chopped
¾ cup white wine
3-4 cups chicken stock
2 tbsp butter, divided in half
1 tsp thyme
1 tsp cinnamon
1 tsp cumin
1 tsp chili powder
Salt & pepper to taste
½ cup shredded Parmesan cheese
DIRECTIONS:
Cut the chicken breast into bite-size pieces, and brown in a dutch oven over medium-high heat. Remove to a plate using tongs and set aside.
Warm the chicken stock in a separate pot on a separate burner. Keep hot.
In a medium pan, add butternut squash, salt, pepper, cinnamon, cumin, chili powder, and 1 tbsp of the butter. Cook until the butternut squash is caramelised. Transfer to a plate.
Add olive oil to the dutch oven and turn the heat back on to medium heat. Once warm, add garlic and onion and saute for 3 minutes.
Add rice and stir. Pour in the wine and cook, stirring continously until absorbed.
Pour the warm chicken stock over the rice a ½-cup portion at a time, stirring continuously until the liquid is absorbed before adding another ½ cup of stock. John used roughly 4 cups of chicken stock before the rice was al dente.
Once the rice is cooked, add salt, pepper, thyme, and the rest of the butter. Mix together.
Add the kale and cooked chicken and butternut squash to the rice, and stir to combine. Cook on low for a minute or two to heat the chicken and butternut squash back up.
Taste to adjust seasonings. Spoon into individual bowls, and top with Parmesan cheese to serve.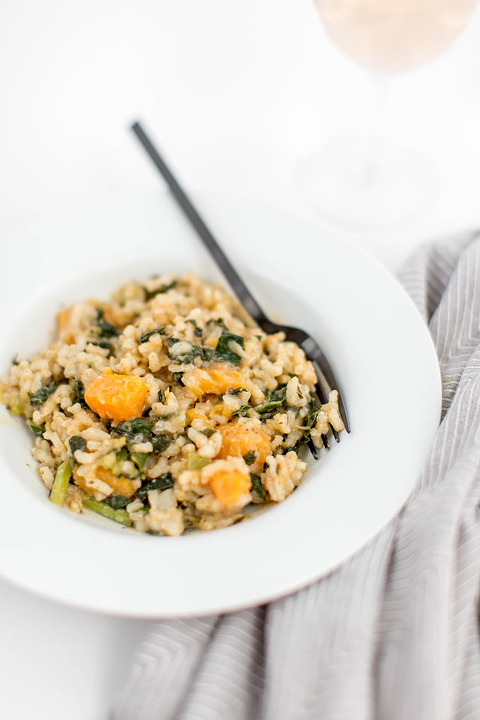 John noted that the butternut squash seemed to soften up to perfection in step eight when added to the rice—absorbing the wine and chicken stock at the end really brought the squash to life. We served our bowls of Chicken Risotto with crusty bread and white wine, and it was probably the best meal we've ever had together—no joke. This one is a must-try this fall, and big thanks to the Naive Cook Cooks for providing such scrumptious inspiration!