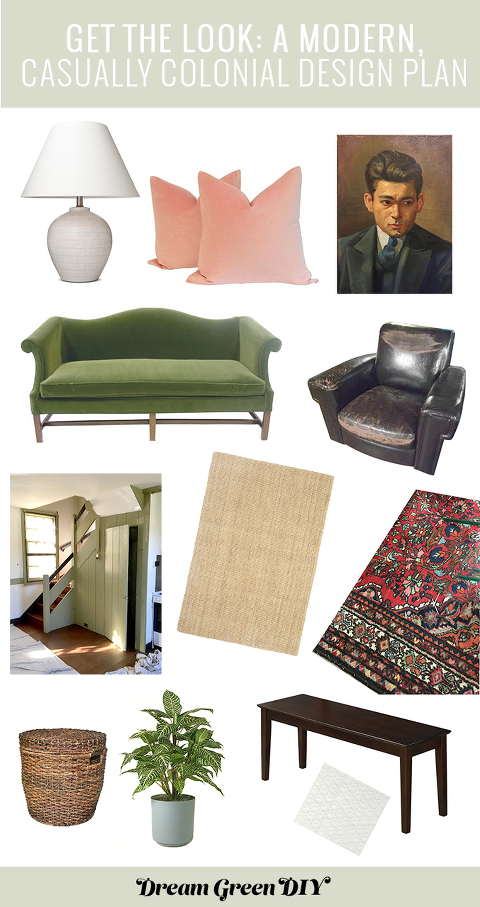 For whatever reason, I've noticed that the mid-century aesthetic has been touted as "losing its fire" as of late. I've caught headlines online that ask things like, "When Will The Mid-Century Trend Die?" and it honestly breaks my heart a little. How could anyone want to see such a beautiful, artistic style go away?! The good news is that I don't think we can even consider mid-century design a "trend." The tell tale ultra sleek, utilitarian look is so much a part of history that it's more an established era than a passing fad, so I'm going to try a little harder not to give into the idea that mid-century might "die" any time soon.
That said, I have noticed myself feeling drawn to other design eras recently. Maybe it's because my favorite blogger and interior designer, Emily Henderson, just pulled a 180 on me and is now going in a more traditional direction, but I've felt myself opening up to other styles and silhouettes. Namely, classic colonial.
In case you didn't know, my little sister works for the development department at nearby Colonial Williamsburg here in Virginia, and over the weekend my dad and I moved her into a new home right in the heart of this restored 1700s campus. As an employee of CW, she has the ability to apply for residence within the historic area, and so far she's lived in two temporary under-200-square-foot cottages. This weekend though marked her third (and likely final) move into a more permanent rental. I'll be sharing lots more about her new space—and about Colonial Williamsburg in general—next Friday, but for now I wanted to chat about the design plans I helped her put into place ahead of her move.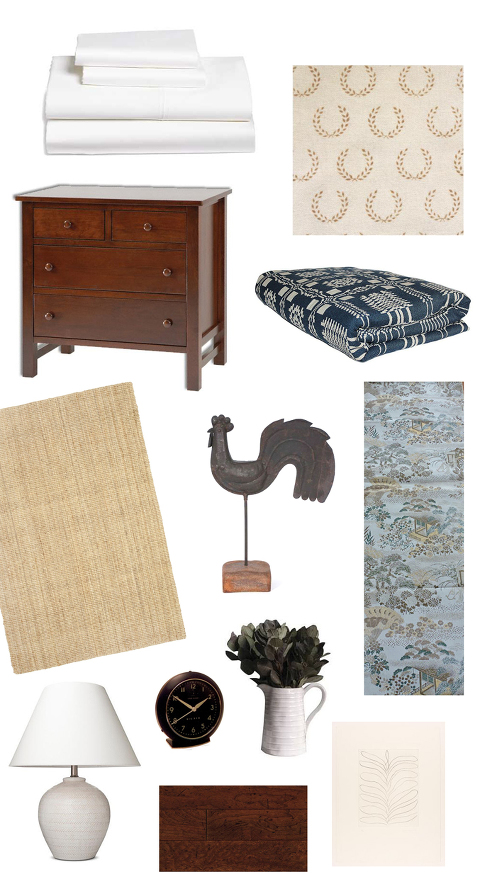 I should mention right off the bat that my sister is a devout minimalist and only purchases pieces for her home that she knows she'll love for the long haul. With such a particular aesthetic in mind, we spent hours and hours coming up with a design plan for her new living room and upstairs bedroom, and these mood boards above show the ultimate direction. We pulled all sorts of images off the web to illustrate her love for traditional design with a few modern elements thrown in for balance, and the results perfectly suit her needs. I love that we were able to include a few photos of real-life secondhand pieces that she's collected over the years, too—that portrait, leather chair, and oriental rug being favorites—to really help establish the design plan.
That small photo of the stairwell is a peek inside her home during repainting, and it's just such a quaint, charming space. I really can't wait to share more next week, but you'll just have to stay tuned. So, what do you think of my sister's design plan? I may be biased but think that it feels fresh while still being respectful of the home's 1700s roots. I love every square inch, and can't wait to make new memories with her in her new space.
P.S. I know this is a little off brand, but my friend Liz Cook Photography and her business partner Emily Gerald Photography have been working for months on a huge project, and they finally launched it yesterday! Every Birth Photographer is a website full of business resources and templates designed specifically with birth photographers in mind. I'm so excited for them and I'd love for you to check them out and cheer them on here!