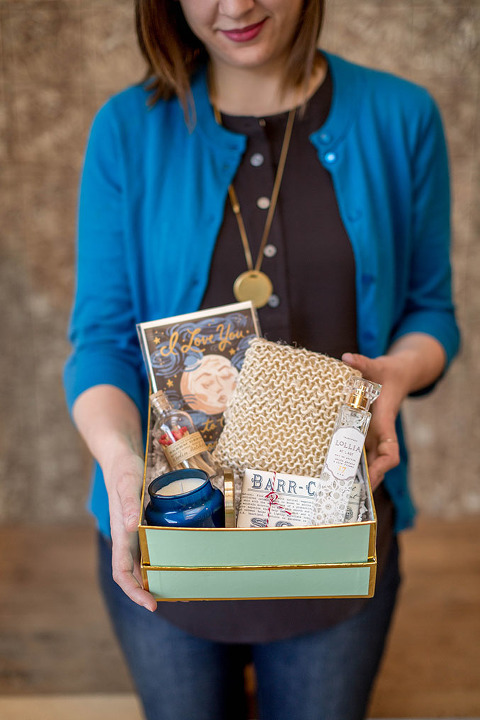 With February already here and Valentine's Day just two (ish) weeks away, I realized that it's time to get my butt in gear. I tend to keep things understated around this particular holiday, and this year will be no different, but I still wanted to offer a handful of tips to those of you who are planning to go big this lovey dovey gifting season (or just in case you need a tutorial to email over to your significant other!).
In order to bring this story to life, I asked my pal Bethany Mallory to join me at our local Anthropologie store in nearby Charlottesville, Virginia, for a day of girlie shopping. The two of us wondered the shelves to come up with the perfect Valentine's Day gift box, and we ended up walking away with a few shopping tricks to share, too. Read on for the scoop, plus a list of all the items you see pictured above in case you wouldn't mind unwrapping this exact gift box on Valentine's Day.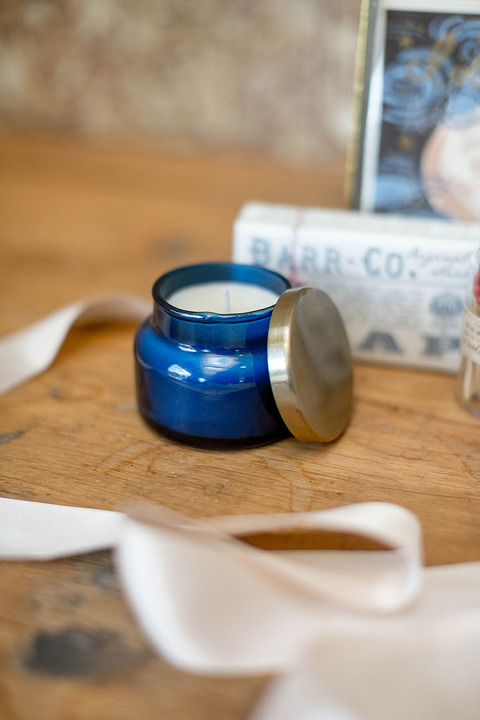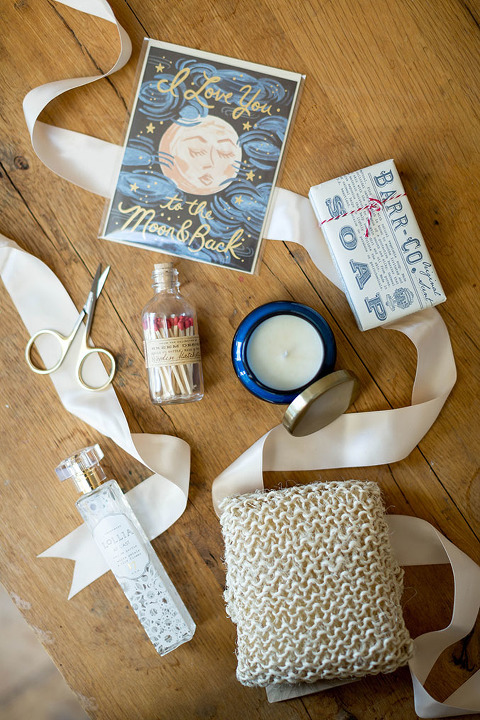 A Valentine's Day Gift Box In 3 Steps:
Start with a color palette: Although Valentine's Day is traditionally all about pink, don't feel like the gift itself needs to be pink! Try this: decide on your first gift item, and then pull a color or two from that to dictate your box's color scheme. For example, I picked up the card first, so I went with a blue, blush, and gold theme for my box to ensure that everything matched. Having a palette will limit the options in-store, which will ultimately get you in and out quickly.
Choose a theme: Another way to limit the options and avoid feeling overwhelmed is to decide on a specific theme for your gift box. A "Cozy Kitchen" themed box could include a set of measuring spoons, two mugs, and a box of hot cocoa, while a "Spa Day" box (like you see pictured in this post) could include things like a candle, matches, soap, and a scrubber.
Put thought into the box: I hate to say it because I'm more of a no-fuss gal myself, but generally, a gift can quickly go from "thoughtful" to "tacky" simply by cheaping out on the packaging. Rather than tossing everything into a paper or plastic grocery bag (which my sweet husband has definitely done), place your gifts into a sturdy gift box. These types of containers often cost just a few dollars, and when filled with your items of choice and inexpensive paper filler, your Valentine will be utterly wowed come February 14. Even if you just buy her some nice perfume, a nice gift box could seal the deal.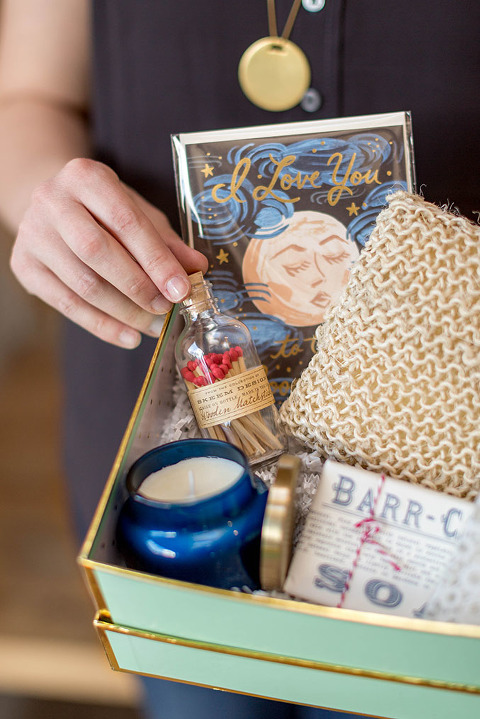 Shop The Box: To The Moon & Back Card, Barr-Co. Bar Soap, Baudelaire Sisal Body Scrubber, Capri Blue Jar Candle, Lollia Eau De Parfum, Skeem Mini Apothecary Matches
Locally-owned Charlottesville Shops To Discover For Great Gifts: Darling Boutique, Rock Paper Scissors, Eloise, Roxy Daisy, Duo, Circa, The Yellow Button, Bittersweet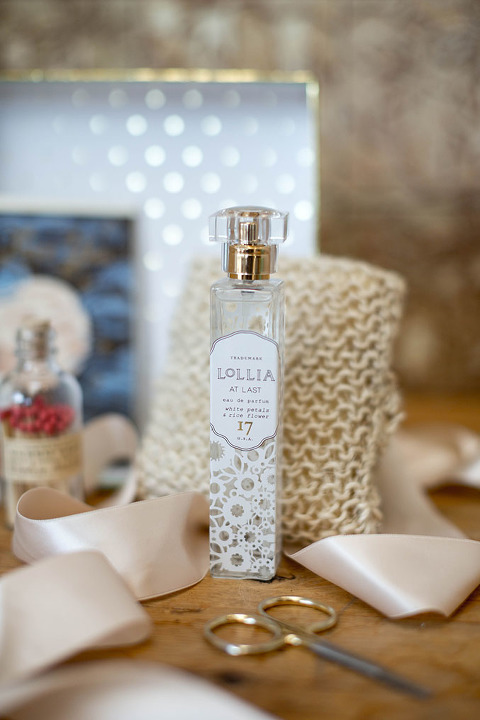 So tell me: what's on your Valentine's Day wish list? Or are you keeping things super simple this year? No matter what, I'd love for you to leave your own gift box ideas in the comments below.
As for us, John and I are actually in the midst of investing in new vehicles, so we're feeling extra budget-conscious this year. As in, we likely will just buy each other cards and have a picnic on the living room floor surrounded by our pets this holiday. But that doesn't mean it will be any less special, and hopefully next year we can go all out!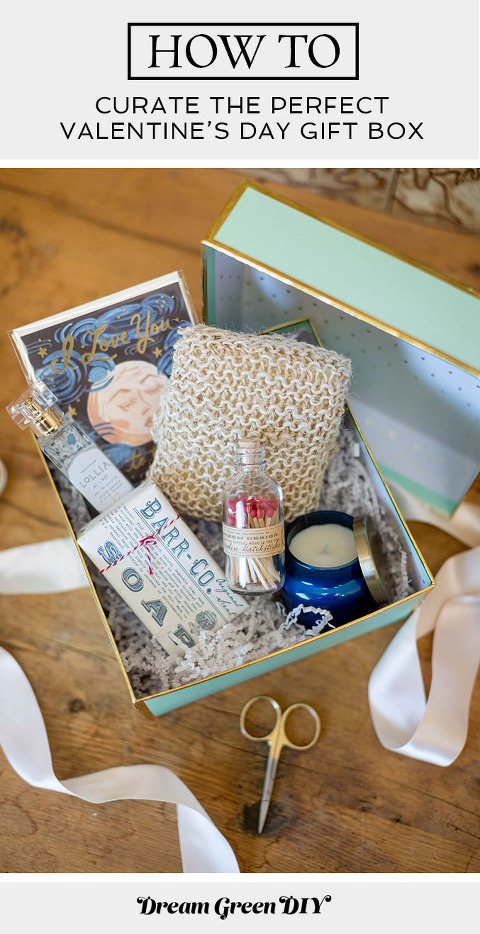 Editor's Note: Although all of the pretty pieces you see above hail from Anthropologie, this post isn't sponsored in any way, shape, or form. I'm just a big fan of the brand and wanted to virtually share the goods with all of you.