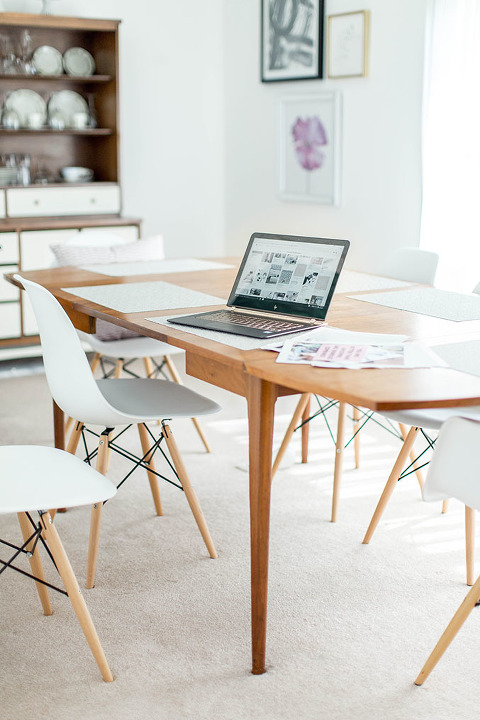 One of the fastest day-killers in my line of work (and probably yours, too) are emails. I get hundreds of messages a day from teammates, PR companies, editors, robots, and readers. Most of these I love to get and respond to (at the top of the list are messages from you guys!), but other types of emails have the tendency to waste a lot of valuable time.
In order to help streamline the process, I've worked a number of different processes into the way I manage my email responses. From filing and unsubscribing, to custom replies set up ahead of time, these five tricks below all help me get to "Inbox Zero" by the end of almost every single day, and ultimately keep my stress level under control, too. Read on for details!
How To Get To "Inbox Zero" Every Day
Set up canned responses: I have a huge collection of pre-drafted responses set up in my Gmail account that allow me to decline offers, explain my sponsored post rates and policies, and even pitch a new partnership within a matter of seconds. Long 3-4 paragraph emails can be drafted, personalized, and sent literally in the time it takes me to enjoy one sip of coffee. Canned responses in Gmail allow me to hustle through tedious email responses faster than ever before. Let me know if you'd like a separate blog post about how to set these up for yourself!
Create a digital filing system: I treat my inbox like a to-do list. As soon as I finish a task or respond to an email, I move it over to its respective labeled folder. I have folders for sponsored partnerships, reader questions, events, taxes, bills, and many more. Using canned responses to get those emails out faster and then filing things away helps keep my inbox clear and controlled throughout the day. If you take nothing else away from this post, these first two tips are the big ones!
Just delete it: If you can tell that a person drafted an email and then just changed your name in the salutation (or, worse, if they get your name wrong), just delete it. If you're a blogger, you're probably very familiar with these types of messages. They're typically from PR reps who send out massive releases to brands and content creators, and little if any of the message is changed from recipient to recipient. If not a lot of effort was put into sending me a personal message, than I often don't put a ton of effort into responding. Most of the time I just delete these. Of course, there are exceptions, and (don't get me wrong) I love to connect with creative brands and PR reps, but that's not always the case, and you can usually tell whether or not an email deserves a personal response. My assumption? The person will follow up if it really is a personalized message worthy of a closer look!
Add a disclaimer: Over a year ago, I decided that enough was enough and I needed to shut my computer and email down after 5pm. So, I added a quick one-line disclaimer to my email signature: "Please note that my office hours are from 9:00 a.m. to 5:00 p.m. EST. To keep up with my challenge to be more productive and intentional this season, click through to Glitter Guide here!" This goes out to every single person I email so that everyone is aware of my email habits. The cool thing is that, ever since adding the disclaimer, I've noticed I get far less emails after 5pm! This is another one of those couldn't-be-easier tricks, that takes just a moment to set up but goes a long way toward minimizing unnecessary emails.
Hit "Unsubscribe": You can try signing up for a service to help you automatically get rid of spammy email subscriptions, or you can do what I do and simply hit "Unsubscribe." I do this manually whenever I notice that I've gotten a message or alert that I no longer need (or never even signed up for). If you're diligent about unsubscribing, you should notice that getting to "Inbox Zero" is a lot easier each day.
Do you have any other tips and tricks to share? How do you get to "Inbox Zero" every day? I'd love for you to leave your suggestions (and questions!) in the comments below so that we can all learn from each other.