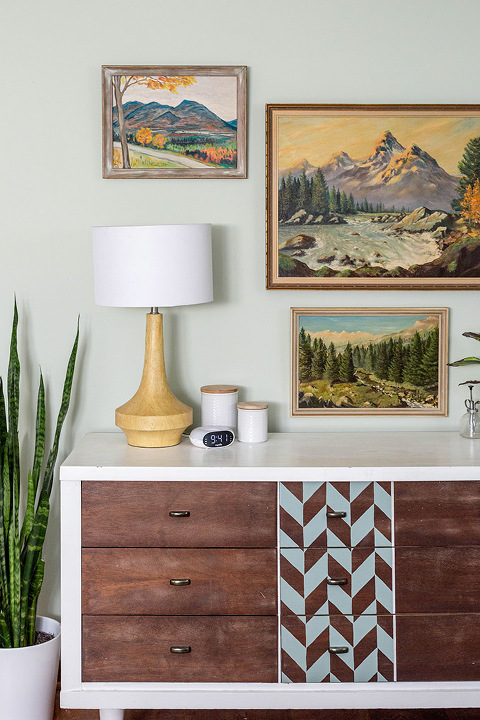 You know what's sad? I'm so ram-rod focused on styling perfection, that I just got lost in a rabbit hole of hunting for the perfect "mid-century digital clock" to replace the cheap Target one you see pictured above. It's embarrassing how desperate I get to replace things that are perfectly functional yet imperfectly designed. I just thought I'd let you know that I'm feeling a little obsessive and psychotic this morning, and anything but pulled together in case you thought that was the case.
Anyway, I digress. The point of this post isn't to fixate on silly styling obsessions. It's about celebrating our new-to-us collection of vintage landscape paintings! As an editor at Glitter Guide one of my main roles is to coordinate and produce our weekly home tour content. I love, love, love this part of my job because I have the chance to connect with designers whom I admire from afar, and I get to learn all sorts of new tips and tricks throughout the process of interviewing them.
Case in point, our upcoming home tour with MM Vintage shop owner, Molly Mathias. The moment I brought up the photos she submitted for her tour, I was smitten. Her home is filled, top to bottom, with gorgeous mid-century finds (think: woven wall hangings, danish wood dressers, cool ceramics, paintings, etc.). I fell particularly hard for a set of vintage landscape watercolors that she had displayed over a credenza in her home, and I remember thinking, "I could totally do that!" Literally one week later, I had crossed the to-do off my list, and I thought I'd let you in on the tale.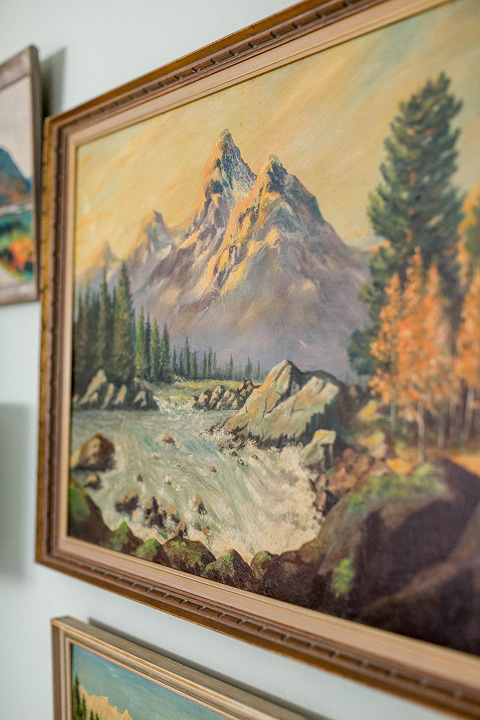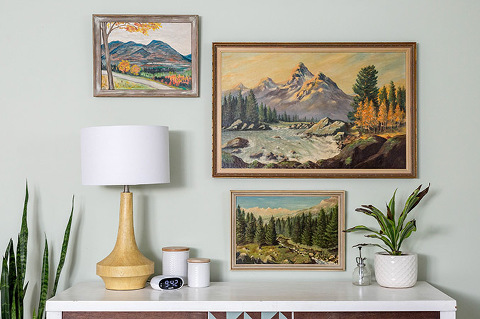 The two framed pieces you see off to the right-hand side of our newly-hung gallery wall came from my favorite antique mall in Williamsburg, Virginia. The second one in the upper left-hand corner came from another vintage shop in Richmond, which, unfortunately, I've forgotten the name of. All three feel cohesive, though, because of the warm earth tones, and the mountain-scape subject matter. Since we live in a particularly hilly region of Virginia, the set really speaks to my love for this area that we call home.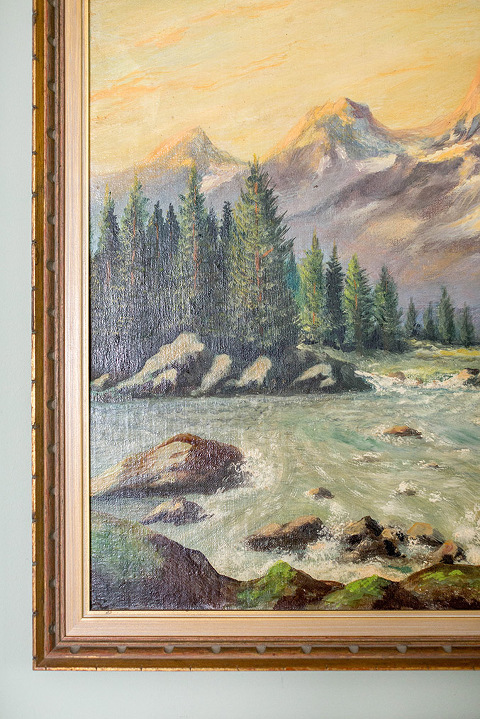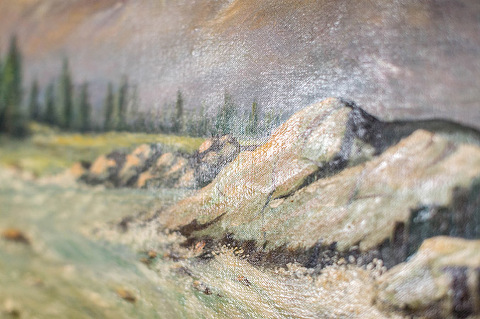 In case you're curious to know how much this collection cost, the pair from Williamsburg was about $150 total, whereas the little one from Richmond clocked in at around $40. Certainly not nothing, but the original, 1960's dated paintings felt worth the investment to me.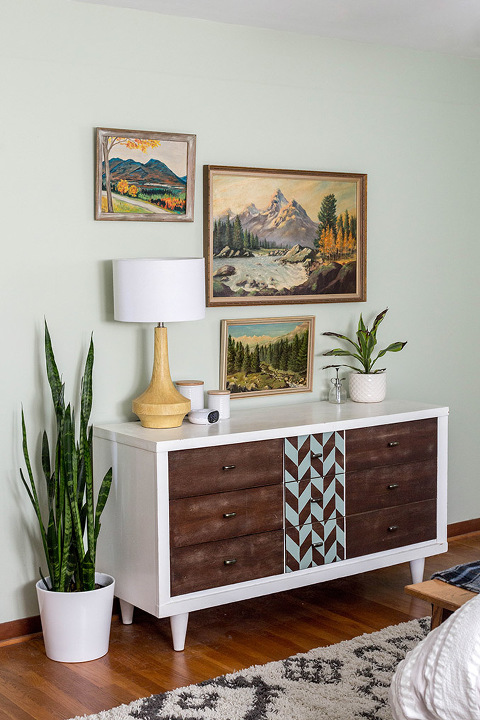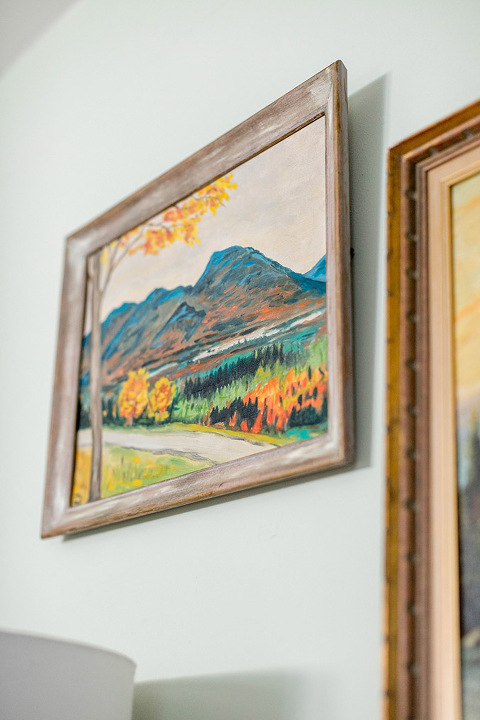 Purchasing art is such a subjective thing, so I can't really tell you what a good deal is and what a bad deal will run you. But, here's a tip, though! If you spot a piece of art that you love, try imagining in your mind how much you'd be willing to pay for it. Then check the price tag. If it's not more than $10 over your estimate, I would say it's worth seriously considering purchasing the piece of art.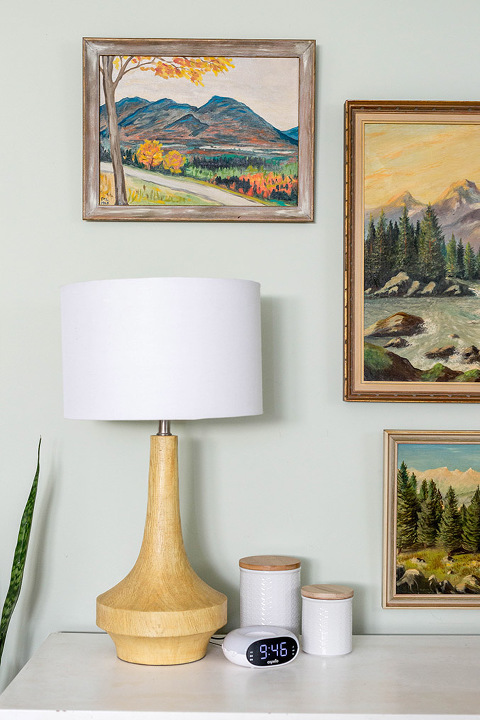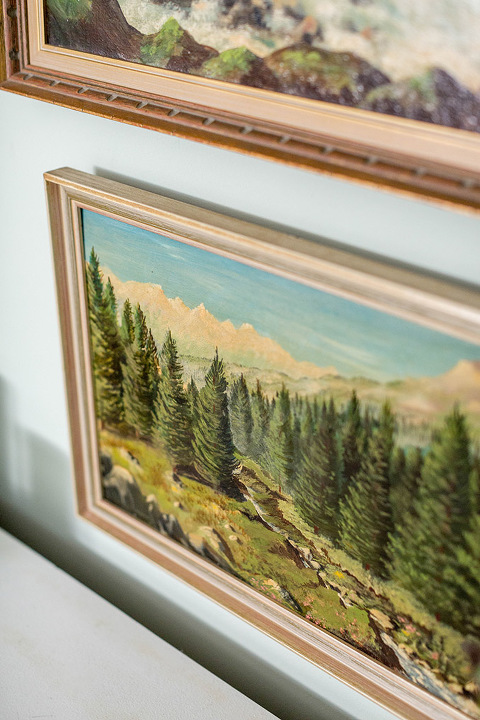 The moral of the story? Don't waste those interior design inspiration images that are just sitting in your digital collection (think: Pinterest, screenshots on your phone, saved Instagram images). Instead, why not pause, take a closer look, and find something that you can do in your own home to recreate the vibe.
I love that Molly's beautiful home (which goes live on Glitter Guide next week) could literally manifest itself in our own space, so consider this a challenge to follow suit with a dream room or home that inspires you!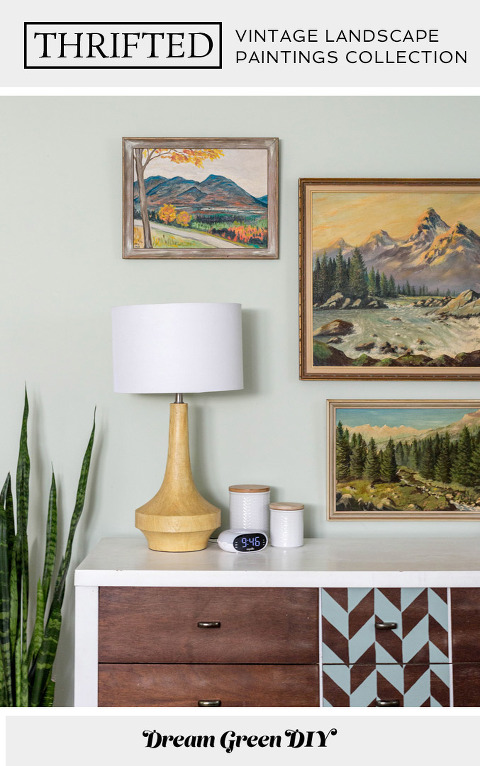 P.S. Have you voted for our space in this year's Design Dash hosted by La-Z-Boy yet?! See the room I made over with my Glitter Guide teammate, Caitlin Kruse, here. Each vote enters you for a chance to win $15,000 to put towards a room of your OWN, so don't wait!