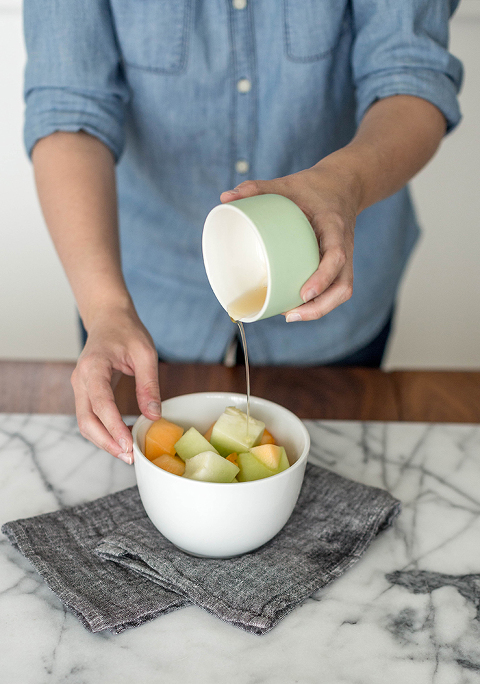 I don't entertain all that often, so on the rare occasion that I do host a group of people, I like to keep things simple. First of all, I cut down on tabletop styling time and effort by having a collection of neutral party supplies stored at-the-ready in our china hutch. Things like linen napkins (even mismatched napkins work as long as they are neutral colors!), white serving dishes in all shapes and sizes, and pretty coordinating vases that I can fill with clippings from the yard for a last-minute free centerpiece.
The second thing I do to keep things simple when entertaining is having an arsenal of super easy recipes on hand that I can make in a matter of minutes to feed a crowd. Today's recipe for a 5-minute fruit salad honey drizzle is my new favorite, especially now that summer is almost upon us.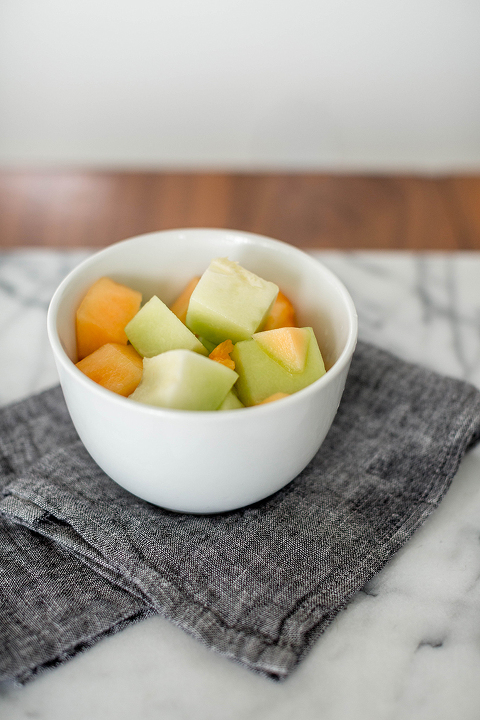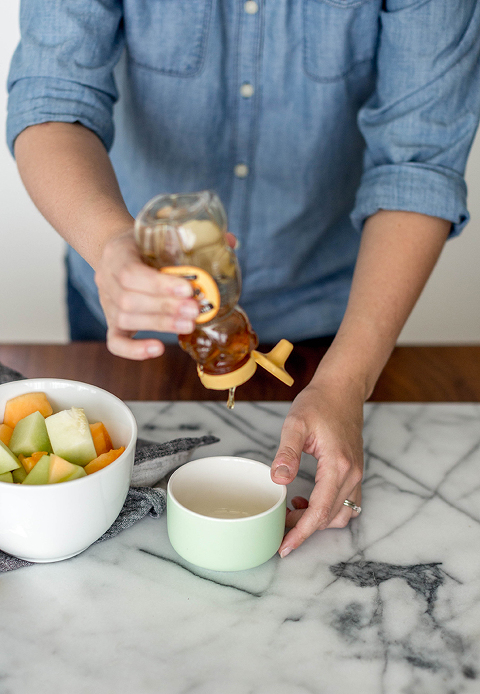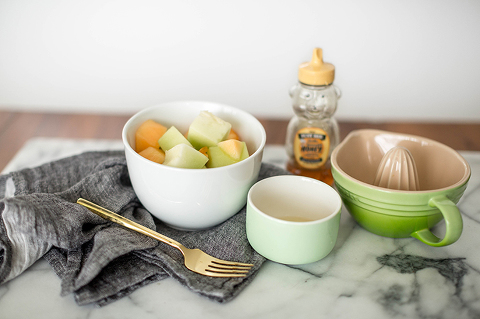 I know this next statement is such a cliche, but the concept for this recipe (if you can even call it a recipe) truly couldn't be easier. All you need to recreate it is 1/4 cup of water and 1/4 of honey. That's right—it's really just an easy alternative to your go-to simple syrup! Just combine the ingredients in a small bowl and whisk together with a fork until smooth, then pour over your pre-chopped fruit salad.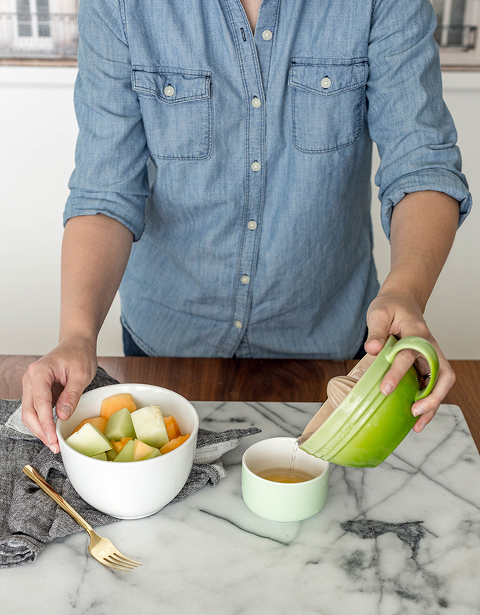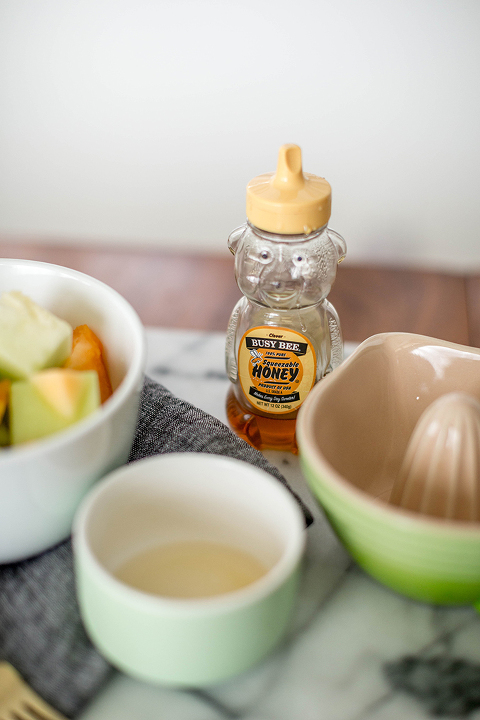 I love that you can control the texture of the drizzle (add more honey if you want it thicker, or less if you want it thinner), and that you can skip sugar. I always try to pick up 100 percent pure honey whenever possible, and love to choose locally sourced honey when I have time to. Going organic is another priority for our household when we head to Fresh Market or Trader Joes.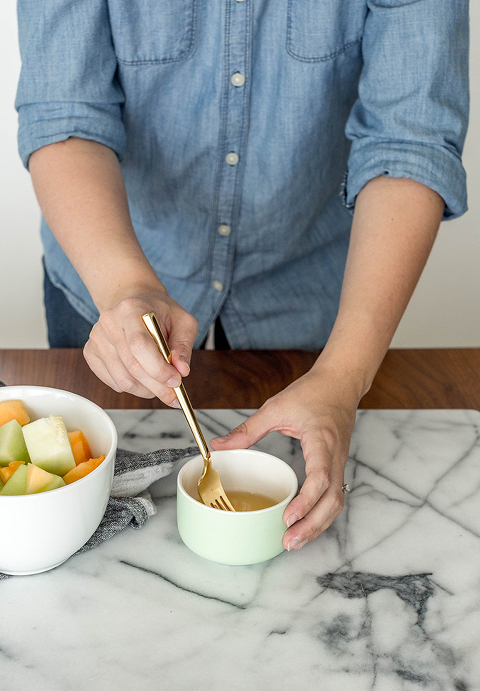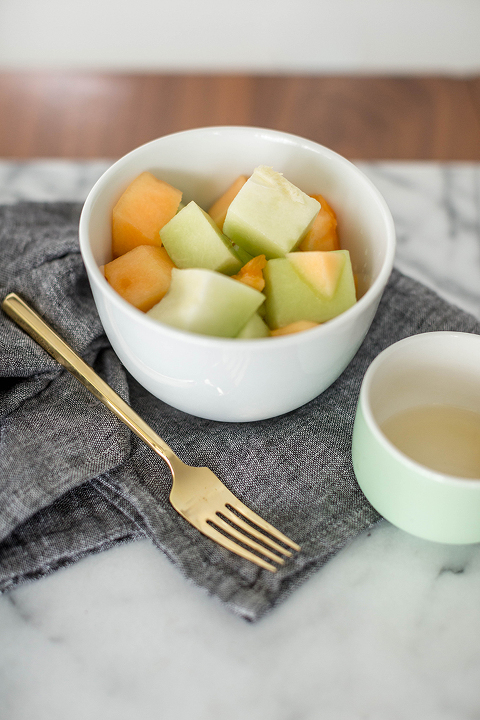 If you want to up the flavor ante just a bit, try adding a few tablespoons of lime juice to the drizzle, or you can make a honey ginger simple syrup for iced coffee or cold brew using fresh ginger over a little heat on the stove.
I experimented with our own simple honey drizzle over chopped fruit for John's lunches, and it was a hit. We both really love the way this drizzle adds just a subtle hint of extra flavor, and made the fruit in our salad feel a little more special in comparison to plain cut produce. We plan to reuse the idea for gatherings and packed lunches all summer long, and if you do the same, make sure to tell us what you think in the comments below!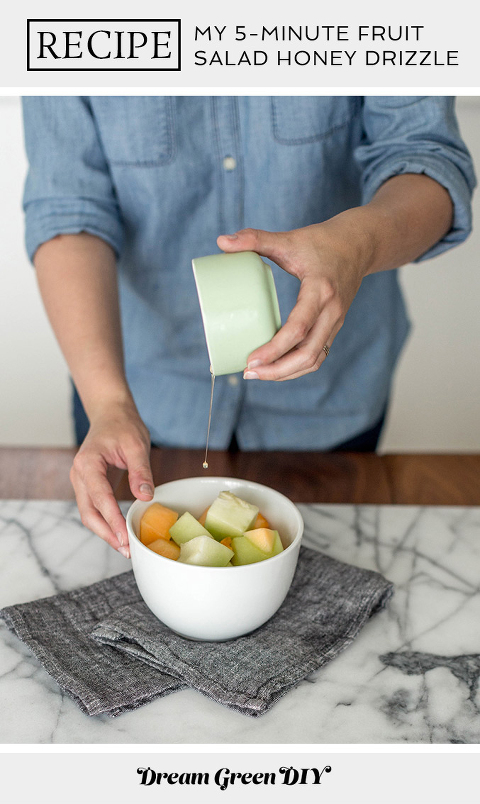 P.S. Have you voted for our space in this year's Design Dash hosted by La-Z-Boy yet?! See the room I made over with my Glitter Guide teammate, Caitlin Kruse, here. Each vote enters you for a chance to win $15,000 to put towards a room of your OWN, so don't wait!