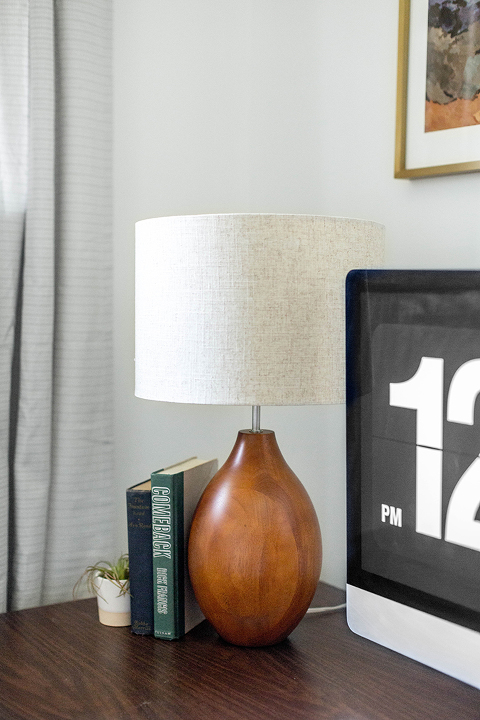 As it turns out, I'm the only person in my entire family who is bad at saving money. My parents and my sister are all pros at squirreling away cash for a rainy day (to the point of frugality), but I'm not that way at all. Maybe it's because we grew up under my parents' tightly budgeted regime that I decided to live more on the edge as an adult—whatever the case, I love treating myself and have succumbed to the fact that I will never live a rich or cozy banking lifestyle.
The very, very good news, though, is that my parents' steadfast aversion to debt definitely engrained itself in my soul, so, aside from our home, you won't find me financing a single thing. I may not be good at budgeting or saving, but the concept of financing a purchase just isn't something that even crosses my mind (not that it's a bad thing, of course—it's just not for me personally).
Anyway, while I wish I could announce that I've decided to completely change my tune this season, I'm just not quite there yet with my saving habits. That said, one way I've tricked myself into saving money is playing musical decor in our home. Rather than running out to purchase something new at the drop of a hat like I used to, I'm taking much longer to fork over the cash. I'll try every single lamp that we already have in our house before I'll head to Target for a new one, and that's exactly the story I wanted to share with you today, step by step, so that you can potentially learn to "accidentally" save some money in your own home goods budget—or at least try to, like I did.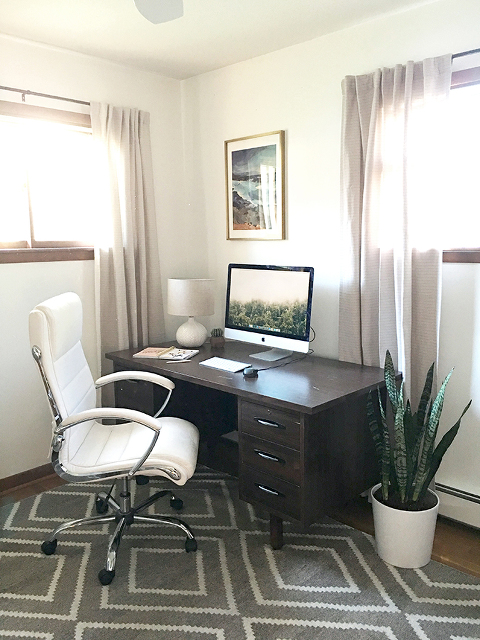 Too Small
The focus of this little game was the table lamp in my made-over office. As I revealed in that post, I had actually already purchased a new lamp, but even after snapping those "final" photos, the fixture never felt quite right (I'll explain why a little later on).
But, not wanting to pay $50 for a new lamp unless it was absolutely necessary, I decided to try other options from around the house—starting with this little white lamp from our living room. It was the right style (minimal), the right color (white), and the right proportions (slightly hefty around the middle), but it was just overall too small for the room. Snapping this picture above on my iPhone helped me see that sizing issue right away, so I moved on to the next option.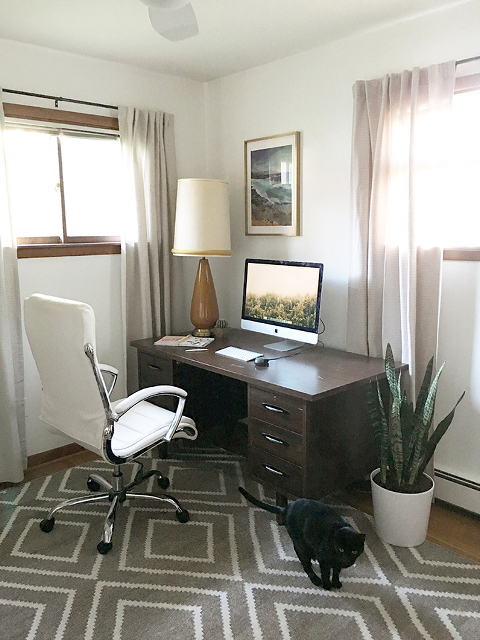 Too Tall
As I'm sure you'll be able to tell immediately, this quirky yellow lamp was just too tall for the space. A fun idea, but just not right for the room. I did like the color though—the burnt yellow/orange tone picked up the same palette from the art, which made me wonder if an earth-toned lamp could do the trick. Just not this particular one.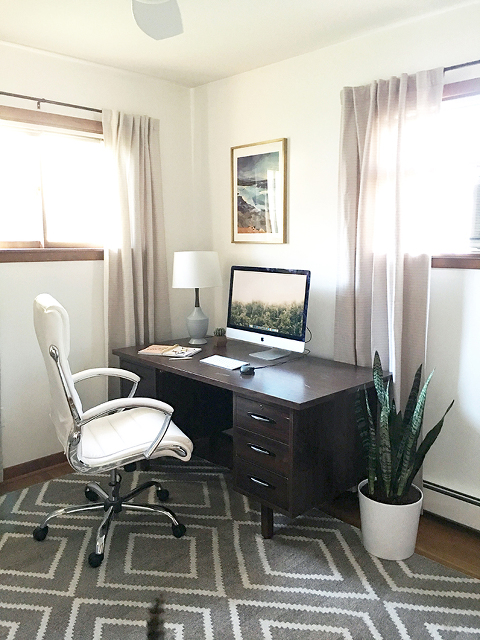 Too Skinny
While the height of this small gray thrift store lamp felt right (just slightly taller than my computer screen), the shape left a bit to be desired. The thin neck of the lamp and slender outline of the base itself didn't command enough attention.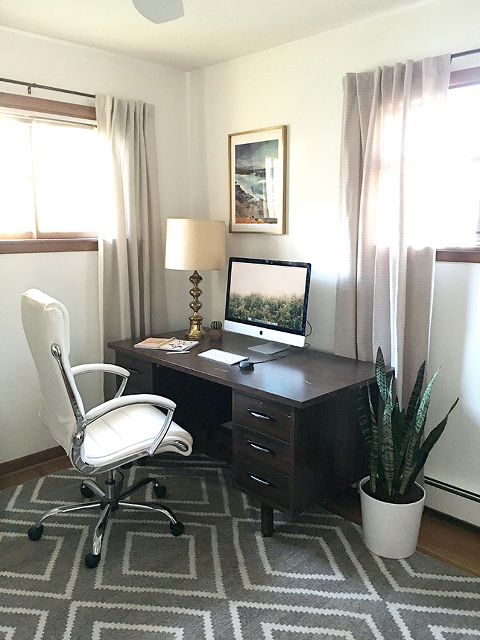 Still Too Skinny (And Too Tall)
This one was also a little skinnier than I felt like the desktop needed, plus it was just a little too tall in comparison to the computer screen. I think it was at this point in the process of trying different lamps and snapping photos of them from the doorway that I realized the right lamp would be somewhere in-between the top of the computer screen and the bottom of the piece of art. One thing I did love about this lamp, though, was the fact that the brass base mimicked the print's gold frame.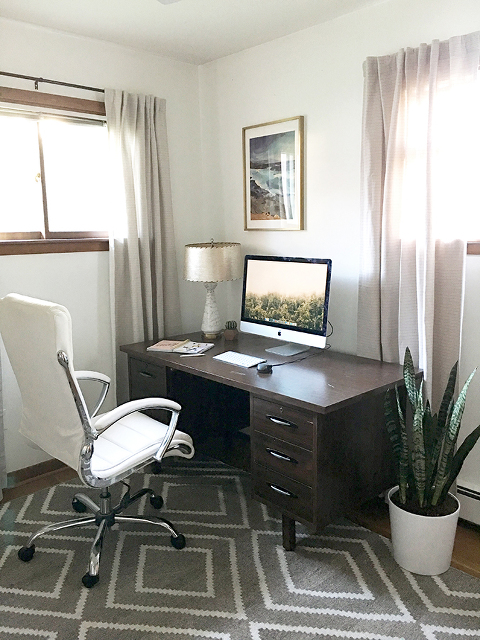 Too Invisible
This mid-century white table lamp above was the right height but not the right scale. I still craved something more rotund around the middle, plus I was starting to rethink my decision to look for a light-colored lamp having seen how much the too-tall yellow lamp and the too-skinny brass lamp popped against the white walls of my office. Time to keep looking.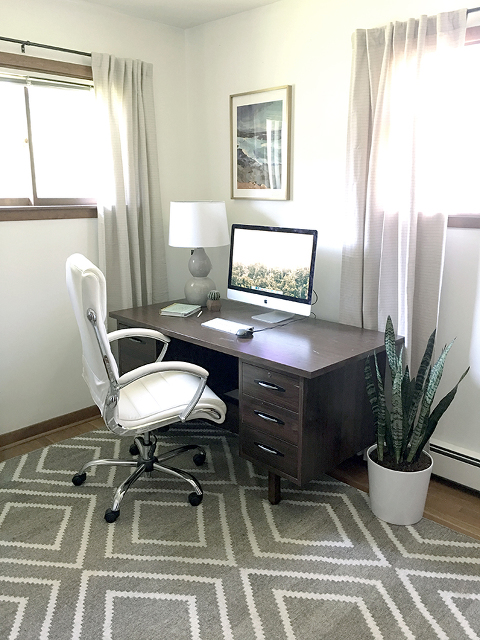 Too Trendy
When last I left things, this pretty gray table lamp had temporarily won the race. I liked the height and the rounded shape of the gourd base, but when it came down to it, I just didn't love it. The lamp checked all the right boxes, but it just felt like the expected, trendy choice, so after living with it for a week (and snapping these photos), I decided to return it and continue the hunt for the right, right lamp.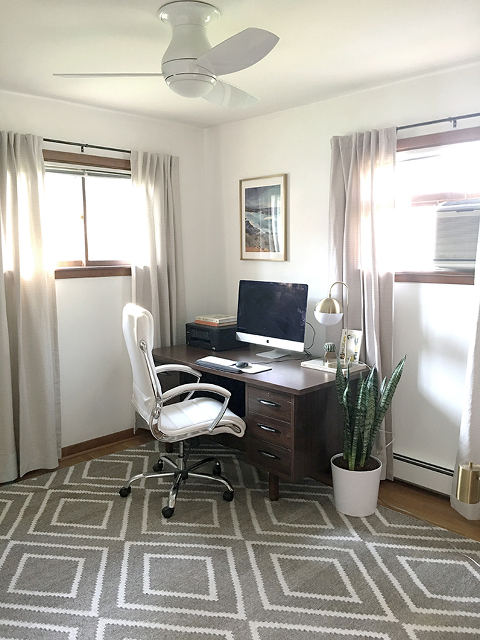 Too Wimpy
In a fit of desperation (I really didn't want to have to buy a new lamp, guys…) I tried the lamp you see above from our bedroom, but it just felt lost on the desktop. I haven't mentioned this yet, but for some reason I really wanted to find a lamp that was a true table lamp—not a traditional office task lamp. After snapping this photo, I promptly put it back beside the bed.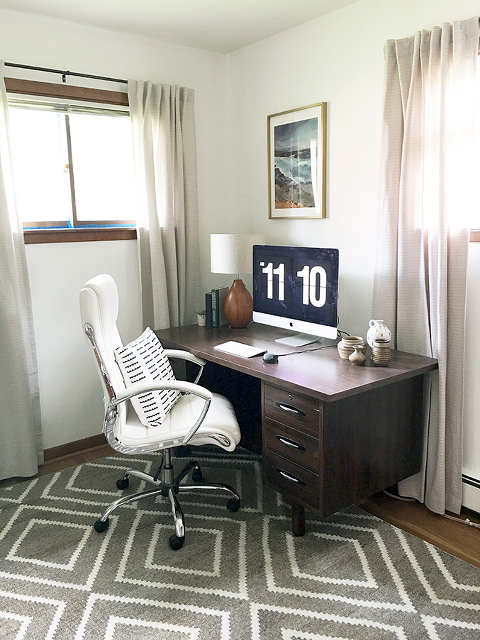 Winner
Ahh, that sweet sigh of relief. The final winning table lamp is the perfect blend of earth-toned color to make it pop off the white walls, the right rounded shape to give it heft, and the right height, putting it just below the art above my desk.
Although I grudgingly had to purchase this lamp new, I can safely say that I agonized over the decision and spent that money knowing in my heart that it was the right decision to make. It wasn't instant gratification, and it wasn't an impulse purchase. I spent over a week trying different options to finally decide that this one was worth the fact that I wasn't going to be able to save money.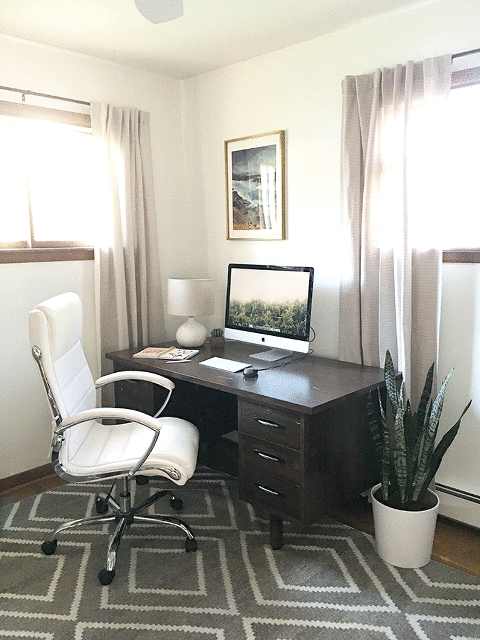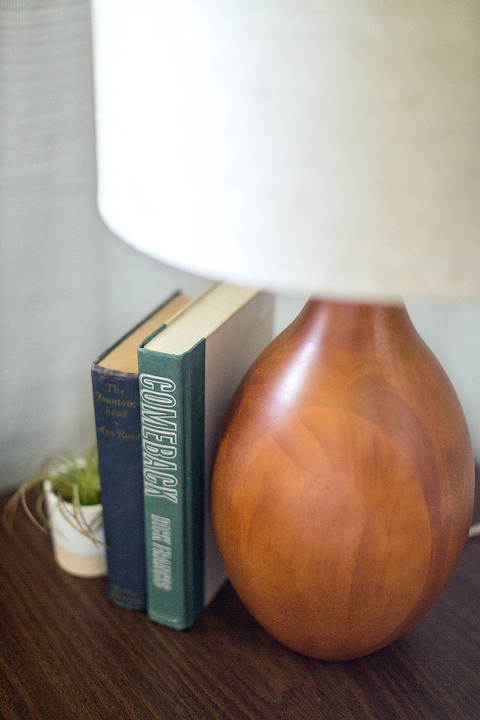 This story may sound a little bit backward, but I wanted to share the honest truth about my spending habits and how I've worked hard to curb them in favor of loving what we already have. In case you're in the process of attempting to save money, maybe this trick could help you save a few extra dollars in the long run! Before purchasing something new, try rearranging pieces from around your house to see if you have something that already works. Snapping a quick photo on your phone can help point out things that you might not pick up on with the naked eye, so be sure to do that extra step, too.
So, what do you think? Did I make the right choice, or was there a lamp from the bunch that you thought fit just right? Of course, it's all subjective and I am head over heels for my new lamp, but the process is still a fun one to look back on, and I'd love to know your thoughts. So fire away in the comments below!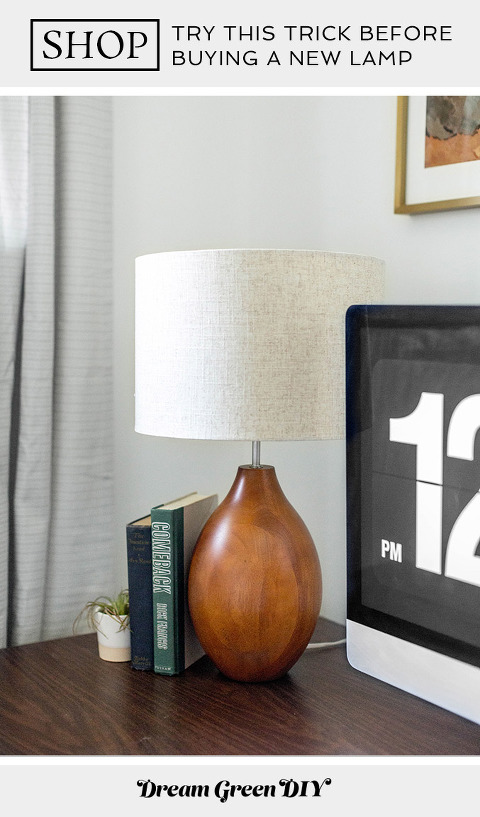 P.S. Have you given my call for a big favor some thought…? Pretty please!?
SaveSave
SaveSave
SaveSave
SaveSave
SaveSave
SaveSave
SaveSave
SaveSave
SaveSave