*This post was sponsored by Minted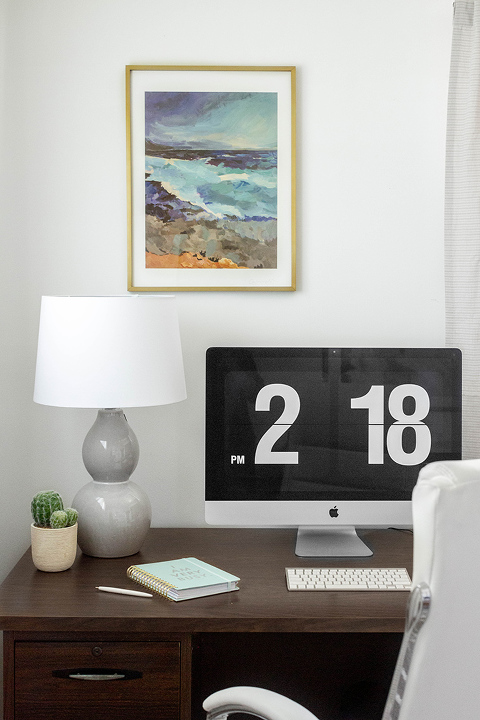 Remember how I said last week that I'm no "pro" when it comes to interior design? That I'm more of the learn-as-you-go type of DIY designer? Well, my tale today is living proof of that declaration.
As you may recall last year, I unveiled a brand new, made-over office that I claimed was my "dream come true." At the time, it was a major accomplishment in comparison to the space when we moved in (think: floral drapery, yellow walls, dated fixtures), and I felt like all was right with the world. The fresh white walls made all of my bright art and styling accessories pop, and it was bursting with the type of character that I thought I wanted to emulate.
But after the professional photos were shot and I needed to actually get work done in my new office, I felt like something wasn't right. The bright aesthetic was good in theory, but it ultimately just felt too busy and chaotic and kept me from feeling settled while working at my desk.
You can see the room before in all its glory in our first tour of the home pre-restoration and you can check out the full makeover reveal—good intentions and all—here, but now it's time to get real about the changes I've made and how I managed to bring productivity back to my mid-century office.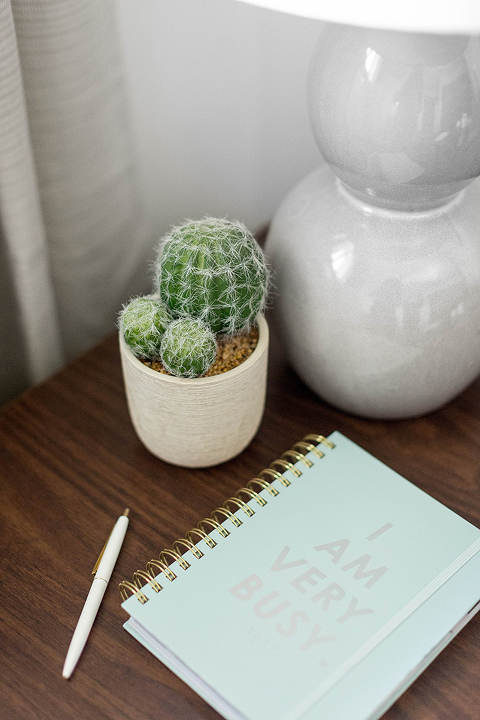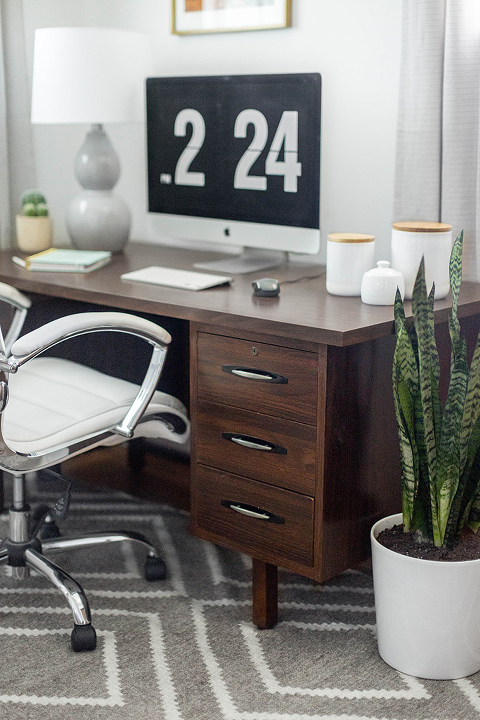 The first thing to go was all the stuff. I purged, and purged, and purged again until I had practically emptied the space of styling and office supplies. It turns out that I just don't need all of the things in this phase of life now that I'm actively trying to simplify and minimize post-new year.
I also decided to sell my new desk. While totally functional, it just didn't feel like it fit with the rest of our home. The white, clean-lined, corner desk was contemporary, yes, but it wasn't mid-century, and we've worked too hard to restore that retro vibe in our 1960s-built home to go a different direction in this one room.
So I sold the desk on Craigslist, making enough cash to replace it with a vintage mid-century tanker-style desk. She's a little rough in some spots and the legs aren't my absolute favorite, but this new-to-me hulk of desk packs tons of storage opportunity, and definitely checks the "retro vibe" box. The dark wood grain veneer and sleek hardware are just what I had in mind, and at $120 to bring home, it was the perfect swap.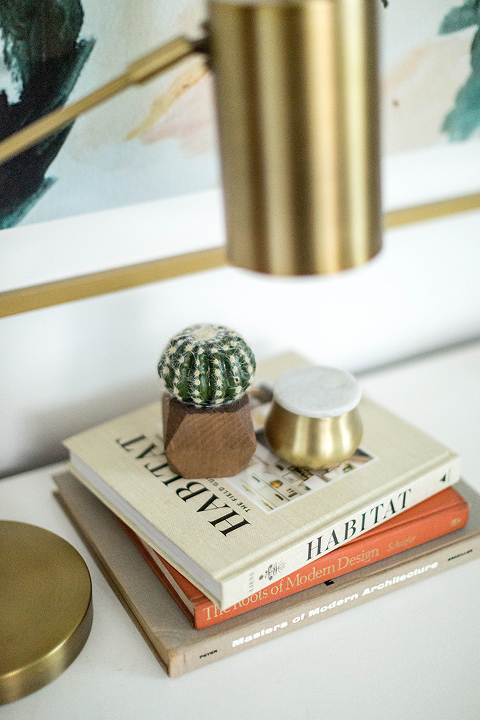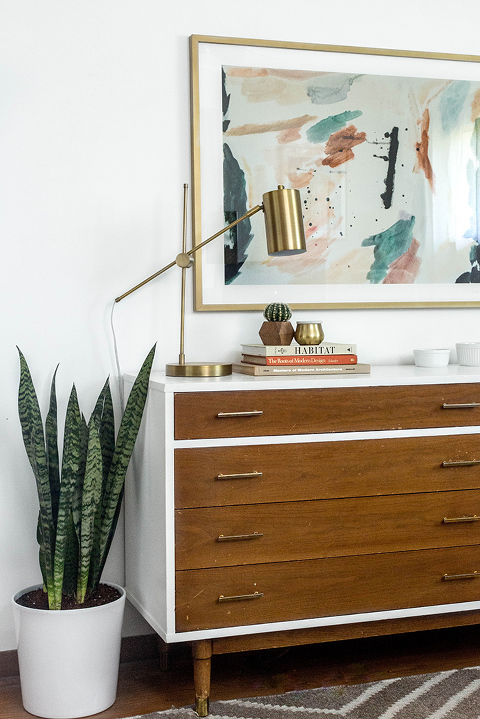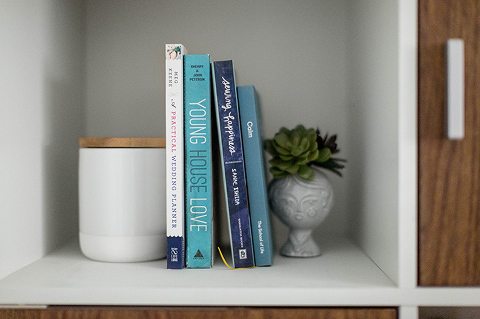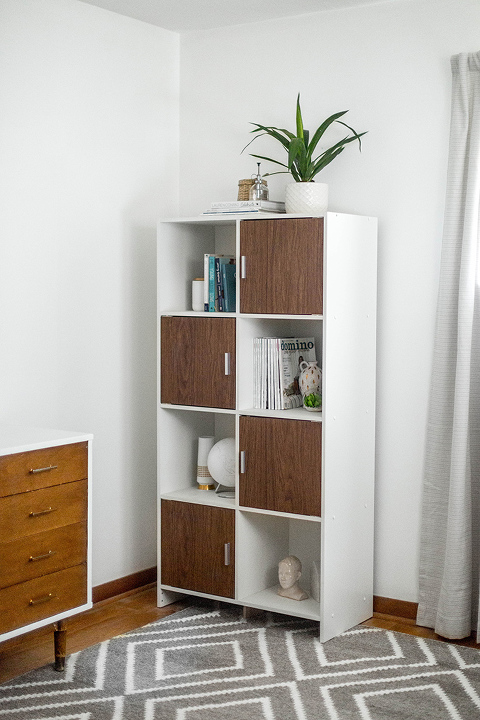 Art was another thing that desperately needed to change. I've been so in love with the rust and evergreen trend these days, so I scoured Minted for options to pull that color palette through the room.
In the end, it didn't take much at all to establish the look and let go of the punchy pink palette I had in the room before. I chose a small framed print of West Coast by Carol Dysart to go behind my computer, and an oversized framed version of Lauren Packard's A Long Day At The Beach to go above the dresser on the opposite side of the room, which I use to store rolls of paper and overflow office supplies.
I love the soft brush strokes and airy vibe of both prints. They are soothing and anything but distracting—the perfect look for an office that needs to promote focus and productivity.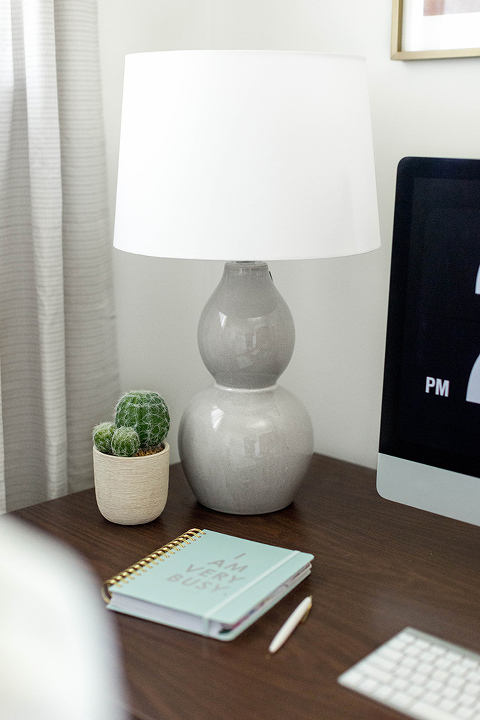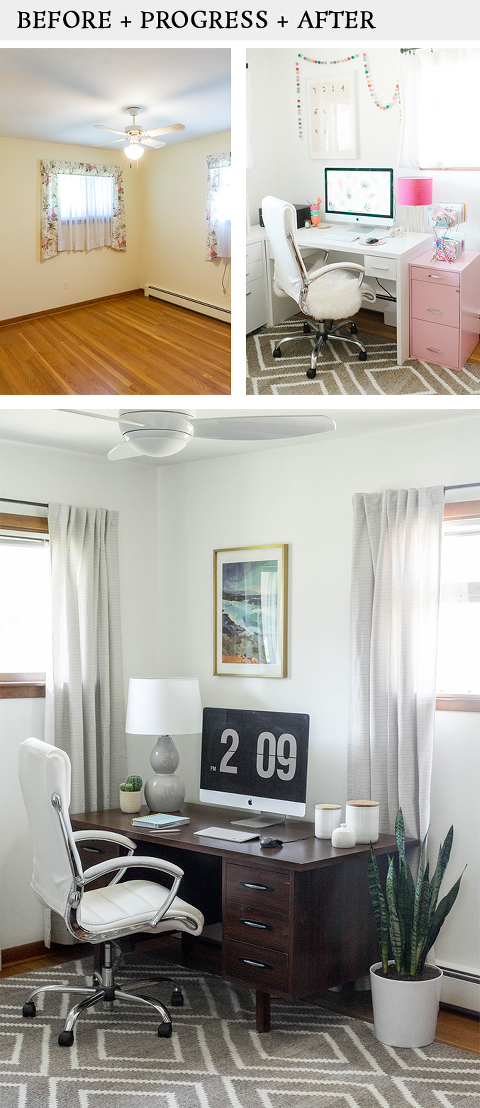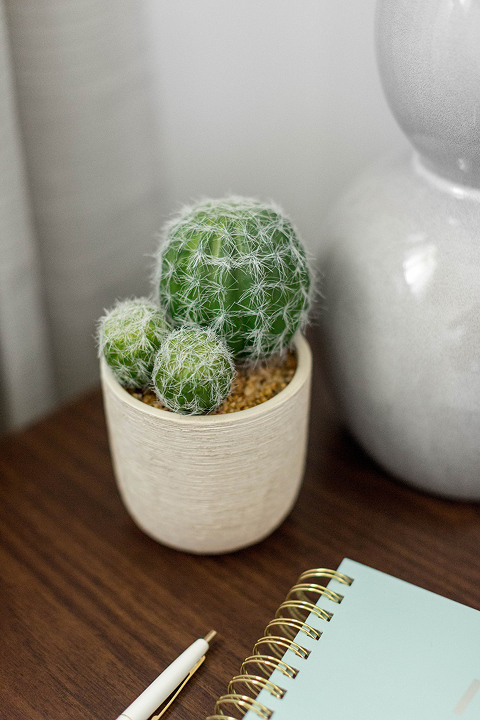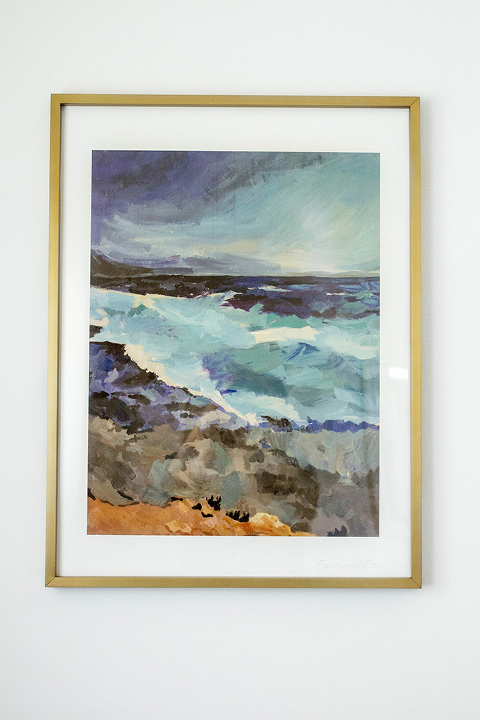 Doesn't it almost look like a dorm room in that progress shot a few photos up?! Who knows if I just had a major mental growth spurt or what, but I definitely didn't see the child-like overtones when I finished the room last year…
Anyway, another area that I simplified was the built-in bookcase that you see right when you walk into the room. You can actually see the shelf anytime you look down the main hallway in our home, so it was really time to give it a makeover. At first, I tried painting the bookshelf white to match the walls, but no matter how many times I restyled the open shelves, it just felt too busy.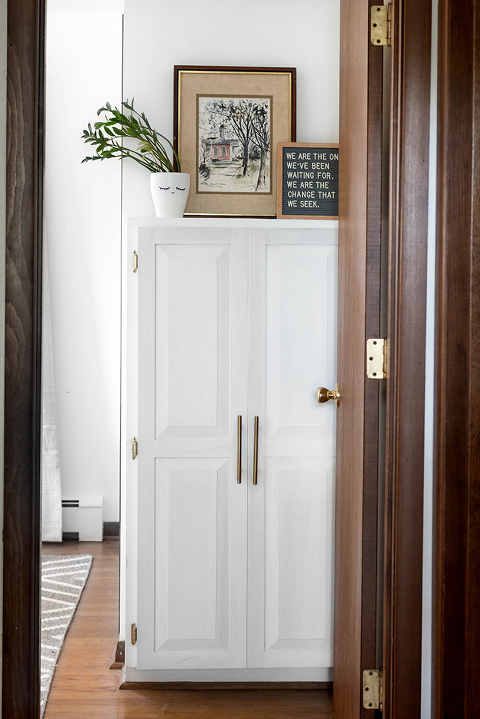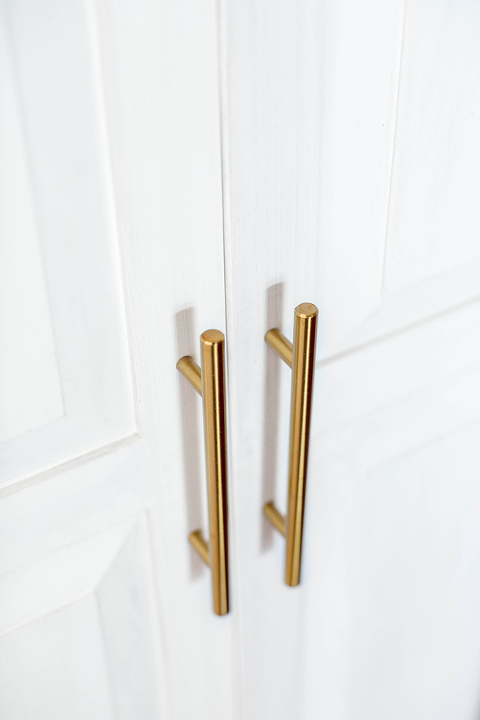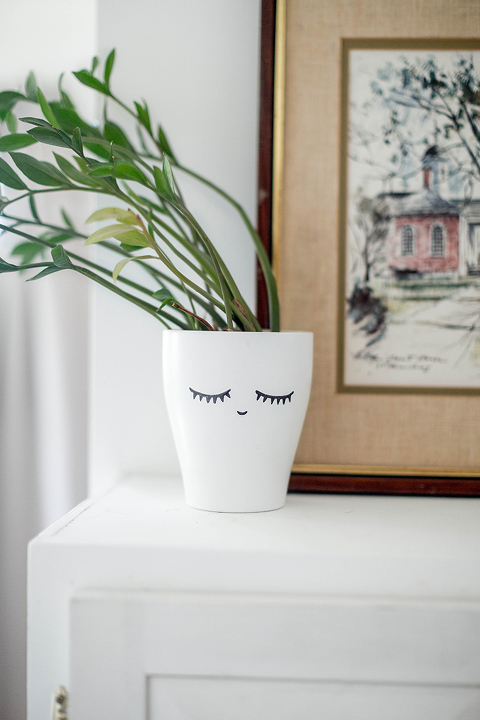 To rectify the situation once and for all, I begged my generous dad to build a set of doors to cover up the shelves entirely. Within a matter of weeks he had these two beauties ready to deliver and install. I still need to give the primed doors a final coat of white paint, but I just couldn't wait to show them off, so I popped some hardware on them (please ignore my slightly crooked job), and called it "done for now." These days, when you spot the built-in at the end of the hall, it looks nice and clean and uncluttered. Phew!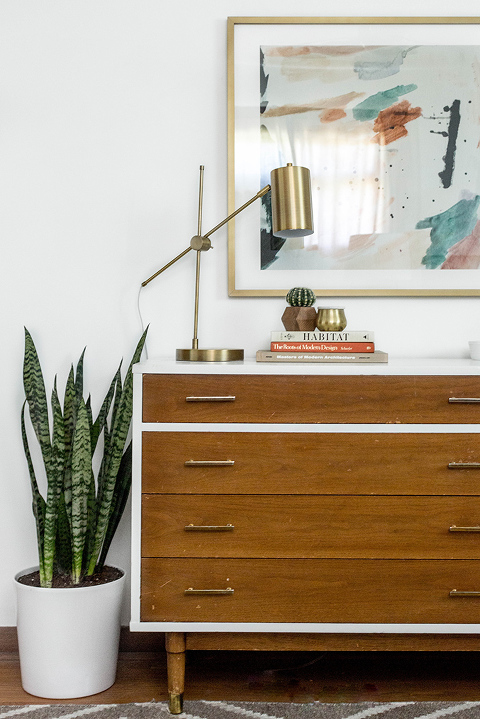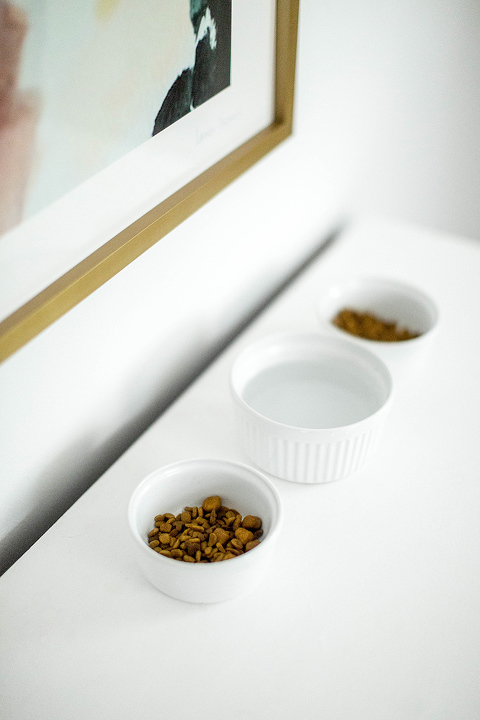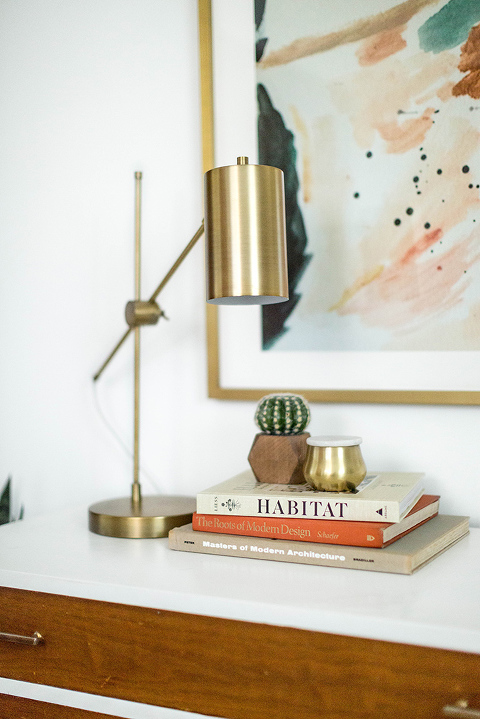 Okay, now I bet you're wondering why on earth I included photos of cat food in this makeover reveal post, but here's the honest truth—that's real life! My office is kitty central in our house, and plays host to both the litter boxes (tucked away in the closet) and the cat food and water bowls. I've explained our logic here before, but essentially we need to keep the kitty's food elevated because of the dog.
In order to make these necessary-yet-ugly accents blend into the room rather than call attention to them, I picked up a few inexpensive white ramekin dishes from Target to use for their food and water. The white dishes no longer catch your eye when set on top of our two-tone painted dresser, yet still serve their function without missing a beat.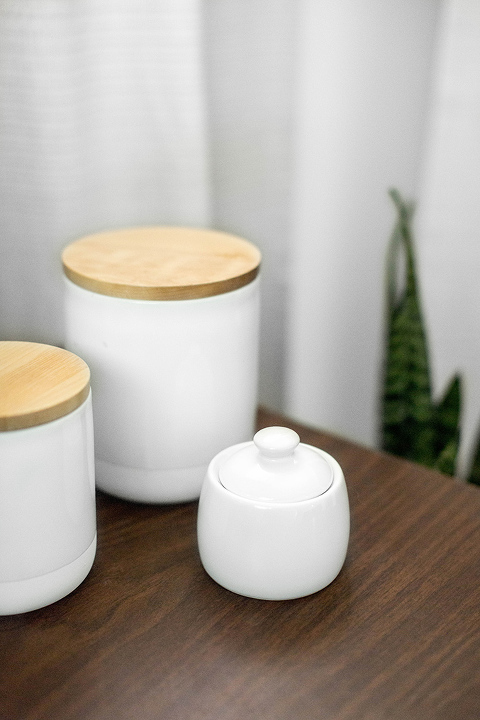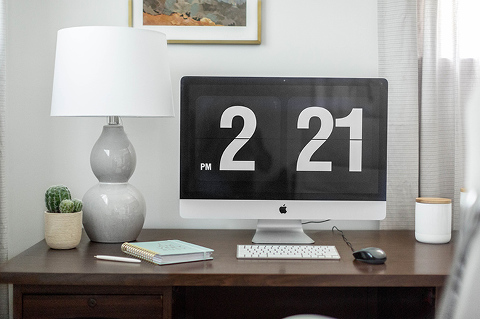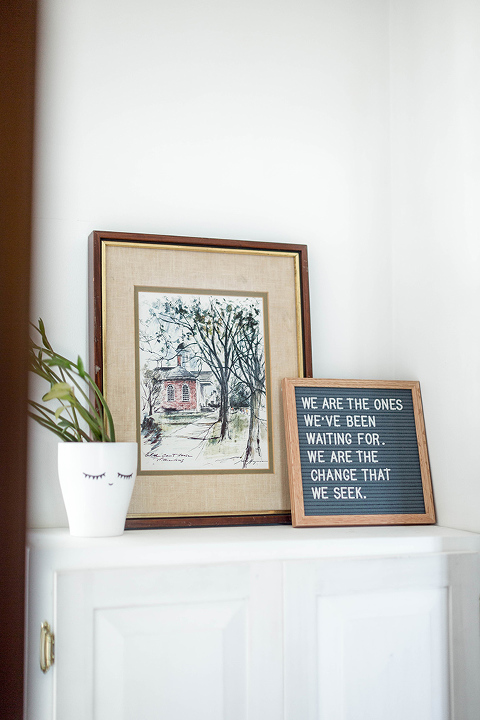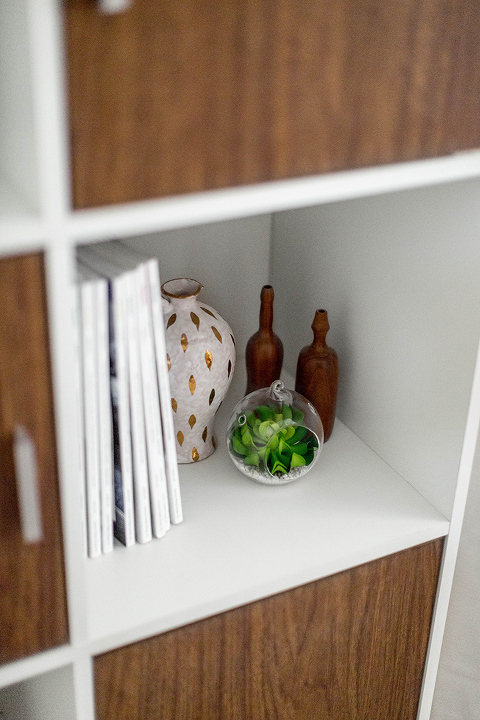 After parring down the styling on the open shelves in my tall corner cabinet and changing things around on my desktop to suit the new neutral palette, too, I was done. The newly refreshed room feels worlds and away better than the progress I made last year, and really just goes to show that making mistakes in the design of your home isn't the end of the world. I hardly bought a single thing to make over this room—instead I sold what I didn't need and used that cash to make a few new purchases—so it doesn't take much of an investment either.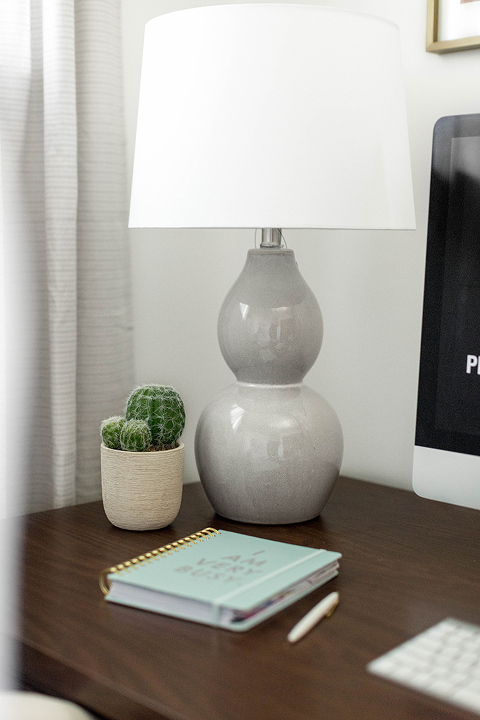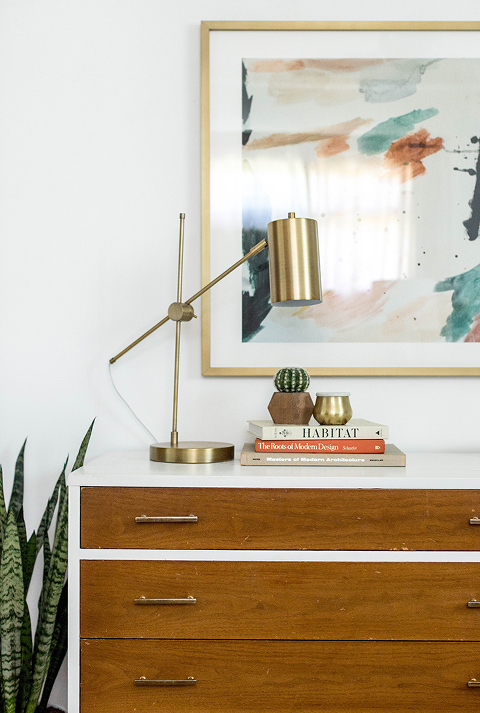 What do you think of the new look? Did you prefer the room with bright pops of pink, or are you into the subtle hits of green and rust that I chose instead? Leave your thoughts in the comments, and feel free to share any restyling stories of your own below, too.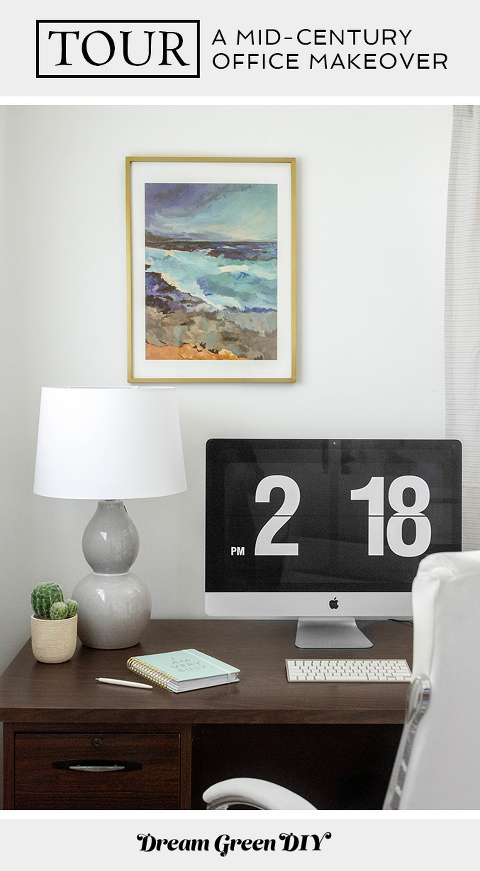 Resources: Vintage desk, rug, large abstract print, small landscape print, table lamp, two-toned bookcase, desk chair (similar), curtains, ceiling fan 
P.S. Have you voted for our space in this year's Design Dash hosted by La-Z-Boy yet?! See the room I made over with my Glitter Guide teammate, Caitlin Kruse, here. Oh, and, as always, my promise to you is that the affiliate links featured in this post spotlight items that I use and love myself.