*This post was sponsored by Schlage

With summer finally here, I've decided to turn my attention to a few lingering outdoor updates to our curb appeal—namely, the front door. Last year I explained how we tackled a quick and affordable "Phase 1" makeover by adding fun teal window film to our existing storm door, but it's time to get our entry looking even more official.
My ultimate goal? To give our bland front door a bit more of a permanent vibe with a real exterior door (no more naked storm door), new modern hardware care of Schlage, and a few subtle accessories. Oh, and plants. Lots and lots of plants. As you can see from the photos below that were taken by Andrea Pesce last spring, our 1960s ranch has undeniable character. That cool A-frame style silhouette is one that's known all over town. In fact, contractors who have been invited over to offer estimates or do work here and there on our house always comment about how they've admired the home from afar, and, of course, we weren't immune to that appeal ourselves. As soon as I spotted the house on Zillow back in 2015, I knew it was "the one."
That said, the curb could definitely use some sprucing up. So, to continue my year-long partnership with Schlage, I thought I'd share a little bit about our inspiration and plans for our mid-century-inspired exterior entryway. HINT: Make sure you scroll to the end of the post for your chance to enter to win the brand's big Superb Curb Appeal Sweepstakes!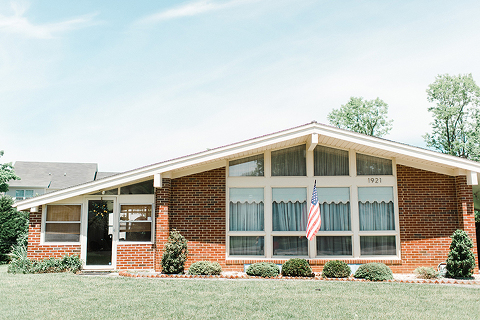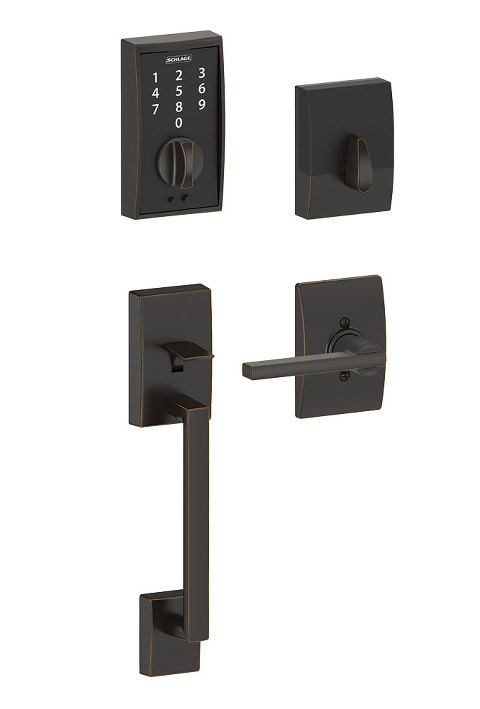 Like a lot of renovation projects in this house, I'm going to attempt to combine two main factors: form and function. In the looks department, the old storm door leaves quite a bit to be desired. It's pretty flimsy and dingy, plus the glass panel (even with its since-added blue window film) just doesn't add the kind of sophistication I'm going for to the aesthetic of the house.
Functionally, there's little to no protection from the elements. The seal is nonexistent (grass and vines literally grow into the sunroom from under the door), and the glass panel lets quite a bit of light into the sunroom, making the unheated/un-air-conditioned room a sauna this time of year.
A proper exterior door will give the house a little more grandeur, not to mention it will keep the sunroom feeling more comfortable year-round and free from encroaching vines and pests. The other exciting part about adding a real front door is that it allows us the opportunity to get hardware to match the upgrade. We fell hard for the Schlage Keyless Touchscreen Deadbolt with Century Handleset and Latitude Lever. The edgy black finish will draw much-needed attention to our entryway, and will ensure better security, too, thanks to the heavy-duty electronic deadbolt.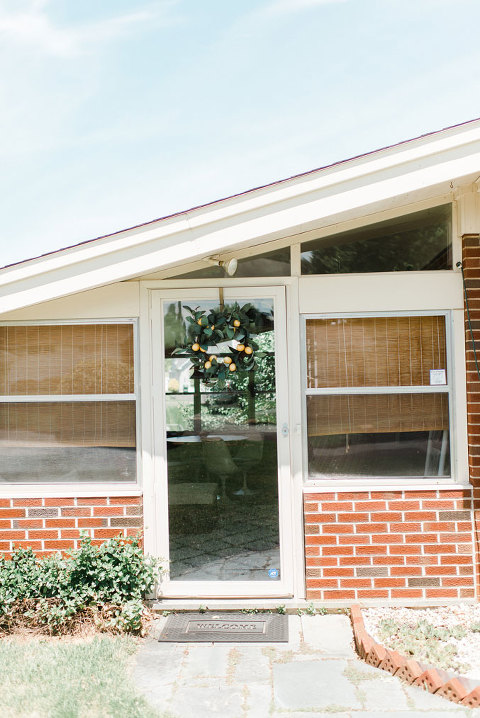 In an effort to get this important install right the first time, we're enlisting help from the pros rather than tackling it ourselves. We've crossed our measure appointment off the list, and the parts have all been ordered—now we just wait to get our install on the calendar with the local home improvement store, and we'll be calling this one "done" before summer's end. I can't wait to share the final before and after photos with you all later this season, and to offer thoughts on Keyless Touchscreen entry once we've had a chance to enjoy it for a few weeks. Stay tuned for all of that very soon.
And now for the contest (because who doesn't love to win stuff?!). Enter the Schlage Superb Curb Appeal Sweepstakes now for a chance to win a Schlage Sense™ Smart Deadbolt of your own, a $1,000 gift-card from The Home Depot, and a design consultation from fellow home-design blogger, Carmel Phillips from Our Fifth House. Get all the details and enter to win here—good luck!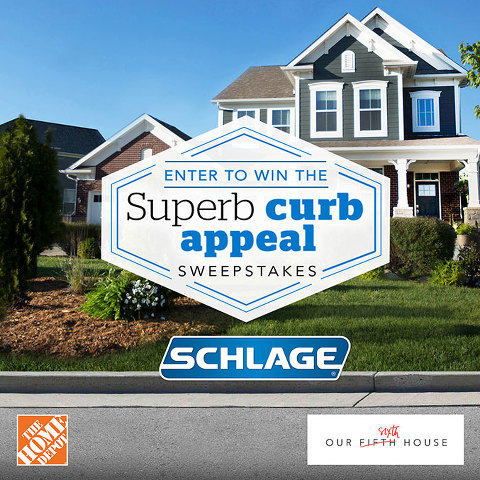 This is a sponsored conversation written by me on behalf of Schlage. The opinions and text are all mine. Comments submitted may be displayed on other websites owned by the sponsoring brand.