Hands down, our favorite Christmas tradition is watching holiday movies—and lots of them. We have a running list of favorites that we watch over and over again, but The Holiday is right at the top of must-watch titles. I especially love it because it's the type of feel-good, easy going movie that you can have on in the background as you wrap gifts, decorate the Christmas tree, or even address holiday cards.
You may be asking yourself, at this point, why we're talking about Christmas in the middle of January. Well, if you're anything like our family, you watch holidays films all the way through the first week of the new year, so everything from the soundtrack to the clothes is still ultra fresh in your mind. For me, personally, I just can't get The Holiday out of my head, and I've been fixating on the gorgeous ruffly white blouse that Cameron Diaz wears on her date with Jude Law (click here if you don't know what I'm talking about).
In my attempt to nail a similar feminine wintery look, I pulled together a list of 12 white ruffle shirts that I think get the point across. Whether you're on a budget, or looking to splurge, there's an option for everyone.
Which one is your favorite from the list above? Oh, and while I have you, don't forget to sign up for the Dream Green DIY newsletter! The next issue hits everyone's inboxes tomorrow, and details the top gift box subscriptions I'm loving right now, among other behind-the-scenes tidbits and updates. You can sign up to get on the newsletter email list here.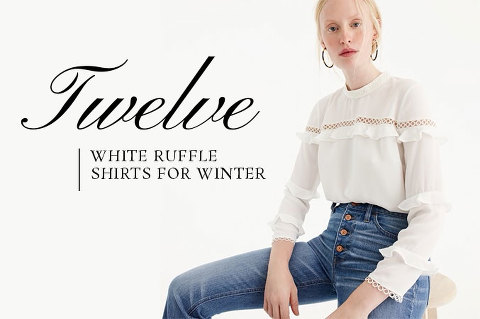 *I earn a small percentage from purchases made by the affiliate links above. Affiliate links are not sponsored. You can rest assured that I would NEVER recommend a product that I don't use and love myself!