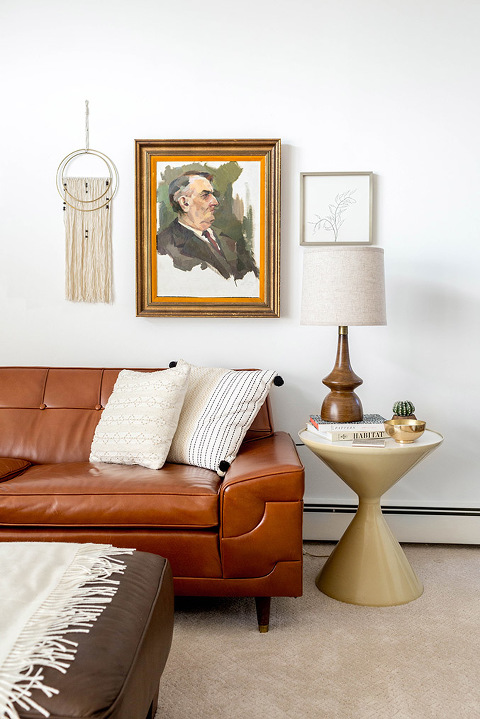 MAN, it's bothering me now in retrospect that the piece of art looks like it's sitting right on top of that table lamp. Oh, well. Live and learn! And since I just pointed out a major flaw in my work that you might not have noticed had I just kept my mouth shut, let me let you in on another #fail of mine—I didn't end up keeping today's Thrift Store Score (or should I say, Thrift Store Splurge).
While I pride myself on hunting down fairly good deals for the most part, I do occasionally shop badly. In fact, I'll be even more honest with you and admit that today's "thrifty" purchase, while cool as can be, was probably what prompted the personal heart to heart I had with myself at the beginning of the year. Click back to my January 1 post here to learn all about how I plan to shop less and more intentionally if you missed it, but that's enough run around for the day. Let me get to the true story behind this cool retro table.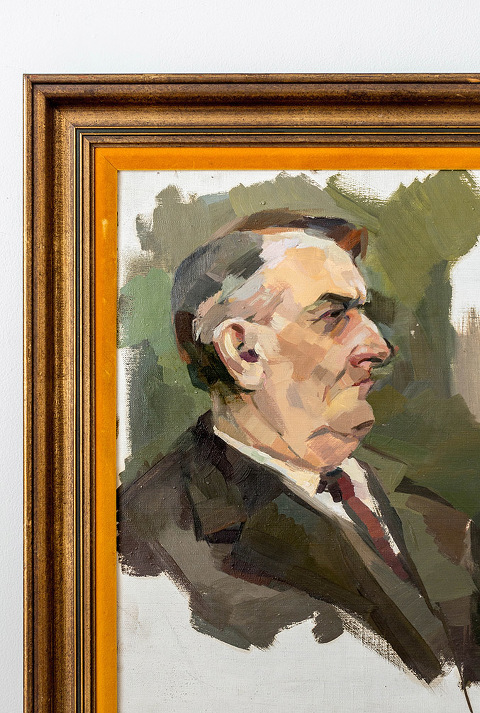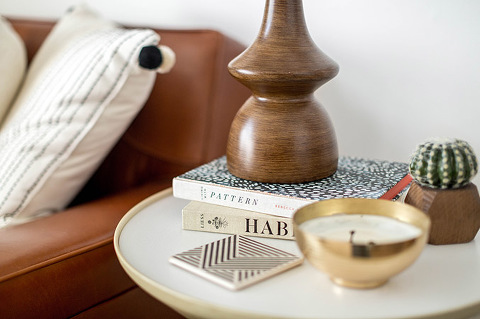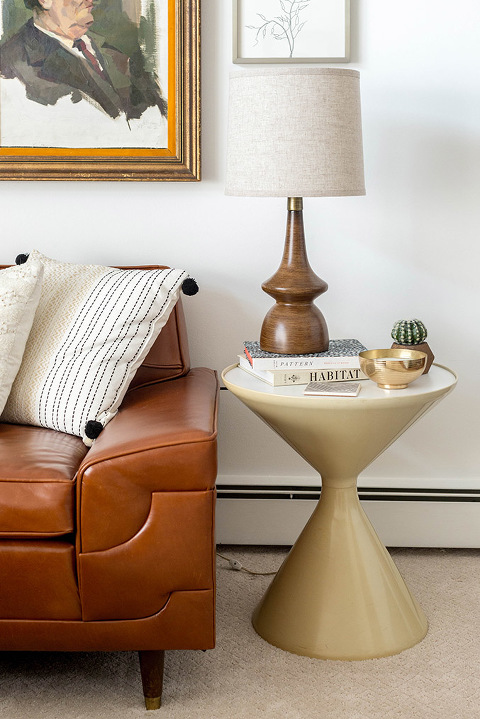 John and I spotted it while taking our latest tour of a semi-local secondhand shop, Circa. It was tucked away in a back room, but as soon as I saw it out of the corner of my eye, I was hooked. I loved the edgy hourglass silhouette, and I also really loved the creamy color, which checked all the boxes of our neutral color palette at home.
Then, upon closer inspection, I made an even cooler discovery—the table plugs in and the surface lights up (scroll down a bit to see a GIF that demos the light in action)! Picture me flicking that switch in store, my eyes growing to the size of teacup saucers, and my jaw falling wide open. I looked over at John to see if he was thinking the same thing, and I saw that a big smile had materialized on his face, too (which is basically John's equivalent of my exaggerated reaction). I was scared to look at the tag, and more than a little disappointed to find out that it was listed for $150. Frankly, it was far too much to pay for the table, even taking into account the fact that it was such a unique piece.
After mulling it over in the aisles of the store for a few minutes, I ultimately decided to let my impulsive side win, and I carted the side table up to the cash register. Against John's better judgement, I should add.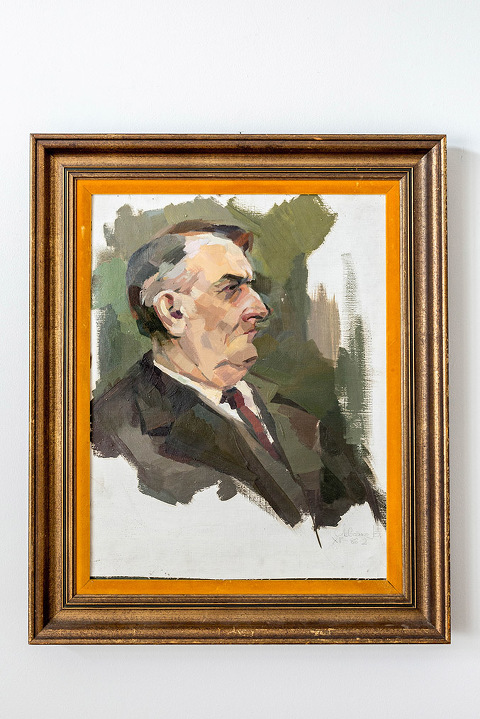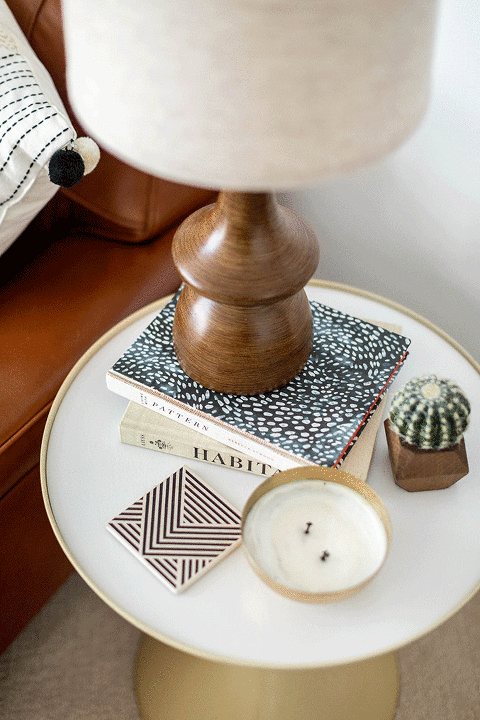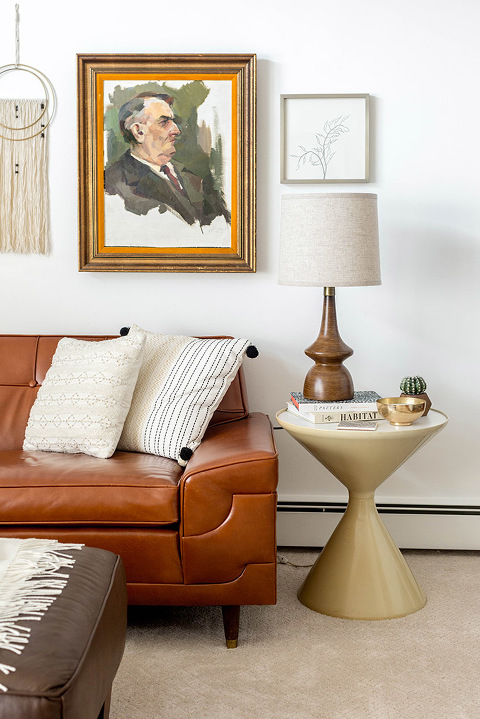 I think two things pushed me over the edge toward the purchase. First, the fact that the table was a huge conversation piece, and second, that it was also functional since it acted as both a lamp and a surface to place things on. The sad news is that, after getting the table home, I never could find the right spot for it. It looked silly (to my eye) without a table lamp on it, so that kind of busted the whole functionality equation, and we already had a collection of beautiful side tables to choose from.
Do I regret buying it? Yeah, I honestly kind of do, although I'm so glad that I was able to share the find with you guys here on the blog. It got its five minutes of fame, after all, and I'm glad to tell you that it has since been donated to Habitat for Humanity to hopefully benefit another family in the end.
I considered covering up the fact that this Thrift Store Score ended up being a splurgy fail, but I wanted to be extra transparent about the whole situation because I really do think that the purchase helped push me in my new direction of buying less often, but also purchasing with more purpose. Now, not only do I try to stick within a harder budget, but I also try not to bring anything home unless I can visualize an exact spot for it.
Now tell me: what are some of the questions you ask yourself when considering bringing home a new-to-you antique find? Do you think this cool little table was worth the splurge? Should I have kept it?! I'm not sure I want to know the answer to that last one…