I can't remember if I mentioned it here on the blog yet, but I signed up for a wheel-throwing pottery class at the beginning of the new year. The class is taught by a professional potter from the area, and has been such a fun way for me to test the limits of my creativity. Once I get my finished pieces back from the studio in the next couple of weeks, I'll be sure to share a whole lot more about the class, including what I learned and what I plan to do with my new skills. In the meantime, though, I wanted to chat about vases in general.
These statement vases that I've rounded up here today all have the power to add so much character and interest to your entry table or shelving. Whether you leave them to make a statement all on their own, or you fill them with flowers or pretty branches clipped from your yard, these pieces feel almost like works of art. Try anchoring either end of your own buffet or console table with a statement vase or two and a table lamp, then place a pretty tray in the center of the table to corral things like keys, coupons, and mail.
Which one is your favorite from the list above? I'm pretty partial to that tubular speckled vase, but also love the collection of bud vases from Heath Ceramics.
Oh, and while I have you, don't forget to sign up for the Dream Green DIY newsletter! The next issue hits everyone's inboxes tomorrow, and, like I mentioned yesterday, includes a BIG EXCITING business announcement. You can sign up to get on the newsletter email list here.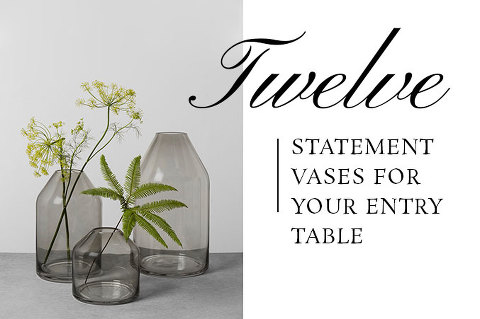 *I earn a small percentage from purchases made by the affiliate links above. Affiliate links are not sponsored. You can rest assured that I would NEVER recommend a product that we don't use and love ourselves!