Lately—I think since signing up for a second wheel-throwing class—I've been devouring every pottery video I can find on the Internet. I think it's just fascinating to watch these types of sped-up action videos, whether you work with clay or not. Potters make their art look so easy even though it's really, really not (haha).
With this newfound love for all things "stoneware," I thought it might be fun to roundup a whole list of beautiful handmade mugs. Did you decide to follow along with my spring shopping challenge? If you did, these mugs below are all sourced from small business sellers on Etsy, so you can feel good about making a purchase in case one sticks out to you.
1. 1970s vintage stoneware mug
4. White and brown marbled ceramic mug
6. Hand Thrown Stoneware Studio Pottery Mug
7. Porcelain Mug by Hona Leigh Knudsen
8. Wheel thrown charcoal slate mugs
10. Otagiri Mug
11. Hand Thrown Studio Pottery Stoneware Mug
12. Vintage Flowered Coffee Mug
My personal favorite mug is the first one from the '70s. I just love the earthy colors and the cool foggy pattern. Which one caught your eye? You better add it to your cart ASAP, because these one-of-a-kind beauties are already selling out fast.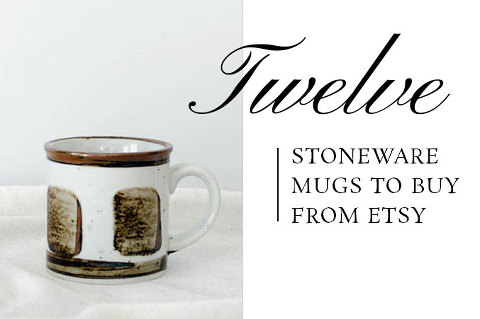 *I earn a small percentage from purchases made by the affiliate links above. Affiliate links are not sponsored. You can rest assured that I would NEVER recommend a product that we don't use and love ourselves!