First, I want to thank you guys so much for all of the sweet feedback and love over our revealed One Room Challenge space last week! You sure know how to make a gal feel special, so thanks for all of the kind support and encouragement. It was a really fun project to tackle and it makes me wonder how I could rethink other rooms in our home. Maybe it's time to give our dining room a new look and feel?
Anyway, today is my first official day back in the office from our beach vacation, and I just had to kick things off with a big plant-inspired roundup. While we were in South Carolina last week, we were surrounded by lush greenery—from hanging moss and big coastal pine trees, to lower plants sprouting huge sculptural leaves (think: monstera). So, today I'm putting a big spotlight on pretty planters that will hopefully inspire summer planting as we get deeper into the hotter months of the year.
12 Planter Pots To Use This Summer
1. Aurelien Ceramic Pot Planter
2. Iris Planter + Chevron Stand
3. Ceramic Japanese Style Plant Pot
4. Valentina Ceramic Pot Planter
5. Sphere Large Light Grey Planter
8. Mid-Century Turned Wood Leg Planter
9. Wood And Metal Alicante Outdoor Planter
11. Vintage Southwestern Nemadji Pottery Planter
12. Vaquita Orange Footed Planter
Which one is your favorite from the list above? Do you have a different planter that has served you well in spring and summer seasons gone by? I'm all ears, so feel free to comment below with links to your top picks. In the meantime, I'm off to go daydream about the surf and sand I left behind over the weekend while I play catchup in the office…Happy Monday, indeed!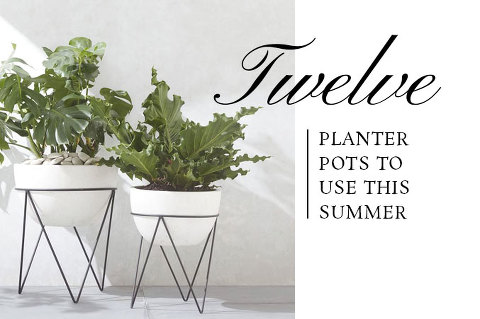 *I earn a small percentage from purchases made by the affiliate links above. Affiliate links are not sponsored. You can rest assured that I would NEVER recommend a product that we don't use and love ourselves!