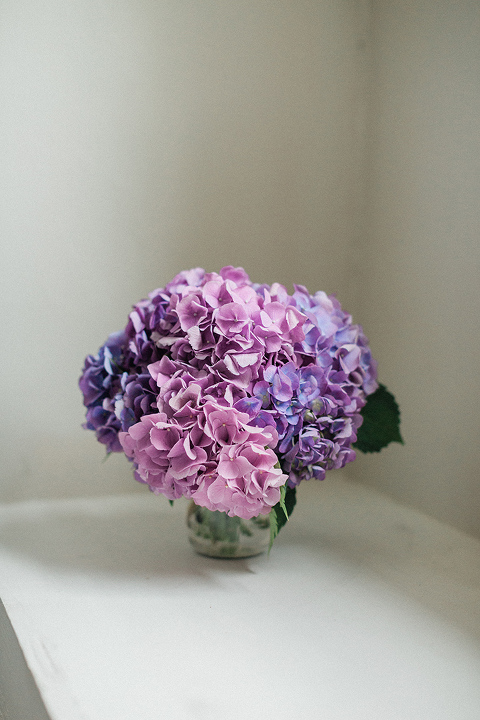 My friend Bethany Mallory, of the Farmhaus on Main fame, is back this morning to share more flower-arranging tips and tricks. Last time, if you remember, she focused on teaching us how to create homemade foraged centerpieces, but today it's all about single-bloom arranging. We spent the afternoon wandering the Farmhaus gardens, and came away with an armload of beautiful cut hydrangea stems. Keep reading for Bethany's tips, and see my step-by-step photos of her show-stopping single-bloom centerpiece.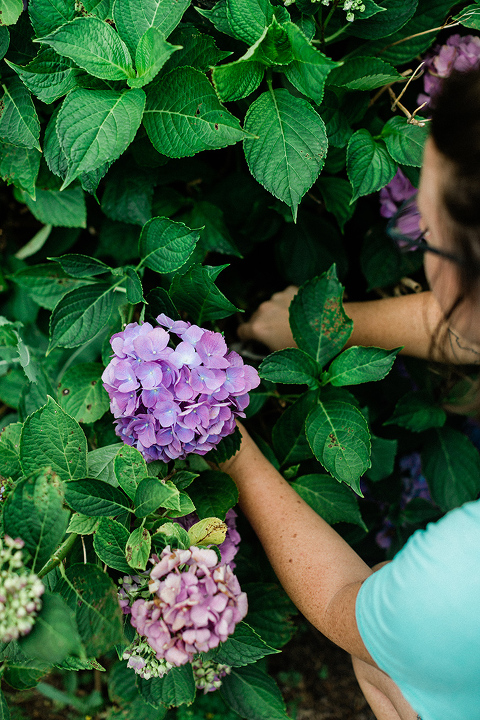 Think Big
These types of arrangements are best created using flower varieties that have oversized silhouettes and petals (think: hydrangeas, peonies, etc.). Stems that have smaller blooms will need to be tightly packed and you'll need a lot of them to fill the vase, so that's why we opted to use oversized hydrangeas to build our single-bloom centerpiece. Just a few go a long way.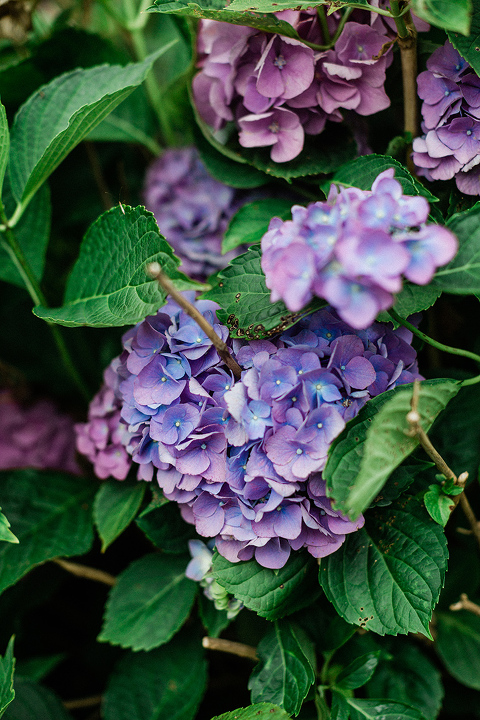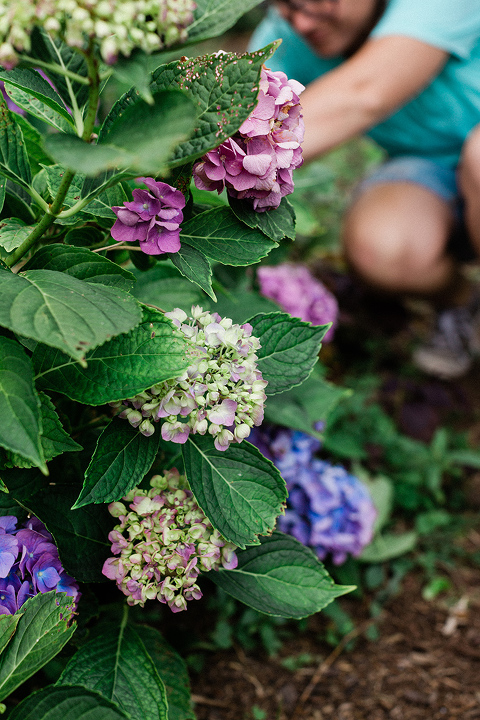 Camouflage Your Foraging
Snip the flowers off the bush or tree below the foliage line near a leaf. This clipping technique hides where you cut out the stems, and allows you to avoid giving the remaining bush a chopped look for the rest of the green season.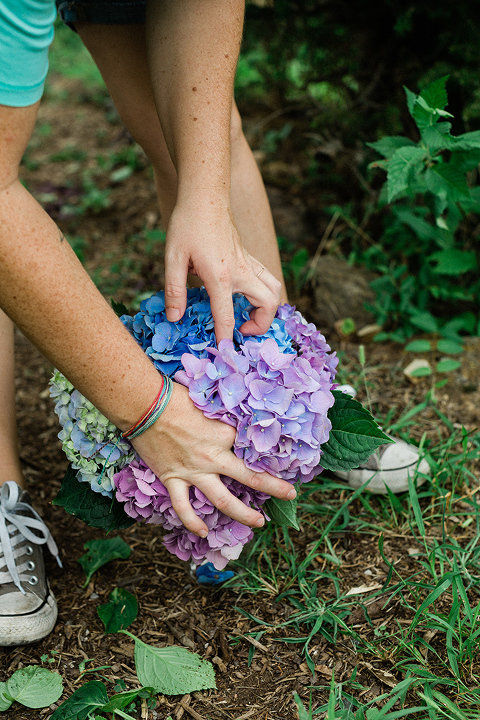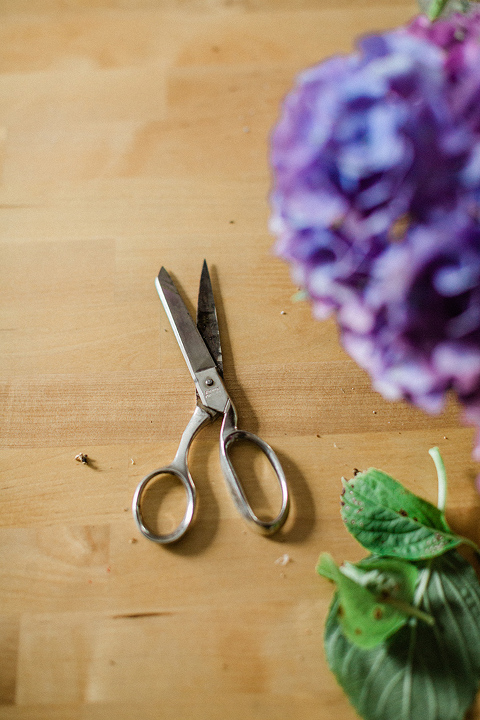 Make It Last
Before placing your stems into a jar, cut them at an angle. This maximizes the amount of water that can get into the flowers for longer tabletop life. Make sure to remove all leaves toward the bottom of the stem, too, so that none are submerged in the water. Leaves left below the waterline often mold and contaminate the water, making the arrangement go bad much faster.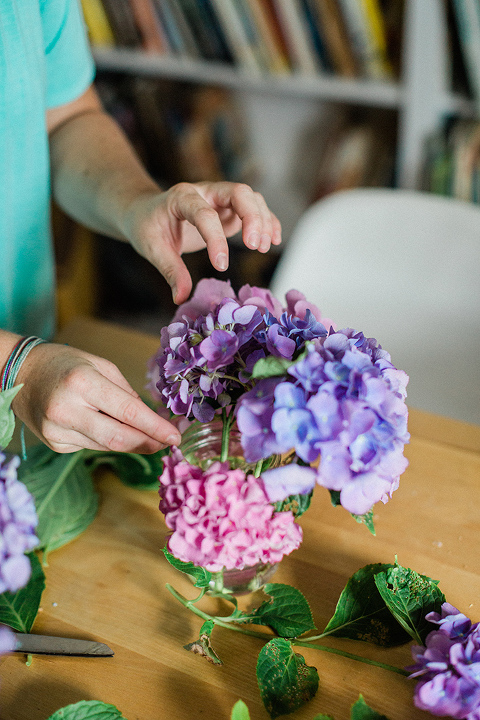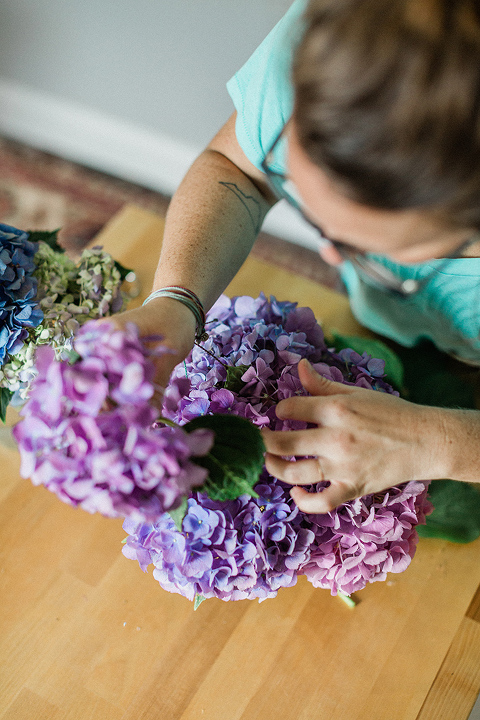 But First, Plan Your Cuts
Cut your first stem (remember: at an angle at the bottom!) so that the bloom sits right at the top rim of the vase or jar. Then, hold each stem up to the vase in turn to measure and cut so that the finished arrangement is tightly packed and uniform.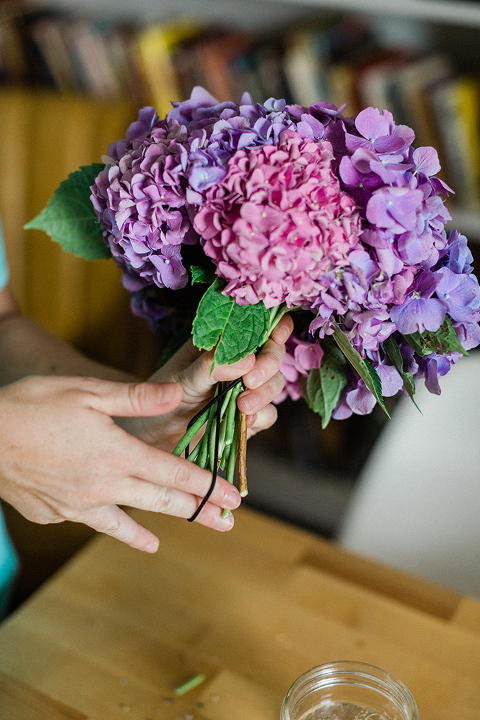 Tying It All Together
When finished cutting the stems you need to fill the vase, carefully lift the blooms together as one unit out of the vase, and use something like a rubber band, ribbon, or even an elastic hair tie to tightly wrap the stems together in a bundle just under the blooms. This will allow the finished arrangement to hold its shape better for longer.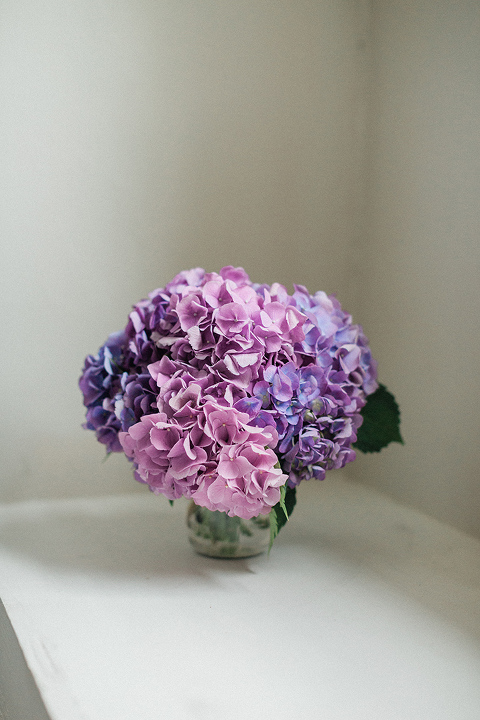 One more note? Put your arrangement (jar and all) into the refrigerator overnight when it's not in view to make it last longer. Cut stems love chilly environments. Thanks again to Bethany for sharing her flower-arranging tips. Here's that link again to the first feature with tons of foraged flower ideas if you missed it, and be sure to leave your own floral advice in the comments below. Now, go take advantage of fresh flowers while they last this summer!